Hungrily eating spoonful after spoonful of lentil soup, little Milo Carter is like a new boy.
Having been mainly tube-fed for the past few years after being put on dialysis, Milo's hunger for everything from bananas to chocolate is almost insatiable.
"I can eat anything I want to. And things taste better now. Like milk," the exuberant little boy exclaims.
The eight-year-old's hunger for life has come from a new kidney, which his mother Sarah donated to him.
"She's a superhero," Milo adds.
The youngster from Auchtertool, Fife underwent heart surgery at just five days old and has suffered from cancer in his kidneys since the age of three.
"We decided the best option for Milo really was to take away his remaining kidney," mum Sarah explains.
"We took away one of his kidneys which was all cancer in 2013 and partially resected the other kidney that had some small tumours in it and then he did chemo, radiotherapy, and then the cancer came back.
"We did a stem cell transplant, more chemo and it was then we decided between us and the doctors that the best option for him was to remove the kidney completely.
"We knew that meant dialysis for two and a half years and that's what we decided to do."
Milo had to be cancer-free for two years before doctors would consider the kidney transplant, which caused "a bit of a fight" between his mum and dad Kevin as to who would donate the precious organ.
"We always knew that Milo would need a kidney and Dad and I got tested," Sarah says.
"There was a bit of a fight between us both as to who was going to give him the kidney. But then we both wanted to do it, there's not much else as a parent you can do.
"So it wasn't a second thought to give him a kidney."
At the Royal Hospital for Children in Glasgow, Milo and his mum were one of ten kidney transplants which take place in children each year at the hospital.
"I couldn't see him on the morning of the surgery which was the hardest for me because I've always been there with him in the anesthetic room," Sarah says.
The surgery, which took place in August, was complex and more challenging than usual for doctors due to the damage caused by Milo's cancer.
Surgeons had to 'replumb' his arteries and vascular system once the donated kidney was transplanted into Milo's body.
"Dad did a really good job of running backward and forward keeping everyone up to date," she adds.
Since the transplant, Milo's mum and dad have seen a "massive difference" in their little boy – especially now that his appetite has returned.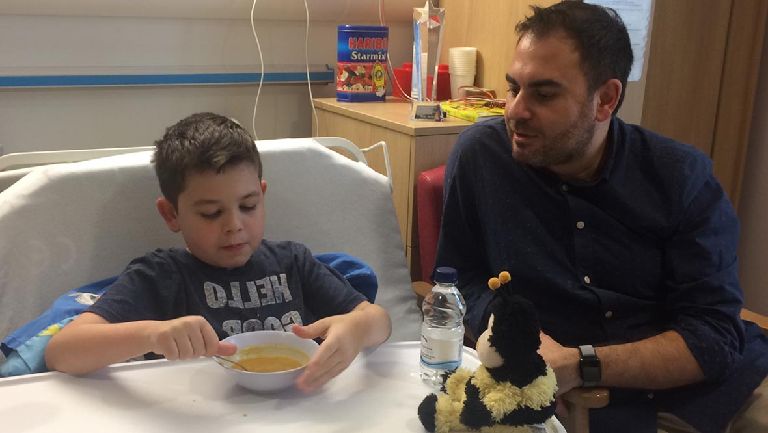 "It's amazing to see the difference in him, I see a massive difference the fact that he now wants to eat.
"He didn't want to eat before, he was mainly tube-fed.
"Milo has always been quite excited by food, he likes food but couldn't bring himself to actually eat it.
"Now it's just lovely to see, it's so nice to see him choosing things and enjoying it.
"His energy is good, even the hospital teacher said he's a bit more focused."
Milo, who turns nine next week, hope that he will be out of hospital soon and will get to spend his birthday at home.
Until then, he has a Kingdom FM Local Hero Award by his bedside, a gleaming tribute to his bravery.
But the kind hearted young boy thinks that his friends who also stay in the ward at the Glasgow hospital should get accolades too.
"I think it's very exciting that I won it but I think but I think lots and lots of people should have an award as well."