Mhairi Barrett always thought her dream of going to university was out of reach.
She felt like getting a job was the expected thing to do in the area where she grew up, especially if you had limited high school qualifications.
Working in the food and catering industry for over 25 years after leaving school, Mhairi's yearning for further education never left her – a feeling which intensified when she fell pregnant with her first child.
"I thought 'I want to do something different, I can do something different'," Mhairi says, looking back at a defining decision that has shaped the past decade for her.
"I think becoming a mum did actually shift my mind.
"I wanted to provide a good life for my kids. Being a mum gave me the confidence to do it."
Determined to give it a go, Mhairi could never have predicted she would now be in the midst of a PHD in 2018 after having completed both an honours and masters degree.
She could also never have imagined that three generations of her family would also be enrolled at university at the same time.
With 140 years between them, Mhairi Barrett, 43, her mother Mary Holgate, 78, and Mhairi's children, Charlotte, 11, and Zak, nine, are all currently attending Queen Margaret University (QMU) in Edinburgh.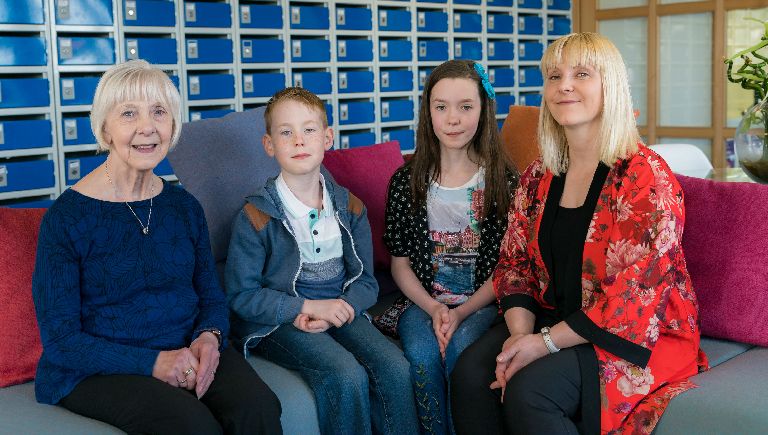 Mhairi's route to university began when she signed up to do some community education courses.
This led on to an outreach course at QMU, where she joined the university as an associate student on an introductory sociology module, a qualification which allowed her to progress and enrol in the Psychology and Sociology degree.
Since 2004, the university has run this module in various community spaces and places across Midlothian as part of a initiative to encourage people previously discouraged from entering higher education for social, economic or cultural reasons.
"QMU has changed my life," Mhairi says. "When I first started at QMU, my son, Zak, was only six months old, which could have made returning to university impossible, but the support I received at QMU made it achievable."
She adds: "I grew up in Woodburn in Dalkeith. University wasn't something that was in people's spectrum. You sort of got a job, you didn't really go to university.
"I had always thought in the back of my mind, I would love to do that.
"I thought I wasn't going to be good enough to be able to do it.
"When you come from that kind of background, you think 'that's not for me, it's for other people'.
"My turning point was the outreach course I did with John Hughes from Queen Margaret University.
"I thought 'I can do this'."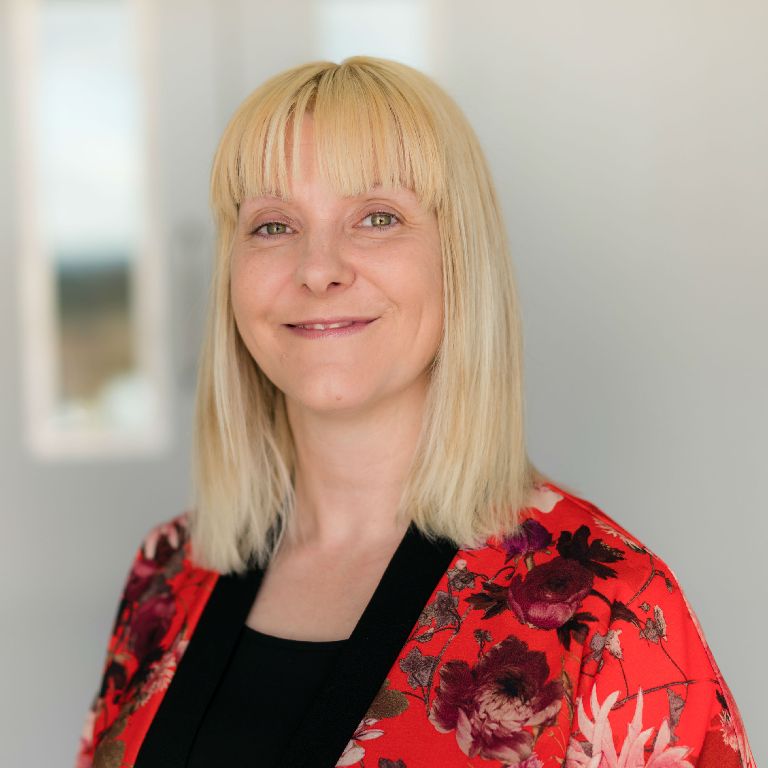 After graduating with honours, Mhairi heard about a new Masters of Science in Gastronomy course starting at the university. Given her background in the food industry, she knew it was the right path for her.
Her love for education had come alive and, on completion, it seemed a natural progression for her to submit a proposal for a PHD bursary course to continue studying gastronomy, a place she has again been successful in achieving.
Her story has been inspiring for her own family to watch unfold, so much so that her mother Mary has followed in her footsteps. The 78-year-old grandmother has shown that age is no obstacle after joining university in 2014 as a part-time student.
"It's never too late to go to university and achieve your dream," Mary says. "I'm living proof of that."
Originally a draughtswoman with the coal board, Mary has also worked as a receptionist, with her last role at Midlothian Council for 13 years before she retired in 2012.
While studying for her degree, the grandmother also invigilates for school exams in her spare time and hopes to use her knowledge gained from university to volunteer within the community.
This renewed sense of determination has been wonderful to watch, explains Mhairi, who says her mother has also always had a dream of going to university.
"In her day, it was quite unheard of for women to work, it wasn't really a thing, but my mum has always worked.
"My mum has always been ahead of her time."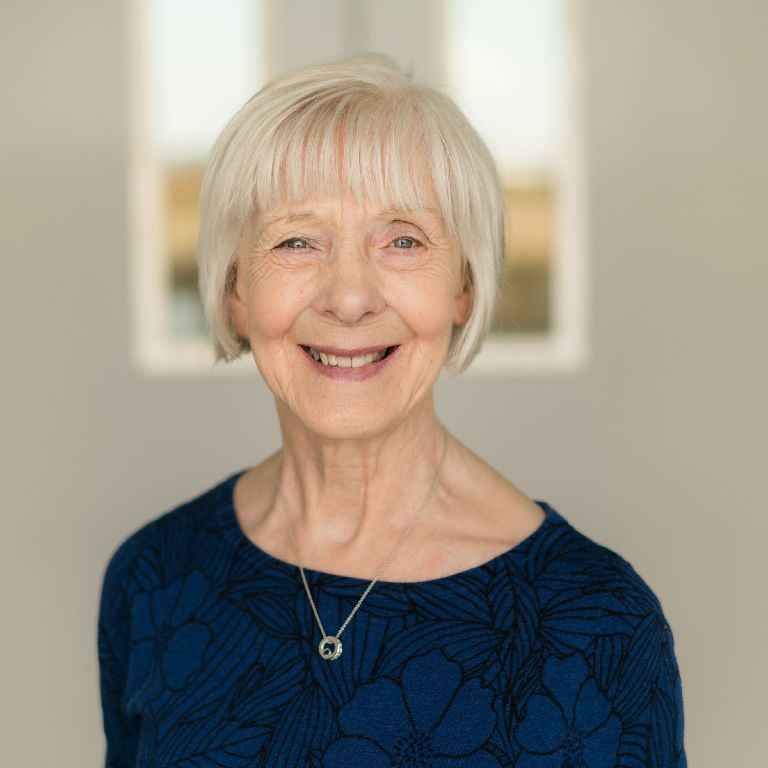 And it seems this determination runs in the family with both Mhairi's children, Charlotte and Zak, now a part of the Queen Margaret Children's University (QMCU), a project which aims to help school children become confident learners and broaden their horizons.
The Gorebridge Primary School pupils took part in activities like den building at Newbattle Abbey and taste testing at the university's food innovation centre as part of the latest summer school project.
"I made lots of new friends, and we did really fun stuff," Charlotte says.
Zak adds: "I was so excited to be old enough to join the Queen Margaret Children's University. Now I'm at the same university as my mum and grandma."
For now, both Charlotte and Zak have around ten answers each to the question 'what do you want to be when you grow up', a variety which pleases mother Mhairi, who laughs as she adds that she often has a similar number of responses.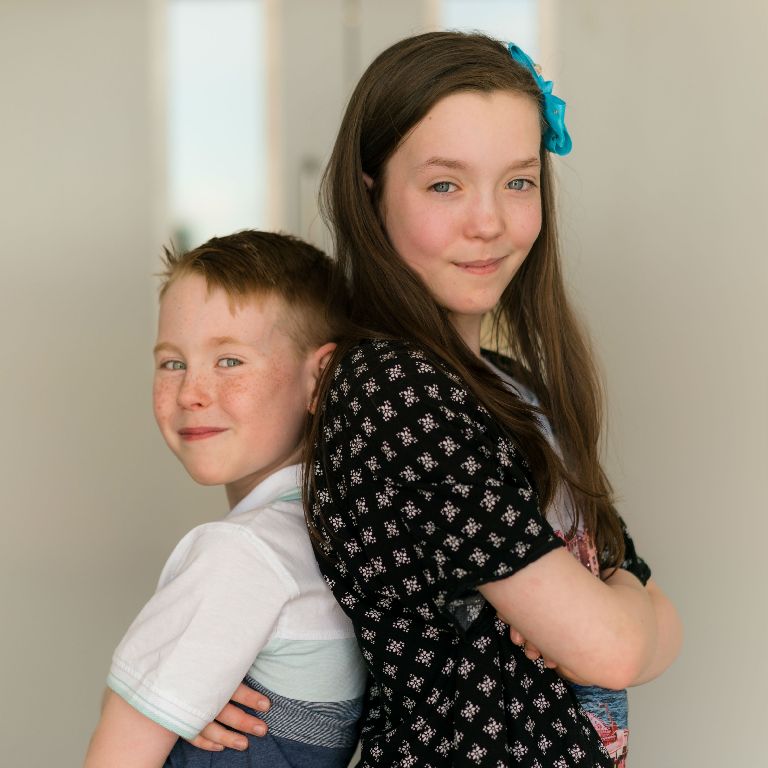 It is this sense of choice she says is the most important thing she could ever wish for her children, and it is something she wants to see more of.
Volunteering with Gorebridge Community Cares as part of this commitment, Mhairi is part of a team who are on empowering people to help them achieve the best they can to make a better life for themselves and their families.
"It's choice," Mhairi says. "I would like everybody to have the same choices and whatever they choose is up to themselves, but it is having those choices in the first place that I think is very important.
"I'm quite proud, I really am," she adds.
"I think I am most proud that we have come through community education and not the normal route.
"I am hoping our story is going to encourage other people to say 'well they've done it, I can do it'."