Passengers faced delays as airport workers began the first of two 12-hour strikes in a dispute over pay and pensions.
Members of the Unite union at Glasgow and Aberdeen airports walked out at 4am on Friday.
It followed a breakdown in talks about pensions and pay with owner AGS Airports.
Unite said Glasgow Airport had withdrawn from negotiations over its proposal to close its pension scheme to existing members, which the union says broke an existing agreement made in 2016.
A further 12-hour strike is planned at both airports on Monday and a four-hour walkout at Glasgow next Friday.
During the strike on Friday afternoon, the union announced that an additional six-hour stoppage will take place at Glasgow on June 21.
AGS Airports said "robust contingency plans" had been put in place to ensure that both airports were fully operational throughout Friday.
However, there were delays at security at Glasgow Airport with queues "longer than normal".
The airport tweeted: "We apologise to our customers for the delay at security this morning.
"Following the commencement of industrial action and transition to our contingency in security, we have experienced longer than normal queues."
Those involved in the strike action include security staff, fire and airfield support staff.
It is thought around 400 people are on strike at Glasgow and some 300 at Aberdeen.
A Glasgow Airport spokesman said: "We encountered longer than normal security times for a short period during our peak departure time this morning and would apologise to our passengers for any inconvenience caused.
"It is important to highlight that the airport is fully operational and our contingencies are in place.
"We are working hard to ensure we keep any disruption to an absolute minimum during this period of industrial action and our passengers remain our primary focus."
Aberdeen Airport said there were no delays or cancellations due to the strike.
Managing director Steve Szalay said: "This is not a situation that we want to be in but it's been business as usual here.
"We'll have 10,000 people travelling today and they've been coming in and out without disruption.
"These range from folk who've saved all year to go on holiday to people who have been working offshore and are getting home to see their families."
On Friday afternoon, Unite added an additional strike day at Glasgow Airport to the two already planned.
As well as June 10 and 14, workers will also strike between 8.30am and 2.30pm on Friday, June 21.
The union claimed it "severely disrupted" operations at the airport on Friday.
Pat McIlvogue, Unite regional industrial officer, said: "The industrial action has severely disrupted Glasgow Airport's operations, despite the underhand tactics by management which included substituting fire safety officers with other staff on site who were questionably trained for the job.
"It's a shame that passengers' travel has been disrupted but this is 100% the fault of Glasgow Airport management."
"For the avoidance of doubt, Unite has repeatedly requested meetings with management and can categorically prove that we wanted to meet any time this week to try and find a resolution to this dispute.
"But, our overtures have been completely ignored which is why we have added further dates for industrial action. If we continue to be ignored then we will have no option but to escalate this dispute."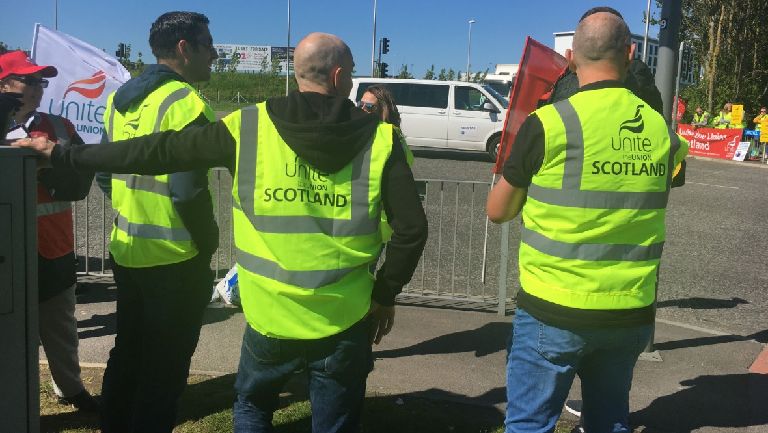 An AGS spokesman said: "We have been in talks since January and, despite attending Acas, there continues to be no willingness whatsoever on the part of Unite to engage in any constructive dialogue.
"We made a significant improvement on our initial pay offer, which was increased from 1.8% to 3% in line with demands.
"This was rejected by Unite without any further consultation with members, and the union continues to deny them the right to make a decision on the offer of 3%.
"In regards to our final salary pension scheme, it is simply unaffordable with the cost to the company due to rise to 24.7% per employee.
"We tabled a generous compensation package for the remaining members, which again was rejected by Unite without first consulting its members.
"As always, we remain open to continuing dialogue with Unite to resolve this dispute."