A group of Scottish school pupils glimpsed into one of the darkest periods in human history during an emotional visit to a Nazi death camp.
The teenagers, who were accompanied by First Minister Nicola Sturgeon, told STV they found the trip to Auschwitz "overwhelming, unsettling and chilling".
Around 1.1m people, including one million Jews, were murdered at Auschwitz-Birkenau, the Second World War Nazi concentration and death camp, during the Holocaust.
Beth Swan, 17, from Rothesay Academy on the Isle of Bute, said: "It's completely different to getting taught it in class or reading it in a book – it just brings it all to life.
"Seeing all the names as well and the faces to the stories, it really brings the numbers sort of to life and you can get a glimpse of some of the people that were the numbers."
During the tour, organised by the Holocaust Educational Trust, the group heard about the history of the camps and viewed the vast Book of Names listing victims at Auschwitz I, set up by the Nazis in 1940.
Rachel Young, 17, from Alloa Academy in Clackmannanshire, said: "It's been very overwhelming to see what's actually happened and put into perspective of what the people who came here went through.
"You don't really get the full extent of what you've been taught in class compared to here."
The group also entered a gas chamber and crematorium.
Alloa Academy pupil Lewis Mulheron, 16, said: "It was horrible to think that was the first, that's where it started, that so many people died in there."
The pupils believe there are lessons to be learned from the horrors of the Holocaust and it should not be allowed to fall away into history.
The First Minister, who joined the 200 students from schools across Scotland and STV News on the trip on Tuesday, vowed "never to be a bystander" when confronted with hate and prejudice.
Ms Sturgeon told STV: "I thought I was prepared for the emotional impact of coming here, but actually it's been way beyond anything I could've ever have imagined.
"Certainly, one of the strongest lessons I'll be taking home is how important it is never to be a bystander or say nothing when you're confronted with hate and prejudice."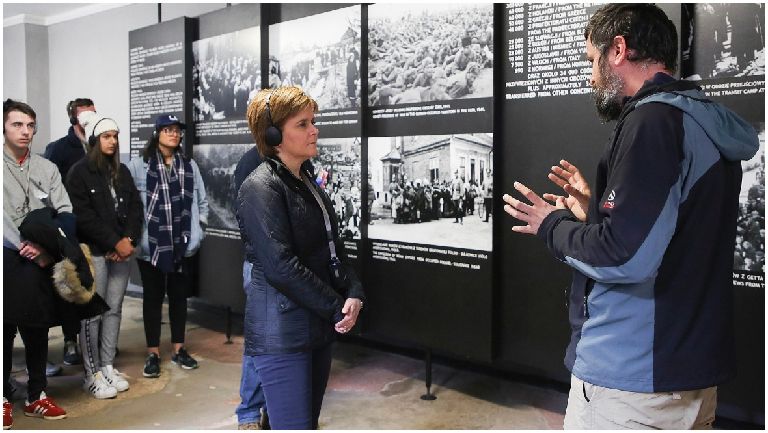 During the tour, the First Minister was shown the remains of the four huge chambers which victims were told were showers before being gassed to death.
Ms Sturgeon stated: "What happened here was mass murder and mass murder on an industrial scale of people simply for who they were.
"But that sits side-by-side with glimpses of and remnants of hundreds of thousands of individual human lives."
The First Minister found it difficult to look at the victims' personal artefacts on display, including piles of human hair, shoes and spectacles, as well as photos of children and babies – each giving an insight into the individual lives cut short.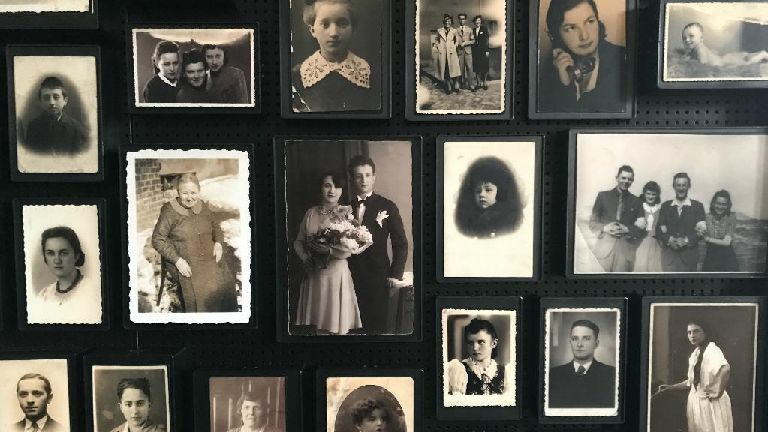 Sturgeon said: "It's a tough thing and I guess for most of us it will be perhaps quite some time after we're home before we properly process what we have seen here today."
She said the attack on a synagogue in the US on Saturday where 11 people died was a stark reminder that anti-Semitic views still exist.
She said: "The Holocaust didn't start here, it started in the othering and dehumanising and stereotyping of Jews, it started in everyday discrimination and anti-Semitism.
"Although it was perpetrated by the Nazis, it was facilitated by hundreds of thousands of people who went along with it or turned a blind eye to it.
"Sadly we live in a world where anti-Semitism is raring its head again. Where bigotry and intolerance and racism are all stronger forces than any of us would want them to be.
"So being able to come here and apply those lessons is hugely important and to resolve not to be bystanders in the face of racism and prejudice and hate.
"This is a horrific and graphic and powerful reminder of what can happen when hate and prejudice and discrimination are not challenged and checked and challenged."