Scotland's oldest man Alf Smith is 110 years young today.
The super centenarian was born on March 29, 1908, meaning he has lived through two world wars, five monarchs and 21 prime ministers.
But Alf, who lives in St Madoes, Perthshire, shares his birthday with someone else, Bob Weighton, who stays some 500 miles away in Hull.
Together, the pair are the oldest men in Britain, and exchange birthday cards and phone calls every year.
Only around one in 1000 centenarians manage to reach the "super" age of 110, so what is their secret to long life?
"Porridge every day since I was born," Alf tells STV News with a laugh.
"I've been lucky I've had good health," he adds. "Pretty good health anyway."
Bob did not expect or intend to live as long as he has. "It was never one of my ambitions," he says. "Life was just interesting."
When the pair were born in 1908, a loaf of bread cost two and a half old pennies, Edward VII was the country's monarch and the world was six years away from the First World War.
Alf, one of six boys, and Bob, one of seven children, have lived through more than a century of change and upheaval.
For Alf, as a farm worker who moved to Canada in the early 20th century, he witnessed the changes in agriculture first-hand.
"I worked on a farm in Canada with six horses. But then horses started to get too slow," he explains.
"You couldn't get people to drive them and they bought tractors."
Bob and Alf exchange a phone call every March 29 asking after each other's health.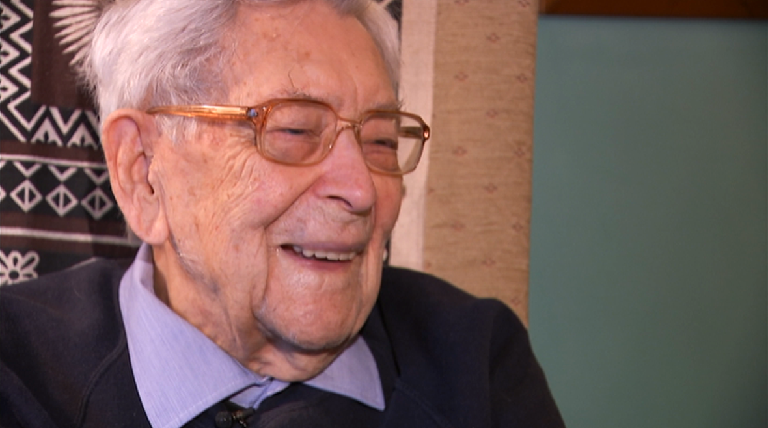 "It's very special, yes," says Bob. "I feel he's a twin brother although technically he's not.
"To me it's just another day."
The pair have had 11 birthday cards and counting from the Queen – as well as the ones they send each other every year.
Bob has a birthday message for the man he shares his remarkable shared milestone with: "Very best wishes to you Alf.
"It's a pity that we've never met."