An adorable video of a father and his daughter sword dancing together has been melting hearts across Scotland.
Paul Crosby took up Highland dancing classes after his young daughter begged him to dance with her.
He says they have been overwhelmed with positive messages since the video was shared a week ago.
"I think we are all still in shock, including her dance teacher who shared the video, that we have received such a large amount of attention," says Paul, who lives in Utah in the United States.
"At first I was embarrassed because not many men or boys participate in Highland dance here locally but I have been having a blast and so has my daughter."
Annie, nine, has been taking dance lessons at Forsyth Academy of Highland Dance in West Jordan with teacher Charei Mace for the past four years.
"Charei is an accredited dance instructor who has competed all over the United States and in Scotland – she is the one filming the video, " says Paul.
"I am 38 and as you can tell from the video could lose a few pounds. Annie has wanted to do a dance with me for years so when Charei offered an adult exercise class using Highland dance I signed up."
The video that Charei posted spread fast throughout the online dance world and was soon picked up by Highland dance schools and fans in Scotland.
"That fellow is a good dancer. Keep going man!" posted Lori Bainter.
"Nice one Twinkle Toes" said Heather Nylander.
Annie began Highland dance classes four years ago after Paul took her to a Scottish festival in Utah.
"My great-great-grandfather is from Scotland and wanting to learn more about my Scottish heritage we started going to local Scottish festivals and Highland games," he says.
"While at the festival we saw the Highland dance competition and I told my wife I would be OK if Annie wanted to learn and that is where that started.
"Travelling to the different festivals has become a part of our lives and we hope to be able to make it to Scotland one day to compete."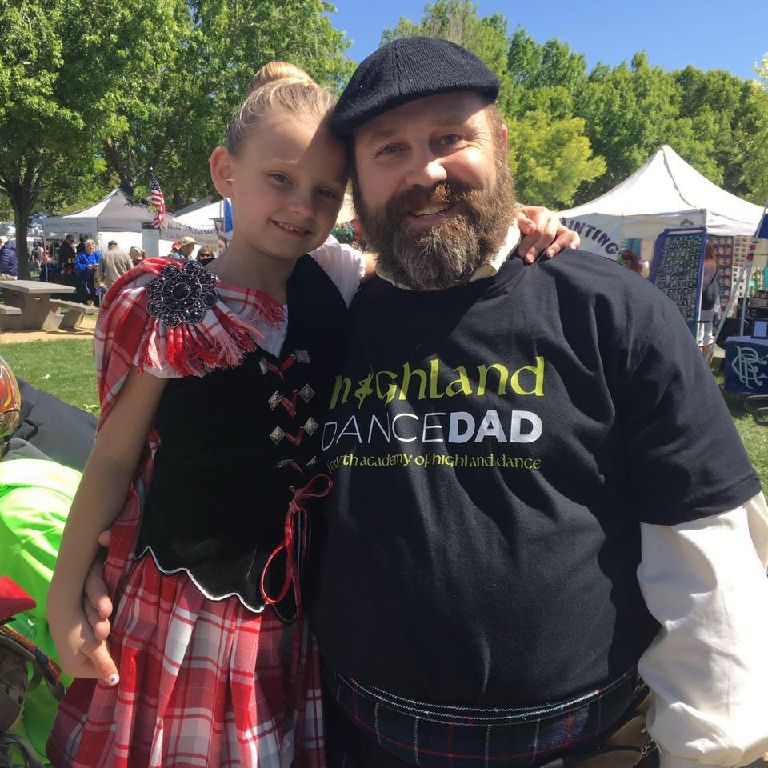 For now, the tartan duo have pledged to continue dancing and say they are delighted to have given so many people in Scotland a reason to smile.
"We just want to thank everyone for all the comments and sharing the video and Annie was so excited when we told her that a TV journalist from Scotland saw her video and wanted to do a story on it," says Paul.
"Hopefully soon we will have the full sword dance in kilts and all to share."