At a vape shop in Glasgow, people are engaged in the revolutionary act of sitting around and having a chat.
For many, e-cigarettes have become more than just an alternative to smoking: they're a lifestyle in themselves.
With that lifestyle, communities both real and virtual have popped up where vapers can swap tips and talk about the wide range of vaping products out there as well as socialise.
On Thursday, for the first time, experts from the NHS, Scottish Government, charities and academia teamed up to declare e-cigarettes as "definitely less harmful" than tobacco.
Vaporeyes, in the city's south side – like many other such stores around Scotland – seems to function not only as a shop but almost as a kind of cafe, with regulars sat around the kiosk as if it was a bar.
"You can come into a place like this and the people here, we talk to each other and we share all the different things that we do," explains law student Nadeem Hussain.
"It's worldwide now," he adds. "We're on forums every day – you're talking to individuals from America, from Mexico, you name it, all over the globe.
"It's just one big happy family and we all share the different products that we buy, the coils that we make, the juice that we taste."
The industry, which continues to snowball in size, has seen a complex range of products and technologies rise up around it, and a corresponding need for customers to make sense of it all.
David MacAffer, who works in media and advertising, is also a committed vaper.
"I think the sub-culture comes out of necessity," he says, "because you look around the shop in here and you see all these different flavours, all these different devices and you want to know what's going on.
"But you can't know by trying it all yourself because it would cost you a fortune so naturally you go online."
On the internet there are hundreds of vaping communities, where you can get advice on everything from which devices are best to how to build your own "coils" – the heating elements which turn the liquid into vapour.
Furthest down the online rabbit hole, explains David, you find "people who are real hobbyists".
Nadeem and David have something in common, along with the majority of Vapoureyes' customers – they are ex-smokers.
"I was a heavy smoker," says Nadeem. "I did a stint taxiing as well and I was just smoking constantly and the only thing to get me off cigarettes was these devices."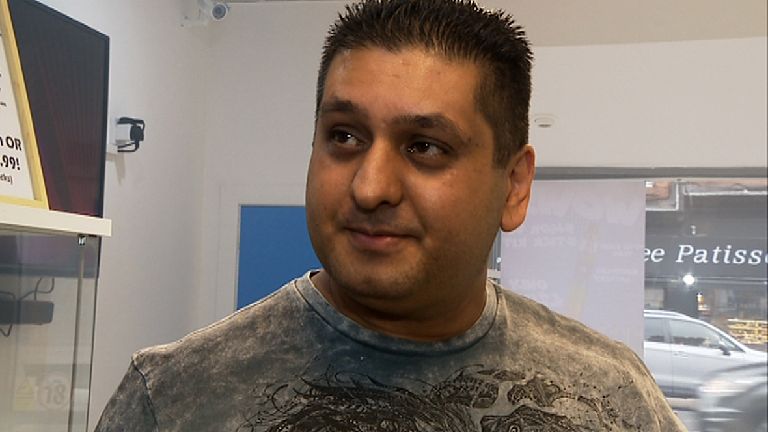 He adds: "They really have worked for me. I've tried everything – I've tried patches, I've tried Zyban, I've tried the whole shebang and this is the only thing that's worked for me."
Nadeem believes that the fact they are a community of former smokers is partly why it is such a social affair.
"Everyone's just happy because they've kicked the habit and we're enjoying it – we enjoy ourselves.
"We're healthier, we're fitter – I can run around the block a couple of times and before I couldn't even walk around the block."
There is a consensus on this throughout the shop, backing up Thursday's announcement from health experts that vaping is "definitely less harmful" than smoking tobacco.
David, who previously smoked 20 or 30 cigarettes a day, says it is now like he has "got new lungs".
He recounts: "The first two weeks I coughed my lungs out and then after that, cycling into work, I just felt like a new man. It's absolutely insane."
Sully Ahmad, who owns the shop, tells of how most customers coming through his doors are people desperate to quit smoking, for reasons ranging from health to affordability.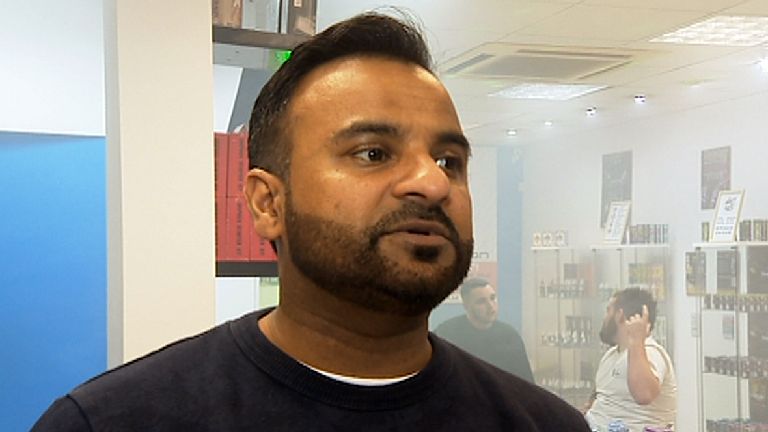 "There's been a lot of new faces coming into the shop as well as regular customers," he says.
"We're getting a lot of the older generation as well converting to vaping which is quite surprising, because you'd think it would be a bit tricky to change your habits when you're at that age.
"But they're coming in and they're adapting to it quite easily."
Beyond vape shops, there is a blossoming industry of vaping expos and even tricks competitions – the prize money for which, says Sully, can in some cases amount to tens of thousands of pounds.
"I'm quite fortunate that I'm making a living off it as well. I'm fortunate to meet good people," he says.
"I get self-satisfaction out of helping customers converting from smoking to vaping – I feel there's nothing better and I enjoy my work. I love coming into work."
The government, the NHS and academics warn that although vaping is less harmful than smoking tobacco, its full long-term health effects are not yet known, and non-smokers are not advised to use e-cigarette products.
However, health professionals are beginning to agree on the benefits for smokers of switching from tobacco to vaping as a means to both quitting cigarettes and improving their health.
As Sully puts it, all of his customers seem to have one thing in common: "They've stopped smoking, they're vaping and their lifestyle seems to be a lot better."