Chloe Brown's family is one of many to be left worrying if a vaccination against the human papilloma virus (HPV) has done more harm than good.
The 15-year-old is among the roughly one million girls in Scotland who have received the jab since it was introduced in 2008 to combat HPV, strains of which can lead to cervical cancer.
While there have been no signs of cancer rearing its head, the pupil at All Saints Secondary School in Glasgow has endured dramatic changes to her lifestyle and personality over the last two years.
Despite her best efforts with tablets and pain relief patches, Chloe has only managed to attend a few days of school this year.
The teenager has been left in unbearable pain every day, spending most of her time in bed or a wheelchair, and relies on a steady body of painkillers.
It is a side-effect of the vaccine that her family claims was not mentioned when she was initially given the jab.
Chloe told STV News: "[Side-effects were] mentioned very early on when I got problems with my hip -that it could be connected to the vaccine.
"It was worrying but I try not to think about it [the pain] too much, or think about anything too much that could be causing it. I've got so much to deal with rather than be worrying about that as well.
"Some days if I'm bad I can lie and maybe sit and watch TV but there are others I need to lie down and lie still, and not do anything.
"Other times I can't sleep but when I am asleep it keeps me from feeling the pain."
Around 552 adverse reactions like Chloe's have been reported in Scotland since its introduction, equating to 78 a year.
Chloe and her mother, Pauline Terry, are now part of the UK Association of Vaccine Injured Daughters, representing 400 girls who want the vaccination stopped until more research is done about its potential risks.
A list of five side-effects was given to Chloe, which included headaches and fever.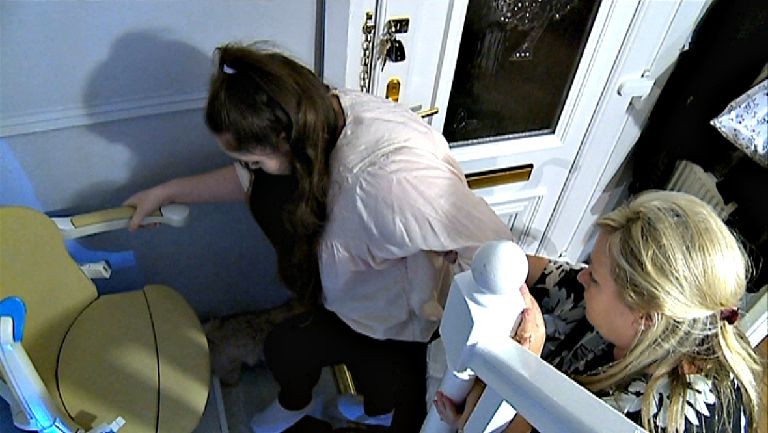 She said: "Every time we mention it could be connected to the vaccine we're shut down completely. But there's been no tests done to prove that [her condition is linked to the vaccine].
"I tend to let whoever is with me speak to the doctors since the doctors don't listen to me. Whenever I say something to them they listen and say something back but they don't really take it in.
"We got a copy of my doctor's notes and it actually said in it by a doctor that they don't believe I'm in the pain I'm telling people I'm in. We were all really angry at that."
She added: "Every single doctor we've spoken to have all said it's nothing to do with it, or it has nothing to do with their field. But they never tell us who it is. So there's nobody we can ask to see if it's linked to that.
"So many girls are going through the same thing but no one is connecting the dots."
The link between Chole's condition and the vaccine has been discounted by the European Medicines Agency, which carried out extensive research into the jab.
The agency report on Gardasil 9, produced by Merck Vaccines, ruled the "benefits are greater than its risks".
It said: "The agency's committee for medicinal products for human use decided that Gardasil 9's benefits are greater than its risks and recommended that it be approved for use in the EU.
"The [committee] considered that Gardasil 9 offers a broader protection against cancer than its precursor Gardasil, since it protects against additional five new types of HPV, which although less common than types 16 and 18, are also considered high-risk HPV types.
"Thus Gardasil 9 is expected to prevent the majority of cervical, vaginal and vulvar cancers and premalignant lesions, as well as genital warts associated with HPV.
"Regarding side-effects, although a large proportion of subjects develop injection site reactions, these are only slightly more than for Gardasil."
Catherine Calderwood, chief medical officer for Scotland, remains confident in the findings and existing research despite the families' collective efforts.
Ms Calderwood said: "It is important to realise the devastating effects of cervical cancer. In my career as a gynaecologist I've seen young women in their 20s and 30s being severely damaged or dying from cervical cancer.
"This vaccine which is responsible for a 90% reduction in HPV that causes cervical cancer is extremely important since vaccine was introduced in 2008.
"We monitor vaccination programmes extremely carefully. Eight and a half million girls have been given this vaccine since the programme was started almost ten years ago and we have reassurances this is safe."
She added: "I wouldn't be able to comment on individual cases but we monitor vaccination programmes extremely carefully.
"We are assured that these vaccines are safe, more importantly they are preventing young girls having cervical cancer which may kill them.
"I would say the vaccine is so safe my teenage daughters have been vaccinated with it because I want to prevent them getting the devastating cancer that kills young women and girls every year.
"We monitor for side-effects and we are reassured this vaccine is not causing difficulties and problems in girls and young women but is in fact preventing them from getting cervical cancer and saving lives."
Additional reporting by Clare McNeill and Amy Irons.