Whether dredged in icing sugar snow, sparkling with boiled sugar stained glass windows or thatched with chocolate button roof tiles, the gingerbread house has been a Christmas tradition in households across the world for centuries.
While gingerbread sculptures were being created in the 1600s, the spiced biscuits we know today were being baked as early as the 13th century in the form of Lebkuchen, Germany's iconic iced cookies often consumed at Christmas.
Nuremberg was in fact named as the Gingerbread Capital of the World during this period and in the following centuries, gingerbread figures became popular – Queen Elizabeth I even had shapes of her important guests replicated in the honeyed biscuit dough.
By 17th century Europe, only professionals made gingerbread, except during religious celebrations such as Easter and Christmas, when anyone was permitted to bake it.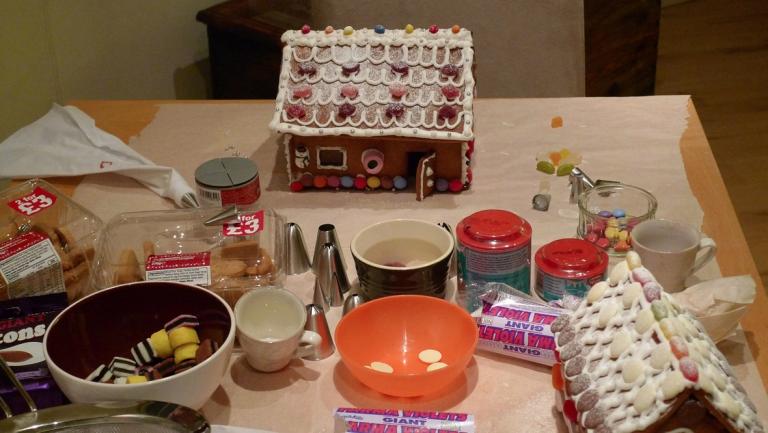 The gingerbread houses we know today though, come from a very familiar story published in the 1800s.
Following the popularity of the Brothers Grimm fairytale Hansel and Gretel, the titular characters enticed by a house made of bread and sugar, bakers would replicate their own versions which in turn became a popular Christmas tradition still enjoyed by families across the world.
In fact, the most recent series of The Great British Bake Off tasked its contestants with showstopping sculptures made of the spiced biscuit dough, a pub complete with sticky gingerbread cake carpet declared the winner and in previous years Rome's Colosseum and a derelict barn have been constructed for gingery judging scrutiny.
Simple gingerbread houses have been swept aside in favour of elaborate showstopping creations, far removed from the humble origins of this traditional festive treat.
So how do some of Scotland's top food bloggers create their gingery masterpieces during December and what are their top tips for perfect construction?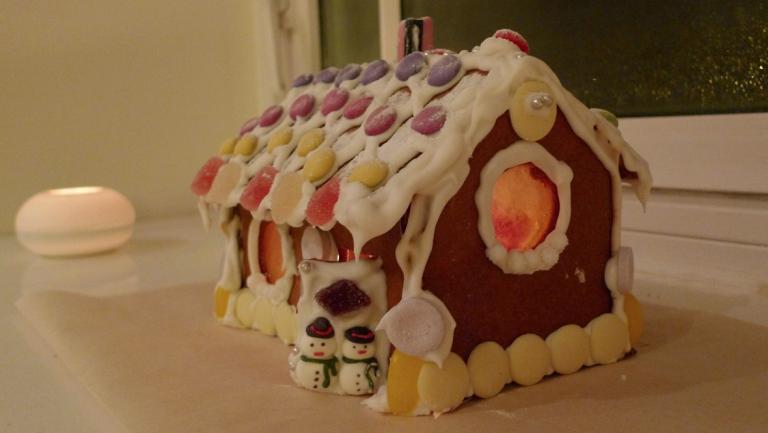 "One of my earliest Christmas memories is standing on the other side of the kitchen door. On the other side, my mother is swearing lustily," says Caroline von Schmalensee, who runs the Edinburgh Foody blog.
"She's gluing the gingerbread house together with caramel," she recalls.
Caroline says that using a hot caramel (hence her mother's swearing) has its advantages, adding a lovely crunch when the house is eventually dismantled but that it sets very quickly, therefore wall placement needs to be accurate.
She also adds that caramel tends to bleed into any icing used to cover the joins.
"When I was a kid, the gingerbread house was the sign that Christmas had arrived just as much as baubles, non-cracking crackers, a glittering tree and a 1kg sausage of Odense marzipan which we'd eat in slices," she says.
"Decoration is all about letting go of aesthetics and sense. Slate it in colourful chocolate dragés, a type of sweet, scallop it with icing, add a liberal sprinkling of coloured sugar. It has to be crammed with goodies."
"A gingerbread house is a lesson in patience," she adds. "Making the dough takes time, cutting out the pattern and then the pieces demands accuracy."
"For the pieces to really fit, cut them down to the size of the pattern as soon as they come out of the oven," Caroline advises, although she admits she rarely does this – leading to wonky houses.
"Taking care – a deep breath, relaxed concentration – helps avoid sugar-glue burns and frees your mind to decorative excess," she says.
"Even finished it tests your patience. It has to be pretty for a good five days before you can eat it. "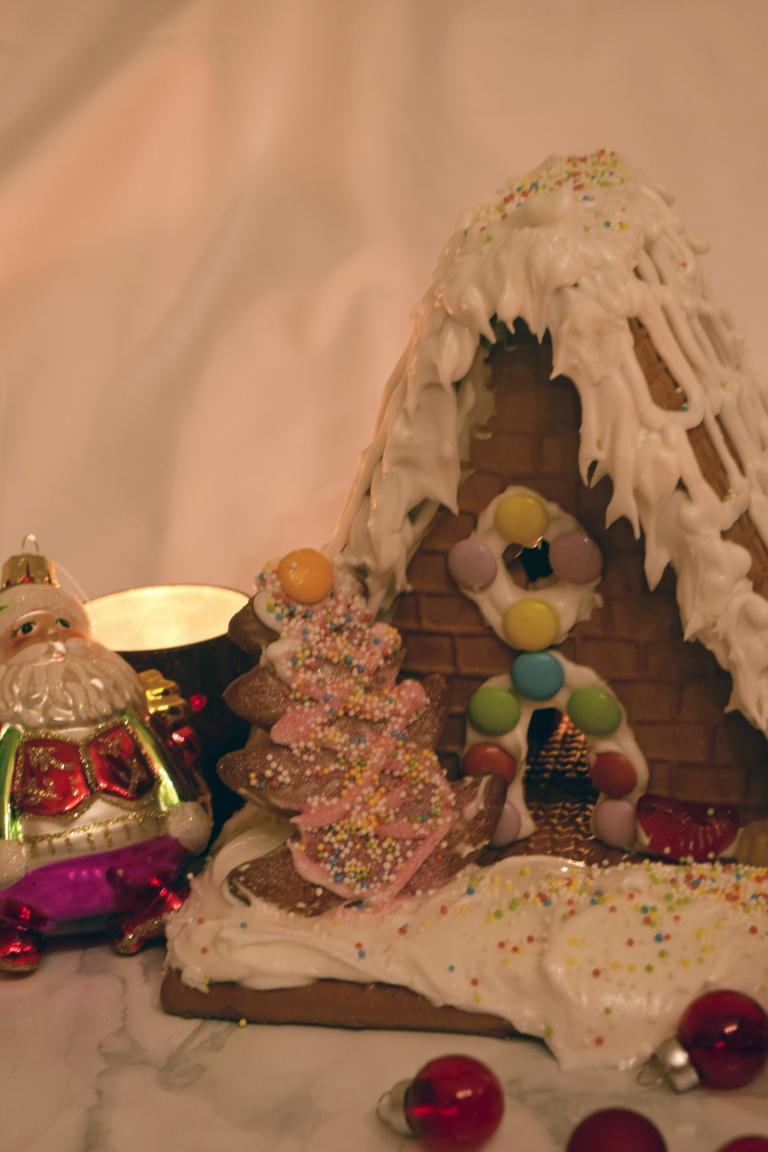 For Lauren Dall of blog The Luxe List, simplicity and tradition are key for a classic gingerbread house.
"I use an old gingerbread recipe from my mother, and I'm a big royal icing fan," she explains.
Rather than using a premade or pre-mixed sugar, she is an advisory of tradition, making her own icing despite its temperament for thickness and bowl-breaking sturdiness.
"I mix egg whites and icing sugar until it's super thick, then add a couple of drops of lemon juice for stickiness," she says. "I then construct the house with the icing when it's really thick, then thin it down a little for decoration."
When it comes to decorating, the gingerbread houses Lauren prefers are sweet laden, sprinkles a favoured choice, but says that sometimes a confectionery house is constructed purely for decoration and not for eating.
"I'm a fan of old school simplicity for designs, and love hundreds and thousands and smarties for decoration," she says. "If it's for display, I sometimes like to keep decoration icing-only."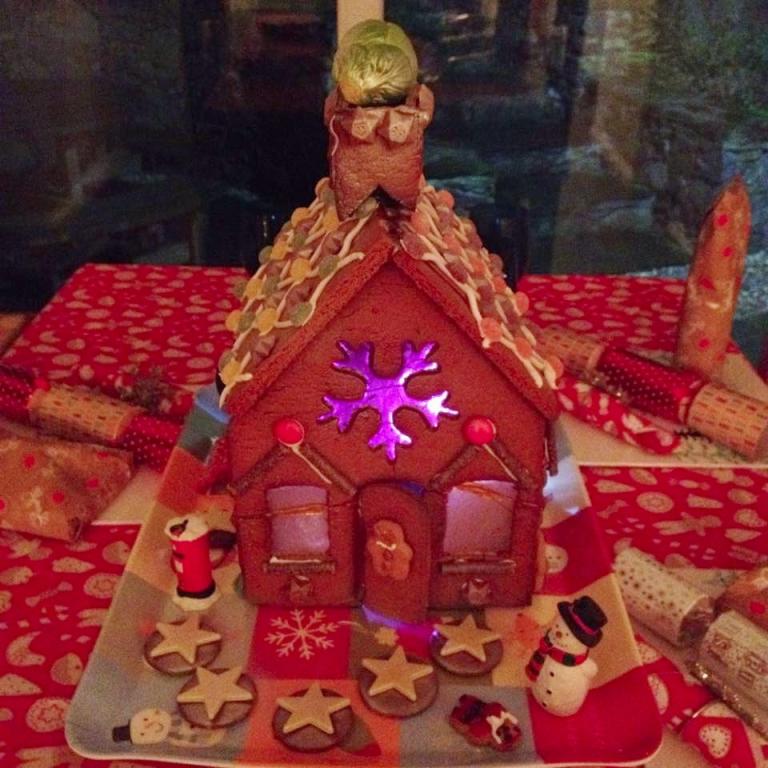 Claire Jessiman, who runs the Foodie Quine blog, says the master gingerbread makers in her household are her children Kyle and Iona – with a little assistance from their aunt Adele.
The brother and sister team, aged 14 and 12, first became hooked after constructing a house from an IKEA kit in 2010 and each year, their creations have become so elaborate and impressive, they've moved away from standard rectangular houses to create cottages with entire snowy scenes.
"We didn't really experiment, we just used Mary Berry's gingerbread recipe and it worked quite well," Kyle explains.
"It's quite crunchy and it's nice and gingery but it's not very gingery, it's nice to eat."
Experimenting with different edible glues, Kyle is on the fence over his preferred substance – caramel sticky and good for smaller construction and royal icing better for bigger houses – although the latter requires a lot of patience holding pieces in place as they dry.
"With the caramel it's not too bad because it sets quite quickly but the icing one we were all sort of holding onto different bits and we were using cans and bits to hold the roof on whilst it was setting," Kyle warns.
"I think that a few hands help to get it in place but then you want to have something to put under it to put it in place because you don't want to be there for an hour and a half waiting for icing to set whilst holding it."
Kyle agrees with Caroline in trimming the pieces once they come out the oven, as gingerbread often expands when baked.
He says: "You want to cut out your template in your gingerbread and then five minutes before it's cooked with the windows cut in it already, you want to take it out and put crushed boiled sweets into the holes and then they will melt to make windows but before you put them in, trim around your windows as they will expand in the oven."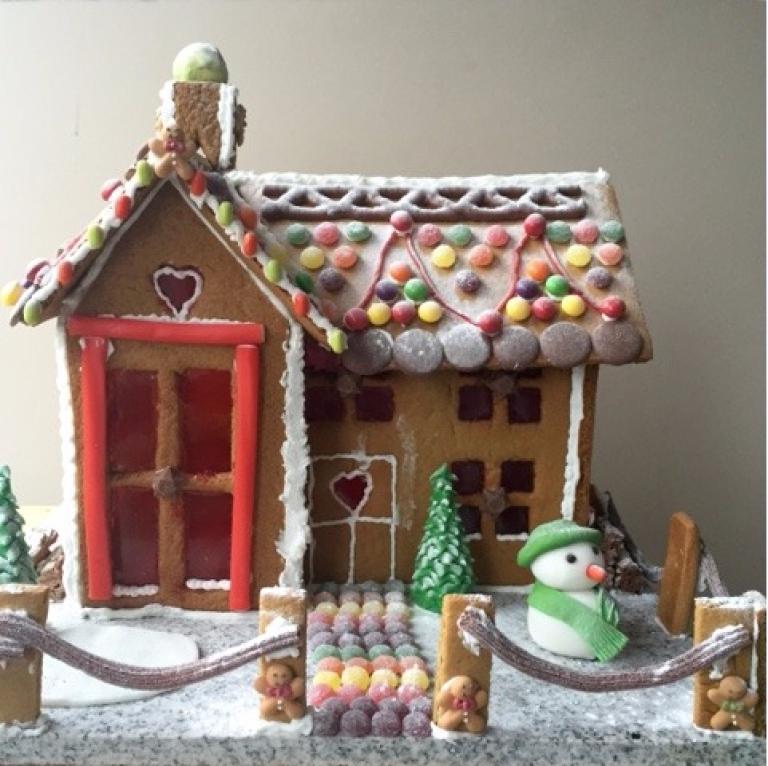 While construction is often left to Kyle and his aunt, Iona explains that the decoration for her is the most important.
"I don't really like making the gingerbread, I'm just the design," laughs Iona.
She warns against slathering icing on each surface – "We did it one year and it just didn't work at all, it sort of just drooped" – but has grand ideas of how to transform a gingerbread structure into an enticing piece of edible art.
"I make it look pretty," she says. "For me, with the roof it's quite important personally. What we usually do is layer big chocolate buttons which makes it look quite cool.
"Last year we used fondant icing and rolled that out and put multicoloured Tic Tacs in for a change, we have to make a chimney and put a sprout in it."
Chocolate fingers tied with strawberry laces make excellent fences and Iona also suggests making a small gingerbread plaque to ice with the makers' names to stick at the front door.
A mound of icing sugar snow looks effective and Iona also suggests icing gingerbread men like family members to stand by the front door – adding a self-confessed 'risky' option to make a gingerbread house even more impressive.
"It is quite risky, but you could take off the roof and not attach the roof and have have stuff inside which looks quite cool so you could have some people inside," she says.
While both Iona and Kyle have different ideas of how to create the perfect gingerbread house to display this Christmas, both agree there is only one thing that matters.
Iona adds enthusiastically: "Gingerbread houses are one of my favourite things about Christmas but one of the best bits is eating it, that's the tasty bit."