You are about to get a new £5 note in your pocket and this one has a few hidden surprises in it.
For the first time, the Royal Bank of Scotland has consulted the people of Scotland to create a currency designed by those who use it every day.
Already nicknamed the 'People's Money', the first of the new look £5 note goes into circulation this week and the designers behind it have included a few concealed delights for keen eyed Scots to find.
Working with artists, weavers and even mountain rangers across the country, a wide variety of Scottish people have contributed to the final polymer note which features Nan Shepherd, one of Scotland's most talented writers.
"We wanted to draw inspiration from what went before but not be completely tied to it," explains Creative Director Rebekka Bush.
"We wanted to reflect modern Scotland and a future looking Scotland. It's been a really exciting project.
More than 1000 Scots were consulted to help with the design which has been created as part of a series of notes which combine to tell one story.
"It's very much about the spirit of Scotland's people, designed by them, for them," adds Rebekka.
"I'm just really pleased that everything on the note fits together and tells a story."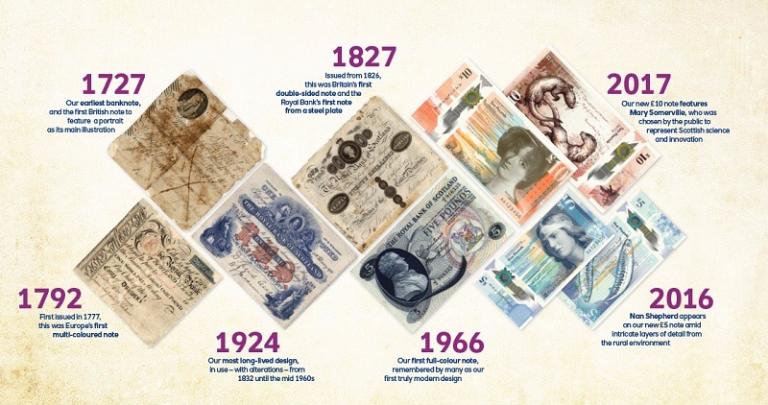 A public vote has led to scientist Mary Somerville being chosen to feature on the £10 notes which will enter circulation next year.
"Bank notes have a special meaning to Scottish people, they were a vital part of our economy and of how we've done things in the past and that all goes quite deep," says RBS archivist Ruth Reed.
"People don't realise that maybe until about 100 years ago in England, paper notes weren't really in wide circulation, whereas in Scotland we were using them right from 1727 or even earlier.
"In fact in the 1820s, London tried to ban £1 notes and Scotland really united and said 'no you're not'.
"Walter Scott wrote some letters defending them and said he'd never seen Scotland united that way before.
"There was a shortage of coins and they were absolutely essential to everyday life so Scotland fought for them."
The new notes are expected to be in circulation for around 30 to 40 years, so here are a few detailed delights to watch out for.
This note features Nan Shepherd, a Scottish novelist and poet from Aberdeen who loved walking about Scotland's mountains.
"Nan is just really special," says Rebekka Bush. "She is quite recent and her writing is really really beautiful. It was very much about being at one with the landscape and the mountains – not conquering them by marching up to the top and planting a flag there – but living with them and being part of the land instead.
"Her writing is really quite beautiful and inspiring."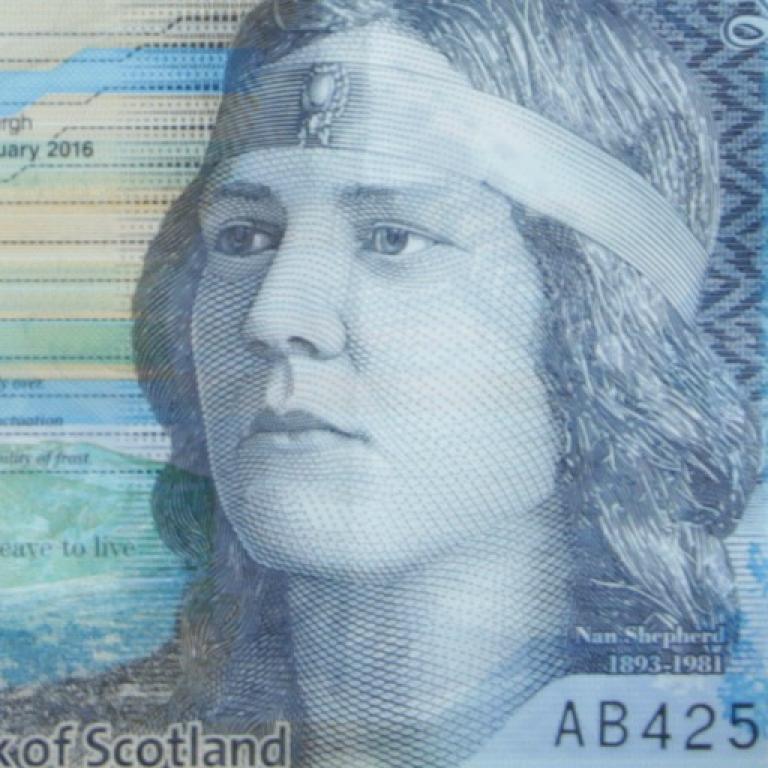 Spot the midge! The new £5 note has Scotland's favourite little bug squashed onto it.
"Every note has a midge on it, it captures our Scottish sense of humour," says Rebekka.
"There's actually a hidden midge cluster too which you can see under the UV lights, which was designed by Timorous Beasties in Glasgow.
The cluster on the note looks like a flower but it's actually made up of lots of little midges.
"That's what people told us, that Scotland isn't a serious sort of nation, that we actually have a sense of humour," says Rebekka. "They wanted that in the notes."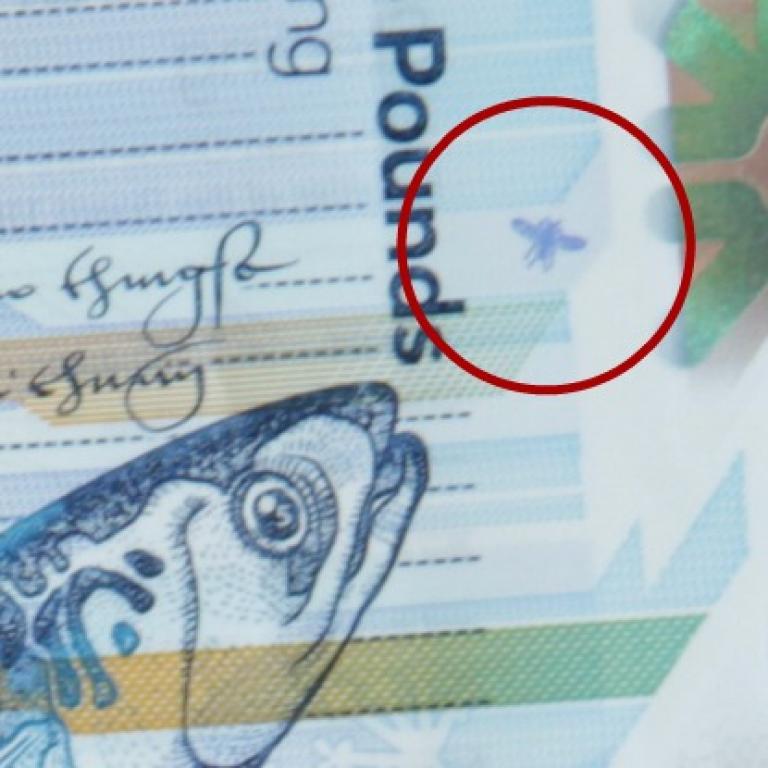 Scotland's weaving history has been included in the new note too.
"This Herringbone tweed was designed by the last working mill on the River Tweed," says Rebekka.
"The weavers there designed a special sort of tweed for the notes."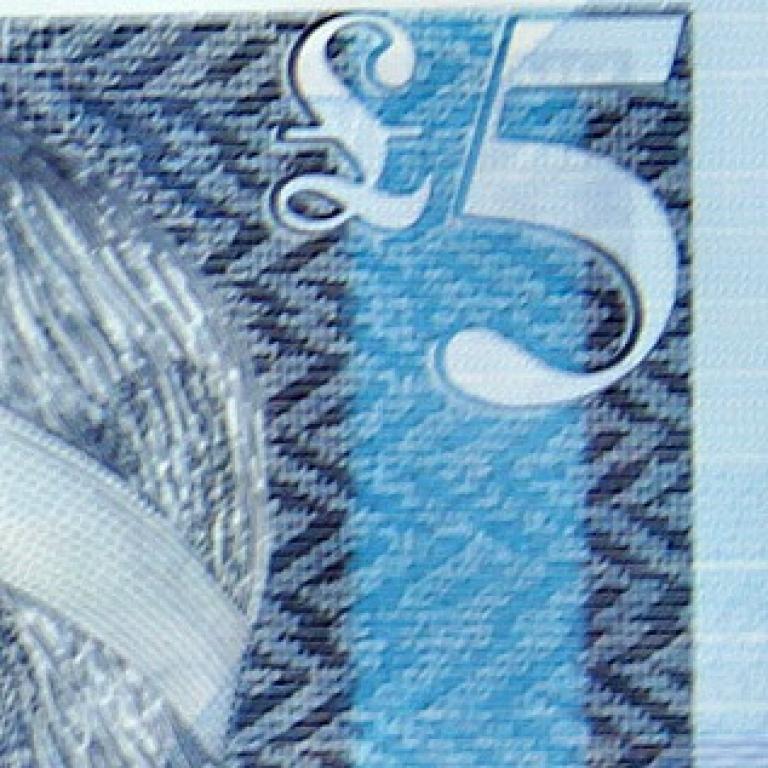 The poem on the note is by Sorley MacLean, one of the most significant Scottish poets of the 20th century.
"It's written in Gaelic on the note, but when you put it under a UV light it shows you the English translation, which I think is quite fun," says Rebekka.
"It brings in a security feature but it makes it more memorable."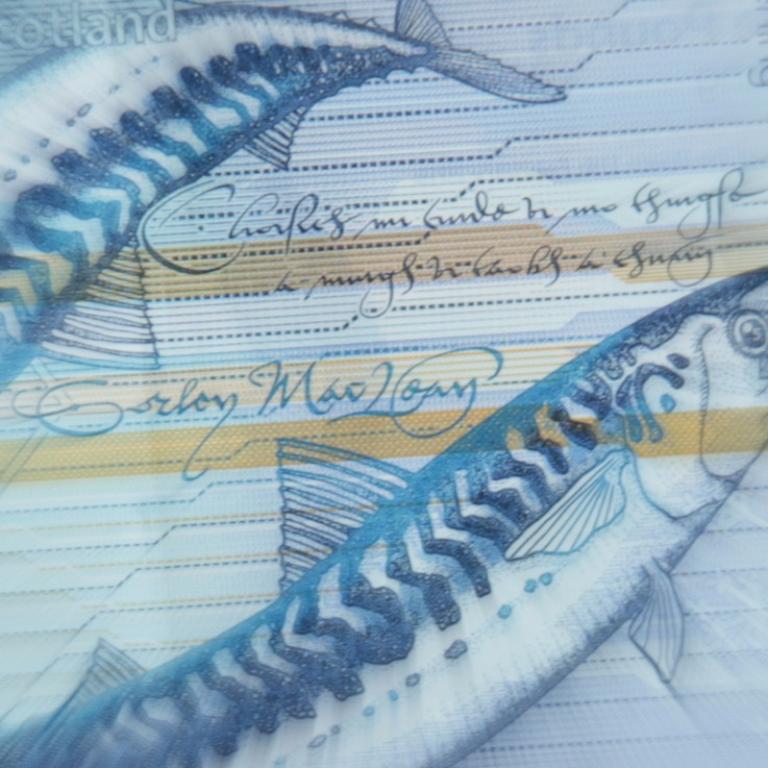 The theme of the note is natural land and light which came out of the consultations with more than 1000 members of the public.
"Each of the notes will reflect that theme," explains Rebekka. "The £5 note starts in the sea and the £10 reflects the shoreline with otters on it.
"You'll see what happens in the next ones but ultimately it's a series of notes designed altogether to tell a story and celebrate something that money can't buy – Scotland's majesty and beauty."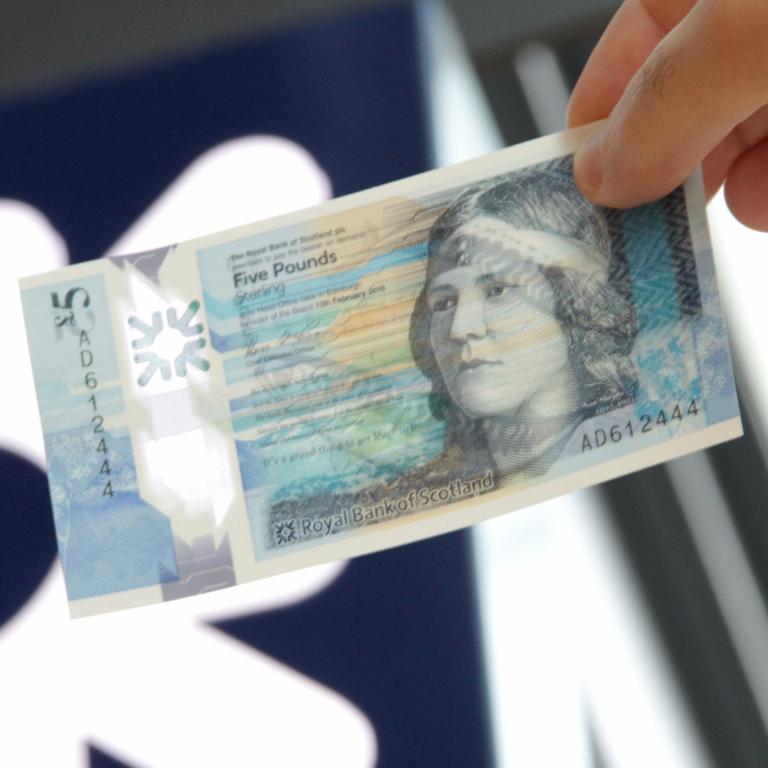 The team worked with font designers and calligraphers to put in a particular font called Scottish Secretary.
"It was developed to make banking and law in Scotland a faster process," explains Rebekka.
"They used to use beautiful copperplate but it took a long time to write out, this sped up actual processes within society and we wanted to reflect that in the note."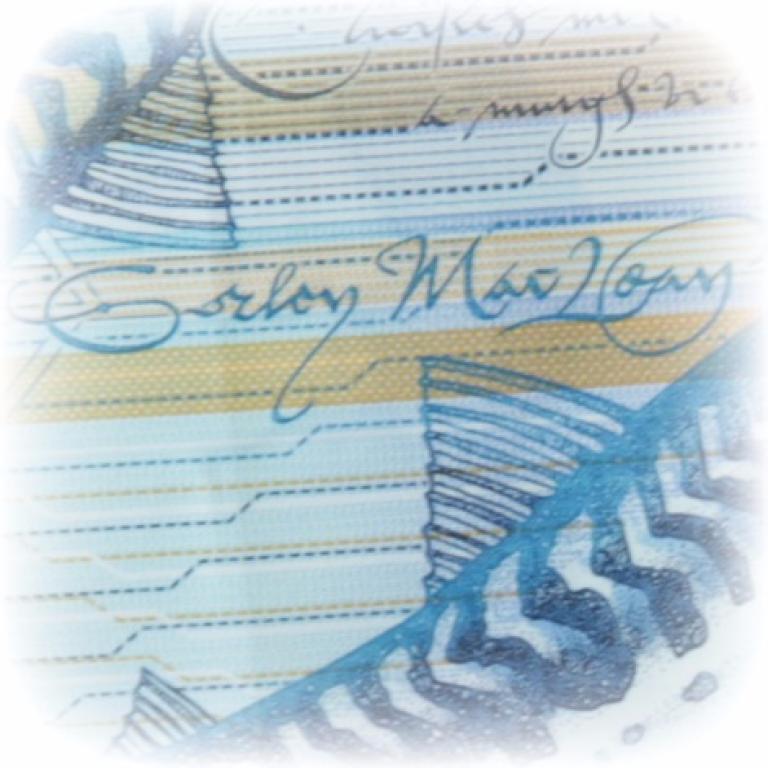 Nan's beloved Cairngorm mountains feature on the note behind her along with a quote from her first novel, The Quarry Wood – 'It's a grand thing to get to leave and live' – and one from her observations of the Scottish landscape, The Living Mountain.
The main images for the final design came from a ranger who works up in the region.
The Cairngorms feature the highest, coldest and snowiest plateaux in the British Isles and are home to five of the six highest mountains in Scotland.
The £5 note has a woad plant on it, with each future note set to have different botanics reflecting the dye colour used in each design.
"This woad is blue on the £5 note and on the £10 you'll see dulse which is a type of beautiful goldy brown seaweed," says Rebekka.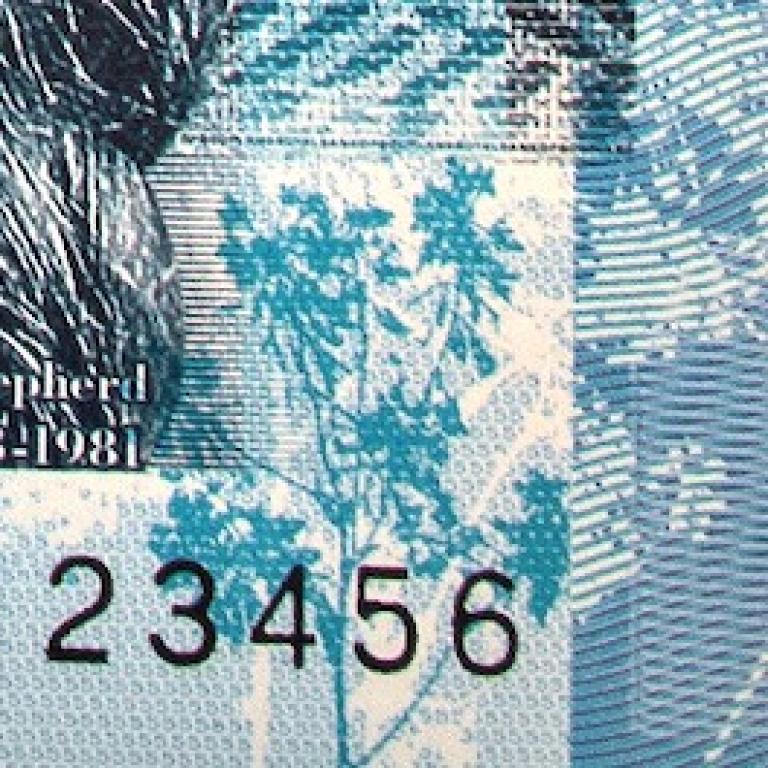 The note also features two mackerel, the single most valuable stock for the Scottish fishing industry.
"They actually light up in lots of different colours under a UV lamp, so taxi drivers out there who have lights to check if the money is real will be able to see it," says Rebekkah.
"They almost look like they're dancing, it's really quite beautiful."
The fish were illustrated by Glasgow artist Stuart Kerr – who unfortunately suffers from a severe fish allergy.
According to Stuart, he had to draw the images from life, so he had his assistant hold the fish up while he
drew them while " trying not to breathe".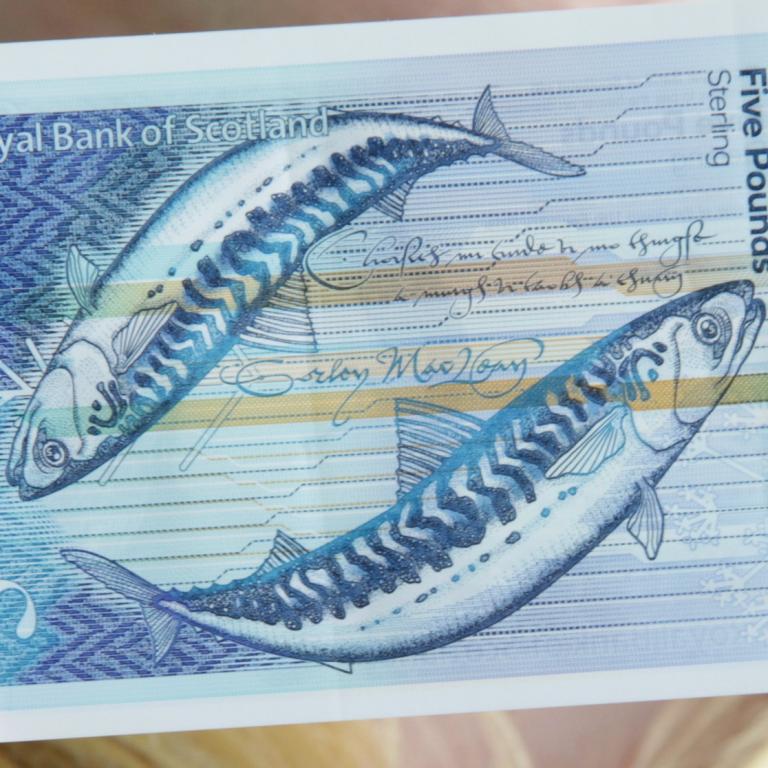 And finally, If you get a Blippar app downloaded onto your mobile phone, you can scan it over the note and watch the designs come alive.
"It will tell you each element of the note too and also ties in with lessons for young people," says Rebekka.
The team have tied in the with the national curriculum so there are links with how to manage money and there's even a £5 note game for kids along with sections featuring more information on Nan Shepherd's writings.