In many ways, Laura Beveridge's wedding was lifted from the pages of Cinderella.
The 31-year-old walked down an aisle in a glittering gown to the Disney soundtrack, in a town called Celebration in Florida, to meet Steven, her Prince Charming.
On the surface, the idyllic affair bore no evidence of the years of pain endured by both, as Laura battled emotional and psychological demons rooted in her abusive childhood, including a near-fatal overdose.
"We had been through so much," said Laura. "I felt like on that day I wanted to promise to make him as happy as he'd made me. Because he saved my life."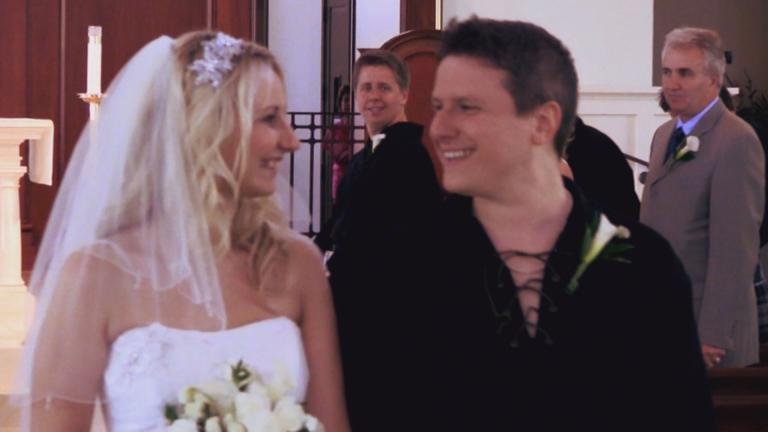 The hardship often romanticised in fairy tales – the precursor to the fabled happy ending – was a stark reality throughout Laura's traumatic upbringing in Tranent, East Lothian.
Before her 13th birthday she was taken into care, a "broken" system, where there were insufficient resources to cope with the self hatred she carried after years of abuse.
"I grew up in quite a violent scary household," said Laura. "Although my mum was very loving, she struggled to cope and it got to the point where I had to do the best I could to look after my family.
"But there was only so much that I could do at 12 years old. It got to the point where I was being bullied. I remember going into school one day and one of my so-called friends told me 'Laura, you're stinking.' And I was.
"I had completely forgotten to look after myself because I was so worried about my family."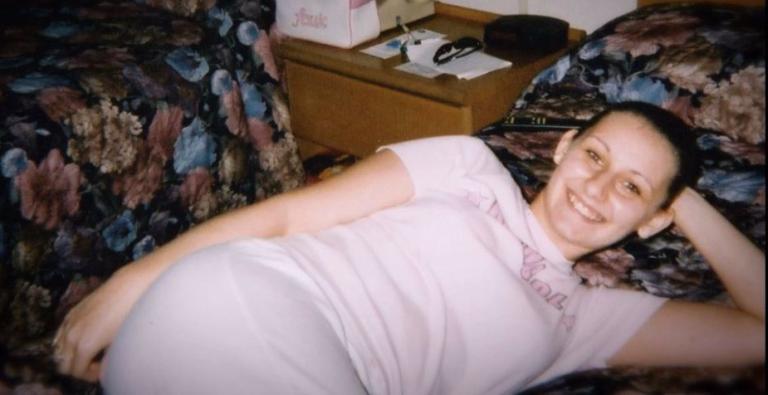 Neglect left Laura with psychological scarring, and with little space to recover even in secure residential care, she turned to drugs and self harm in a "cry for help".
She added: "I think regardless of where I went after the abuse had stopped, I would have had problems. I think the biggest issue is that I went into a system that didn't allow me the time or space to come to terms with that.
"I was expected to continue and behave in an appropriate manner and not be challenging, but that was all I knew. I was carrying round this enormous amount of pain and that doesn't just go away because you have a roof over your head."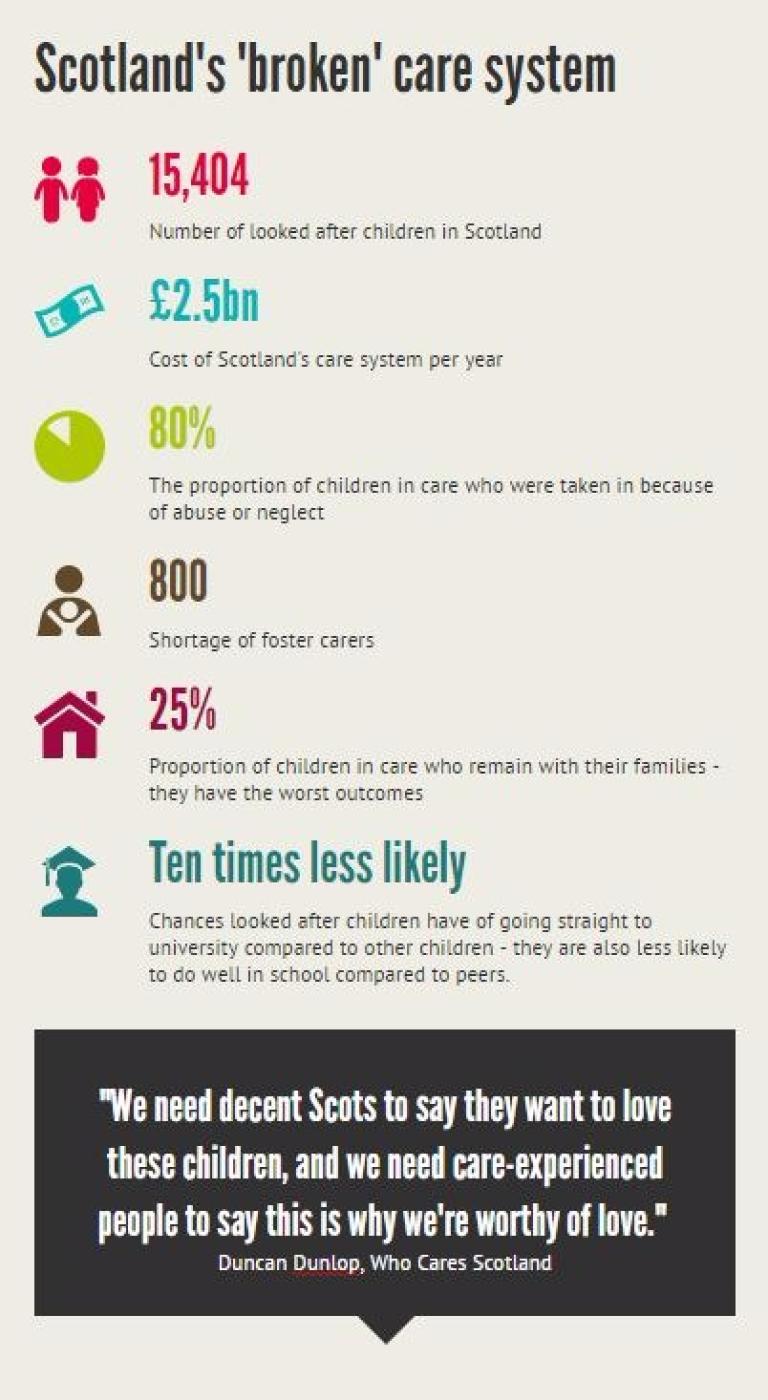 Scotland's care system has been the focus of reform in recent years. Under the Children and Young People (Scotland) Act 2014, children can remain in care until the age of 21, with additional support for care leavers to 26.
Additionally, the Scottish Prison Service has provided training for staff in facilities such as HM Prison Polmont, to work with young people who have experienced trauma, bereavement and loss.
However, Who Cares? Scotland, a leading voluntary organisation and advocate for the rights of children in care, has called for a "serious overhaul" of the current care system.
Here are some of the problems identified:
Duncan Dunlop, CEO of Who Cares? Scotland said: "The problem with looking at our system is we look at little parts of it and we don't look at it in its entirety and ask what is working here and what is not. It doesn't matter how good we make it look one day – fundamentally it needs a serious overhaul.
"We need legislation, we need our politicians to be our leaders to say yes we need to reform our current protection system. We need decent Scots to say they want to love these children, and we need care-experienced people to say this is why we're worthy to be loved and to own that identity."
At age 16, Laura had hit rock bottom. She was in supported accommodation, but was told to leave because the facility was ill-equipped to handle her behaviour.
She was sent to a mental health support centre to be told there was "nothing they could do" because she did not have stable accommodation.
Instead, she slept in doorways, surviving on Buckfast and Doritos, until Edinburgh's social work department paired her with a supported land lady, named Elaine.
"She had a daughter called Claire and these two women changed my life," said Laura. "They gave me a loving home to live in."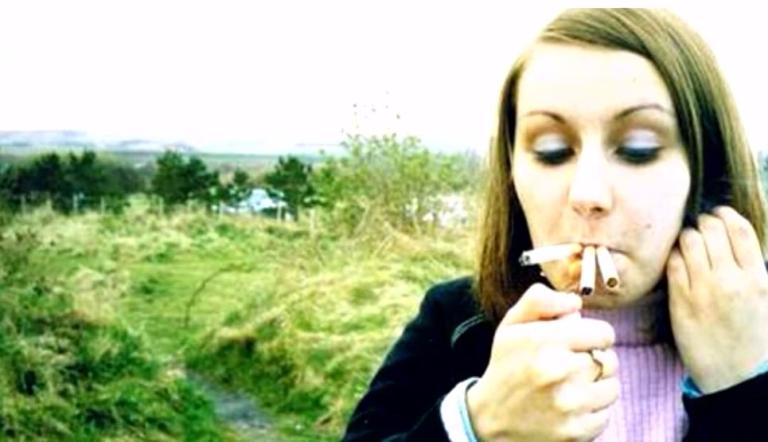 It was the start of a long period of recovery for Laura. She qualified in an HNC in social care, started a family and eventually decided to leave a career in social work to join Who Cares? Scotland.
As the organisation's development officer, she has worked with looked after young people, encouraging them to voice their experiences – something she was discouraged from doing as a social worker.
She said: "I remember at first I didn't share that I had been in the care system because I wasn't allowed to.
"There's a lot of that in the system, that you should only share so much about yourself and you need to maintain a professional stance. I struggled with that.
"I knew that I couldn't change it all but I wanted to be a small part of some change and give kids these messages of hope, that life won't always be so hard.
"The main thing I want for my daughter Maia is just to know that she's so loved and that she comes from a family that want her. And that's what I want for every child, especially those in care. I think that's what's missing in the care system.
"We can give them support plans, we can risk assess, we can spend billions of pounds on building, but money does not buy love. And that's what's worth its weight in gold."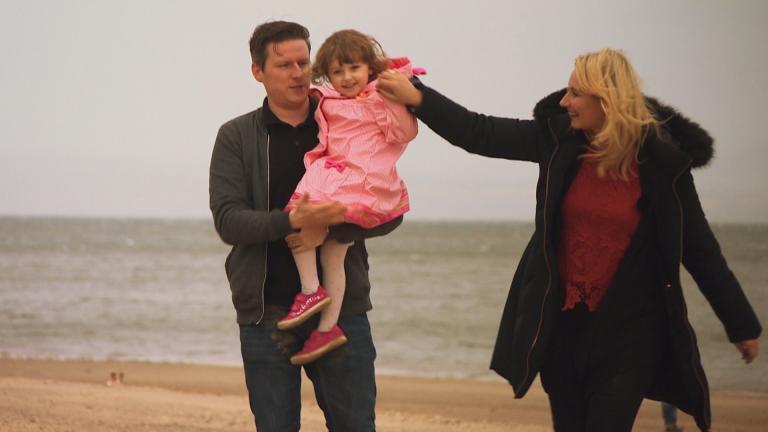 You can find out more about Laura's story and Scotland's "broken" care system by watching the Who Cares documentary on the STV Player, part of the STV Appeal programming series.
If you are concerned about or affected by any of the issues in this article you can contact Childline on 0800 1111 or find more information via their website.