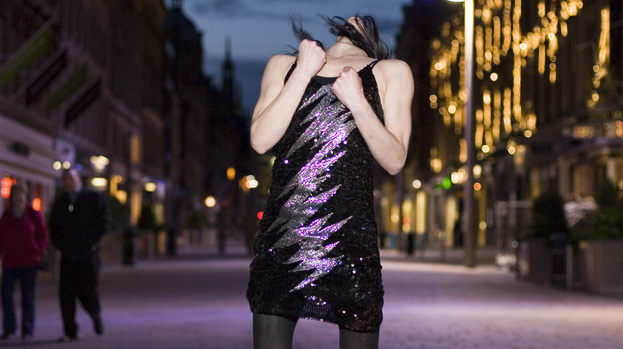 For most it's a time for sleep, for others it's a time for work and for some it's a time to party.
Musicians will be revealing what inspires them between the hours of midnight and 4am in a collection of candid stories and performances shot at night in locations across Scotland.
Eugene Kelly, Emma Pollock and Withered Hand are just a few of the singers and bands involved in the film Whatever Gets You Through the Night which returns for a screening at The Arches as part of the Glasgow Music and Film Festival.
The one-hour music documentary will be followed by performances by Rachel Sermanni, Swimmer One, Wounded Knee and Bigg Taj on Friday, February 15.
The film is part of the Whatever Gets You Through the Night project created by director Cora Bissett, playwright David Greig and Glasgow band Swimmer One.
Last summer's multi-disciplinary live event at the Arches featured actors, aerial work, visuals by Kim Beveridge, writing by the country's top novelists, poets and playwrights, and an album's worth of original music.
Daniel Warren the film's director says the documentary covers new ground from the play.
He explained: "The initial idea was for it to go on tour, but there were a huge number of people involved - aerial artists, bands, and actors, so if it toured it would involve too many people and resources.
"The idea was to make a film, and then the bands would add a live performance element to it. It was never supposed to be a dramatisation of the performance, it's a series of music videos which ends up being like a road movie.
"The musicians took me to places which had inspired their writing - it's a unique sound and visual experience."
Over the course of six months Daniel travelled across the length and breadth of Scotland, capturing performances and moments on the banks of Loch Lomond and the northern lights on Orkney.
But it was recording singer songwriter Rachel Sermanni at the Watercolour Music studio in Ardgour that was one of the stand-out experiences for Daniel.
He said: "We were pretty exhausted when we got to Ardgour and we'd never met her before but we had this opportunity to see her there in an environment where she's completely focused on her music.
"It was lovely seeing that relationship between Rachel and her friend, two very close friends completely familiar with other. It was towards the end of all the filming and it just seemed to work, it only took two or three takes and both the sound and image fitted beautifully.
"It was a nice relaxing weekend, she made us curry and some very good porridge.
"At the other scale we also recorded Eugene Kelly in his very small studio, and it was nice to see this elder statesmen of Scottish music welcome us in for a very nice simplistic and stripped back version of his song."
After the screening at the Arches on Friday, the film will embark on a tour of Scotland with stops at Banchory's Woodend Barn, the MacPhail Centre in Ullapool, the Heart of Hawick, Mull Theatre , Kirkcaldy's Adam Smith Theatre and the Dundee Contemporary Arts Centre.
Daniel added: "We'll have different bands coming to different places and when I can make it along I'll be taking part in a question and answer session and from this we want people to be encouraged to organise their own screenings.
"What's interesting about the project is that it's also given the musicians to go outside their comfort zone. I remember in the first read throughs of the live show Withered Hand and Bigg Taj were being asked to stand in and act was a really good way to build up their confidence about performing in such a visual project.
"I made music videos for a long time, working with the musicians and seeing their performances and writing has really inspired me to go back into that."
For more information about Whatever Gets You Through the Night go to the Glasgow Film Festival or Arches' website.
Related articles