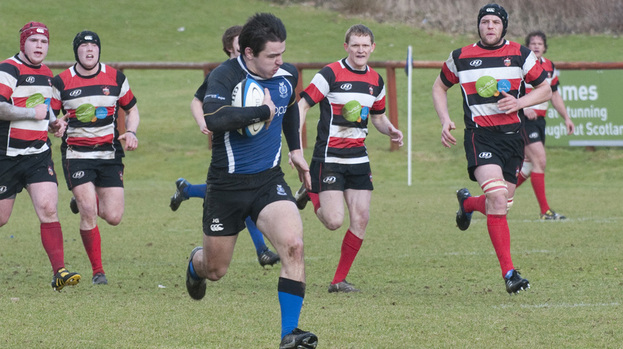 Dalziel 14-34 Stirling
Both teams took the field in bright sunshine to contest the third cup match of the season. Supporters were a bit thin on the ground but those in attendance witnessed a good match with Dalziel once again improving on each match.
Stirling, a league above Dalziel and heading for Premier One, started the stronger and were rewarded on seven minutes when their wing cut a lovely angle to go under the posts.
The try was converted and the visitors lead 0-7. Five minutes later Stirling ran out of defence the length of the pitch to score their second try.
It was going to be a long afternoon for the home side if they did not pick up the intensity of performance. This they did and they began to attack the Stirling half.
Good breaks by Barry Turnbull and Ross Donachie encouraged the Motherwell lads and when John Goldie broke clear a home score seemed on the cards.
The score was stopped by some excellent cover defence by the Stirling scrum half and the chance was gone.
Dalziel squandered another opportunity when a three-on-one advantage was not converted with the line only five yards away.
Stirling knocked over a drop goal and on the stroke of half time managed a push over score to take the score at half time to 0-20.
Dalziel rallied in the second half and dominated territory. Stirling were forced to concede a penalty. Captain Craig Simmonds asked for the ball to be kicked to touch and from the line out Craig Lewis went over to score.
Robert Simpson converted and the score now stood at 7-20. Stirling got back into the game and managed another two scores to extend the lead to 7-34.
Dalziel however were not out of it and responded through Euan Stewart who scored after some excellent support play, Simpson converting the try.
Dalziel continued to have plenty of ball and hammered away at the Stirling defence with Crawford Reid and Steven Findlay both held up short. However the strength of the visitors defence was too strong.
Despite the scoreline this was again an improved performance. There was some excellent scrummaging and the lineout, a work in progress, contributed to two good tries.
The backs developed as the game went on and began to work as an effective unit.
Some repeated game time and further coaching input from head coach Davy Wilson should make them a potent threat in the weeks to come.
Dalziel get back to league action next week away to Haddington and after the last two weeks' performances the players, coaches, and supporters should look forward to winning their matches in the remaining league programme.
Man of the Match: Craig Simmonds