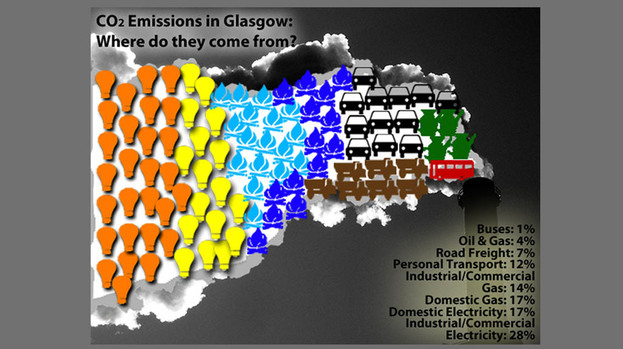 Glasgow was ranked 14th out of the 20 largest cities in the UK for environmental performance in the latest Sustainable Cities Index (2010).
Glasgow city council runs an ongoing Air Quality Action Plan to monitor concentrations of harmful pollutants. Byres Road/Dumbarton Road in the west end, the city centre, and Parkhead Cross in the east have been identified as particular problem areas where air quality improvement objectives have not been met, and all three are now declared Air Quality Management Areas.
Parts of the city are failing to meet Scottish Air Quality Objective levels for nitrogen dioxide (NO2) with levels at monitoring stations in Waulkmillglen Reservoir, the city Chambers, and Battlefield Road as well as a Kerbside station exceeding the target.
As the image above shows, carbon dioxide (CO2) emissions in Glasgow come from a variety of different sources. The city's carbon footprint totals about four million tonnes a year, representing about 8% of Scotland's total carbon emissions from energy use. The highest amount of CO2 emissions are from Industrial/Commercial electricity use, accounting for 28% of the total.
Recycling rates for household waste in Glasgow are slowly increasing. In 2006, only 13% of household waste was recycled or composted but by 2009 (latest figures), the proportion rose to 20%. However, around 50% of biodegradable waste from the city was still being sent to landfill sites and the city ranks last in the Sustainable Cities Index for recycling.
It also the lowest ranked city for the potential of local food growth as only 2.27 allotments were available for every 1,000 residents.
You can find more information through the Glasgow Economic Facts website, Glasgow city council's Local Air Quality management pages and the Understanding Glasgow website.