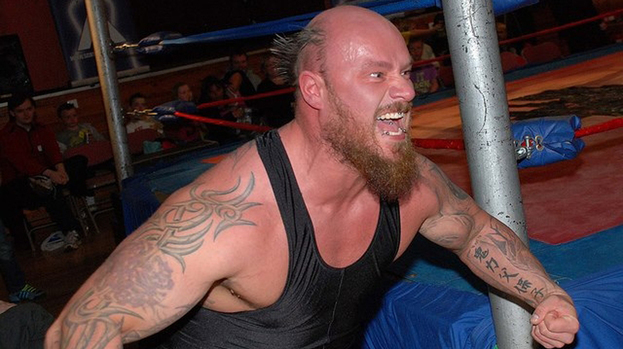 When you think of professional wrestling, you think of outlandish characters, jacked-up muscles and a lot of spandex.
Wrestling is the ultimate variety show, with matches on just about every card featuring athletes of all shapes and sizes who encourage the fans to cheer their favourites and boo the villains.
It's hard to imagine that these men and women, who are presented as real-life superheroes, can live a regular life in between shows.
With the popularity of British wrestling not quite reaching the dizzying heights it once did during the World of Sport era when Big Daddy, Johnny Saint and Mick McManus were household names, there are very few full-time wrestlers active in the UK.
In Scotland, there has been a recent resurgence in the popularity of the sport, particularly in the west where promotions such as the Scottish Wrestling Alliance, Premier British Wrestling and Insane Championship Wrestling have been selling out venues for the last half of the decade.
Despite the success of these companies, many of the performers require a day job to make a living while pursuing the dream of grappling on a bigger stage.
John 'The Bomb' Graham, a 6' 3'', 300lb behemoth has recently retired from in-ring competition and has since become a co-owner of the Scottish Wrestling Alliance, a promotion based outside of Rutherglen.
Outside of wrestling, the 30-year-old owns his own removal company (fittingly named Strongman Removals) and worked for the Scottish Spina Bifida Association before moving on to assist Scottish Autism.
The Bomb found that his status as a wrestler was particularly rewarding when it came to his charity work.
"The client group I worked with at Scottish Spina Bifida Association were aged 12 to 18 and mad about sports and wrestling," he said.
"So they thought it was great that they could come to the shows and cheer me on and get introduced to the other guys for pictures and autographs."
Graham has become a well-known face in his native Motherwell due to his various occupations. But as rewarding as the work is, it hasn't always been plain sailing.
"A downside to combining these types of work would certainly be the stress that it puts on your body," he said.
"For example, after a hard fought match with Joe Coffey on a Saturday night I was back to work on the Sunday, moving a third floor flat. Safe to say by the Sunday night I was pretty tired."
Luckily for John he has since retired from wrestling but his work ethic is still strong and he is now faced with the daunting task of becoming a wrestling promoter.
"I have literally been working 24/7 since becoming involved, talking to, emailing and making contacts all over the world," he said.
"I will miss participating in the shows but will still take great satisfaction from the fans enjoyment of the other guys' matches."
This part-time approach doesn't confine performers to the darker corners of celebrity stage.
One of the more famous wrestlers to continue his day job was George 'The Animal' Steele, who wrestled throughout America from 1967 to 1989 under the gimmick of being an insane wild-man who would tear apart the ring-post padding with his teeth and savage his opponents.
But Steele was in fact the alter ego of William James Myers, born and raised in Madison Heights, Michigan.
Myers considered his career as a teacher to be his true calling. Many of his peers derided him for being a part-time wrestler (at a time when many wrestled full-time), but George was as proud of his day job as he was his WWE Hall of Fame career.
George said: "I was never really George 'The Animal' Steele. I was Jim Myers: school teacher, football coach, wrestling coach that was doing something else so I could afford to do what I really love which is teaching and coaching."
Myers found that it was a simple task to separate his George Steele persona from his private life.
"There were two people using the same body. One was a crazy wacko and that's George Steele," he said.
"The other was a very sound-thinking fellow that had dyslexia and a learning disability but was a pretty astute guy when it came to coaching and teaching."
While burlesque has become the buzz for amateur female performers in Glasgow over recent months, one woman has decided that something a little more brutal suits her best.
In the evenings, Bête Noire is a bruising female grappler who lives by the motto: "Smash faces and regret nothing."
She has wrestled throughout the UK for various promotions and has steadily gained the reputation as one of the area's toughest female wrestlers.
But by day she is in fact a pastry chef who goes by the somewhat less intimidating name of Lindsay Shields. But if you think battering a pudding and battering another wrestler had nothing in common, think again.
"Much like wrestling, working in a restaurant is another type of performance," she said.
"You train, you prepare and when the shift starts you work hard from start to finish. It's another adrenaline rush but just in different circumstances."
By David Thomson
Related articles
People who read this story also read