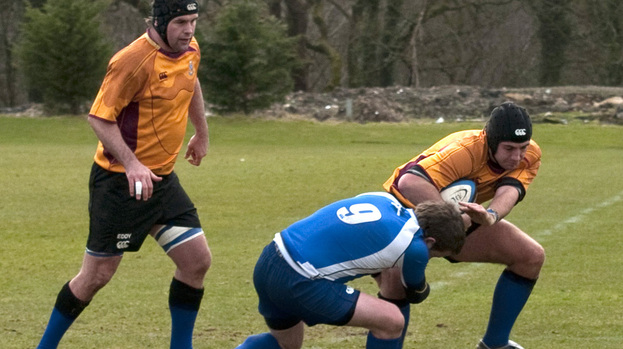 Seniors
In their first season in Premier Three, the First XV has consolidated a very creditable seventh position out of the 12 teams involved. This is despite one of the worst injury ravaged seasons for a long time.
The squad was already shorn of some of last year's winning squad members due to job requirements so seventh position speaks volumes for the lads that stepped up to the mark. In addition Steven Findlay was awarded Premier Three Player of the Year.
The performance of the Second and Third XVs has been equally laudable given that their squads were impacted upon by these player issues.
The Twos secured fourth place in the Reserve League National Division Two, above the likes of Kirkcaldy, Biggar and local rivals Hamilton.
The Threes did even better and were crowned champions of the Reserve League West Division 3. This performance of the senior sides has been a great boost to the club following promotion to Premier Three.
In addition, the Fourth's managed to complete six games, winning four of them in a much disrupted league.
Midi Section
Due to a very fragmented season the U18 league was left with a series of unplayed games and unresolved league positions. However the U18s with two games in hand and only seven points adrift of third placed Kilmarnock demonstrated a creditable performance.
As this is a fairly young side they will have learned much from this season to take advantage of in the coming season.
The U16's had a similar experience with a game in hand and only five points behind first placed Ayr. A good number of the players are aged to stay in this age group next year.
The U15's finished third in their league but won the West Regional Bowl having beaten local rivals Hamilton, Biggar and Uddingston along with Whitecraigs. Their only loss was a very narrow away reverse to Kilmarnock. The boys racked up an impressive 132 points over five games, losing only 37 in the process. Two of their opponents, Hamilton and Whitecraigs, failed to score any points at all against them.
Mini Section
Numbers have been good and the club is able to put out teams at all age groups, something a lot of clubs are struggling to do.
This has been supported by good work from Dalziel's Rugby Development Officer organising after-schools programmes and getting small 'Try Rugby' tournaments in schools without rugby history.
Coaching staff remain fairly constant and consistent. This success is born out of the hard work and efforts of an army of volunteers comprising mums, dads, uncles, aunties, grans and granddads.
Dalziel is looking very strong indeed given these performances across the board.
Sponsorship
Dalziel were fortunate to secure a major sponsor In Europa-Services and further sponsorship from Tulloch Recruitment. This was a tremendous boost and gave the club the opportunity to apply for Sportsmatch funding, resulting in an award of £8980. This allowed them to go ahead with a number of projects from Coach and Player development courses including SRU level one, Strength and Conditioning, and refereeing courses, as well as being able to upgrade and improve kit equipment stock for the club.
Europa have confirmed they will continue their sponsorship of the club this year and will maintain the same level as that for last season at £10,000. This is a major boost again to the club which will allow it to maintain its commitment to coaching, training, equipment and facilities.
In addition to this some 60 plus players were asked to secure their own sponsor and this was also accomplished.
Club
The club is not resting on its laurels but is still ambitious to progress at all levels with continued support for youth development as Dalziel's success has long been underpinned by skilful players emerging from the youth system.
This was exemplified in the 21st annual Youth Festival attended by representatives from SRU, Sportscotland and Clubsportnl.
Coaching
Dalziel can confirm that the coaching team for the senior squad next season will remain as David Wilson (head coach) and Ally Craig (forwards coach). They hope that they will be able to have a more settled squad of players this coming season particularly as a number of long term injured are expected to be back to full fitness.
Matt Brown who recently completed his UKCC Level One coaching course has been appointed head coach for the U18's. Matt has support from a number of committed parents and it is hoped will be supported by two long-term injured senior players looking to pass on their skills and knowledge.
Developments
The club has started looking at drawing up plans for a new permanent Dragons Den.
The club took advantage of the new superb facilities available at the Ravenscraig Regional Sports Centre for winter coaching. However it is going to be difficult to continue with this as the booking conditions will make it impractical.
Dalziel is ambitious and looking to progress even further and welcomes any new players into the club from the youngest of the minis to the older seniors, and asks anyone to come and join them and enjoy what they have to offer.
More About Dalziel Rugby Club