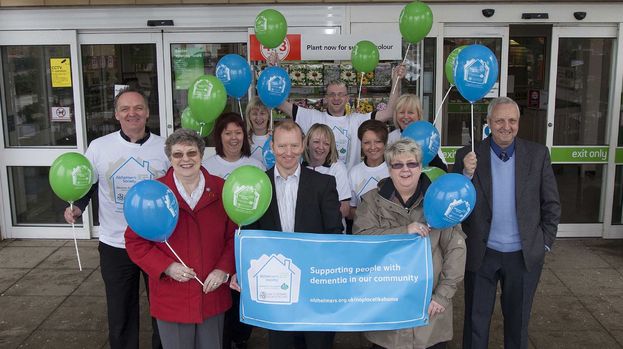 Living with dementia is difficult not just for patients but for their families as well.
Sufferers experience memory loss, have trouble understanding things and often get confused, frustrated and irritable.
John Laird from Hamilton was diagnosed with dementia six years ago after his wife had noticed a change in his behaviour.
A traditional man of the house, he was the person who took care of the money and made sure the insurance policies were in place.
But it was soon becoming apparent that hobbies, never mind paperwork, were becoming unusually challenging for the 77-year-old.
Jean, his wife, said: "I saw there were things he couldn't handle anymore, like dealing with banking and car insurance.
"We moved house and it was quite a traumatic thing for him and he just couldn't handle the paperwork. I took him to the doctor and he was referred to a psychiatrist."
After some routine checks and scans, John was diagnosed with mild dementia. Although his condition isn't as bad as it could be, life has still become a daily struggle.
He has had to give up hobbies because he doesn't like crowds, he often loses things and gets annoyed at himself for being forgetful.
Jean said: "The least wee thing that's not normal in his life upsets him and gives gim a panic attack. He doesn't like being in crowds of people.
"He gave up bowling because he doesn't like crowds and he couldn't remember names and he was embarrassed by that.
"At the club they still all ask why he won't go back.
"I spend half my day looking for things he's lost before he gets in a panic. He gets very frustrated and it gets difficult to keep him calm."
The stress and the upset John is experiencing takes its toll on Jean too. That's why charities like Alzheimer Scotland and the NHS offer support for families and relatives of those suffering with the condition.
For Jean it is exhausting. As she puts it, she is having to think for two people.
The 76-year-old said: "I'm tired at nights. I'm very tired at nights. Because my mind's working for two people.
"Then there's the fact I get these repeated questions, over and over again. Everything is 'why are you doing that?' or 'let me do that'.
"He doesn't like seeing me doing the things he used to do for me.
"He's very concerned about what we're doing tomorrow and I'm always saying 'you have to live one day at a time. You have enough problems without worrying about tomorrow or the next day'."
Jean relies on Alzheimer Scotland for some respite. On Wednesday mornings John goes to the charity's weekly singing class.
It is called Singing for the Brain and is designed for people with dementia.
Jean said: "I like when he goes to his singing group. He goes there and I have two and a half hours to do what I want. I can go to the shops on my own or do the housework. Or even just sit down and watch a television programme."
It's something that gives Jean a rest from the questions and the worry.
Luckily for the couple, despite having lived with the condition for years, John's dementia hasn't progressed and is still mild.
It is cold comfort for Jean, but she still worries about the future.
She said: "Hopefully he's got a long way to go before I can't help him anymore.
"I've got our daughters behind me who help so I don't worry too much. What does bother me is what happens if I go first?
"That's been really bothering me over the past few months more than it has ever done. I know my girls will be there, but they're not me.
"It is difficult but I have just accepted it now and do my best to keep him as happy as I can. It's just something you learn to do.
"I've learned to be strong. I didn't think I was as strong as this but I seem to be managing."
"What does bug me is when I explain to people that he forgets things and his memory isn't very good and people say, 'Oh I do that too' or 'Oh my Jimmy's the same, or my Willy's the same'.
"It's really not the same. If it was they would be doing something about it and seeing a doctor like we do."
For help or information on dementia and what groups are available in your area, visit Alzheimer Scotland's website or call 0300 222 11 22.
Other articles and information can also be found on our Dementia Awareness Week topic page.
Related articles