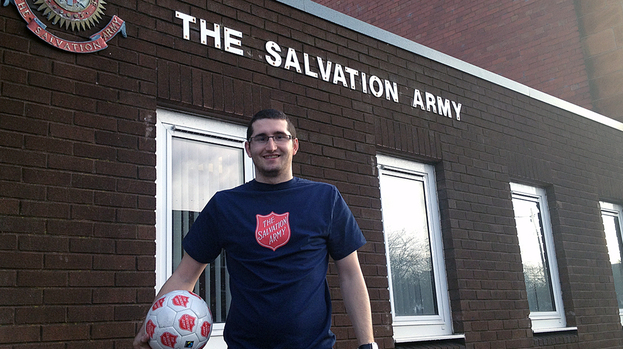 As the city prepares to host one the biggest sporting events in its history, the Salvation Army has announced the appointment of its first sports ministry coordinator for Scotland.
It is hoped that the appointment of Bobby Weir will help people and communities to enjoy healthy lives ahead of, during and after the Glasgow 2014 Commonwealth Games.
Former Airdrie youth player Bobby, who is a qualified sports coach, is a lifelong member of the Salvation Army.
He is keen that the organisation moves with the times and really capitalises on the city's love of sport by creating a number of sports ministries.
A sports ministry is the name given to religious organisations that use sport to promote links between the church and a wider population.
The 22-year-old said: "I think for the church sport ministry is really important, especially in Glasgow. Glasgow is sport mad.
"For the church to keep up-to-date and relevant to people it is important to engage in a means that is relevant to them rather than be old fashioned. If the church can take things that people do already and use that, we'll reach more people.
"I think the Army has really picked up on that in Scotland with my appointment. They're investing money in sport ministry and really want to see that used to develop sport within the church.
"Sports ministry is for everybody. One of the perceptions that people have about it is that it's just for young people. It isn't. There are all sorts of options for all sorts of people."
Bobby is keen to break down the concept of sports ministry.
He said: "I usually talk about sports ministry in three ways – in sport, through sport and around sport.
"Through sport is things like sports clubs for kids in the community. We're using sport to bring the kids together and it is an opportunity to tell the kids about Jesus as well.
"In sport is where young people are in sports clubs already but find it difficult to be Christians too so we have groups that help them be part of both. They're already in a sport, so rather than causing a competition between church and sports club we encourage them to be a Christian where they are, in the sport that they do.
"Finally, around sport which is doing ministry and mission work around events like the Olympic Games, the Commonwealth Games and the World Cup. So thousands of people are going to come to Glasgow for the Games, it is an opportunity for the church to reach out to them."
In a bid to learn more about outreach at major sporting events, the first thing Bobby did in his role was travel to London 2012 and immerse himself in the work the Army was doing.
During the Olympic and Paralympic Games 2012, the Salvation Army was involved in setting up refreshment hubs and events for the torch relay, distributing bottles of water at key transportation hubs across London as well as hosting community sports activities and festivals across the UK.
He said: "I started off by going down to London and seeing what the Salvation Army was doing at the Olympics and the Paralympics.
"I got plenty of ideas for Glasgow 2014. We linked in with More than Gold on a number of programmes."
More than Gold is an ecumenical umbrella charity for churches during major sporting events.
"Since Atlanta in 1996, every two years between the Commonwealth Games and the Olympic Games, they've been moving on from country to country and setting up again as a new charitable company," Bobby explained.
"In London they had More than Gold 2012 where they helped set up and facilitate mission teams from all over the globe to come together. The same will happen in Glasgow.
"Already there are nine different denominations of the church signed up to be involved with More than Gold and about 50 organisations such as Youth for Christ and Scripture Union."
One of the programmes that More than Gold will help facilitate is the athlete family home stay. Local residents will open their homes to the families of competitors from deprived Commonwealth countries that are unable to afford accommodation.
This programme ties in with the Salvation Army's ethos of helping anyone in need.
As well as working with those connected with the Games, local residents and Salvation Army cores throughout Scotland, Bobby is keen to link in with those staying in the Army's hostels, known as lifehouses.
Bobby said: "Salvation Army's roots go into working with people in deprived areas so we'll also be working with the lifehouses.
"We want to work with anybody who wants to do sports ministry and for the church to be working with anyone in the community who really needs it.
"We're using sport as that first touch base for people to make contact with people who need the Salvation Army."
Bobby has organised a five-a-side football tournament on March 9 for Salvation Army lifehouses from all over Scotland in a bid to integrate the church and the social work arms of the Salvation Army.
He said: "I want to break down the barriers between people who are homeless and people who aren't. I think sport is a good way to mix people.
"It's just ten guys on the pitch, playing football and I hope to see this integration between people in the lifehouses and the church.
"I'm sure it is going to be a great success and something I'd want to continue in the future."
The word future is at the forefront of much of Bobby's work. He is keen that sports ministries create a legacy which lives on beyond the Games.
"One of the things I've been saying when I've been speaking to people about setting up a sports ministry within their church is that it can go on," he said.
"We're focusing on the Commonwealth Games coming but it can be an ongoing thing.
"We want to see them progress and grow,beyond the Commonwealth Games and it is a very simple thing to carry on. I am encouraging churches to include sports ministry in their programmes week to week."
Along with the announcement of Bobby's appointment as sports ministry coordinator, The Salvation Army is also investing in the creation of a sports ministry hub at it's Laurieston Centre in Glasgow.
The opening of the centre will create a base where best practice can be shared and resources can be created.
Bobby explained: "As we get closer to the Commonwealth Games, it'll be used as office space as people from sports ministry drop in to hot desk.
"We're saying to as many people involved in sports ministry to work here so that we can come together and link in with each other."
To get involved, visit the Salvation Army website.
Related articles