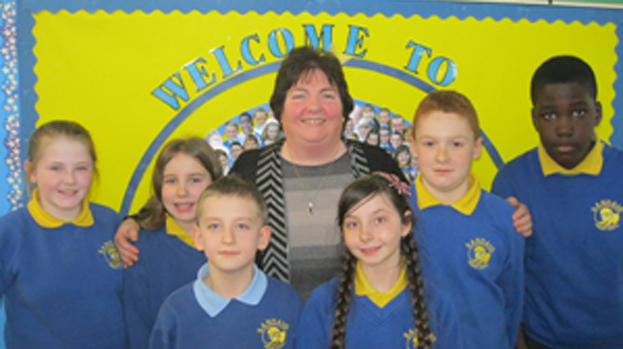 It has been a memorable 20 years in the job for Moira McArthur.
As head teacher at Sandaig Primary School in Glasgow, she has experienced the ups and downs of modern life - and modern teaching.
She has watched former pupils blossom and go on to university and escape the shackles and the stereotypes of growing up in the shadow in the East End.
She has felt tension in communities as neighbouring schools closed while hers has moved from strength to strength to win one of the highest accolades in teaching.
Now Moira McArthur is about to receive one of the highest honours in the land. She is to be made a Member of the British Empire.
Moira said: "I didn't get this on my own – I got this because of the support of the staff round about me. We're a great team and you need that."
"It is a brilliant school. When I arrived 20 years ago, it was a good school.
"We had children who were motivated to learn and who wanted to come to school – it had a very positive ethos, so I had that to build on, which was superb.
"Very quickly I built up a good staff team and we continued that ethos. Our main focus is on the children feeling happy and secure at school."
For Moira it is important that Sandaig, which opened in 1975, is a real hub for the community.
She said: "In the East End I think it is great for the extended family to feel a connection in the school.
"We have children coming to the school now whose parents were at the school.
"There are grandparents around who have been with us for 20 years and they're still seeing the same people which is quite reassuring for them."
In 2006, neighbouring Barlanark Primary closed and the children moved into Sandaig. Moira credits this tough transition with making the schools – and the community – stronger.
"So Barlanark closed and the children came over to us and that was a difficult time for both groups of children," she said.
"We worked really hard in those first years to get the children to feel at ease with each other and yes it was hard work but we haven't really looked back.
"I feel now that having one non-denominational school in the area is a positive thing because there's no competitiveness. It's one school and everybody feels part of it now."
It is this positive ethos which led to the school scoring the best HMiE in Glasgow in 2010. It is an inspection of schools by the Scottish Government to see the standards of education a school is offering to its pupils.
"In 2010 we got the best HMiE in Glasgow and it still is - so I'm thrilled.
"What makes it that? I think it is the commitment of the staff and I know it sounds quite trite to say that we know the children, but we do – and that makes such a difference.
"It's not just about knowing their names, it is knowing their needs and reacting to them and that's what we try very much to do.
"It is our aim to meet all of the children's needs and that can be quite diverse, as you can imagine.
"We're trying to say to them – you're really good, you can do it, anything is possible, reach for the stars – our school mottos."
Moira, who has been teaching since she was 21, describes finding out that she was to be honoured by the Queen as a 'scary' experience.
She said: "That was a bit scary. It was early December, I was sitting at home and my partner was out, so I'm opening the mail myself.
"Here's this letter from the Government and I'm thinking, what's this?
"I open this letter from the Prime Minister saying that the Queen wants to know if you want an MBE. Not quite worded like that of course.
"That was the first I knew about it, I hadn't even heard about the nomination.
"I wasn't expecting it, it hadn't entered my head at all. It was a complete surprise. I'm over the moon, not just for me – the whole school is celebrating it."
Moira will receive her accolade at Holyrood on July 2.
"At first, I was like – I wanted to go to Buckingham Palace," she explained.
"But actually, the more I think about it, it will be over in Edinburgh so lots of my family and friends can come through for a full day of celebrations.
"You couldn't do that if it was in London. I'm so looking forward to it."
Moira has also been invited to the Queen's Garden Party on the same day, so the question is – what will she say to Her Royal Highness?
She said: "I'll probably say to the Queen that I'm honoured and that it's for the whole school – not just for me."
As modest as the 57-year-old is, surely there must be some part of her which is bursting with pride?
"It is just so lovely to be recognised for the work that you've been doing and I'll keep doing it," she said.
"If anything, I feel the pressure to work even harder if it's possible.
"If I'm having a difficult day, I just say to myself: 'Come on Moira, you're being awarded an MBE, get on with it.'
"Once I've stopped smiling, I'll come down to earth and just get on with it.
"I was brought up in Easterhouse and I'm not knocking it, but too many people think so badly of the area so it is just lovely to think that me, Moira McArthur, will be getting an MBE from the Queen."
The best thing for the headteacher is the reaction from the pupils when they hear she is going to meet the Queen.
She said: "It is great when you get a primary one comes up to you with a note written in their own handwriting which says: 'Miss McArthur MBE best head teacher in the world,' all misspelt and everything – that kind of touches you."
For the full list of those Scots awarded in the Queen's New Years Honours, click here.