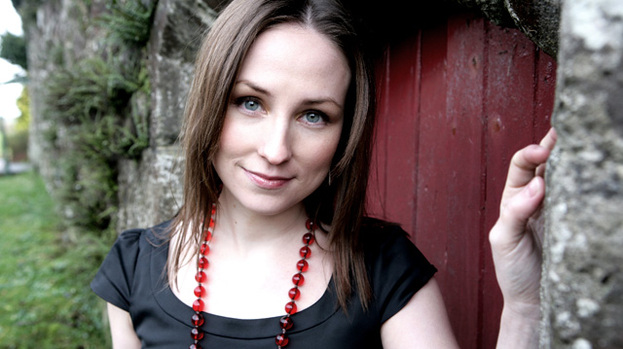 For most January is the quietest month of the year, a few weeks of rest and relaxation after the frenzy of Christmas.
Not for Julie Fowlis. January is a chaotic few weeks of Celtic Connections commitments which this year range from performances at the 20th Celebration Concert and the Sabhal Mòr Ostaig 40th Anniversary celebrations to presenting duties at the BBC Radio 2 Folk Awards.
The Scottish folk singer and multi-instrumentalist will also accompany Kildare born Heidi Talbot at the launch of her new album on Sunday, January 27 at the Old Fruitmarket.
Julie explained: "It's the same every year. I usually just end up packing up the house and coming down to Glasgow for a few days. Certainly I've been coming to the festival for 15 years and I see it as a regular gig, but it's not something I ever take for granted – it's always great to get that call.
"The time of the year makes it special – there's nothing else really going on in January.
"I'm looking forward to the BBC Folk Awards which I'll be presenting with Mark Radcliffe, who is a long time friend of mine. Last year was the first time it was held outside of London with the awards taking place in Manchester, and this is a departure again. It's always a hotly contested awards ceremony. For me as a musician the great thing is that it gives acoustic and folk musicians a positive vehicle to get them recognition, airplay and press."
The awards on January 30 will be broadcast live on the radio and include artists like Bellowhead, Sam Lee, Lau, Jim Moray and Karine Polwart battling out for the prestigious prize.
It's a ceremony that Julie is all too familiar with having scooped the Folk Singer of the Year prize in 2008 and presented the awards in 2012.
Julie was one of a cast of past and current tutors, alumni and students to perform at Saturday's concert celebrating Skye college Sabhal Mòr Ostaig.
The college is a place close to the Gaelic singer's heart after first attending the student in 2000 and then completing the post-graduate course last year.
For the last year Julie has also been involved in a Music Residency at Tobar an Dualchais/Kist o Riches a project set up to preserve, digitise and make available several thousand hours of Gaelic and Scots recordings online, which is based at the college.
Julie said: "The breadth and wealth of talent coming through from the college is staggering. I've got a great respect for the college and had a really positive experience completing my masters at a distance there, it was a great privilege to be involved in a concert putting a spotlight on the college."
Last year could be summed up as being a bit of a whirlwind for Julie. In amongst giving birth to her second child, Julie recorded two songs for the film Brave, was in the running for an Oscar for Best Original Song and performed in front of 500 million television viewers online at the Ryder Cup in Chicago.
The singer was first approached to get involved in the Disney film last year and ended up recording some of her parts when she was eight and a half months pregnant.
While both songs Touch of Sky and Into the Open Air were performed in English, her Gaelic piece Tha Mo Ghaol Air Aird A' Chuain (My Love is on The High Seas) was featured in the movie's trailer.
She explained: "Being a part of Brave was a mind blowing experience. My older daughter who is three is already at the Disney stage, but I don't think she's that bothered yet about hearing me on Brave, because she listens to me singing all the time.
"The directors were very passionate about Scotland and Scottish culture in general, they have certainly done a lot to raise the profile of Scotland, what they've done has been hugely positive. It was very nice to be in the running for the Oscars and while we weren't in the final shortlist it was very far removed from what I was expecting."
She added: "Brave has opened up a lot of opportunities for me, performing at the Ryder Cup was incredible and I'm so glad that Nicola Benedetti was on stage with me and I wasn't on my own. I just concentrated on the people in the audience and to be honest it was a nice distraction making sure my two wee ones were fed and organised."
"There's a huge interest in Scotland and Gaelic in particular, in the US. Americans want to see something different and want more choice than mainstream music."
Julie Fowlis will perform with Paul Brady and Heidi Talbot at the Old Fruitmarket on January 27 and present the BBC Radio 2 Folk Awards on January 30. To book tickets go to the Celtic Connections website.
Check out all of STV's coverage from Celtic Connections.
More About Celtic Connections 2013
Related articles