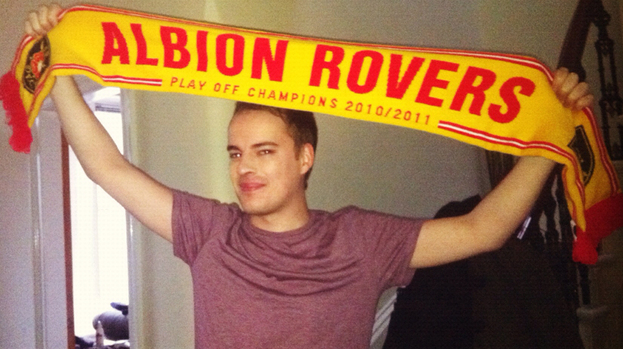 When I tried to shake myself for an unappealing trip to Methill on Saturday morning, my phone went off.
I picked it up and read the text which read just two words:
"MARVIN ANDREWS"
Surely I was back, deep in the land of nod, I typed his name into Twitter and was treated by even more confusing information.
Seemingly the cult figure Andrews had been spotted in the Methil area but nobody quite knew what was going on.
Was he playing for Rovers? Was he playing for East Fife? Preaching at half time? Selling pies? It was anyone's guess.
Sure enough, when we got there the unmistakable figure of 'Big Marv' was kitted out in Rovers gear. With him at the back or us and his former international teammate Colin Samuel upfront for East Fife there was a Caribbean flavour to the cold damp and miserable Methil weather.
Unfortunately it was Samuel who was the difference, scoring two goals in an otherwise even game. As for Andrews he played great - never wasted a pass, was strong and commanding and what he lacked in pace he made up for in positional sense.
With the current injuries to Green and O'Byrne it makes sense to bring him in till the end of the season.
Next up its runaway league leaders Queen of the South (the least said about that the better but knowing the Rovers we will end up winning 3-0).
A perhaps more likely outcome is that this game is rendered meaningless by the proposed league reconstruction plans.
There's probably not enough room on the STV website for me to give all my thoughts on the proposed 12-12-18 system, but my main gripes are that if it was to be implemented next season it renders this season worthless for the majority of teams.
Whatever happens, Rovers and most of the Second Division teams will end up in the 18 team league, so what's the point in Rovers paying someone like Andrews til the end of the season if the games are all for nothing?
What's the point in me going to the games (other than the fact I've paid good money for my season ticket)?
At least if it was implemented the season after next teams would go into a season knowing where they need to finish to make it into a higher league.
Looking further ahead I don't see it solving any problems. The SPL will still have 12 teams and so, will still have the same problems.
The most competitive division in Scotland is, in my opinion, the Second Division where just about everyone has something to play for.
Under the new proposals it will be scraped and replaced with an 18 team league which will have even more meaningless games.
I'm not against reconstruction but this plan just seems a bit all over the place and I can't see it solving any of the problems in Scottish Football.
Don't even get me started on the 8-8-8.
Sam Tennent
More About League reconstruction
Related articles