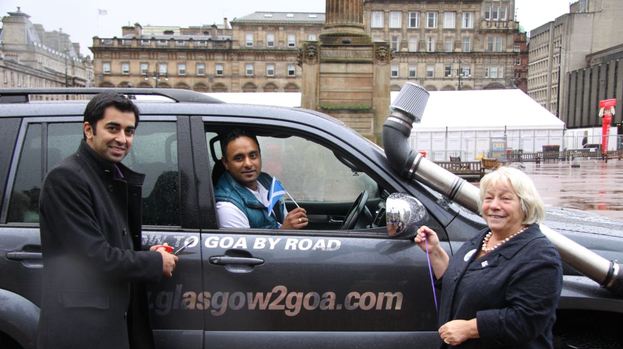 When Inderpal Shergill began his mission to raise cancer awareness, he didn't expect to run into the Russian secret service or survive a kidnap attempt by Al Qaeda.
The 37-year-old IT consultant from Hyndland was compelled to raise awareness and funds for cancer charities after losing his father-in-law Malkit Singh, and his colleague Toni Howden to the illness.
Knowing he wanted to make a big statement and inform as many people as possible about cancer treatment and symptoms, he began planning an epic adventure that would take him by car all the way from Glasgow to Goa.
Fresh from returning from his epic trip, he estimates that he has raised £4,000 for cancer charities Marie Curie Cancer Care, Roko Cancer and Imran Khan Cancer Appeal and the total is constantly rising.
Focusing on bringing information and funds to impoverished communities of India and Pakistan, Inderpal visited 32 countries in 32 days and spoke to as many people he could about checking for cancer. He travelled over 14000 miles to spread the word.
Unsurprisingly, the charitable adventure wasn't an easy one. Travelling through countries such as Kosovo, Macedonia and volatile areas of Pakistan, Inderpal encountered his fair share of terrifying experiences and unsavoury characters. He was attacked, had his car broken into and nearly died when his car began slipping down a slope ominously named 'The Valley of Death'.
"In Kyrgystan, the car slipped," recalled Inderpal.
"There had been other accidents that night. There were dead bodies and I slipped down there and survived."
When crossing Russia, the secret service approached him and stripped his car completely - checking everything inside, including the engine. In Iran, Inderpal was filming his entire journey to make a documentary of his travels, and so the SS were quick to accuse him of espionage and attempt to seize his memory card. With the evening's darkness providing a useful cover, Inderpal was able to switch the cards quickly to pretend he had not filmed in that part of Iran - a country which is lined with electric barbed wire fences on every border.
"Kosovo was not a good experience, it was very scary," recalled Inderpal.
"I was stopped by the army and they told me when you're on the journey, if someone dressed like a soldier stops you on the road they might not be a real soldier, and they might shoot you. They also told me if you don't stop when the real army stops you, they'll shoot you. So you have to make a decision, which is scary.
"In Usbekistan I had my car broken into. I was attacked the same night, I was left bleeding with a broken nose and a cut on the lips.
"I was also attacked by Al Qaeda in Pakistan, they tried to kidnap me. I was provided a lot of security after that."
After the Al Qaeda attack, in which Inderpal was approached at night by men and threatened, local police provided the support of 300 officers in squad cars and motorbikes. For the final stretch of land that lay between him and his destination, Inderpal was terrified that he would fall victim to further attacks from the surrounding mountains, where many terrorists lay in wait with rocket launchers.
He was also warned of assassinations of tourists in a certain area of Pakistan, and this is something he hopes to highlight in his upcoming documentary detailing his adventures.
"There's a segment in Pakistan that's never been talked about. When you enter Pakistan on the way to Islamabad, that whole stretch is really dangerous. It's barely mentioned on the internet," said Inderpal.
"Locals told me killings and kidnappings often happen there. Apparently foreigners that come in aren't aware of the situation and they get thrown down the valley, off the cliff and it is hushed up. The situation is pretty bad."
The other closed countries that Inderpal covered on the journey was Turkmenistan. Not much is know about this country, but Inderpal was able to record everything on his car camera.
He also recorded a dangerous landslide which happened in the highest mountain ranges of Pakistan, where he was forced to cross some part of the journey on a small boat. A lake of 16 miles formed after an earthquake in 2010, rendering small local boats the only method of transport.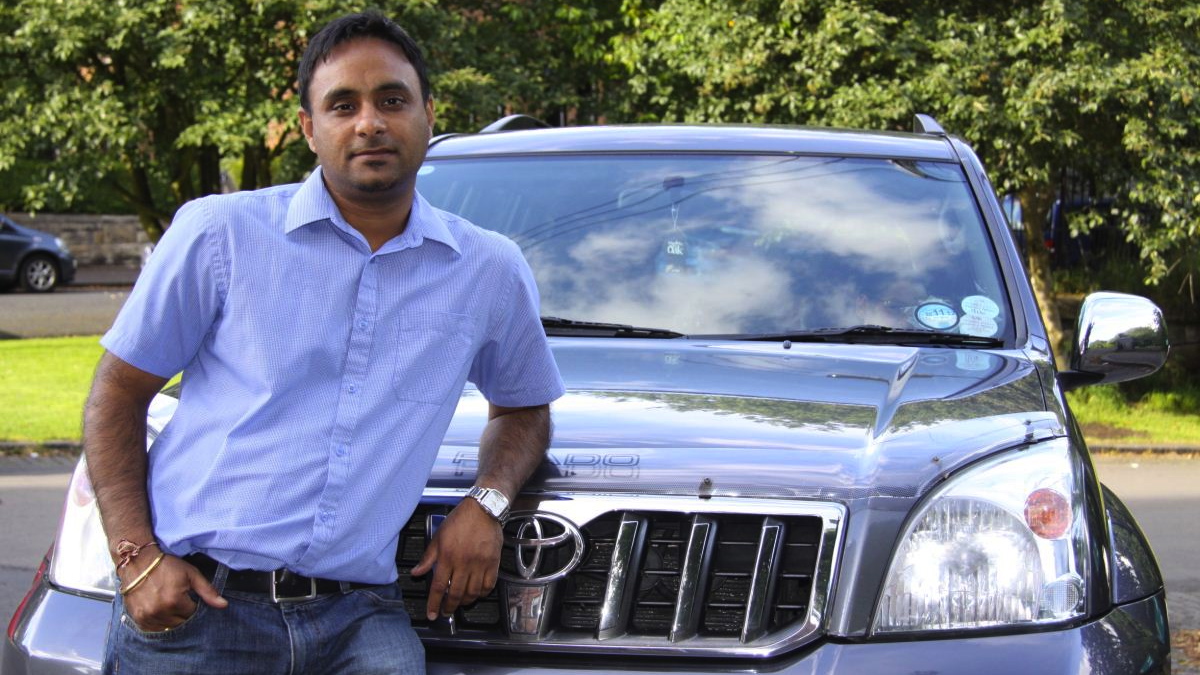 Inderpal risked his life to save the lives of others.
Despite his struggles through dangerous parts of the world, Inderpal was determined to spread the message of cancer symptoms and treatment to these impoverished places.
"In the UK and Canada you get a letter from your GP informing you that you should go for a check up at a certain age," said Inderpal.
"In India, people are often not aware until the last stages of cancer – they lose relatives and they still haven't figured out what the reason was.
"Over there, the awareness had to be generated - we needed to raise funds for charities like Marie Curie, that see people through the last stages of the illness.
"I've always done what was thought was impossible. I met all these people, and they said it couldn't be done.
"Before I left, I met some cancer patients through Marie Curie and they were excited, some of them gave me the encouragement that even though they were in the final stages of their life, this would give them something to look forward to before they died. It was really touching."
The married father of two took on the incredible journey using his own money, re-directing any donations offered to him into the charity pot. He estimates that the entire journey, start to finish, cost him in the region of £40,000.
In every country he stopped into, Inderbal spread his cancer awareness message through local media, chatting to communities and visiting clubs and hospitals.
Locals would approach him on the journey, offering words of support and taking his message back home to their elderly relatives.
Despite all his struggles, Inderpal made it back to George Square, where his mission set off, with a lifetime's worth of stories to tell his grandchildren, 90 hours worth of video footage and plenty of money garnered for his chosen cancer charities.
In February, he plans to partake in a fundraising dinner which will see the premiere of his documentary and is also planning to compile his adventures into a book.
"It was an amazing experience," said Inderpal.
"I was told the world is a bad place - but it isn't. The people are amazing. People would just welcome you into their house, which is the total opposite of what people do in Europe. I even attended a couple of weddings! Overall, the experience was amazing."