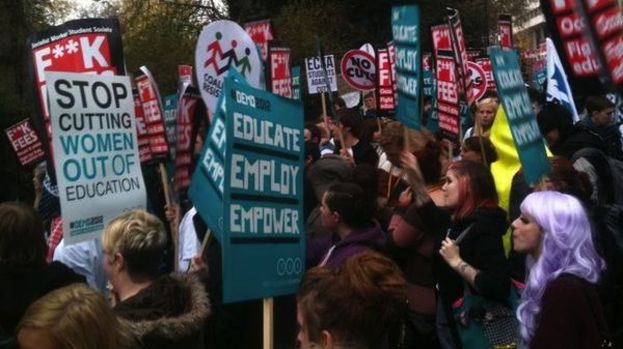 On Wednesday November 21, thousands of students from across the UK descended on Westminster to voice their opposition to government higher education cuts.
Among them, armed with placards, megaphones and a vision of a future where colleges and universities aren't threatened by low finances, were three busloads of Glasgow students keen to show their support.
Representatives from the University of Glasgow, University of Strathclyde, City of Glasgow College, Glasgow Caledonian University, University West of Scotland, and Langside College all joined in the '#Demo2012 : Educate, Employ, Empower' demonstration, organised by the National Union of Students.
Concerned about the effect that cuts to higher education funding might have on the nation's young people, as well as plummeting youth employment and a lack of job opportunities, the National Union of Students rallied students and supporters from all corners of the UK.
Some of the many issues protested at the demonstration were decrease in undergraduate teaching funding, funding cuts for postgraduate courses and fee hikes - all of which stand to affect Scottish students and the Scottish education system in general.
Speaking at the event, which was attended by up to 10,000 students and supporters, Strathclyde University's Student President Malcolm Moir said: "The demonstration has gone really well, and it is great to have so many students here from Glasgow.
"There are lots of creative placards, slogans and chants that have brightened the route, and it has fantastic to have this opportunity to make our voices heard - it is just a shame about the weather."
Working together through a network called the Glasgow Students' Forum, which is made up of student executives from universities and colleges across Glasgow, the students associations of each institution co-ordinated their trip down South to voice Glasgow's views on the subject.
Protestors assembled at Horse Guards Avenue and marched through Westminster and past the Palace of Westminster, before rallying outside the Tate Britain to hear speeches from student representatives.
The march took place two years on from the tuition fees demonstration, which ended in clashes between police and demonstrators. It was held on a Wednesday to coincide with Prime Minister's questions in order to make greater impact.
Despite some minor scuffles between police and protestors this year, and some heckling during NUS President Liam Burns' speech, the protest was predominately peaceful.
Rebecca Maxwell Stuart, Strathclyde University's Vice President of Education, said: "Three busloads of students from Glasgow went to the demonstration to take a stand against Westminster decisions – decisions that affect those here in Scotland.
"From rest-of-UK fees, to the removal of colleges' rights to recruit international students, to massive youth unemployment, the UK Government is failing to support swathes of students and young people across the country."
Glasgow Caledonian University's Student President Carla Fyfe feels that the march was Glasgow students' chance to ensure a brighter future for the next generation of people entering higher education.
The frustration she and her peers feel about the cuts and the threat to higher education in Scotland was apparent as she spoke of the demonstration after the event:
"Being able to march with students from around the UK, one thing became apparent - the passion from young people makes a positive change, and the government should recognise this.
"We want to aspire to something, we want to give our economy something back and see our industry grow, but for this to happen the government needs to stop clamping down on the benefits to education.
"The thousands of young people at the march showed the commitment we have for a brighter future, how much more do we have to shout to be heard?"
NUS Scotland president Robin Parker added: "While Holyrood can do more in many areas, you don't have to look far to see that some of the biggest impacts being felt by students can be traced back to Westminster.
"A crisis in youth unemployment, huge fees for rest of the UK students, colleges losing their ability to recruit international students and the continued attempts to turn UK education into a market. All of these are problems have been created by Westminster and need, ultimately, to be fixed by Westminster."
Here are some of the tweets collated from Glasgow students about the demo.
Scots in London! #Demo2012 twitter.com/USSAPRES12_13/…

— Malcolm Moir (@USSAPRES12_13) November 21, 2012
Education should open doors but the government is slamming them shut. Make education a priority #demo2012 thndr.it/UIO8Ce

— Danielle Borrett (@GCUSA_VPE) November 21, 2012
Education is the most powerful tool in bringing about social change. #demo2012

— Louise Logan (@louiselogan_) November 20, 2012
Glasgow Forum going the scenic route! Picadilly Circus! Trafalgar Square! Big Ben! #demo2012

— Policy and Campaigns (@GCUSA_PandC) November 21, 2012
The glasgow n surrounding areas students are uniting in the strathy union #demo2012

— heather armstrong ⚡ (@heatherela) November 20, 2012
Taking the #demo2012 total from Scotland to 1001, it's @ussapres12_13 and Barney! twitter.com/JamieKinlochan…

— Jamie Kinlochan (@JamieKinlochan) November 21, 2012
Glasgow convoy are approaching home turf after #demo2012 - looking forward to approx 2 hours in bed before up for classes!

— Langside College SA (@LCSAPres) November 22, 2012
Were you there and want to tell us about it? Email us here or tweet to @Rachael_Fulton.
Related articles
People who read this story also read