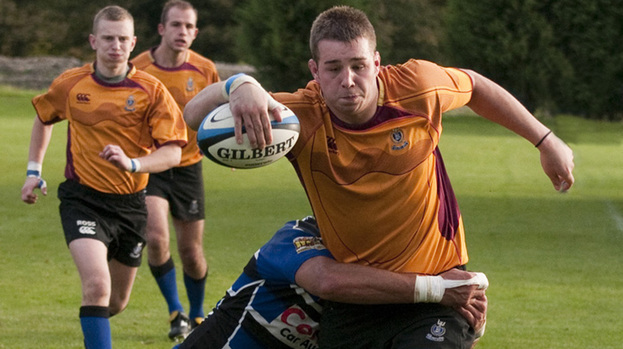 Dalziel RFC 44-27 Dunfermline
Dalziel took to the field determined to carry on winning until the end of the season and started brightly. Early dominance was however short lived as Dunfermline opened the scoring with a breakaway try and conversion.
A few minutes later and Dalziel responded with a score from Craig Simmonds converted by Robert Simpson. Two minutes later Lee McWhinnie went over in the corner only for the referee to judge that he put a foot in touch.
Simpson added a further penalty for the home side but yet again Dunfermline broke out of defence to score their second converted try to take a lead 7-14.
Dalziel responded and this time McWhinnie stayed infield to score in the corner. Simpson knocked over the difficult conversion. Dalziel's defence was at times shambolic and they again allowed Dunfermline into the game and score their third try.
They followed this with a penalty and now had a lead of 17-22. Just before half time Dalziel from a five yard scrum saw number eight Simmonds pick up and feed James Baxendale to score. Simpson knocked over the conversion and at half time Dalziel were leading 24-22.
The second half saw Dalziel up the pace of the game and an early penalty from Simpson extended the lead. They followed this with a try from Steven Findlay from a driving maul, who 10 minutes later scored his second after some good forward play.
Dunfermline were not out of it and responded with a good try of their own. Dalziel were having none of it and dominated the rest of the match culminating in a final converted score from Fraser McKenzie.
A good win for the Motherwell lads and should give them the momentum to win the last two games and reach the season's goal of a top six finish.
Man of the match - Steven Findlay