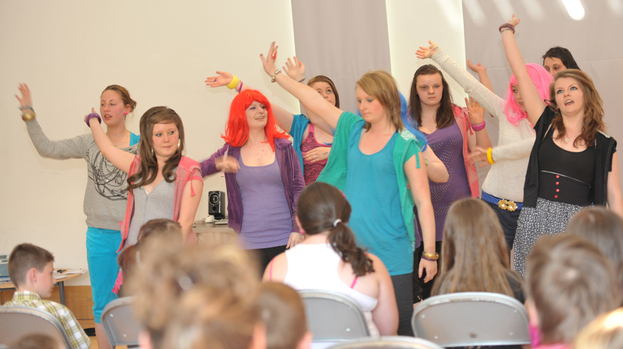 Stories have been shared in every culture since humans have been able to talk.
Whether it is telling a story of what you did that day or telling a bedtime story to little ones, stories are part of everyday life.
Now a Glasgow-based storytelling centre is using narrative to help young carers and the challenges that they face.
The Village Storytelling Centre in Pollok has received funding from the Scottish Government and Creative Scotland as part of the Year of Creative Scotland so that they can help young carers.
The centre had already worked with young carers in the Pollok area but the funding is now allowing them to help others in the wider Glasgow and west of Scotland area with their Creative Sparks project.
The project will engage with ten groups of young carers across the West of Scotland.
It will last for a year and each group will have a weekly session for up to three months.
Speaking of the benefits of storytelling Vanessa of the Village Storytelling Centre said: "The great thing about it is that you don't need any specific tools.
"You can do it anywhere. It's about self-expression and it's about helping young people to find their voice."
And she said that while storytelling and story making will be key elements, young carers will enjoy exploring a range of arts activities such as sculpture, drama and creative writing.
"Each of the projects will be storytelling and another art-form," said Vanessa.
"It could be storytelling and dance or storytelling and sculpture. Ultimately we will be working towards some kind of project.
"It is about confidence and working in a group and it is also about having a bit of respite. It's a bit of time for themselves.
"It might be that a group already has an interest in music. It's about starting where they are but developing.
"We did the project in Greater Pollok three years ago. It was clear that there were so many positive outcomes for the young people involved. Storytelling is a powerful tool.
"It's about offering them something that's quite difficult to access. It's difficult to get many young people involved in the arts. Where people live is one barrier and being a young carrier is another barrier."
The project will start at the end of July and the Village Storytelling Centre is hoping to work with young carers across Glasgow, Lanarkshire and Inverclyde.
Vanessa added: "We are hoping to link with local facilities for example if the theatre is nearby then the young carers will take part in storytelling and drama.
"Some people will want to use the storytelling therapeutically but others will want to use it to have fun.
"We imagine that in each group it will be a slightly different project. Obviously they have quite complex lives so it's about honing in and finding something that interests them.
"We are going to work with pre-existing groups."
Each of the projects will culminate in the young carers producing a small collaborative piece at the end of each block that will "celebrate and affirm their creativity".
Vanessa added: "It is hoped that we can find a way of showcasing their creative work at a celebration within their local community to mark their participation in the Year of Creative Scotland.
"We also plan to build a trip to a cultural venue for the carers within each workshop series."
For more information on Carers Week, visit the STV Health Centre, brought to you by NHS inform.