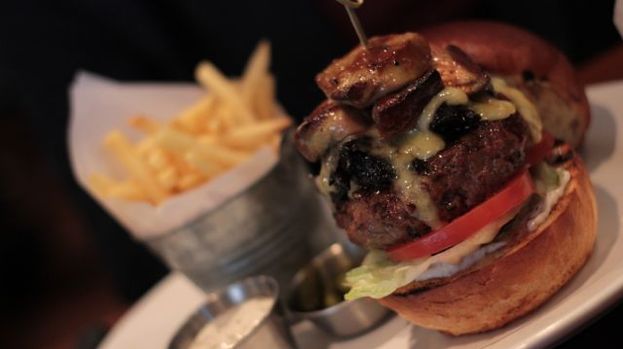 It all started with a simple conversation between boyfriend and girlfriend: where to go for a burger in Glasgow?
James Lees and Pamela Graham were planning to go out for a bite, and couldn't decide where to go.
So, like any modern couple, they turned to an old friend: Google.
"We travel quite a lot," said James, "And if we were going to another city, one of the first things we would do would be to check out online where people recommend to eat.
"But when we tried that for burgers in Glasgow, nothing came up; I mean there were a few forum posts a couple of years old, but nothing other.
"It just didn't seem right that in a city like Glasgow, where there are such fantastic places to go, there was nobody talking about it."
James and Pamela decided to change that - and James Vs Burger was born.
Fueled by a passion for food, the couple is on a mission to discover the very best burger in Glasgow - and Scotland - through the course of 2012.
They catalogue each meal on the blog, providing detailed reviews of the high and low points of experience.
Accompanying each post are Pamela's mouthwatering photographs of each burger - so tasty looking, they could make a vegetarian have second thoughts.
"We wanted the photography to look great," James said. "We want people to get hungry while they're reading the site."
The pair have already visited some of Glasgow's top burger haunts - including Lebowski's, The Grill on the Corner, The Butchershop and Ad Lib, where James made an attempt at the incredible 3lb Burger Challenge.
He said: "My favourite so far has to be the Butchershop; it was one of the first places we went when we started writing the blog.
"It was a very different burger, which the owner recommended to us and it came with foie gras, short ribs, truffle mayonnaise and gruyere cheese.
"I think it's the best burger I've ever eaten - not just in Glasgow, but pretty much anywhere in the world."
But while that delight came with all of the trimmings, James said his ideal burger comes down to the quality of the meat.
"A good burger could be piled with stuff," he said, "Or it could just be bun, cheese and burger.
"For me, what matters in a perfect burger is that the meat is cooked just right; the rest is not as important.
"The quality of the meat itself needs to be good, otherwise you won't get a good burger regardless of what else is on it."
But the search isn't just about finding the right burger, it's about helping to promote the quality food which is available in Glasgow.
James explained: "There are plenty of chain pubs and fast food restaurants where you can get a burger - and I'm not going to pretend that I haven't eaten in them or that I won't again.
"But those places will always be busy and always have an audience guaranteed - whereas there have been some fantastic places in Glasgow which have closed down; we want to show people places they might not have tried before and really showcase what the city has to offer."
The search has also taken James through to Edinburgh, where he sampled the delights of the Gourmet Burger Kitchen, and the couple will soon be heading to Dundee.
"We want to try and find not just Glasgow's best burger, but the best in Scotland.
"At the end of the year, we're going to write a big review and decide what was our favourite.
"But we also want our readers to put in their thoughts, and we'll have a vote from them to decide their favourite overall.
"We really want to start a conversation with people and get them talking about this."
One question James and Pamela often get asked is whether their efforts are having an impact on their waistlines - all of those burgers can't be too good for that.
James said: "The funny thing is, because I'm more conscious about eating so many burgers, I've actually been going to the gym a lot more.
"So, surprisingly, I'm actually in better shape since this started!"
Related articles
People who read this story also read