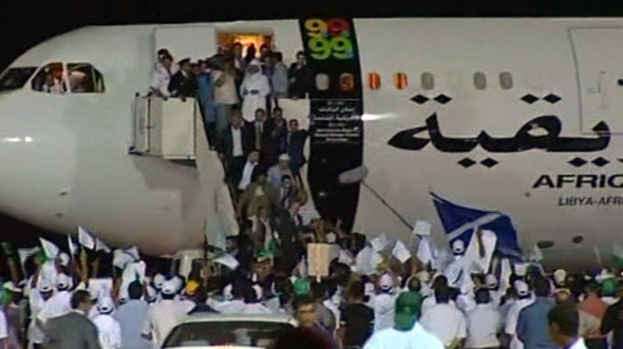 Scottish First Minister Alex Salmond has insisted he does not regret the controversial release from prison of the Lockerbie bomber.
He said his administration acted in good faith on the evidence available at the time when the decision was taken to release Abdelbaset al-Megrahi on compassionate grounds, saying he had three months to live.
Prime Minister David Cameron's first visit to Washington as premier has been overshadowed by the row over al-Megrahi's release, with US senators suspicious that oil giant BP may have had a hand in the affair.
However, in a Radio Four interview on Wednesday, Mr Salmond was insisted he stood by the decision, adding "because you can only take a decision on the basis of the evidence at the time and the decision we took was with due process and in good faith."
He added: "You can only take a decision based on information at the time.
"It's not unheard of for people who have been released on compassionate grounds to live longer than the three months specified."
Libyan al-Megrahi is the only man to have been convicted of the Lockerbie atrocity which killed 270 people in the bombing of Pan Am flight 103 on December 21, 1988.
He was released from a Scottish prison last August but, almost a year later, still alive and living with his family in the Libyan capital Tripoli.
However, Mr Salmond insisted: "If you take a decision in good faith, you don't regret it."
At the time of Megrahi's release, the Scottish Government insisted medical experts had given him a three month prognosis. The Government now says that Megrahi 's prognosis was based on his condition behind bars, adding that he is now receiving different treatment in Libya which appears to have prolonged his life.
Speaking on Wednesday, Justice Secretary Kenny MacAskill said:
Mr MacAskill said it was undeniable that Megrahi was going to die soon and would have probably done so had he remained in jail.
He said: "Dealing with cancer is not an exact science. If you're far from your home and your family and you're in a prison cell in Scotland, then you can turn your face to the wall.
"If you're at home and you're being treated, then you may live longer. But what is undeniable is that he is terminally ill with prostate cancer, he has been released to Libya and he's going to die very soon."
In Detail
Senators in the US have questioned whether oil firm BP was influential in the decision to release Megrahi and have claimed a deal was made to allow British exploration in Libya. However, Mr Salmond criticised ex-premier Tony Blair for negotiating a prisoner transfer agreement with Libya at the same time as sealing a deal for BP in the country. Mr Salmond said the deal, which was not invoked for Megrahi's release, gave rise to suspicions of "deals in the desert".
He said his administration had consistently opposed the PTA and went on: "As far as the Scottish Government is concerned we had no contact with BP, either written or verbal, as far as the process of compassionate release was concerned.
"The reason they didn't lobby the Scottish Government, I suspect, is because we had made our opposition to the PTA well known and very public."
Mr Salmond added: "We have had absolutely no doubts about the deep feelings and huge, huge hurt about such an atrocity."
But he went on: "Not all the relatives have the same position. Some, though not all, of the British relatives concerned were in favour of the release of Mr Megrahi."
Mr Salmond was discussing the case as David Cameron prepared to embark on a major trade offensive on his first official visit to the US since taking office.
Mr Cameron held long talks with President Obama on Tuesday, before holding a press conference which was dominated by questions relating to Lockerbie and to BP.
The PM insisted he had seen no evidence that BP had "swayed" the decision to free Lockerbie bomber Abdelbaset al-Megrahi and resisted renewed demands from some American politicians for an inquiry.
And he warned against excessive punishment of BP over the Gulf of Mexico oil spill insisting it was in neither country's interests to destroy the firm's future and urging US critics of the firm not to "confuse" the two issues.
The two leaders united in condemnation of the Scottish Government's decision to release the terminally-ill bomber, while Mr Obama welcomed the PM's commitment to publish any relevant UK government documents.
First Minister Alex Salmond also said documentation relating to the release of Abdelbaset al-Megrahi should be released. However, he insisted the Scottish Government had been open about the decision, saying the only documentation held back had been done so at the request of other authorities.
Mr Salmond offered to publish all correspondence between his ministers and the UK and US governments.
However, a group of senators representing victims' families who met with Mr Cameron later on Tuesday continued to urge him to reverse his opposition to a fresh investigation into the circumstances of Megrahi's release.
President Obama said the US had been "surprised, disappointed and angry" by the release but said he would "welcome any additional information that will give us insight into how the decision was made".
He added: "The key thing here is we have got a British Prime Minister here who shares our anger, and also objects to how it played out. The bottom line is that we all disagreed with it. It was a bad decision."
In an interview with GMTV given shortly after he met Mr Obama, Mr Cameron reiterated his view that the release of al-Megrahi was wrong.
"The decision to release al-Megrahi was taken by the Scottish Government for reasons they thought were about compassionate treatment of a prisoner.
"I think they were wrong, I think it was a bad decision, I said so at the time."
Asked what he would have done had he been premier at the time, he said: "It was a decision for the Scottish Executive but had I been Prime Minister, I would have made very clear my view he should not have been released.
"I made that clear as leader of the Opposition, I criticised the last prime minister for not making his view clear.
"I think the British Government should have been clearer in their view and in expressing their view that you don't give compassionate release to a mass murderer."
Background