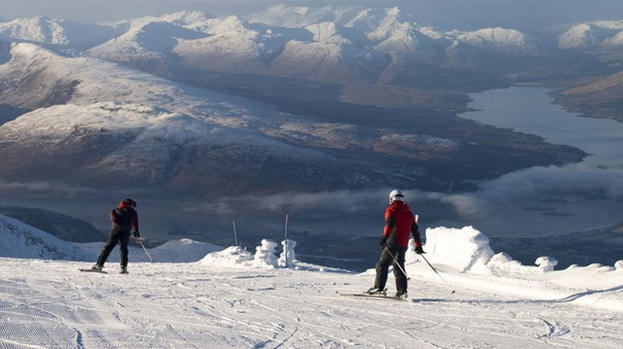 "People in Glasgow just don't think about coming skiing with us" says Heather Negus plaintively. "They see there's no snow in Glasgow and they forget that we are 650metres higher up".
And she's right. Even from the bottom of the Nevis Range gondola, just east of Fort William, there doesn't look like much chance of any decent skiing. There's no snow at all at sea level and higher up, through the broken layers of cloud that are drifting around, it looks as if heather and rocks are breaking through everywhere. There's more brown than white.
Yet 20 minutes later, after the gondola has whisked you up to the foot of the skiing area and the range of interconnecting tows and chairlift have taken you almost to the summit of Aonach Mor, the mountain on which it is all built, there's loads of snow. Well groomed pistes snake off in several directions and remarkably cheery staff wave you on your way at every turn. There is not even a queue at the lift to let you catch your breath – though to be honest Heather, who is the maketing manager of Nevisrange, is not entirely happy about that; the mountain can accommodate many more than the 700 or so skiers who were there last Sartuday.
Skiing has always been marginal in Scotland, from the first moment some enthusiasts tramped up Ben Lawers back in the 1930s. They had proper winters then (as old timers will tell you) but it is not only the uncertain snow fall that the five current centres have to contend with. As Geoff Starkey, the head of Nevisrange's Ski Patrol explains, there is plenty of precipitation. "It's just these warm patches in between. And the wind stops the lifts."
Anyone who follows the global warming argument will recognise the symptoms; wetter, windier and more concentrated bursts of both. Half the chairs on the main chairlift at Nevsirange were damaged in one winter storm last year which does nothing to help the shaky economics. Then there's the cheap flights to the Alps and all those "well in the two and half hours it takes to get from the central belt to most of the Scottish ski areas I could be in La Clusaz, Flaine etc where the skiing is way better" arguments.
Not actually true, by the time you have factored in all the transfers and waiting around at airports. And those cheap flights are not as cheap as all that by the time you've factored in paying to put your gear on board and all those other hidden charges. Still – the Alps are in a different league and, for a week's skiing, worth the hassle.
For a weekend or even a day? Perhaps another look up north is in order. Cairngorm may be the grand-daddy of them and it does have its swish funicular. But Nevisrange has always had a secret weapon in the form of its back corries. Of course, there's nothing to stop you skiing anywhere in Scotland but there aren't many places where genuine off- piste skiing has some mechanical uplift to bring you back to what passes for civilization half way up a mountain.
This year, Nevsirange has made an important change to the way they classify and patrol Coire Dubh and the others which disappear over the eastern rim of the summit plateau. They are longer pisting the runs at all and they are calling them Itineraries, leaving the choice of whether to go or negotiate what can sometimes be a very steep entry, depending on how the cornices have built up, to the judgement of individual skiers. And although they won't ignore it completely, there will be fewer patrols.
Geoff explains:" It's something we've been thinking about for a while. You've got to recognise this area is very different, you can't approach it in the same way. You've got to take more responsibility for yourself."
At the same time, they have set up a series of workshops and clinics on everything from how to use an avalanche transceiver to how to ski steep, untracked terrain. So that for the competent on-piste skier, there is an obvious series of steps to be taken before launching off into the dramatic eastern corries where the skiing or boarding is, I can vouch, both serious and stimulating. It's a new approach for Scotland which will be watched with interest.
Robert's trip was facilitated by Nevisrange. For more information, see their website here.
The other ski areas in Scotland are