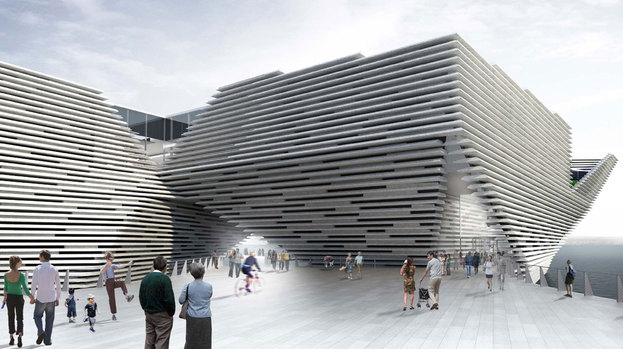 A new video fly-through giving visitors a sneak preview of the V&A at Dundee has gone on show in the city.
Dundee Science Centre was selected to showcase the new exhibit exploring the £45m waterfront development which opened on Thursday.
The digital animation shows the development inside and out revealing how the building is split over two floors with a mezzanine level, incorporating four galleries and a central atrium flooded with natural light.
It is expected that the development, which will include an extension out into the Tay, will open in 2015. It is part of a £1bn redevelopment of the waterfront area in Dundee.

Welcoming the exhibit, Louise Smith, CEO, Dundee Science Centre said: "Dundee Science Centre provides a key resource in the city and is a focus for community engagement. We are extremely excited by the waterfront development and to be a part of the emerging new landscape and we are delighted to be hosting this new display, in partnership with Dundee City Council, Dundee Waterfront Development and V&A at Dundee. Visitors will have the opportunity to view this unique presentation and we are sure they will also share in the excitement about what is being achieved in Dundee."
Mike Galloway, Dundee City Council director of city development added: "We are delighted that Dundee Science Centre is hosting this inspiring display about the city's innovative Waterfront Project and the V&A at Dundee. Dundee Science Centre attracts thousands of visitors and we are keen to use this space to highlight our vision of the Waterfront to as many families and young people as possible. The city council and its partners are working hard on this major transformation of Dundee."
Philip Long, director, V&A at Dundee said he hopes the virtual access to the museum, produced by Dundee designer Chris Bradwell, will help raise the international profile of the city as well as its potential as a tourist destination.
He said: "We are delighted to be able to share the latest visualisation of V&A at Dundee with visitors to Dundee Science Centre this summer. This 'fly-through' of the building has been developed by a local company, Live Visualisation, and is an excellent example of how we can work with innovative new designers and our wider creative industries. The visualisation employs the same kind of technology Dundee's renowned computer games industry has been instrumental in developing, but takes it to a new level."
The exhibition is on show within the foyer of Dundee Science Centre which is open daily from 10am until 5pm.