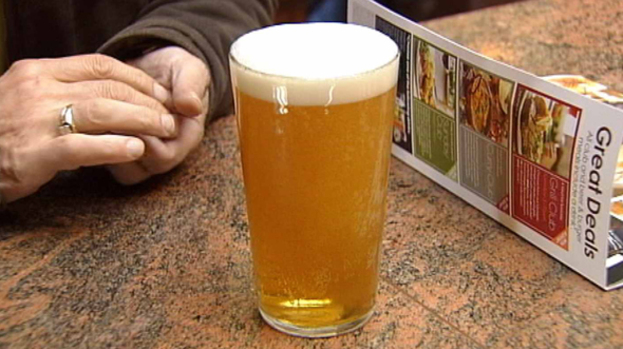 The Scottish Government is being urged to strike out an estimated £103m windfall for retailers through plans for a minimum price for alcohol.
Labour wants Health Secretary Nicola Sturgeon to commit to using another levy to take away the extra funds when the SNP policy is debated at Holyrood.
All other parties are expected to get behind the SNP's Alcohol (Minimum Pricing) Bill at its first parliamentary hurdle on Tuesday afternoon, leaving Labour isolated in opposition.
But Labour has lodged an amendment which it hopes will win support from MSPs.
Jackie Baillie, Labour's health spokeswoman, said: "Scottish Labour`s amendment eliminates the single largest flaw in the bill - the multimillion-pound windfall this generates for retailers - and instead will return the windfall back to the public purse where it can be ploughed into tackling alcohol misuse."
Labour said the Scottish Government could use its public health levy, which targets larger retailers selling both alcohol and tobacco, or a new tax, to meet the demand.
Minimum pricing is estimated to hand £103m to retailers each year based on an indicative floor price of 45p a unit, according to research by Sheffield University.
The SNP's public health levy is designed to generate £110mn over three years for spending on health-related issues.
Speaking last night, Ms Sturgeon urged other parties to back her pricing plan.
She said: "We have always said there is no single solution to tackling the problems caused by Scotland's unhealthy relationship with alcohol, and minimum pricing is not a silver bullet.
"But it is an important part of a comprehensive alcohol misuse strategy. No strategy is completely without tackling price and we need to act urgently to stem the flow of cheap, high strength drink and minimum pricing is the most effective way to do this."
Despite the expected majority parliamentary support, concern has been raised that the plan may fall foul of European law.
The debate is the second attempt to pass the legislation, which was blocked by the main opposition parties in November 2010.
Willie Rennie, who took over as Scottish Liberal Democrat leader last year, changed party policy to back the plan.
He said: "Minimum pricing is a positive and confident step towards changing the culture of drinking to excess in Scotland."
The Conservatives changed policy to support the plan with the promise of a "sunset clause" if it proves ineffective.
Labour launched its own draft alcohol plan on Tuesday, calling for a ban on advertising in all public places as part of a shift in cultural attitudes to drinking.
The restriction is one of 14 measures outlined by the party in response to legislation already backed by the Scottish Parliament.
MSPs have already banned discount deals such as two-for-one on bottles of wine, restricted "irresponsible" drinks promotions and advertising around premises, and set a requirement for age verification.