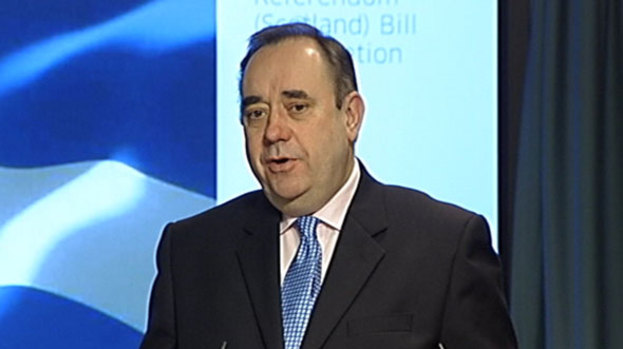 Alex Salmond has told an audience in Liverpool that England's regions would benefit if Scotland became independent.

Mr Salmond said the end of the union would prompt a "rethinking of the structures of the rest of the UK" which could end London's dominance.

He said: "It would be for England, Wales and Northern Ireland to decide how this came about, but the end result would surely reflect the needs of the English regions better than the current arrangements."

Delivering the Roscoe lecture to an audience of 1,000 at John Moores University, the First Minister attacked Westminister leaders for being "out of touch with the masses" and failing to present a "positive vision of the future of England".

He suggested policy areas such as health would be better decided at regional level, pointing out that the North West Health Authority serves a population far greater than that of Scotland. "Why shouldn't Merseyside determine the health policy in its own community?" Mr Salmond asked.

And he echoed the words of William Gladstone, who in a speech in Liverpool in 1886 said: "All the world over, I will back the masses against the classes."

Mr Salmond said: "The unpopularity of Westminster leaders in Scotland is largely based on their ham-fisted interventions in the debate on Scotland's future.

"Their unpopularity in England is based on their inability, in these tough times, to present a positive vision of the future of England. But it may also reflect something else.

"One reason, in my view, for the current unpopularity of the UK parties is that on issues from health reform to economic recovery, the Westminster classes seem to be out of touch with the masses. And they seem more out of touch the further from Westminster you travel."

The First Minister also said independence for Scotland would "end the sense of grievance - on both sides - which can sometimes affect the relationship between Scotland and the rest of the UK."

"Neither Scotland nor England could consider themselves short-changed in financial matters, and policy in England would not be determined by the representatives of Scottish constituencies," he said.

"That, surely, is a better basis for a strong and equal friendship than the status quo."
More About Referendum