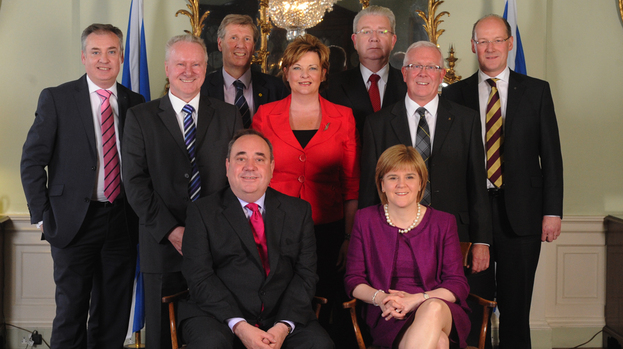 The SNP is now twice as popular as Labour, according to a poll of Scottish voters.
A survey by Ipsos MORI says 51% of people certain to vote would support the SNP in a Scottish Parliament election.
Support for Labour was down to 26%, with the Scottish Conservatives on 12% and Liberal Democrats on 8%.
The Nationalists and Labour were running neck and neck at times in the run-up to May's Holyrood election, which yielded a majority SNP government.
Mark Diffley, research director at Ipsos MORI, said: "The results of this poll round off a memorable year for the SNP, in which the party won a historic overall majority in the Scottish Parliament elections.
"There are no signs yet of a significant challenge from any of the three main opposition parties, although given the fact that two have new leaders and the third is still to elect a new leader, this is perhaps understandable."
The poll also showed 62% of people are satisfied with Alex Salmond while 27% are dissatisfied, giving a net approval rating of 35.
The net ratings for Lib Dem leader Willie Rennie and Tory leader Ruth Davidson both stood at minus 8.
Deputy First Minister Nicola Sturgeon called the poll "sensational" and a ringing endorsement of Alex Salmond's government.

She said: "The SNP now has the support of over half the electorate, and there is growing support for Scotland having the full range of job-creating powers we need to boost jobs and recovery, protecting the NHS frontline services and becoming an equal and independent country."

But Labour said the SNP was "completely incapable" of turning its popularity into support for independence.

"Having undergone the most radical and wide-ranging review into the way our party is organised in decades, we are already changing," said a spokesman. "And once the new Scottish Labour leader is announced next Saturday the fightback will begin.

"The SNP might be ahead in this poll but the SNP remains completely incapable of translating that into support for its flagship policy of separation."