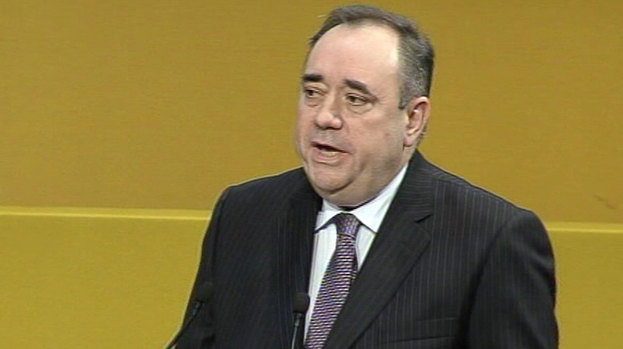 An investigation into claims that Alex Salmond influenced the award of a knighthood to Stagecoach founder Brian Souter has cleared the First Minister of wrongdoing.

Lord Fraser of Carmyllie said Mr Salmond should be "wholly exonerated of any breach" of the ministerial code, which bars government ministers from interfering in the honours system.

The inquiry was triggered after Jim Sheridan, Labour MP for Renfrewshire, complained to the First Minister that he had directly or indirectly been involved in securing the award for Sir Brian, who was knighted in this year's Birthday Honours.
Sir Brian said he would donate £500,000 to the SNP in February, shortly after the nomination was made.

Lord Fraser said Mr Sheridan's complaint was "ill-founded" and based on the assumption that ministers played a role in the Scottish Government's nominations to the Honours Unit in London.

He said: "Mr Sheridan is a respected MP and not a careless populist. He was entitled to assume that when it was asserted that a nomination came from the Scottish Government that Scottish Ministers either approved the nomination or at least had some involvement in its submission.

"In fact he was wrong in that assumption. Scottish ministers, most particularly Alex Salmond, had no involvement."

He concluded: "Given those facts checked out with the Permanent Secretary and the Honours Unit there appears to me to have been no breach of the Ministerial Code by Alex Salmond as First Minister and he should be wholly exonerated of any breach."

Lord Fraser came to his conclusion after writing to the head of honours and appointments in the Cabinet Office, who replied that he could find no written communication from Mr Salmond or any evidence that the First Minister had approached his office, directly or indirectly.

Mr Salmond said: "I would like to thank Lord Fraser for his thorough examination of this issue and I welcome the findings that have entirely exonerated Scottish Government ministers. I trust that Mr Sheridan will also welcome this conclusion.

"Lord Fraser indicated that I should restate the Scottish Government's position on awarding Honours and I am happy to do so, in the form of a parliamentary answer."