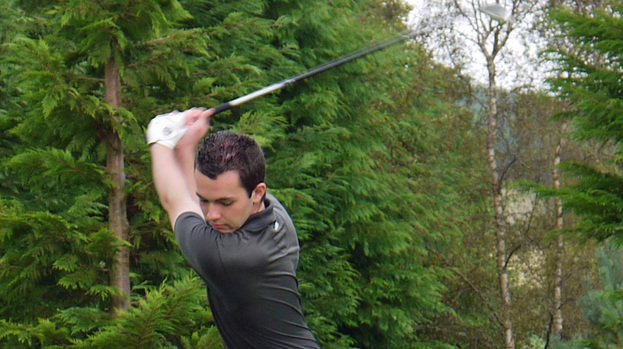 Liam Allan might be just 18 but this north-east golfing prodigy is already dreaming of blazing his own fairway to heaven.
He only began wielding his woods and irons at the age of 12, but has amassed a formidable clutch of accolades in his burgeoning career, which includes three victories in the men's championship at the Torphins course and four junior titles at the same venue.
Next up for Allan is the Paul Lawrie Scottish Boys' Championship which begins in Monifeith on April 1.
This is a ferociously competitive event, one featuring more than 250 would-be winners. But Allan speaks with the conviction of somebody who has decided that their life will revolve around birdies and bogies, as a matter of course, for the forseeable future.
He told STV: "I got used to playing the game in a short time and I just love it. When I started out in the sport, I pretty much had to teach myself, and I just plodded along, but when you enjoy it as much as I do, that wasn't a problem.
"I have a coach these days - [PGA professional] Simon Hanson - and although it will be tough at the Scottish Boys, not least because I've been drawn against my friend [and Aboyne GC colleague] Lewis McWilliam in the first round, it should be a cracking match."
The youngster doesn't indulge in superlatives, but plenty of others have testified to his abilities.
The Torphins secretary, Stuart MacGregor, for instance, described Allan as "exceptional", prior to talking about "having high hopes for him" in the years ahead.
It is a sign of the maturity which he has displayed during his formative years that he has drawn up a series of short and long-term goals.
Allan said: "If things continue to go well my aim is to go to the United States to do a scholarship because I want to give something back to the game.
"I know I have to work hard on aspects of my golf. My short game is one of my strengths, but I have to work away on my driving. But I'm happy to put in as many hours as it takes.
"I have been down to Montrose to play on their winter course in the last few months, yet it hasn't been that easy to stay in the groove, given how much snow we have had in the north-east. But I suppose that is the same for everybody."
He has watched the meteroric rise of irish wunderkind, Rory McIlroy, surveyed the progress of compatriots in the mould of Richie Ramsay and James Byrne, and seems determined to pursue a similar single-minded trail towards the stratosphere.
He added: "You never stop learning and that is one of the things I enjoy the most.
"Every day is different in golf. You have to adapt.
"Another positive aspect is that there are so many of us in Scotland who want to succeed and we are all spurring each other on."
Related articles