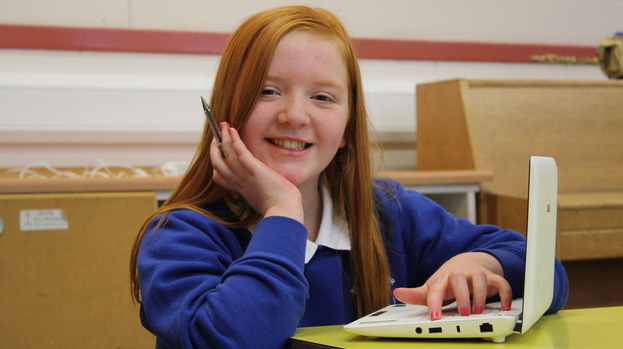 Writing a book sits high on many people's bucket lists, but for most of us it likely to remain a far-fetched fantasy.
However, at the tender age of 11, Jasmin Duncan has already turned her fantasy into reality, winning a three-and-a-half year book deal for her series The Unicorn Legacy.
When a representative from Aberdeen's Karabeth Publishing Company visited the school to work with pupils in a writing group last year, Jasmin caught the attention of staff with her majestic writing style.
The Kittybrewster Primary pupil said: "I am overwhelmed right now, I was surprised to hear that I was going to be published.
"It is a dream come true. My friends have been really good about it, their reaction is great and they have been supportive."
In September, Jasmin was approached by the independent publishers with a challenge – to write a 10,000 word book in two months.
Jasmin, a primary six pupil, added: "I started writing and it just bloomed. It's as easy as anything - just to sit down with a pencil and paper or in front of the computer. It is a way for me to express myself.
"I like to read quite long books, otherwise I can whizz through it in an evening. I read teenage fiction, especially werewolves and vampires; anything fantasy."
The story, which was released as an e-book on December 29, centres around a young girl who has an unexpected journey with a unicorn that takes her into a magical realm where she meets other mystical creatures.
For parents who are worried about computer games negatively affecting children's imagination, the source of Jasmin's inspiration is likely to raise a few eyebrows.
Jasmin added: "I love The Sims 2. It has given me a lot of ideas and it is a lot of fun. There are goals and life wishes that your character can do and for my character, I had to find a unicorn. I thought 'wow, I could use this in a story'.
"I get inspiration from many places but for now I just want to keep writing and reading. I definitely want to be an author when I grow up, or a songwriter - something creative."
Jasmin's dad Craig said: "I am just so proud of her. She is a very talented young girl. Jasmin never ceases to amaze me, she really is a phenomenal child. I'm 6ft 3in and I ended up blubbing like a baby when I read her book. I think the book is brilliant.
"When she goes to bed, we make up characters and we both tell each other stories and have input into the storyline, she is very creative."
With much of the book set in Aberdeen, readers are treated to nostalgic references to places and sights within the Granite City.
The young author has already begun writing the sequel to this book and looks set to give J.K Rowling a run for her money.
The Unicorn Legacy is being released as a paperback later this month, but to purchase an e-book visit Amazon.
Related articles