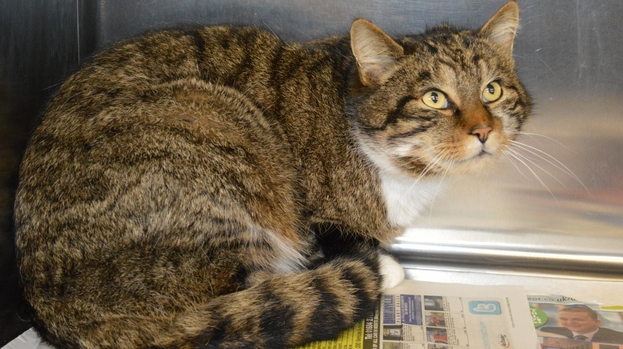 For my first blog of the new year I'd like to discuss something a bit different as I need to ask you for your help, in particular if you live in the Forres area.
Moray Cats Protection is currently trying to track the owners of a cat.
It was brought to our attention that someone trapped a cat on either Wednesday or Thursday of this week in the Forres area, as a cat (not necessarily this one) was apparently killing their chickens. We have no information on where the cat was trapped other than this.
From what we've been told, after it was trapped it was thought to be a wild cat so was taken to the Wildlife Park near Aviemore.
When it was explained that it was a tabby cat and that they should take it back to where they trapped it, they threatened to abandon the cat at the bottom of the driveway to the Wildlife Park.
So the Park very kindly took it in to avoid this happening, gave it to a local vet who then called the Strathspey branch of Cats Protection who have taken him in.
Our job is now to try and get the cat back to its owner. It is a big tabby with a white bib and white feet as you can see in the photo, the vet reckons he is around two to five-years-old.
If you know anyone in the Forres area who has a tabby cat please ask them if the cat is missing or if they haven't seen their cat for a while. Your help would also be appreciated in asking anyone who is missing a cat to call us.
We keep a log of missing and found cats and try to reunite cats where we can.
If your cat goes missing we always advise to ask your neighbours to check garages, sheds and other outbuildings and to phone us and the Scottish SPCA and put posters up in local shops.
Cats can disappear for weeks, if not months. We reunited a cat just before Christmas that had been missing from home for six weeks.
Kind people feed cats that turn up in their neighbourhood and hopefully after a while the cats will return home.
Jane Lax is a volunteer with the Moray branch of Cats Protection.
For more information on giving a Cats Protection cat a home, making a donation to help the charity or volunteering to help continue our vital cat welfare work in Moray, please contact the branch on 07837 342 646. More information about the branch can be found at Moray Cats Protection.
More About Animals
Related articles