A day after hitting the headlines around the world life is getting back to normal for the residents of the Aberdeen fishing village of Footdee.
After a night of severe wind and rain, foam from the North Sea covered houses and vehicles to make the village resemble a winter wonderland.
When word of the bizarre happenings spread, hordes of people journeyed down to Footdee, known locally as Fittie, to take pictures and see the foam-covered homes for themselves.
The sea foam, or spume, was created by the interaction of sea water movement and plant plankton residues, according to a Marine Scotland spokesman.
Pictures of the Footdee foam were shared around the world on social networking sites and featured by newspapers and TV channels both home and abroad.
However, on Wednesday morning there was little evidence of the previous day's carnage.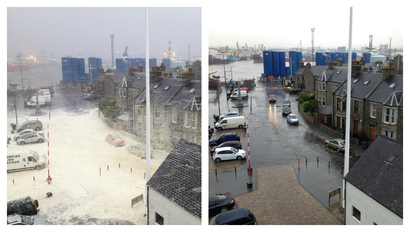 Local postman Mark Humphrey, 39, said: "I couldn't see any damage whilst doing my round this morning.
"This is a very close-knit community and I imagine they would have all been helping each other clean up last night.
"I have never seen as many people down here in the village as I did yesterday. I think a lot of people saw the pictures on the internet or heard about it and wanted to come down and have a look. There was a constant stream of people coming down to see what had happened."
The frenzy of people descending on the village was sparked by pictures taken by employees at the Seacroft Marine building which overlooks the area.
They were first posted on the STV website before the firm became inundated with requests from other media companies.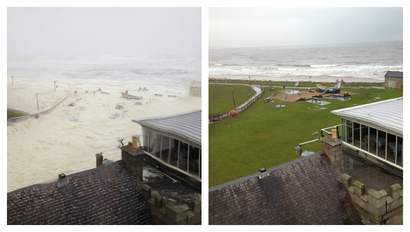 Technical director Michael Cowlam said: "It was quite bizarre as we were getting calls all day from media companies who wanted to get a copy of our pictures – we even had one from a German TV company.
"Perhaps the strangest one came when one of my friends who lives abroad contacted me to say he had just seen the picture of our car park on South African TV.
"The majority of the foam disappeared by lunchtime but it was quite a sight while it was there and hopefully it hasn't caused too much damage."
An Aberdeen City Council spokesman said the foam had all been washed away by the rain.
She added: "The area needs a good sweep up and we'll be going in to do that over the course of the week."
Related articles
People who read this story also read