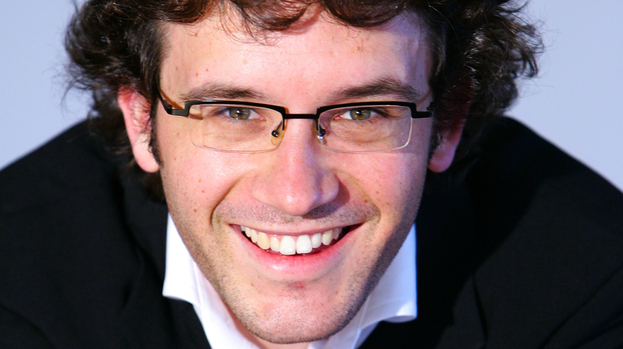 He may not know too much about the Royal Scottish National Orchestra or Scotland, but Christoph Alstaedt can't wait to take a bow in front of them.
The young German maestro will lead the Scottish ensemble in a series of concerts in January.
He has been engaged by the orchestra after Andrey Boreyko, who was scheduled to conduct the concerts, had to pull out after he was double booked. Christoph is now hoping to make the most out of the opportunity.
"It is pretty exciting and totally unexpected" said the 32-year-old, speaking from a break in rehearsals in Düsseldorf.
"These short term assignments are even more exciting, because you don't have the time to prepare for it as much. I'm very grateful the RSNO asked me, as I am an unknown name.
"I don't know too much about the RSNO. I've checked their activities and it is pretty impressive all the work they are doing, especially with education. I never tend judge anything until I have met the people personally. It seems to be a great orchestra."
Christoph has only ever heard the orchestra play on YouTube, but the reputation of the RSNO across Europe means his forthcoming work with them is something he is looking forward to very much.
His younger brother Nicolas Altstaedt - a celebrated cellist who was a BBC Radio 3 New Generation artist - has performed around the UK and has informed Christoph about the classical music scene here.
The conductor said: "This is, for sure, one of the highlights of my career so far because of the standing of the orchestra. Every orchestra has a reputation. I can see from the distance this is a very high profile, high quality orchestra. I really consider it to be an honour to be there.
"I have never been to Scotland, but I have a friend who is a doctor and went for his medical research there. He stayed there for three years and was enthusiastic about Edinburgh and loved it there.
"I am in Scotland for just a week and have three concerts, so there is going to be a lot of travelling and work.
"The only real time we will have will be after the concerts, to go and have a drink somewhere.
"Scottish people are good at celebrating, so I think we are going to have a great time after the concerts."
Born in Heidelberg, Christoph studied in Berlin and is the current Chief Conductor of the Tiroler Symphonie Orchester Innsbruck in Austria.
After studying piano, he embarked on a conducting career with Joachim Harder at the Musikhochschule Detmold and with Hans-Dieter Baum at the Musikhochschule Hanns Eisler in Berlin.
In addition to his work with Tiroler, Christoph also holds the post of Kapellmeister for Deutsche Oper am Rhein in Düsseldorf, where he conducts famous opera productions like Puccini's La bohème, Bizet's Carmen and Mozart's Così fan tutte.
His appearance in Scotland will be the third time he has conducted orchestras abroad, the other occasions in Scandinavia and the United States of America.
When asked if his appearance with the RSNO will ignite an ambition to work more in the UK, he replied: "I feel very bound to operas. The amount of opera houses is very high in Germany, so I will always be working here.
"I'm really looking forward to working more abroad. UK orchestras have a very, very good reputation in Germany. I hope we are all going to have a good time. If it goes well, you never know. I am not forcing my career in a certain direction."
At the concerts, which will be held in Dundee, Edinburgh and Glasgow, Christoph and the orchestra will perform Victoria Borisova-Ollas' Open Ground, Schumann's Piano Concerto with soloist Rafał Blechacz, and Dvořák's Symphony No 8.
It will be a personal milestone for Christoph, a long-term admirer of the pianist.
He added: "Dvorak is one of the major romantic symphonies, so it is fun to be doing that.
"I am especially looking forward to working with Rafał. I really, really from my deepest heart admire him.
"Every time he is in Berlin, I try to go to his concerts. I have not heard him for two or three years, so I am really looking forward to having him next to me. I will get as close as you can get. To share the podium with such an extraordinary musician is going to be something special.
"You always hope to entertain people for the two and a half hours they are there. You also hope they go home and take something with them that makes them richer.
"I love audiences who are responsive, and I love getting in touch with the people. I hope we have good vibes and have an energetic, cheerful and emotional evening to share."
Christoph Altstaedt and the RSNO will appear at the Caird Hall, Dundee (Thursday, January 24, 7.30pm) Usher Hall, Edinburgh (Friday, January 25, 7.30pm) and the Glasgow Royal Concert Hall (Saturday, January 26, 7.30pm). For more information, visit the RSNO's website.
Related articles