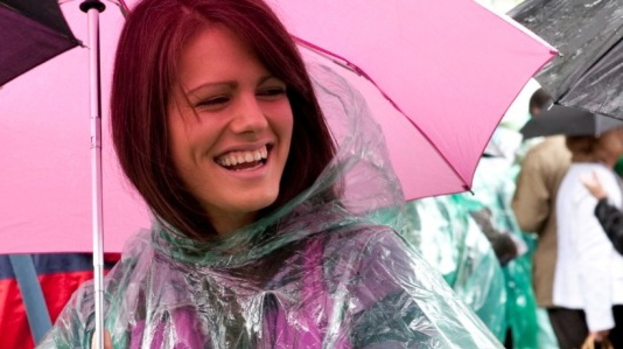 If the thought of slow roasted pork belly with toffee apple jus leaves your mouth drooling and your tummy on the alert, begging for attention, then you definitely need to get yourself down to Taste this weekend.
The city foodie event of the year is back and despite threats of showers, mud and other standard Scottish summer delights, the sodden Meadows are yet again about to play host to our top culinary creatives.
Running from July, 6, and served up completely alfresco, some of the finest restaurants in the country will be joined by over 100 producers to provide a mouth watering showcase of edible delights.
Justin Clarke, CEO of Taste Festivals is determined that the show must go on regardless of the recent drenching.
He said: "Despite the rain, this year's Taste of Edinburgh is shaping up to be a fantastic weekend. Weather conditions have been challenging but we're well prepared and have put in extra precautions to protect the ground.
"Saturday lunch is already completely sold out so we are advising visitors collecting and purchasing tickets at the box office to allow plenty of time before each session. And in the words of Billy Connolly, there is no such thing as bad weather, only inappropriate clothing. Make sure you are kitted out in your wellies and party socks."
As well as waterproofing your tootsies, we've prepared a delectable menu line-up of yummy highlights to help guide you through the event so watch out for these tasty treats as you go.
For starters
Why not kick start your food adventure with an expert cooking demonstration from the Sultan of the Sauces himself - Lloyd Grossman.
He'll be in the Taste Theatre from 12pm on July, 6, to share his secret recipes tips with you followed by those delicious bun boys The Fabulous Baker Brothers at 2pm.
We caught up with the Baker Brothers recently to persuade them to share some specialist secrets with you. Their infamous burger bap recipe is now up online for you to try along with some super 'man tips' on how to become King of the Barbecue.
Local restaurant Angels with Bagpipes will also have seared scallop, pea espuma, ham, lemon and pea shoots on offer while Café Gandolfi will be preparing halloumi chips with lime and chilli ketchup or a sherry and garlic prawn skewer on gazpacho.
The main affair
Expert master classes will be running throughout the weekend including a Weber Expert Masterclass in creating the perfect pizza and the Professionals Lunch Challenge on Sunday should definitely not be missed.
Around the grassy planes, Tigerlily are showing off their glazed pigs cheek, crisp Serrano and pea puree with straw potatoes and olive seasoning along with a delicately prepared confit leg of rabbit with celeriac puree, pickled cepe and fondant potato.
Local establishment The Forth Floor restaurant will have St. Bride's chicken roulade with caramelised watermelon salad and compressed salted cucumber on offer along with Balfour Castle Pan seared Orkney scallop served on wild garlic risotto with dill and confit tomatoes.
Resident chef Mark Greenaway is producing a whole 11 hour slow roasted pork belly served with delicious puffed crackling, pomme puree and toffee apple jus while Hotel Missoni leads with potato dumpling with hazelnut and summer black truffle.
New kid on the block Steak will also be running a VIP area for those of you wanting something that extra bit special on the day.
Time for something sweet
To round off the feast nicely, The Plumed Horse have a light and breezy passion fruit parfait with white chocolate foam and be on the look out for that beloved British favourite, the Eton Mess.
Edinburgh cake extraordinaire Mimi's Bakehouse will be there too with a wide selection of their delicious treats.
You will be able to relax with your pudding to the sweet sounds of the Ghillie Dubh bands; Stevie Agnew Duo, the Islander Ceilidh Band and the NB Band who will be playing away merrily throughout the evenings.
You can view a full Taste Map of where all your favourite things are happening so you can make extra sure you don't miss out.
So make sure you pull on those wellie boots and put up the brolly – oh, and maybe look our those trousers with that extra bit of stretchy elastic because this is certainly one of those full menus that will guarantee you want a taste of everything that's on offer.
Taste of Edinburgh will run from Friday to Sunday with ticket's available online now. This year kids under 12 go free.
More About Food and Drink
Related articles