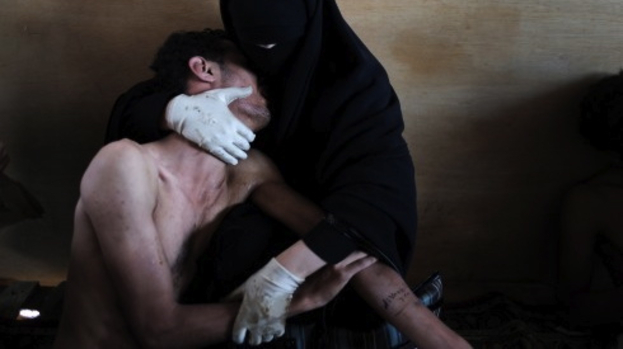 There are almost 7000 different languages spoken in the world today stretched across 192 nations and seven continents.
But put any mixed group of these language speakers in front of one strong image, one captured moment in time, and no words are needed.
Photojournalism at its best transcends the spoken word. It breaks down language barriers, cultural barriers and whispers its stories directly into the very heart of the beholder.
Now in it's 55th year, the World Press Photo Exhibition celebrates the vey best of these visual storytellers.
Over 100,000 pictures were submitted this year alone, but it was Spanish photographer Samuel Aranda's image of a woman holding her wounded son in her arms, that spoke to the judges the most.
The photograph was taken following clashes in Yemen by demonstrators protesting against the rule of President Ali Abdullah Saleh in October 2011 and is now the leading image in a collection of 19 winning pictures about to launched in a public exhibition.
The Scottish Parliament in Edinburgh is to be the first UK venue for the travelling exhibition which showcases the winning entries in all nine themed categories.
From child brides and world conflict, to the chilling and emotional pictures taken of the shooting at Utøya, the display presents a powerful, visual timeline of some of the most important moments in the modern history of both humanity and the world.
As the Scottish Parliament Presiding Officer, Tricia Marwick MSP said: "The World Press Photo exhibition shines a light on people and events across the globe capturing, through striking images, how headline news has affected the lives of ordinary people.
"Many of the images deal with war and conflict and are a powerful reminder of how fortunate we are in Scotland where debate relies on words not weapons.
"The exhibition also reminds us of the risks taken by photojournalists to capture these images.
"The exhibition features the work of French photographer Rémi Ochlik, whose series on the conflict in Libya won the General News category.
"He was killed earlier this year when a shell hit the building where he and other journalists were working in Homs, Syria."
Opening at the Parliament on July, 5, the exhibition is free with entry allowed from Monday through to Saturday with late openings run on Thursday evenings.
Award winning photographer Ilvy Njiokiktjien will also be giving a free public lecture about her work at 4.30pm on July, 4, at the parliament to mark the launch of the travelling exhibition.
Ilvy won two awards at WPP 2012. She was awarded first prize in the Issue Reporting Multi-media contest with Afrikaner Blood and second prize in the Singles in Contemporary Issues, also for Afrikaner Blood.
The starting point of what will go on to be around 100 local exhibitions produced during the year, the World Press Photo tour of prize-winning photographs is the most popular traveling photo event in the world.