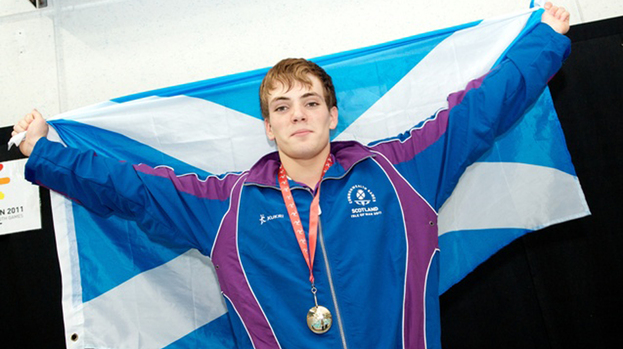 An Edinburgh teenager smashed his personal best at the Olympic qualifiers in London to gain a place in Team GB and set a new Scottish record.
Craig Benson, 17, finished second in the Mens 100m breaststroke final at the British Olympic Trials with a time of 60.47 shaving three seconds off his time in 12 months.
The Warrender Baths swimmer pushed himself to the limit to achieve his goal. Speaking after the race on Sunday he said: "I wasn't too sure if I would be able to do it, but woke up this morning, totally different attitude, spoke to my coach, and Laurel said I could do it. I believed I could do it too.
"I went into that race, fully 100% focussed on doing the job.
"During the race I knew I had to go out fast, I could see the splits the other guys were doing and they were going faster than me so I just absolutely went for it on that first length.
"I turned and I saw Sliwinski (Daniel) was ahead and everyone else was behind me. I just absolutely went for it down that last length. It hurt so, so bad. The last 15 metres I could feel myself tightening up, I had no idea where I was in the race either.
"When I touched the wall I just looked round I didn't look at anyone else's time, looked at my name, second place, a minute, four seconds. Job done."
When asked about his parents reaction he said: "They are totally shocked as well, they can't believe it either. I don't know if they thought I could do it but they are so happy for me. I'm really glad I did them proud".
This qualification is Craig's follows his success at last year's Commonwealth Youth Games where he won three gold medals for Scotland.
Craig's coach Laurel Bailey said: "Amazing. It's amazing.
"He hasn't put a foot wrong for the last 18 months. He has worked as hard or harder than any other swimmer I know, just 100% focused."
She explained that Craig had made a "massive improvement" from last year when he finished in ninth place with a time of 63.1.
She added: "He loves to race, always wants to race. Up on the blocks he thinks he can beat anybody that's next to him regardless of who they are and what time they swim.
"As soon as he dived in the pool I knew that he was on to something special because he just looked amazing.
"When I saw the time I just thought, oh my God, relief and excitement and calm. We've done what we aimed to do and I think a lot of people didn't believe that he could do it so it was good that he was able to show them that".
Michael Jamieson of Edinburgh University and Bath ITC narrowly missed out on qualifying by finishing third.