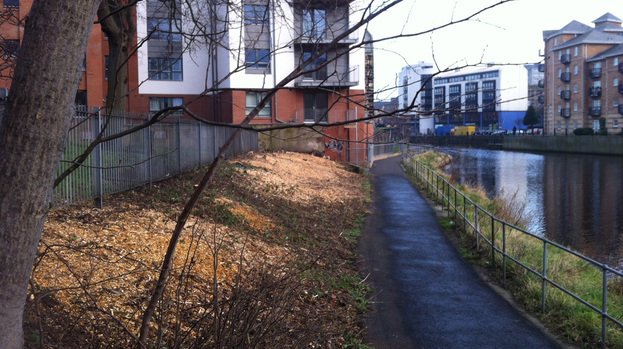 Housing chiefs have admitted that dozens of trees were felled in Leith last week to "tidy up" a new housing development ahead of a Royal visit.
Port of Leith Housing Association say they ordered workmen to clear up a copse of trees and landscaping near their development on Coburg Street in time for Princess Anne attending on Friday.
But that led to a total 27 trees of varying size being axed along the Water of Leith instead.
Residents told afterwards how they were shocked as council contractors systematically cleared all the trees and shrubs along a 30 metre strip of land the day before the Royal outing.
During the visit, Princess Anne spent some time with some of the new residents of the block and the Chief Executive of Port of Leith Housing Association, Keith Anderson, on a balcony overlooking the Water of Leith.
A spokeswoman for the housing association has now confirmed that the work was linked to the Royal visit.
But they insisted that there had been a misunderstanding over the extent of the work that was needed.
In a statement, she said: "Port of Leith Housing Association (PoLHA) requested the City of Edinburgh Council, on completion of the Quayside Street development, to tidy up the landscaped area adjacent to the flats as some branches were interfering with the building."
She added: "The timing was not a coincidence, but our request simply asked for the trees to be tidied up."
The council has confirmed that none of the trees that were removed were subject to planning protection and that no public consultation was required in advance of the work.
Mike Penny, who is the City Centre Neighbourhood Manager who commissioned the work, said: "At the request of the Port of Leith Housing Association, we instructed our contractor to remove a small number of scrubland trees from a verge on the north side of the Water of Leith earlier this week.
"The trees were encroaching on the new housing development."
Although the landscaping work was welcomed by some residents of the new development who say that their flats now enjoy a much better view of the river, other concerns have been raised over the conservation impact of the tree removal.
Helen Brown, of the Water of Leith Conservation Trust said: "Any loss of trees along the river is undesirable."
"We've had a lot of trees chopped along the river as a consequence of the flood protection works, and we've also lost trees accidentally because of the recent storms."
"Taken together these losses could well have an impact on the biodiversity along the river."
"We weren't consulted about this work and neither were the countryside rangers. It's a shame that we're going to have to start again with new planting in this area now."
The Port of Leith Housing Association said that was prepared to explore ways to improve the area for the benefit of residents and the surrounding community.