Edinburgh City Council has unveiled plans for a radical overhaul of its street plan to make the city centre more attractive to pedestrians and cyclists.
Council officials want to put the ideas, which include more bus and cycle lanes and wider pavements, out for consultation in the spring.
If approved in full, the scheme would turn George Street into a one-way street for motor vehicles, taking eastbound bus services off Princes Street.
Cutting the number of buses on Princes Street is also designed to improve views for tourists and free up more space for cycle lanes and pavements where pedestrians can "linger".
George Street would also carry cyclists in both directions on a separate carriageway.
The plans will take in the new tram route, which is scheduled to start carrying passengers in the summer of next year.
They were drawn up in reponse to a report by Gehl Architects in 2010 which highighted the need to "enhance pedestrian space" in the capital.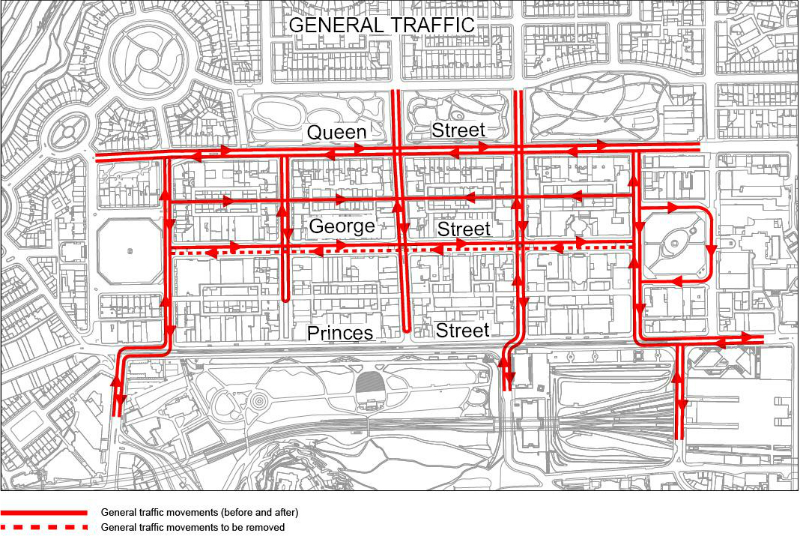 Vision: The city council wants to create a one-way loop for buses, cars and taxis around George Street and Princes Street
Councillor Ian Perry, the city's planning convener, said: "We want to encourage more people to come into the city centre, whether it's to shop, relax, work or socialise.
"It's about making sure the city centre continues to thrive both as a leisure, business and tourism destination and as an attractive place for people to live in.
"One of the key things I'm interested in is creating a more 'mixed use' Princes Street, with more residential properties and a variety of restaurant, cafe and bar spaces at ground level, so that the street is bustling at night as well as by day.
"The proposed scheme is just a starter for ten - we'll make the final plans for the trial once the consultation feedback has been reviewed."
Councillor Lesley Hinds, transport and environment convener, said: "Edinburgh has a real 'living city centre', with people living cheek by jowl with a mixture of retail, bars, restaurants and so on.
"The challenge is to make sure we cater to everyone's needs and encourage people to come into the heart of the city by enabling them to choose a variety of ways of travelling there, whether it's on foot, by bike, in their car or by using public transport like trams, taxis and buses.
"We're doing this consultation now so that any changes can be brought in in a joined up way so that they're in place ready for the start of tram passenger services."
David Birrell, chief executive of Edinburgh Chamber of Commerce, said: "There is a clear opportunity to enhance how Edinburgh City Centre works for all those who use it – businesses, residents, shoppers and visitors."
A report on the proposed scheme will be considered by the Transport and Environment Committee on Tuesday 19 March 2013.
Related articles