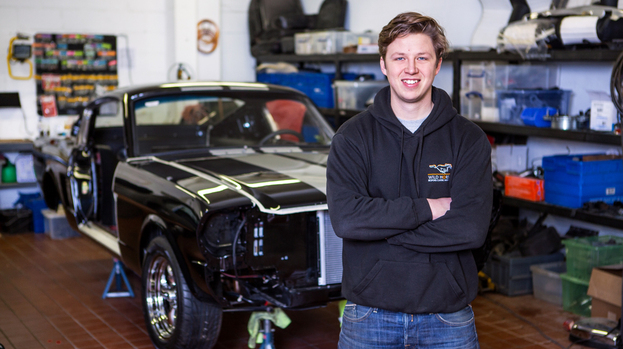 The Ford Mustang is often voted as one of the greatest cars ever built. This is no real surprise when you consider its special place in movie history.
This year marks the 45th anniversary of the film Bullitt, which is just as famous for the 1968 dark green Mustang as it is for its lead actor Steve McQueen.
This, of course, is down to one of the most celebrated movie car chases ever, when police officer McQueen pursues two suspects through the streets of San Francisco before an explosive end.
With interest raised once more over the movie, one Edinburgh business is certainly benefitting.
Wild Horses builds bespoke Mustangs and restores others for wealthy customers from its garage in the Powderhall area of the city, in a building which used to be a chocolate factory.
"Steve McQueen definitely had an influence on me," said Allan Fearnley, the 28-year-old owner of the garage.
"It comes up in conversation with everyone we deal with - Steve McQueen or Bullitt. Most of the enquiries I get are about buying a Bullitt replica.
"If you park a Mustang in the street, people come up and talk to you about it, about their own history, about having their first date in that car."
Allan is originally from Perthshire and studied at Glenalmond College. He spent five years in Australia when he was a teenager and returned to Perthshire when he was 17.
He became a helicopter pilot, first in South Africa and then as an instructor for Kingsfield Helicopters at Perth Airport. After setting up his own greetings card business, he started Wild Horses in the summer of 2011.
"I always had a dream of building bespoke cars," he explained.
"I registered the name Wild Horses when I was 19 and it sat at the back of my mind.
"I loved flying but I got to that stage where I had done it and I had achieved what I set out to do. I was in a good place in life and I wanted to do more.
"I have always been interested in classic cars. I remember two guys who had black Ford Mustangs where I lived in Australia. Looking back, I think that had a big influence.
"I thought they were the coolest guys in the world.
"We are the only specialist garage that I know of in Scotland creating bespoke Mustangs. I am trying to stay away from a stereotypical restoration garage. We want to go towards bespoke, high-end cars."
Alan's love is one which takes time. In the year and a half since his garage has been open, the company has only restored, or created, nine Mustangs.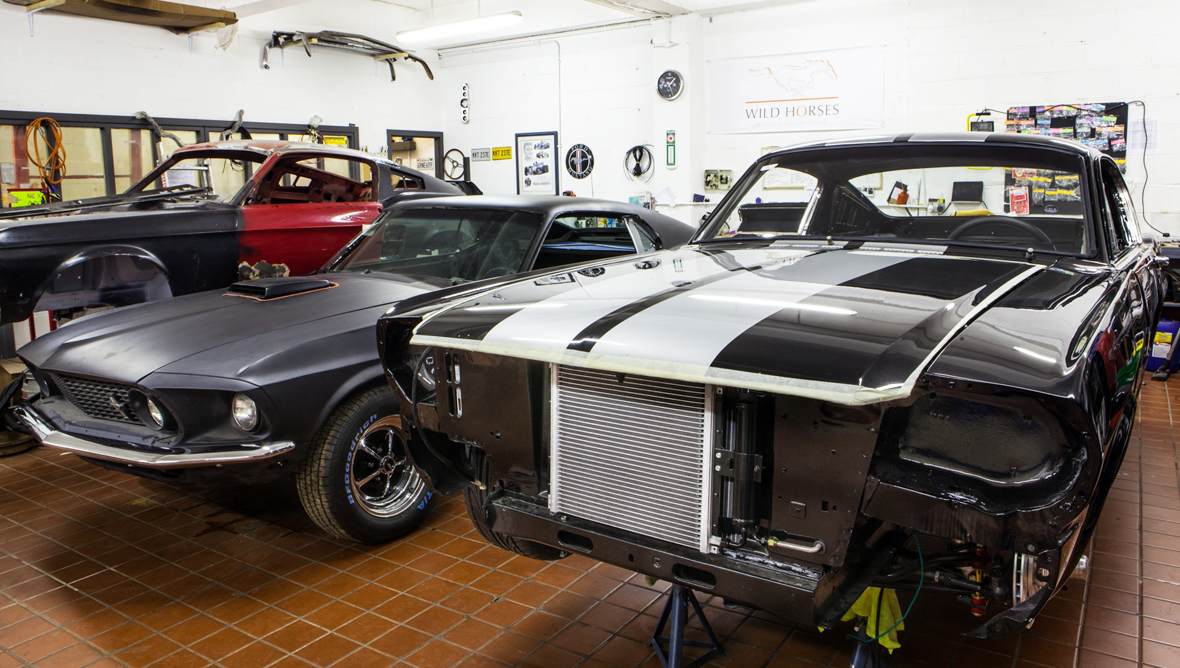 The Mustangs in Allan's garage. Copyright - Paul Johnston/CopperMango
The three Mustangs in his garage at the moment include a 1965 model which is being tailored exactly to the customer's wishes.
While the car looks like a classic Mustang, it has been fitted with modern suspension, brakes, leather interior and even has a port for an iPod hidden under the radio.
For a little extra fun, Alan has installed a function which will allow the car to be started with a button on the key while the driver stands outside the vehicle.
Alan and his two part-time staff have been working on the car for a year. It will be ready for its owner in the next few weeks and is valued between £60,000 and £80,000.
The Mustang sitting next to the '65 model is one of only 1200 Mustangs of that specification which were ever made. The 1969 model is being restored and will eventually sell for around £70,000.
The third Mustang is being restored to exactly what Steve McQueen drove in the Bullitt movie, including the dark Highland Green paintwork. Allan has been working on that car as a personal project for five years and will sell it eventually for between £30,000 and £35,000.
He said: "Mustangs were originally quite cheap. They were mass produced to save money. It was a blue-collar car and that it what Bullitt was portraying. Now they are collectors' items.
"They are not that rare but they are rare over here and they are getting rarer now as the original ones rusted really badly.
"As far as I am aware in Bullitt they wanted to use relevant cars from that period which were for sale and affordable to everyday people.
"McQueen was a cop, he didn't have a huge salary and at that time the Mustang was a realistic buy.
He added: "There are two types of car collectors. There are people who like the old classics and then people who like their new Ferraris. They don't tend to mix.
"The recession has not been a big deal for these guys. They tend to be business owners, aged between 30 and 40, into cars, total 'petrol heads'."
Allan, who also has a passion for Land Rovers and drives a V8 Defender and 1971 model, buys the Mustangs for his projects from across the UK or America.
His customer base is not just rich Scottish businessmen. The garage owner is currently in talks with a driver who lives in Hong Kong and is looking for an exact replica of the Bullitt car.
So what would it cost for the exact car made famous by Steve McQueen to sit in your driveway? Around £35,000, and you will need to wait between six to eight months before Allan and his team build it.
So, with dreams of driving a Mustang firmly planted in the mind, one question remains - when Allan hits the karaoke on a night out, does he chose a song about his first love and a certain lady called Sally? "Me and karaoke don't go together", he laughs.
What a letdown.