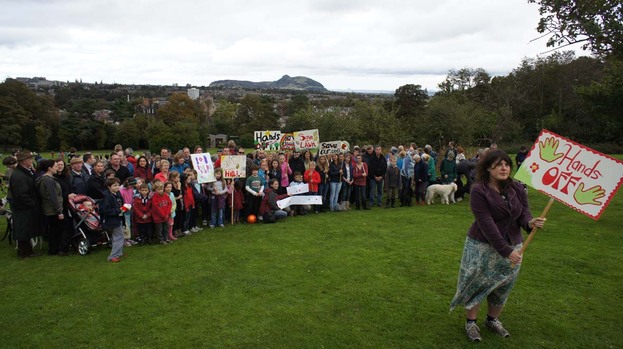 As The Craighouse Partnership reveals new plans for a controversial housing development on the former Edinburgh Napier University campus, Rosy Barnes from campaign group Friends of Craighouse Grounds and Wood explains why they are not satisfied.
Walking around beautiful Craighouse in the sunshine today, it was almost unbearable to think about the plans that have just been submitted by The Craighouse Partnership.
The Craighouse Partnership's lobbyist, Invicta, wasted no time in hitting the media with a frenzy of articles. They had scaled back the plans, they said. They had listened to the community. They would turn the orchard into a public park.
The redesign, it was claimed, was done in consultation with the community and campaigners. As though there was some get together where we all sat down with a box of crayons and said "dare to dream!"
I don't know what that consultation consisted of, as the local community was not shown these appalling plans before seeing them in the news last week. And it came as a shock. Bigger, uglier, more sprawling than ever.
The plans are truly excessive – development areas include a sprawling modern housing estate foregrounding all those beautiful panoramic views; five-storey high and eight-house wide modern blocks dominating next to the listed buildings; new-builds, road and car-parking built on a large area of the rolling lawns; a farcical eight-storey tower block on the hill – need I go on?
Their concession seems to consist of moving housing from one part of the beautiful protected orchard to another beautiful part of the protected orchard. Both parts of the rolling open green space described as the most important part of the landscape character according to Napier's conservation audit – along with the words "should not change".
And what about the Partnership's other claims? One hundred and sixty-something documents later (yes this is a very big application) and the real story starts to emerge. Contrary to what the Craighouse Partnership might like you to believe, there has been no reduction in new-builds – in fact it has increased, the amount of land taken is higher.
The Craighouse Partnership is making a big play on open access – but they should never have been allowed to cut off access, whatever they might say. As for the "public park", it turns out that "public" means privately owned when it comes to the beloved rolling parkland –so no change there. As for the famous orchard - the plans say it is to be chopped down.
What's so depressing is that it's all so needless. There is no justification for such excessive plans but sheer greed. The Craighouse Partnership has tried to claim many things – that it's for the maintenance of the listed buildings, for the maintenance of the grounds. But at the end of the day, none of these arguments stack up, and one of them is possibly unlawful.
So now it seems it's down to good old profit. Napier – already having sucked up millions to convert Craighouse to university use (Dame Joan Stringer's office cost £170,000) - now wants to make money out of playing property developer – along with off-shore Isle of Man investment fund, Mountgrange, a name notorious in Edinburgh after its previous incarnation was shut down by the bank after losing millions on the failed Caltongate scheme. A scheme which would have involved demolishing historic buildings to make way for a shopping centre and a hotel with an address on the Royal Mile.
Are we going to sit back and let Mountgrange make a mess of yet another heritage site in this city and turn some of the most beautiful panoramas in Edinburgh into sprawling housing estate?
Craighouse is a really magical place and particularly special historically for being so unspoilt. Children around here describe it as a "fairyland". We have very few of those sites left in the city, which makes it even more special. This is a site of Great Landscape Value with buildings and setting of national importance. If we let this go ahead it makes a mockery of the whole planning system.
In other words, if they can do it here, they can do it anywhere.
So is there anything we can do?
We can object.
We can stand up as a community and say we are not going to accept the "it's my way or the by way" arguments. And we want our politicians to stand up and be counted.
People are frightened of standing up to big developers. But, sometimes, a place is too special to let be ruined and the protections too important to be let be ignored.
So, I urge anyone who cares about green space, about our unique heritage, about listed buildings and about Edinburgh's seven hills – to write into the planning department and object to the excessive new-build development contained in these appalling plans.
As the city continues to develop, so places like Craighouse become even more important – providing a refuge from the hustle and bustle, and a space in the surroundings.
We must fight to save Craighouse so that future generations can benefit from this very special place and so that other green and protected sites across the city are not swallowed up for no reason beyond private gain.
IN DETAIL
Friends of Craighouse Grounds and Wood
Related articles
People who read this story also read