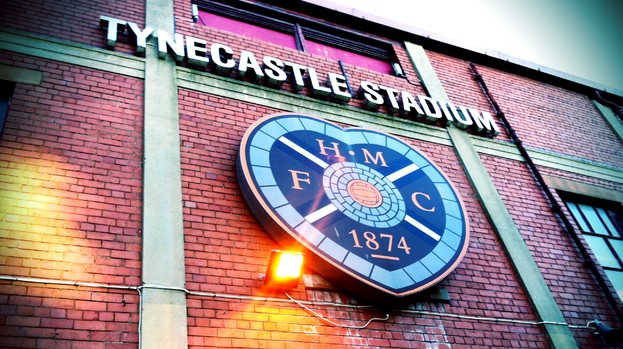 The fight to save their team goes on. But for a day at least, the family that surrounds Heart of Midlothian Football Club was once again united.
They came as they promised, in their thousands, marching as one giant maroon and white scarf twirling army sending a message loud and clear to anyone with a chequebook, anyone who would listen, that Hearts, Hearts, their beloved, glorious Hearts aren't dead yet.
Not by a long shot.
Not while the pensioners still have a few coppers left in their pockets to hand over; not if overtime on the building sites allows a few more shares to be snapped up in the run through to Christmas.
And not while bairns bring their piggy banks to the stadium door, selflessly pleading to be allowed to help solve a problem they can't begin to have an understanding of, other than Hearts could end.
To the biased supporting football fan, it was a beautiful sight on Saturday. Young and the old, some hand in hand, thronging the streets of Gorgie whipping up an atmosphere seen all too rarely round these parts in recent times.
Pubs did a roaring trade, the BMC opening up its third function room to cope with numbers as kids played pretend football on the dance floor as dads bought them crisps, juice and got the rounds in for their kith and kin.
The maroon doors pulled gently closed before kick-off at the Tynecastle Arms, a sure sign of a busy day as a quick glance through the steamed up window proved with rows of suited and booted fans queuing patiently, waiting to be served.
A few doors along the Tyny Café, Gorgie Fish Bar and 7 Brothers eatery all doing frying business, maroon and white Lothian Buses delivering a steady flow of new customers to their front doors every few seconds.
The flag and scarf sellers from Ayrshire at their usual stations, ready for brisk trade, while banners crudely tied to lamp-posts urged fans to support their club by sparing £3 for a match-day programme, a read laden with gushing thanks for the efforts of supporters to rally round their own.
Just some of the people and places that rely on Hearts as an institution for their own livelihoods.
But there was something different about this. An anxiousness, a sadness. Desperate times muting the usual free-form singing. The atmosphere in and around the ground was at times flat. Conversations serious and grim looking.
Uncertainty hangs thick in the air.
The same words played on lips of many fans pre-match, "There's no way the Hearts could die – people just wouldnae allow it", each time qualified almost immediately by "At least I hope no'… what dae you think?"
Which sums up the crisis unfolding down Gorgie way.
There's no lack of support nor affection for the Scottish Cup holders. The crowds that showed up in their droves, the half a million pounds raised in three weeks proves that. The efforts of even non Hearts supporters to turn out with friends, hold fundraising nights or even sell t-shirts, does too.
A window at Dickens Lounge in Dalry sums up the fighting spirit among the support declaring 'Hearts today, Hearts tomorrow, Hearts forever', owner Callum Anderson insistent: "The fans will never let Hearts die."
And maybe he's right.
But it's a confusing place out there for the die hard Jambo, with so many good intentions the fans are at risk of being confused as to how best to help, be it through the until now secretative Foundation of Hearts, Gary Mackay's 1874 Fighting Fund or the club share offer itself, to name a few.
There is also fear, a very real fear in the ranks about what could happen next.
Everyone knows that as patient as the taxman has been persuaded to be this time by Ian Murray MP and co, it's dependent on those running the club to play – and pay - ball.
If Hearts default again, there is unlikely to be any more extra time. The winding up order is still on the desk. At least for now. Whether it stays there is down to the club.
There are those who have ploughed their money into £110-a-time options for shares in the hope of not just helping Hearts' immediate cash-flow troubles, but gaining a real stake in the club they treasure.
After all, it wasn't so long ago now that Vladimir Romanov persuaded them to hand control over. Seeing the current predicament, it's little wonder the fan in the street wants his or her club back.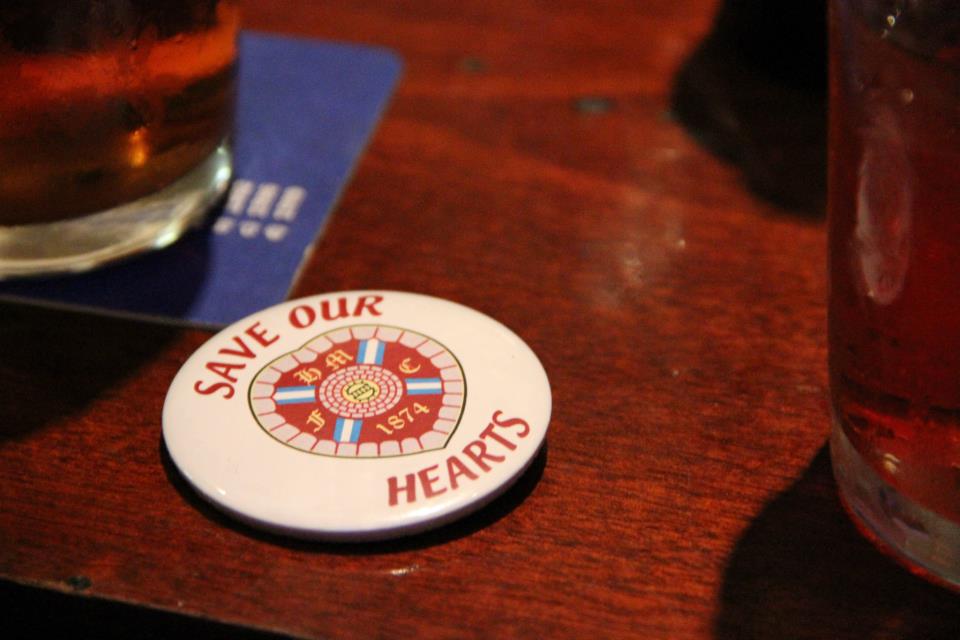 But as rumours grow that Hearts may no longer own their stadium, it allegedly having been quietly hived off some five years ago to a separate company who would retain the deeds should the club ever fall into administration, fans are worried still.
Fact or fiction? Who knows. But it's out there among the fans and until clarification or dismissal, some supporters are looking at their now near empty bank-balances wondering what they've done.
But what they have achieved, if nothing else, is bought time.
Time for the club to look at the options being put before it, time for the numerous fans groups to talk among themselves and work out a strategy.
An image of legend Donald Ford loomed large on the side of the Gorgie Road stand, a reminder to all that FOH appear, at least, to be making most of the running on this in business terms.
But make no mistake, they are in it together.
If Saturday proved nothing else, it showed that supporters remain the heart and soul of the Gorgie club regardless of who owns it. Without them, it would be worthless. With them, you wouldn't bet against anything.
The fact Saturday's game went ahead at all was a triumph for the support.
Pensioners crippled with arthritis creaked their way up the still wooden stairs of the old Main Stand, tartan bunnets keeping the cold from their now balding heads, a sparkle of delight in their eyes at the scenes before them.
Children, thousands of them, excitedly draped in flags worn like capes, maroon from head to toe, others wide-eyed in wonder at the majesty of the Wheatfield Stand in all its portable glory.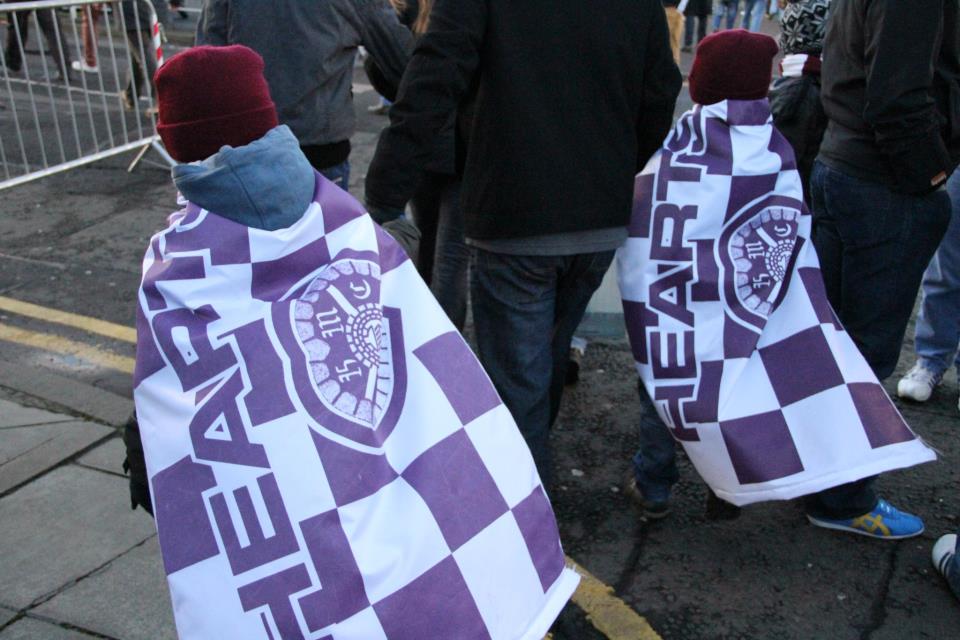 Season ticket holders rubbed shoulders with the newbies and now and thens, the story of their club loyalties told in decades of differing scarf designs and old football tops that dodged dripping pies only to soak up Bovril spill.
Times may have changed, but the fans remain.
It is why the players who have themselves deferred their wages stood in the driving rain and applauded each and every single one of them from the pitch after playing 94 minutes. Why club legends lauded them at half-time. And why, today at least, Hearts FC still appears to stand a fighting chance.
Today, Sunday, sees an auction taking place to try and raise yet more fund, tickets already sold out. With stadium announcer Scott Wilson in charge of ceremonies, punters will no doubt be forced to dig deep and bid high. Other such nights are filling up their diaries fast.
Saturday's SPL match against St Mirren, a game that fans had been told might never happen, wasn't ever really about the three points that helped lift the club into mid-table.
On this day, the football didn't really matter.
No, this was something of a reunification of Hearts fans and club, a support that drifted away in recent times through weariness, worn down by the rhetoric of an owner looking for some way out, coming home.
It captured the spirit of the 70s and 80s when Hearts, down on the haunches, rebuilt and rallied to become a force in Scottish football fuelled by people who cared so passionately about them.
"We'll support you ever more …." one of the few terracing chants sung with gusto, as the 16,443 fans took a moment under the strange hue of the giant floodlights to contemplate the occasion, to consider how much is still at stake and left to do.
And perhaps to wonder where they would go when Saturday comes, if not here.
View gallery for 'Hearts in crisis: how pies pounds and pensioners helped the Jambos' cause
More About Hearts in administration
Related articles
People who read this story also read