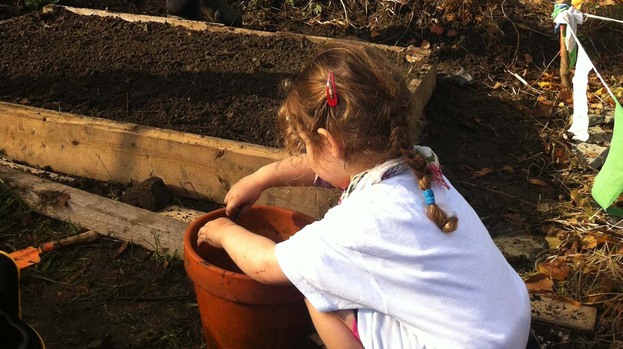 They might not have been chaining themselves to trees, but a local community looked on in awe when a small piece of land they had collectively nurtured was torn apart by council workers.
The crowd had gathered to watch seven men, accompanied by a tractor and trailer, dismantle their tiny garden on the banks of the Union Canal.
For five weeks, friends, acquaintances and strangers from the Shandon area of Edinburgh had been spending their Sundays planting seeds, establishing vegetable plots and, for some of the younger participants, digging for worms on the patch of land.
But their project would come to an end when, without warning, the garden was razed to the ground.
"It was quite traumatic, seven council workers and a huge tractor and trailer, these big guys kicking apart these little vegetable plots – the reaction so outweighed the act itself," said Kate Gilliam, 34, who set up the 'guerrilla garden'.
Based on a neighbourhood beautification project called Trees Not Trash, run by Kate in her home borough of Brooklyn, New York, the garden sprang up in the pedestrian-heavy area, near the canal, last month.
However, created without permission from the local authority, the venture has attracted criticism for its appropriation of a key spot for the suburb.
Local community councillor Marianna Clyde said the group could have chosen a less desirable area than the plot they had transformed, which had for some time been slated for wildflowers and a bench by the council.
"The council actually has plans to plant more trees and wildflower meadows in Harrison Park but there are bits of land around the edges and in the wider area which could do with some love," she said.
"If the group was prepared to work with both the council parks department and the community council they could make a most welcome contribution to the wider community."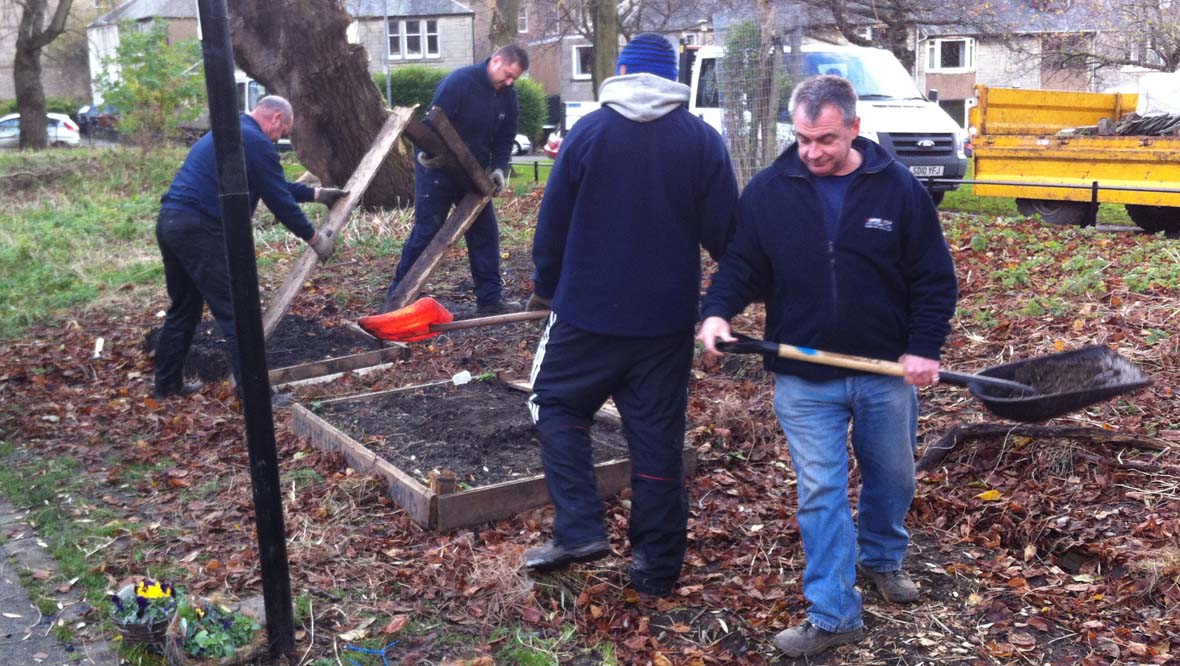 Council workers: Kate says the employees were unsure as to why they had to clear the garden. Photograph courtesy of Tom Allan from Edinburgh Innertube Map.
The guerrilla gardeners, on the other hand, claim the piece of land was overgrown with nettles and disused by the community and presented the perfect opportunity to introduce a community gardening project, combining local engagement, improvements to surrounding area and vegetable-growing.
"It's a tiny little area which is between a bench and a garbage can," said Kate.
"It's unused, it's not planted with anything so we just thought why not do a little bit of community gardening here, it's a public space.
"We're not taking it for ourselves; we're trying to show there are other uses for land than having it as park land.
"It's about civic engagement, getting involved in communities through accessing public space and growing food - it's a very specific community involvement when people come and get their hands dirty.
"It's an issue that really seems to engage every single social class and age; it's not just the people that have been here a long time. People who have come and helped us garden and it's maybe the first time they've talked to each other."
Kate added: "I would be open to the council saying, 'we've got this piece of land that's available to you, let's work out how we can satisfy everybody's needs here.' But they haven't said anything."
Communication between Kate and the council turned sour on Tuesday when, without prior notification, a team of workers was dispatched to forcibly remove the flower beds and trees.
Council officials said the area had already been earmarked for the installation of a picnic bench and that concerns had been raised by users of the canal tow path and Harrison Park.
Councillor Lesley Hinds, the city's Transport and Environment convener, said: "The council regularly works with communities to improve their neighbourhoods and we support organisations that want to encourage gardening by providing funding and helping with land management arrangements.
"As soon as I was aware that this particular area had been cleared, I instructed the local Neighbourhood team to help identify an appropriate piece of land the group can use as an alternative community garden.
"I understand that we've received some complaints from local residents about the current location of this project but I'm confident that we'll be able to find somewhere else that is suitable."
But local Green councillor Gavin Corbett said the council's heavy-handedness had created a 'lose-lose' situation.
"It is right that this part of the park should be used in the way that the previous community consultation identified, said Mr Corbett.
"But it is also heartening that local people care about growing food and, as founder of Shandon Local Food Group, I applaud that. So rather than bringing in and confirming the worst caricature of the council as a bureaucratic machine, we could have worked with the grain of what was happening and helped find other better sites.
"At the moment we have a lose-lose situation. I still hope we can retrieve good will and something positive will result."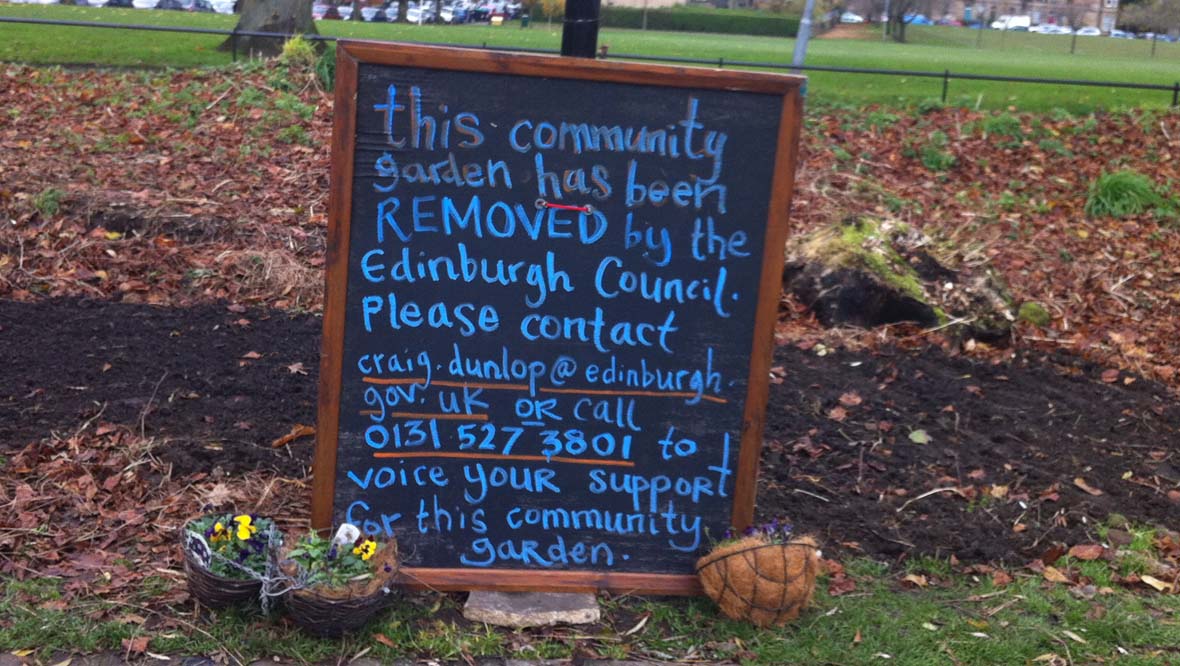 Guerrilla Garden: Kate says she would have removed the garden if asked, but was surprised at the speed at which it was destroyed.
According to Kate, the two had been in talks over the future of the plot after complaints were made by a local resident, though she didn't expect action to be taken without warning.
"People couldn't believe what they were doing," she said. "I'm not quite sure why it's so dangerous for them, why they're so threatened by the idea.
"They haven't done anything with that area for years. Even if they're going to do wildflower planting the raised bed wouldn't affect that. They should be encouraging other people to do it, it's good for security, it's getting involved in your community and taking an avid interest in your environment.
"The biggest mistake they made is missing a serious opportunity to engage with the public, instead of coming in and literally smashing all the work we've put into it without trying to investigate what we're trying to do. I would have removed it if I'd been asked to."
Kate, who moved to the area with her husband and three-year-old daughter just over a year ago, will talk about her experience of guerrilla gardening at a Ragged Project event on November 29.
As well as her work transforming neglected neighbourhoods in Brooklyn, she will touch on collaborations with New York City Council and keen community gardener Bette Midler, who established New York Restoration Project.
"It doesn't matter what you do, we can all get together in the dirt and find out how many worms there are and what it is to grow a vegetable," she said.
"The conversation begins and it develops, it builds all kinds of relationships and I believe it makes it a safer place to live."
IN DETAIL
People who read this story also read