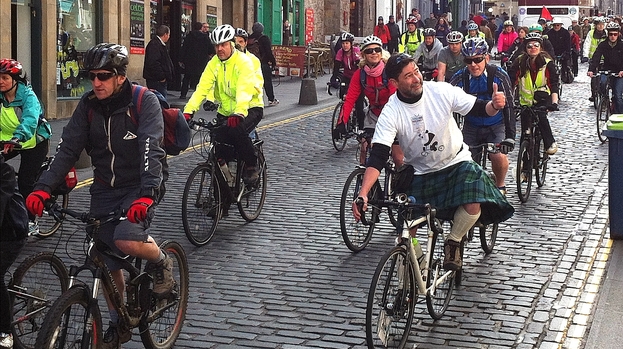 Edinburgh based campaigners are to push their demands for safer cycling across Scotland on Sunday.
In April the grassroots group Pedal on Parliament attracted more than 3000 supporters on a ride from the Meadows in the south side of the city to the Parliament at Holyrood to call on the Scottish Government and members of the parliament to implement their Manifesto and make the roads safer for everyone.
On Sunday the campaign continues with Pedal on Postbox when people are encouraged to write their demands for safer cycling on a postcard, addressed to a councillor or MSP.
In the capital cyclists have been invited to come together at the Chris Hoy golden postbox on Hanover Street at 11am on Sunday to send their messages with other locations arranged across the country.
Kim Harding, a member of the campaign group, explained to STV Edinburgh why he'll be sending a postcard that asks for cycling infrastructure to be taken seriously.
"There is a huge desire for things to be better. In Edinburgh there has been a slow increase in numbers over the years but we know the major thing that puts people off actually getting out and cycling is not weather or hills but it's the feeling of being safe.
"There are lots and lots and lots of occasional cyclist who would cycle more but are put off because the roads are too hostile for them and there is an underlying desire to see that changed. People do want the roads to be made safer.
"It's also because we've had the Olympics and the Tour de France making cycling really popular. Cycling is going through a popularity boom that we haven't seen for 20 or 30 years.
"We've had this in the past and it's always faded out because the roads weren't safe enough for people to go on cycling. I think nowadays people are realising things can be different. They can look across the North Sea and see what's happening in Denmark, The Netherlands or Germany and they know it can be so much better if only we could get that change."
"In Germany they are using cycling infrastructure and active travel as a means of regeneration of industrial wasteland which we've got plenty of in Scotland. If you put in this active travel infrastructure within two years you'll have this huge cycling culture it doesn't take a lot of time it just requires the opportunity to be provided.
"Jan Gehl the Danish architect was speaking in Edinburgh recently and said he'd been coming to Edinburgh for 50 odd years and was saying it's pretty screwed up.
"He says that people are treated like sheep when they are pedestrians they are herded around the city. It's a beautiful city and it should be available for everybody to get around easily. You should invite people in to come and walk and cycle when actually we are shutting them out and that is actually a failure in economic development.
"The thing we are missing is the political will to do it and that is what Pedal on Postbox is about, to telling elected representatives that we really want this to change."
"Now is the time. We have huge opportunities now because there is such enthusiasm we can take this golden legacy from the Olympics here's an ideal opportunity. If they put infrastructure in now you will see an immediate uptake. It doesn't have to be expensive.
"I was hearing about an economic analysis of cycling demonstration towns down in England where they were getting a return on investment at 19 to 1, that is absolutely incredible. When they first reported that to the department of transport they were told to go back and re-do their figures because they didn't believe them.
"There is lots of evidence of the benefits in fact one of the problems with cycling is that there is too much.
"There is a reluctance in the English speaking world, a sort or parochialism that goes on and because it hasn't been done before politicians seem to be scared of it so we really need to have the first example.
"Edinburgh is widely recognised as probably the best place in Britain to live but it doesn't come very highly on the international standings but it could be up amongst the top cities in Europe if not the world if it made the effort.
"There's no reason why it can't be the best in the world and that's what we should be aiming for. Copenhagen is ranked in the top cities in the world and it is their attitude to active travel, being able to get around safely by bike or on foot that has made them one of the most liveable cities in the world which has been reported internationally.
"There's a study that looked at more than 100 American cities to find why some cities had higher cycling rates than others so they have a huge rank of different climates, different topographies etc and they came up with one common denominator which was the infrastructure. This is repeated across Europe with the same pattern.
"It's all to do with the infrastructure, if you put the infrastructure in then you make it welcoming and easy for people. In the same way if you make it easy for cars to get around then people think that is the done thing for getting anywhere."
On his postcard Kim will ask for the following: "I want you to take cycling infrastructure seriously. Consider it wherever you have the opportunity to implement it. Do it as part of your scheduled maintenance programme, it costs very little and adds a great deal to the city."
Related articles
People who read this story also read