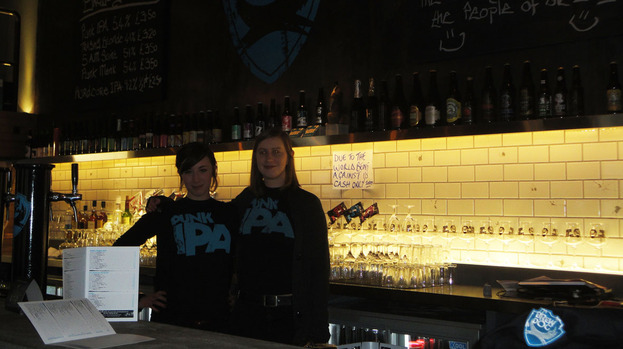 Craft brewery BrewDog quietly unbolted the doors to its new Edinburgh pub last night.
Known for extravagant stunts and marketing campaigns, the bar's first night of trading occurred with little fanfare. Those first through the door were rewarded with free pizza.
Ed Davies, assistant manager of BrewDog Edinburgh, said: "We unofficially opened last night, with the formal launch planned for early next week. We wanted to use this time to get up to speed and make sure everything is running smoothly.
"Not all of our bottled beers have arrived yet, and we had some issues with casings. But a lot of the cask beer is straight in, and from last night's reports 5am Saint is especially nice."
The bar boasts 12 taps, half of which serve BrewDog brews and the other half a rotation of quality guest beers. BrewDog's Punk IPA, Trashy Blonde, 5am Saint, Punk Monk and Hardcore IPA are currently available. Representing different corners of the world, beer from Rocky Mountain brewery Flying Dog, Danish beermaker Mikkeller and Colorado's Flying Hand are also flowing.
Bottled beers from around the world line the fridges behind the bar. The imported brews cost around £4 to £12, depending on how rare the beer is, and how far it has travelled.
BrewDogs newest beer brand, Abstrakt, is on the menu, too. "More art than beer", it is brewed in small, limited batches and known only by its release code. The newest version AB:06 was unveiled today and will set the drinker back a cool £15.
For those who don't want their pint to cost the same amount as a bottle of wine, Ed recommends Punk Monk. He said: "It's IPA Belgium-style and runs smoothly."
Customers can also take draught beer home with them in American-style 'growlers',special jug-like containers with a gasket cap to preserve freshness.
Becca, a project manager from BrewDog, took time out from training a new member of staff to explain how the bar chooses its employees.
She said: "It's about personality, on both sides of the bar. We have hired people with no bar experience because we liked them and felt they were enthusiastic."
The bar currently has a limited selection of spirits, but there are plans to expand their range. Becca said: "We choose spirits that are up to the quality of our beers. We serve Caorunn, which is a Scottish gin infused with botanicals, 42 Below vodka, and Sailor Jerry, along with some malt whiskys."
Ed advocates a little known grog as one of the new additions. He said: "It would be great to get Kraken in. It's a black spiced rum – not dark, actually black."
BrewDog is not stranger to controversy. Their super-strength beers have garnered criticism from different alcohol trade and licensing groups, while their freeze-distilled beer The End of History sold stuffed in dead animal bodies caused outrage from animal rights groups.
However, their presence in Cowgate has been cautiously welcomed in a frosty economic climate that has caused many bars to shut their doors.
Although not commenting specifically on BrewDog, Colin Wilkinson from the Scottish Trade Association said: "The licensed trade is going through a very bad time at the moment, and lots of premises are closing. From the trade's point of view it's sad to see all the pubs that are going out of business."
Patrick Browne from the Scottish Beer and Pub Association, said: "BrewDog's reputation is in brewing unique products so I guess they will be a fairly welcome addition to the Edinburgh entertainment scene. It is pretty unusual for a brewer to open a pub these days. This is the first occasion I can think of certainly in the last five, ten years that somebody's tried to do that so in that sense it's pretty unique."
When asked about effect the brewery's strong beer may have on an area known for cut-price drink and alcohol-fuelled crime, Mr Browne said: "There are no restrictions on placing and serving alcohol above a certain percentage for public consumption but as beer is taxed according to strength, this would make the price prohibitive in terms of them selling it.
"I would be very surprised if the average customer would find super-strength beer the reason for visiting the BrewDog Pub in the Cowgate."