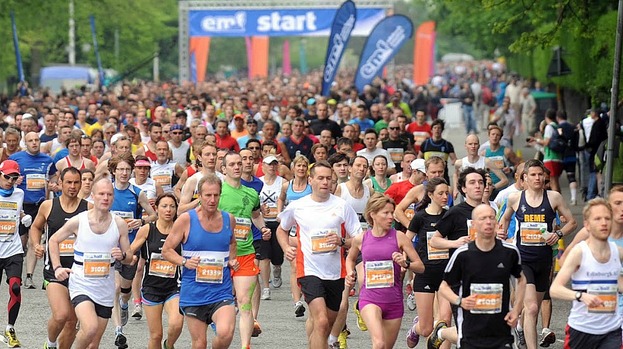 First over the finish line at Musselburgh in East Lothian was Kenyan, John Mutai who completed the race in two hours, 19 minutes and 52 seconds, claiming back the title which he also won in 2004.
Natalia Lehonkova, 29, from Ukraine was the first woman home, completing the course in 2:39:48.
Position, surname, first name, time.
1; MUTAI John 02:19:49
2; KASIMILI Simon 02:19:54
3; KIHARA Zak 02:20:12
4; MAINE Totsang 02:20:18
5; HOUSTON Ross 02:21:01
6; SKINNER Kevin 02:26:35
7; VERARDO Marco 02:29:15
8; CHERRIMAN Jason 02:29:33
9; TUCKER Peter 02:29:52
10; KERR Stuart 02:30:42
11; DAWES Stephen 02:35:15
12; WARD Brendan 02:38:02
13; CARPENTER Jonathan 02:39:25
14; LEHONKOVA Natalia 02:39:48
15; PALMER David 02:40:22
16; PICHL Jan 02:40:25
17; BESSON Nicolas 02:41:02
18; CARSE Bruce 02:41:24
19; SINGH Rajdave 02:42:27
20; LOEHNDORF Thomas 02:42:53
21; TJOKA Mamorallo 02:43:55
22; CONSANI Marco 02:44:37
23; MASAR Patric 02:44:42
24; DONNEKY John 02:44:55
25; MACDONALD Christopher 02:45:10
26; HAINING Hayley 02:45:15
27; REID Callum 02:46:23
28; SACCO Jimmy 02:46:39
29; RATCLIFFE Jonathan Paul 02:46:55
30; TAYLOR George 02:47:32
31; VAN SPARRENTAK Wim 02:48:00
32; SCOTT Gary 02:48:32
33; WALSH Damian 02:49:06
34; HARRISON Mark 02:49:12
35; LAKE Carl 02:49:26
36; WILLIAMSON David 02:49:33
37; DEVOY Bernard 02:49:36
38; MILFORD Daryl 02:49:36
39; VEITCH Paul 02:50:04
40; JAMES Ian 02:50:11
41; LAMBERT Simon 02:50:14
42; TURNBULL Andrew 02:50:58
43; WILSON Gareth 02:50:58
44; CHOHAN Baljit 02:51:14
45; ROTTER Timm 02:51:14
46; GIBBS John 02:51:30
47; CLIFFORD John 02:51:33
48; HUDDLESTON Andrew 02:51:36
49; TAYLOR Andrew 02:51:41
50; TUCKER Phil 02:51:46
51; SCHAAD Marco 02:52:19
52; HUNT Matthew 02:52:21
53; HEAL Jeremy 02:52:46
54; CLARK James 02:52:49
55; CARDENAS-MAESTRE Juanma 02:52:53
56; PITTI Rajmund 02:53:02
57; PREW Tom 02:53:14
58; ATTLEY Paul 02:53:36
59; HENDRIKSEN Daniel 02:53:43
60; SELFRIDGE Derek 02:53:50
61; SCOTT Alastair 02:54:01
62; STRACHAN Darren 02:54:02
63; MORRIS Paul 02:54:25
64; MITROFANIUK Marek 02:54:31
65; SCRIMSHAW David 02:54:39
66; REAH Ben 02:54:44
67; MANN Robert 02:54:49
68; BACKHAUSEN Majell 02:54:55
69; BRYSON Mark 02:54:59
70; HENEY Kenneth 02:55:01
71; QUINN John 02:55:05
72; DILLON Craig 02:55:10
73; SAUER Roy 02:55:19
74; WATSON Robert 02:55:36
75; LIVESEY Ian 02:55:37
76; BROWN Peter 02:55:38
77; MURDOCH Stuart 02:55:38
78; CORNISH Matt 02:55:43
79; WOOLLEY Steve 02:55:54
80; HAWKINS Fiona 02:55:55
81; LEDGARD Christopher 02:55:56
82; O'SULLIVAN Jack 02:56:05
83; PENMAN David 02:56:16
84; WALKER Adam 02:56:18
85; THORNTON-SMITH Mark 02:56:25
86; MCGILLIVRAY Magnus 02:56:26
87; THOMSON John 02:56:29
88; BIRCHON Lewis 02:56:40
89; GORDON Jillian 02:56:43
90; KIRK Eamonn 02:56:47
91; FERRY Dermot 02:57:12
92; DOIG Graeme 02:57:19
93; BLAIKLOCK Jack 02:57:19
94; TOLL Alex 02:57:19
95; FERRIS Kevin 02:57:22
96; PATERSON Steve 02:57:23
97; PATOUT Loïc 02:57:25
98; MELVILLE Gavin 02:57:36
99; CAMERON Steven 02:57:53
100; GRANT Michael 02:58:01
101; HUGHES Glynn 02:58:05
102; GIBSON Billy 02:58:05
103; HARVEY Tim 02:58:13
104; WOLLOCH Matthew 02:58:18
105; SALKELD Ian 02:58:21
106; THOMAS Clive 02:58:23
107; SIMPSON Gary 02:58:30
108; DODDS Allan 02:58:37
109; POOLE Ben 02:58:38
110; COCKERELL William 02:58:39
111; MCGIVERN Mark 02:58:39
112; RICHARDSON Dawn 02:58:44
113; LAMB John 02:58:44
114; HUNT Craig 02:58:46
115; SLOAN Neil 02:58:53
116; KELLY Sean 02:58:54
117; BALAUD Gilles 02:58:56
118; BURTON Russell 02:58:59
119; LOWE John 02:58:59
120; HARVEY Gabriel 02:59:02
121; WALTERS Matthew 02:59:03
122; WIMSHURST Thomas 02:59:06
123; TAIT Andrew 02:59:09
124; WILSON Ali 02:59:15
125; 2443 Runner 02:59:26
126; BLYTH Kevin 02:59:33
127; EDGAR David 02:59:34
128; DANIELS Steven 02:59:37
129; RAHMAN Sam 02:59:37
130; OLDS Peter 02:59:41
131; DOOHAN Paul 02:59:43
132; BOUND Ian 02:59:51
133; WATSON Alistair 02:59:55
134; HERRANZ RODRíGUEZ Gonzalo 02:59:56
135; BRAYE Denis 02:59:57
136; CARTWRIGHT Matthew 03:00:03
137; JOYEUX Michael 03:00:10
138; NORBURY Michael 03:00:12
139; MIKANDER Kimmo 03:00:23
140; BONDIELLI Marco 03:00:27
141; TANNER Philippe 03:00:34
142; PLOWMAN Tristan 03:00:40
143; CREECH Stuart 03:00:42
144; PHILLIPS Daniel 03:00:44
145; CAMOZZI Massimo 03:00:50
146; COLOMBO Marco 03:01:05
147; KIELY Thomas 03:01:07
148; HAPOLA Tuomas 03:01:09
149; ROSE Scott 03:01:15
150; CUNNINGHAM Michael 03:01:20
151; MASON Nick 03:01:24
152; DUNCAN Nicola 03:01:27
153; OLIVER Paul 03:01:28
154; WILSON-YOUNG Jessica 03:01:38
155; GARCIA Jordi 03:01:42
156; RANDALL Leonard 03:01:53
157; FINCH Gary 03:02:02
158; BALL Andy 03:02:03
159; BRONZWAER Charlie 03:02:18
160; WELLS Fraser 03:02:19
161; RUSSELL Mark 03:02:21
162; RICHARDSON Tom 03:02:21
163; MARTIN Kieran 03:02:34
164; SALMON Nicolas 03:02:37
165; JOHNSTON Charlie 03:02:38
166; HEWETSON Martin 03:02:41
167; MORROW Jill 03:02:52
168; MCARTHUR Claire 03:03:00
169; FERGUSON Graeme 03:03:13
170; O'NEILL Robert 03:03:14
171; KITLEY Ian 03:03:17
172; BELL Finn 03:03:28
173; CAVAROLI Darren 03:03:36
174; WILSON Matthew 03:03:38
175; CURTIS Matthew 03:03:38
176; CHRISTIE Iain 03:03:41
177; FOSTER Jeremy 03:03:43
178; BROWN Ian J A 03:04:02
179; POOLTON Nathan 03:04:07
180; SHEWBROOK Jamie 03:04:16
181; SOSZKA Marcin 03:04:25
182; WELC Ray 03:04:26
183; HAMMES Christo 03:04:28
184; LANCASTER David 03:04:29
185; STOUT Mark 03:04:36
186; CAREY Andrew 03:04:47
187; WATHAN Paul 03:04:47
188; THOMPSON Tom 03:04:53
189; JOYCE Richard 03:04:56
190; ELLIS Scott 03:04:57
191; LESLIE Stuart 03:05:07
192; ROWLEY Chris 03:05:14
193; HERBERT Andrew 03:05:16
194; HAMMES Michael 03:05:18
195; LAING Jo 03:05:21
196; CLARK David 03:05:22
197; SMITH Ian 03:05:28
198; LYALL Jamie 03:05:30
199; STOREY Alexander 03:05:31
200; LORRE Stephane 03:05:31
201; MACKINTOSH Mark 03:05:38
202; CHAPMAN Graham 03:05:41
203; SMITH Gareth 03:05:49
204; D'ERAMO Paolo 03:05:49
205; DRING Daniel 03:05:57
206; HAM Luke 03:05:58
207; PARIS Massimiliano 03:06:04
208; KERR Hugh 03:06:04
209; DYER Ben 03:06:06
210; BRAIDWOOD Alan 03:06:08
211; FALLERI Massimiliano 03:06:15
212; CRAWFORD Jamie 03:06:27
213; FEGAN Gary 03:06:33
214; BARDSLEY Adam 03:06:33
215; SHELTON Andrew 03:06:33
216; KIELY Michael 03:06:39
217; LEE Michael 03:06:53
218; HAY Martin 03:06:54
219; MACKAY Neil 03:07:00
220; MCCREESH Adrian 03:07:05
221; FRASER Simon 03:07:06
222; BARLOW Jonathan 03:07:08
223; MCEWAN Neil 03:07:10
224; STEFANOPOLI Pier Paolo 03:07:10
225; OSBORNE Andrew 03:07:11
226; FITZPATRICK Barry 03:07:12
227; RICHARDS Gareth 03:07:14
228; DENNY Iain 03:07:34
229; CULLIE David 03:07:34
230; JOHNSON Kurt 03:07:40
231; DONZELLI Luigi 03:07:46
232; TRUST Sandy 03:07:57
233; DEWHIRST Neil 03:08:00
234; SPOERING Hendrik 03:08:01
235; HUTCHINSON Alan 03:08:01
236; HACK Rufus 03:08:02
237; MOFFAT Peter 03:08:04
238; ECCOTT Peter 03:08:04
239; MACKAY Graeme 03:08:09
240; SNODGRASS Mark 03:08:12
241; ROBINSON Jim 03:08:12
242; GARRICK Ciaran 03:08:14
243; SUTTLE Kenwyn 03:08:19
244; SHORTT Ollie 03:08:19
245; PIGNY Fabien 03:08:21
246; AMORY Stuart 03:08:22
247; BURNHAM Brett 03:08:22
248; RATCLIFFE Steven 03:08:24
249; GASKIN Nigel 03:08:27
250; GREEN Nicky 03:08:30
251; MONTGOMERY James 03:08:31
252; GALVIN Damian 03:08:31
253; GRANT Sophie 03:08:34
254; MCCULLA Jerome 03:08:37
255; THOMPSON Claire 03:08:37
256; SAGE Greg 03:08:40
257; KLIMOV Pavel 03:08:43
258; DICK Robert 03:08:47
259; TATAREK Pawel 03:08:49
260; MILLS Kate 03:08:50
261; BLACK Allan 03:08:52
262; ARNOLD Thomas 03:08:52
263; SHEA-SIMONDS Claire 03:08:53
264; JOLLY Denis 03:08:53
265; SALWEY Nick 03:08:53
266; HEMMINGS Michael 03:08:55
267; BRIDGE Karen 03:08:55
268; HURRELL David 03:08:59
269; BEST Philip 03:09:02
270; KORHONEN Hannu 03:09:06
271; MARTIN Richard 03:09:24
272; GERBER Thomas 03:09:24
273; LOTT David 03:09:33
274; BARNARD Stu 03:09:33
275; WOOD Hamish 03:09:36
276; MACNAMEE Jimmy 03:09:40
277; PACKARD Christopher 03:09:43
278; MILLWARD Roger 03:09:43
279; ENRIGHT Adrian 03:09:44
280; THORNTON Jeff 03:09:44
281; HARDCASTLE Gareth 03:09:46
282; BARNARD Kristin 03:09:51
283; HARRISON David 03:09:52
284; BOSSI Giuseppe 03:09:53
285; SUTCLIFFE Jonathan 03:09:55
286; MARSHALL Alastair 03:09:59
287; VERGUNST Francis 03:10:01
288; ALGER Keith 03:10:06
289; THIELE Ryan 03:10:10
290; JOHNSTON Scott Paul 03:10:12
291; WILKINSON Matthew 03:10:15
292; HEARN Peter 03:10:18
293; BETZELOS Vasileios 03:10:23
294; MURRAY David 03:10:24
295; HINMAN Patrick 03:10:26
296; FRASER Michael 03:10:42
297; MACKAY Graeme 03:10:47
298; MARTIN Brian 03:10:52
299; CROSBIE Ronnie 03:10:52
300; MCIVOR Dominic 03:10:53 301; CAMPBELL Stuart 03:10:57 302; UPTON Sam 03:11:00 303; ROBINSON Hugh 03:11:01 304; JORDAN Craig 03:11:06 305; BANKS John 03:11:07 306; MASSON Derek 03:11:07 307; BARROW James 03:11:08 308; CONDUIT Tim 03:11:09 309; HARVIE Calum 03:11:10 310; KENNY Paul 03:11:12 311; KIRBY Darren 03:11:22 312; COLEMAN Jonathan 03:11:23 313; MUIR Lee 03:11:24 314; COATES Will 03:11:28 315; MCLEAN Thomas 03:11:31 316; WIGGAN Jay 03:11:32 317; BERNARDELLI Paul 03:11:34 318; MCEWAN Robert 03:11:35 319; JOHNSTON Karl 03:11:39 320; WOOD Douglas 03:11:39 321; ROBINSON Mark 03:11:39 322; TAYLOR Stephen 03:11:46 323; LAMMAS Ned 03:11:49 324; QUEEN Daniel 03:11:53 325; MEINEN Roman 03:11:56 326; BALCERZAK Marek 03:11:58 327; HORNER Chris 03:12:01 328; MAUNDER Richard 03:12:05 329; SWIFT Derrick 03:12:19 330; ELVIN Jennifer 03:12:25 331; ROBINSON Keith 03:12:27 332; CLARKE Derek 03:12:29 333; RUBY Thomas 03:12:31 334; FLOOD James Gerald 03:12:32 335; BRENNAN Paul Joseph 03:12:32 336; VERNASSIERE Gilles 03:12:37 337; ANDY Mcmahon 03:12:39 338; EATON Phil 03:12:41 339; KINDNESS John 03:12:43 340; DYER Leon 03:12:43 341; MONTGOMERIE Adam 03:12:43 342; MCKERNAN Alan 03:12:45 343; WINGHAM Christopher 03:12:51 344; MCNEIGHT Patrick 03:12:52 345; PARK James 03:12:55 346; BROWN Joe 03:12:56 347; LITTLE Darren 03:12:58 348; MAHONEY Jim 03:13:04 349; DANIELS Mike 03:13:05 350; CAREY Luke 03:13:06 351; KEMP Allan 03:13:07 352; BALFOUR Scott 03:13:14 353; MIDGLEY Chris 03:13:19 354; WEESS Christian 03:13:19 355; TAYLOR Keith 03:13:40 356; CRAIG Carly 03:13:41 357; BESUIJEN Marius 03:13:41 358; MONCRIEFF Ross 03:13:43 359; BRADFORD Steven 03:13:49 360; BROWN John 03:13:50 361; BACCHI Roland 03:13:53 362; WADE Paul 03:13:54 363; NIEMACK Andreas 03:13:58 364; BERGENDORFF Jakob 03:13:59 365; CLARKE Richard 03:14:01 366; MCDOUGALL Patrick 03:14:06 367; ULFIG Steven 03:14:06 368; TIMMINS Chris 03:14:06 369; COPELAND Gerard 03:14:08 370; SMITH Peter 03:14:09 371; SARGEANT Thomas 03:14:13 372; STOCKAN David 03:14:15 373; CASEY Sean 03:14:17 374; DOLAN Scott 03:14:20 375; MCHUGH Cian 03:14:23 376; LACOUTURE Joelle 03:14:24 377; FRANKLIN Nick 03:14:28 378; ROBERTSON Stephen 03:14:30 379; FOSTER Edward 03:14:30 380; GILMORE Patrick 03:14:31 381; REILLY Stephen 03:14:32 382; EVANS Guy 03:14:33 383; COLE David 03:14:33 384; GERARD Frederic 03:14:36 385; GAIR John 03:14:39 386; TRIMBLE Mark 03:14:39 387; HALE Daniel 03:14:40 388; MARSHALL Robert 03:14:44 389; DOHERTY Jackie 03:14:47 390; JUBIN Peter 03:14:48 391; DONELEY James 03:14:51 392; SIMPSON Graham 03:14:51 393; FREER Alan 03:14:51 394; BARRETT Sean 03:14:51 395; BADCOCK Matthew 03:14:54 396; THOMAS Mark 03:14:58 397; SCHLODER Kurt 03:15:02 398; RITSEMA Jaapjan 03:15:10 399; DICKSON Michael 03:15:13 400; RUETSCH Fiona 03:15:20 401; DENNEHY Niall 03:15:22 402; CARROLL Dominic 03:15:26 403; TAYLOR Dominic 03:15:27 404; MICALLEF Alfred 03:15:28 405; SHAMEDJE Joyce 03:15:34 406; TAYLOR John 03:15:34 407; COOPER Su 03:15:34 408; RIELLY Paul 03:15:38 409; HOWELLS David 03:15:40 410; HAWTHORNE Matthew 03:15:40 411; DUDMAN Gary 03:15:45 412; WILSON Robert 03:15:52 413; ARNARSON Oddgeir 03:15:56 414; FULLARTON Andrew 03:15:59 415; PARKER Jonathan 03:16:01 416; MCCUTCHEON Anthony 03:16:05 417; OLIVIER D'Harlingue 03:16:08 418; ELLIOT Kirstie 03:16:08 419; SALAMA Rachid 03:16:13 420; LABAT Benoit 03:16:13 421; STEPHENS Wayne 03:16:15 422; DUNCAN Andrew 03:16:15 423; DUNKLEY Jonathan 03:16:16 424; GALVIN Bryan 03:16:25 425; BALMER Jon 03:16:25 426; CUSACK Alan 03:16:25 427; LYNCH Katy 03:16:26 428; WARING Hamish 03:16:29 429; MC KELLIGAN Diego 03:16:31 430; BARBER Simon 03:16:36 431; MCNULTY Ian 03:16:45 432; ALLAWAY Dean 03:16:46 433; MACFARLANE Brian 03:16:46 434; DAVIES Glenn 03:16:47 435; CARAVATI Roberto 03:16:47 436; AXFORD Joshua 03:16:52 437; ADSHEAD Peter 03:16:54 438; LIO Victor 03:16:55 439; PARKER Graeme 03:17:00 440; MILLIGAN Iain 03:17:04 441; DE LA VIUDA BLANCO Daniel 03:17:07 442; MCLAY Andy 03:17:09 443; STOCK Jason 03:17:10 444; FLETCHER Kenneth 03:17:10 445; WATERS Paul 03:17:10 446; NIELD David 03:17:13 447; PATTERSON Keith 03:17:14 448; FRASER Barry 03:17:17 449; BORN Andrzej 03:17:21 450; RYAN Duncan 03:17:24 451; MCALLISTER-WILLIAMS Hamish 03:17:25 452; COLLINS Malcolm 03:17:25 453; BAIN Simon 03:17:26 454; QUINN Paul 03:17:28 455; MCCRORIE Stephen 03:17:28 456; ABRAHAM Chris 03:17:28 457; CLARKE Barry 03:17:31 458; SNEDDON Richard 03:17:35 459; NICHOLLS Marcus 03:17:36 460; TOWNEND Nick 03:17:38 461; PHELAN Alan 03:17:38 462; AGONA Andrew 03:17:45 463; MILLETT Peter 03:17:52 464; KHALED Shelly 03:17:52 465; GILBERT Edward 03:17:55 466; THOMPSON Simon 03:17:55 467; ANTON Pedro 03:18:01 468; DONELEY Tyson 03:18:01 469; PRIDEAUX Emma 03:18:02 470; KERSTEN Jörg 03:18:03 471; SCHMID Manuel 03:18:03 472; CASEY Mick 03:18:04 473; NEWENS Joanne 03:18:07 474; SCHEVEN Timon 03:18:07 475; LEITE Paulo 03:18:10 476; DENYE Simon 03:18:10 477; WADDELL Suni 03:18:10 478; BUDD Daniel 03:18:15 479; LOUGHNEY Andrew 03:18:20 480; STEWART Keith 03:18:24 481; WADE Gary 03:18:25 482; DOLAN Robert 03:18:28 483; KLAUS Hugo 03:18:31 484; ROBERTSON Doug 03:18:31 485; STARKEY Graeme 03:18:34 486; BETTS Charles 03:18:38 487; CARROLL Kate 03:18:39 488; POKORNY Petr 03:18:42 489; STIEL Klaus-Peter 03:18:43 490; CLARK John 03:18:44 491; THOM Alistair 03:18:45 492; PEARCE Jennifer 03:18:50 493; WATSON Stuart 03:19:07 494; MCDONALD Peter 03:19:08 495; LAWS John 03:19:08 496; OLD Oliver 03:19:13 497; ROUGHNEEN Dualta 03:19:13 498; OTTO Grant 03:19:15 499; MCLEAN Stuart 03:19:17 500; PLIQUETT-WALDMANN Martin 03:19:18 501; KERNAN Kira 03:19:21 502; FRANA Pavel 03:19:21 503; BILLINGTON Keith 03:19:21 504; RøSLAND Frode 03:19:22 505; ASHWORTH Nicolas 03:19:22 506; DICKINSON Iain 03:19:23 507; WALLIS Simon 03:19:28 508; LEFTWICH Ian 03:19:31 509; RUEDI Eggenschwiler 03:19:32 510; MCCLEMONT Stephen 03:19:35 511; SMITH Joshua 03:19:42 512; PEDRESCHI Manuel 03:19:42 513; GILL Sean 03:19:46 514; BUNNEY Allen 03:19:47 515; DALTON James 03:19:48 516; DUFFEY Sean 03:19:52 517; PARK William 03:19:53 518; CHARLESWORTH Simon 03:19:57
519; HOFBAUER Karlheinz 03:20:01 520; BOZIER Chris 03:20:02 521; GREER Jeremy 03:20:08 522; MAIR Richard 03:20:12 523; ABELL Chris 03:20:15 524; WICKA Thomas 03:20:15 525; SANDISON Gordon 03:20:15 526; SINGH Anant 03:20:17 527; LENNOX Robert 03:20:20 528; EWAN Kenneth 03:20:21 529; APPENZELLER Ulrich 03:20:23 530; LUTOMSKI James 03:20:23 531; NIEMACK Marianne 03:20:24 532; MITCHELL Damian 03:20:28 533; JONES Gareth 03:20:30 534; ROMELE Paolo 03:20:32 535; MACE Kevin 03:20:38 536; BULLOCK Matthew 03:20:39 537; LINDSAY Graeme 03:20:42 538; HUNTER Grant 03:20:43 539; MORGAN Ray 03:20:49 540; PEAKE Andrew 03:20:51 541; HOLLOWAY David 03:20:57 542; CORNES Mark 03:20:57 543; INGLIS Andrew 03:20:57 544; HENDERSON Rhys 03:21:01 545; HUSSEY Keith 03:21:05 546; BAKER Chris 03:21:08 547; LOVE Iain 03:21:12 548; COCKRAM Kevin 03:21:12 549; BRAHARNYK Rostyslav 03:21:12 550; LANGFORD Sam 03:21:14 551; WORSNOP Jason 03:21:17 552; HENDERSON David 03:21:17 553; THYNE Jim 03:21:17 554; PATRICK Russell 03:21:18 555; NOBLE Jeff 03:21:21 556; GOOSE Philip 03:21:22 557; MC CAULEY Maire 03:21:23 558; MURRAY John 03:21:27 559; CHAMPION Alain 03:21:27 560; BEHR Adam 03:21:28 561; EASTMAN Jacqueline 03:21:28 562; GRINDLEY Paul 03:21:30 563; WEDGWOOD Ruaridh 03:21:31 564; MCGARVEY Martin 03:21:32 565; EVANS Kevan 03:21:32 566; MCCABE Michael 03:21:35 567; FREDRIKSSON Thomas 03:21:37 568; GARDNER Paddy 03:21:39 569; SIGURGEIR Halldorsson 03:21:43 570; HARRISON Andy 03:21:46 571; HANCOCK Julian 03:21:50 572; PENGRECH Claude 03:21:54 573; HEYCOCK Carol 03:21:55 574; STEENHUISEN Aniek 03:21:56 575; SCOTT Kenneth 03:22:04 576; JAMES Hywel 03:22:05 577; CLARK Lauren 03:22:06 578; SMART Liam 03:22:08 579; VEASEY Hayley 03:22:08 580; MALKO Julie 03:22:09 581; KEW Wayne 03:22:09 582; MORRIS Lee 03:22:10 583; SMART Michael 03:22:11 584; SMITH Richard 03:22:11 585; PROBART Daniel 03:22:12 586; SMITH Finlay 03:22:12 587; ANDREWS Gary 03:22:12 588; ZEIDLER Martin 03:22:14 589; BROWNE Jay 03:22:17 590; KEPPO Mikko 03:22:17 591; BULCROFT Wayne 03:22:20 592; RUDIN Paul 03:22:20 593; WALL Jason 03:22:23 594; PRICE Tony 03:22:23 595; NOLAN David 03:22:29 596; O'NEILL Sarah 03:22:30 597; SHEPPARD Michael 03:22:31 598; DICKSON Christopher 03:22:31 599; KOHLHAAS Uli 03:22:33 600; BURKE John 03:22:36 601; CORBY Gilles 03:22:40 602; CARTER Jonathan 03:22:40 603; CLARKE Simon 03:22:41 604; PIRRIE Innis 03:22:42 605; BROWNING Matthew 03:22:43 606; BULLOCK Mike 03:22:45 607; JOHNS Gavin 03:22:47 608; FIELD Chris 03:22:51 609; O BOYLE Ian 03:22:53 610; GROUT Steve 03:22:53 611; RAE Graeme 03:22:53 612; KEMP Jon 03:22:53 613; DOHERTY Thomas 03:22:55 614; DRURY Steven 03:22:59 615; MYLLYOJA Jouni 03:23:02 616; KAMUNEN Tapio 03:23:02 617; BENGTSSON Jonas 03:23:06 618; DUTHIE James 03:23:07 619; HALL Bruce 03:23:10 620; HASTIE Alexander 03:23:12 621; MCNALL Paul 03:23:14 622; CALDWELL Martin 03:23:15 623; ERASMUS Jon 03:23:18 624; READ Daniel 03:23:21 625; TWEED Claire 03:23:28 626; STOKER Michael 03:23:28 627; MOONEY Laura 03:23:32 628; FAIRLAMB Ian 03:23:32 629; LORIMER Chris 03:23:33 630; LE MOTTEE Mark 03:23:34 631; WRIGHT Michael 03:23:35 632; KING Michael 03:23:35 633; LOW David 03:23:37 634; BIRD Jamie 03:23:39 635; DIETINGER Markus 03:23:42 636; CLELAND George 03:23:45 637; FONTAINE David 03:23:47 638; MC BREARTY Donough 03:23:49 639; COGONI Camillo 03:23:50 640; PRIEST Stephen 03:23:51 641; SOBY Paul 03:23:52 642; DALE Adrian 03:23:53 643; MEIKLEJOHN Stuart 03:23:54 644; GUYON Thierry 03:23:54 645; GARVEY Eoin 03:23:54 646; DOVER Christopher 03:23:54 647; WEISSENBERGER Marc 03:23:55 648; KILCOURSE Elisabeth 03:24:03 649; SPROTT Stephen 03:24:05 650; JAKEWAYS Paul 03:24:07 651; LAMB Alan 03:24:07 652; REED Richard 03:24:09 653; PERSSON Anders 03:24:10 654; LAURIE Steven 03:24:11 655; MORGANS Gemma 03:24:12 656; ADAMS Gordon 03:24:13 657; ROUSHIAS Stella 03:24:15 658; BARBOUR Sheila 03:24:17 659; SALMOND George 03:24:18 660; RODGER Jordan 03:24:18 661; FRASER Karen 03:24:19 662; BERWANGER Brian 03:24:21 663; COLE Robert 03:24:23 664; DURSTON Gavin 03:24:24 665; HARDY Peter 03:24:26 666; KEAVNEY Jacqueline 03:24:27 667; ELLIS Thomas 03:24:29 668; MCALEER Peter 03:24:30 669; TREMLETT Matthew 03:24:31 670; COCKERELL Andrew 03:24:31 671; BROWN Tim 03:24:33 672; REEVES Grant 03:24:34 673; ANSETT Lee 03:24:36 674; CARTLEDGE Matthew 03:24:40 675; DOCEUL Marc 03:24:40 676; HERRING Jonathan 03:24:41 677; HARNEY Mark 03:24:41 678; MARSHALL David 03:24:43 679; SARGEANT Laurence 03:24:47 680; SHACKLOCK Sue 03:24:48 681; COYLE John 03:24:48 682; FORMON Sally 03:24:51 683; WARNER Phil 03:24:52 684; DAVIS Gavin 03:24:54 685; SCOTT Kevin 03:24:56 686; MARSHALL Nick 03:25:03 687; POWLES Hilton 03:25:03 688; MORAN James 03:25:05 689; WISEMAN Guy 03:25:10 690; MCCRORIE Martin 03:25:17 691; DODDS Alastair 03:25:18 692; LAN Kevin 03:25:19 693; DE JONGE Filip 03:25:23 694; VAN RAEMDONCK Luc 03:25:23 695; KELL Mark 03:25:24 696; DICKINSON James 03:25:24 697; MARTINDALE Andrew 03:25:25 698; ADDIE James 03:25:26 699; EASTON Fraser 03:25:26 700; FARMER Alan 03:25:28 701; MACKINNON Kenneth 03:25:28 702; HILL Neil 03:25:29 703; KENT Justin 03:25:30 704; JACKSON Martin 03:25:35 705; CLARKSON Graeme 03:25:37 706; DUNN Anthony 03:25:39 707; POOLTON Nathaniel 03:25:42 708; CATLIN Marcus 03:25:43 709; BRISTER Charles 03:25:44 710; COE David 03:25:46 711; HULETT Carl 03:25:46 712; TRINDER Chris 03:25:47 713; MACDONALD Sally 03:25:47 714; STOTT Dhavala 03:25:50 715; BRADDICK Hywel 03:25:51 716; DARBY Kevin 03:25:53 717; MOORE Fraser 03:25:55 718; QUINN Anthony 03:25:56 719; LEOPOLD Martin 03:25:59 720; KYLE Victoria 03:25:59 721; O'NEILL Shane 03:26:00 722; MORGAN Neil 03:26:00 723; WHALLEY Martin 03:26:01 724; LEE Steven 03:26:01 725; PACKER Simon 03:26:03 726; GRIDLEY Marc 03:26:04 727; BELL Karen 03:26:05 728; ROSEVEAR Anthony 03:26:05 729; HANNAH Suzie 03:26:05 730; WEBB Paul 03:26:06 731; MCCONNELL Stewart 03:26:07 732; BERG Antony 03:26:10 733; HOLROYD Ivan 03:26:10 734; HARGAN Edward 03:26:10 735; ANGUS Graham 03:26:11 736; GODDARD Nathan 03:26:12 737; DOUTHWAITE Matthew 03:26:13 738; SPENCELEY Neil 03:26:23 739; NAYLOR Ben 03:26:23 740; FOSTER Paul 03:26:24 741; SUVITIE Jukka 03:26:24 742; MOYES Mark 03:26:25 743; WOOTTON Shaun 03:26:26 744; HOLLAND Martin 03:26:27 745; BERRA Matteo 03:26:28 746; CROTHALL Edward 03:26:28 747; HISLOP Terry 03:26:32 748; MARDON Tony 03:26:32 749; KILPATRICK Gary 03:26:33 750; WALTON Graeme 03:26:33 751; MOYES Angus 03:26:34 752; BREMBER Scott 03:26:34 753; SCHUMACHER Stefan 03:26:34 754; WATKINS Jessica 03:26:35 755; FELSTEAD James 03:26:36 756; DAWSON Nick 03:26:37 757; MORRIS Richard 03:26:38 758; THOMS Damon 03:26:39 759; LINDSAY William 03:26:39 760; JANSEN Tim 03:26:40 761; LOUZOUN Josette 03:26:41 762; MURPHY Susanna 03:26:43 763; WHITEHAND Nick 03:26:44 764; WHITE James 03:26:47 765; STEWART James 03:26:48 766; INGLIS Michael 03:26:48 767; STEVENSON Matthew 03:26:52 768; BOYD Angus 03:26:54 769; STEAD Jamie 03:26:54 770; BIR Claude 03:26:55 771; RITCHIE Stuart 03:26:57 772; BEALE Chris 03:26:57 773; EGONSSON Dagur 03:26:58 774; GODWIN Lisa 03:27:00 775; WRIGHT James 03:27:00 776; GRANT John 03:27:01 777; MILLER Craig 03:27:01 778; DINGWALL Ross 03:27:01 779; HAMER Allan 03:27:01 780; PARKINSON Tom 03:27:02 781; FOX Christopher 03:27:03 782; AMFT Sascha 03:27:08 783; LEES Brian 03:27:11 784; ELLIS Simon 03:27:12 785; PUGH Patrick 03:27:12 786; BURGESS Matthew 03:27:13 787; O\'SULLIVAN Damien 03:27:14 788; RAE Derek 03:27:15 789; SHADBOLT Glenn 03:27:19 790; SUTHERLAND Ally 03:27:19 791; GRIFFITHS Heather 03:27:22 792; KIMMENS Richard 03:27:23 793; MOWATT Stephen 03:27:27 794; BASSU Gianfranco 03:27:28 795; CASSON Ian 03:27:28 796; MONAGHAN Paul 03:27:31 797; THOMAS Adam 03:27:35 798; MCNEIL Stuart 03:27:39 799; RUNCIMAN Matthew 03:27:41 800; BARSHAM-ROLFE Hester 03:27:43 801; BUCHANAN Neil 03:27:44 802; TURNBULL Peter 03:27:45 803; KALOGIANNIS Michalis 03:27:45 804; DUNBAR Ed 03:27:47 805; RICHARDSON Caroline 03:27:48 806; ROXBY Angela 03:27:52 807; PEERIS Reuben 03:27:54 808; ACKERMANN Melissa 03:27:55 809; RIEDO Alfons 03:27:57 810; WILLIAMS Sarah 03:27:58 811; PARIS Greig 03:27:58 812; COULL Andrew 03:28:01 813; CONNELL Martin 03:28:02 814; POLLARD Paul 03:28:03 815; PRIGMORE Corey 03:28:03 816; BELLAMY Paul 03:28:03 817; MCKELLAR Kevin 03:28:04 818; GODDARD Roger 03:28:05 819; MINA Gregor 03:28:06 820; MCDONALD Neil 03:28:08 821; MASTERS Andrew 03:28:09 822; HUMPHREYS Tim 03:28:09 823; PROCTOR Gemma 03:28:17 824; PORTER Jim 03:28:18 825; HARTMANN Oliver 03:28:20 826; MONTGOMERY Ian 03:28:23 827; BEIRO MARTINEZ Jose Carlos 03:28:24 828; HARRIS Daniel 03:28:27 829; PRIOR Steven 03:28:27 830; RICHARDS Michael 03:28:31 831; CRANSTON William Alexander 03:28:33 832; BELLARBY Jonathan 03:28:33 833; SPOUSE Antony 03:28:34 834; ROY Andrew 03:28:34 835; QUICK Oli 03:28:34 836; DERMONT Simon 03:28:36 837; DENT Nick 03:28:37 838; CROCKETT Andrew 03:28:37 839; LOMAX Steve 03:28:38 840; STEWART Tom 03:28:39 841; POWELL Aaron 03:28:40 842; ANDREWS Emma 03:28:40 843; SIMPSON Robert 03:28:40 844; PERRY Alexis 03:28:41 845; MUNRO David 03:28:42 846; GILLIAN David 03:28:46 847; GIBBS Nicholas 03:28:47 848; SKINNER Marc 03:28:47 849; SWINNEY Jamie 03:28:48 850; NEWMAN Leigh 03:28:49 851; VAN DER KOLK Rien 03:28:50 852; BEVAN Matt 03:28:53 853; FLOYD Gemma 03:28:54 854; NIELSEN Jens 03:28:59 855; KINNAIRD Chris 03:29:01 856; RIEDLINGER Csaba 03:29:01 857; MCNAMARA Paul 03:29:02 858; MCLEOD Gary 03:29:02 859; ROBERTS Faye 03:29:05 860; BATESON Helen 03:29:07 861; HIGGS Adam 03:29:08 862; CALLCOTT Andrew 03:29:10 863; FINDLAY Phil 03:29:10 864; WILTSHIRE Susan 03:29:12 865; AINSLIE Keith 03:29:14 866; GORDON Ewan 03:29:15 867; CHISHOLM Alistair 03:29:15 868; HUMMEL Jurgen 03:29:17 869; DOBSON Paul 03:29:17 870; COOPER Steve 03:29:19 871; ISAAC Jeremy 03:29:19 872; CHILTON Daniel 03:29:19 873; BUCHAN Steven 03:29:19 874; GALBRAITH Norman 03:29:20 875; GALBRAITH Mark 03:29:22 876; LUCAS David 03:29:23 877; MCNAUGHTON Tom 03:29:25 878; HOUSE Daniel 03:29:26 879; GEDDES-BARTON Madeleine 03:29:28 880; COCKERELL Anneke 03:29:29 881; BERNARDI Stephen 03:29:31 882; ASH Peter 03:29:33 883; MOLLOY Wayne 03:29:34 884; ARKELL Rob 03:29:36 885; FRENCH Lee 03:29:37 886; TOMLIN Joshua 03:29:37 887; MAUSBACH Gerd 03:29:38 888; SOLDANI Riccardo 03:29:39 889; CORDNER Paul 03:29:40 890; CHALONER Jamie 03:29:42 891; GADD Ben 03:29:43 892; MEDINE Michael 03:29:44 893; GREENWOOD Lee 03:29:44 894; ARNASON Fjolnir Thor 03:29:47 895; GLENISTER Catherine 03:29:48 896; DAVIS Alexander 03:29:48 897; GEORGE Alison 03:29:50 898; MEEUWSE Jos 03:29:54 899; GOURLAY Liam 03:29:54 900; CARR Lorcan 03:29:55 901; GRIFFITHS Matthew 03:29:58 902; THWAITES Gary 03:29:59 903; EASON Adam 03:29:59 904; BISHOP Charles 03:29:59 905; DALGARNO Stuart 03:29:59 906; REYNOLDS Niall 03:30:00 907; BURKE Jeremy 03:30:00
908; BUCKLEY Larissa 03:30:01 909; WILLIAMSON Alan 03:30:01 910; TROLAND David 03:30:03 911; SNOOK Steven 03:30:03 912; JONSSON Toke 03:30:04 913; MCTERNAN Louise 03:30:04 914; PORTMANN Philipp 03:30:05 915; BOND Andy 03:30:07 916; SHELTON Andrew 03:30:07 917; SERVAN Oyvind 03:30:08 918; SHILL David 03:30:10 919; KULLAR Hardeep 03:30:10 920; MASON Simon 03:30:13 921; SYERS Sarah 03:30:14 922; CLARKE Peter 03:30:14 923; BELFIELD Mark 03:30:16 924; FINES David 03:30:19 925; HOPKINSON Simon 03:30:19 926; HOUGH Christopher 03:30:20 927; CODD Russell 03:30:21 928; HUGHES Tony 03:30:22 929; MACKENZIE Kent 03:30:22 930; MOLLOY John 03:30:23 931; ADAMCZEWSKI Pierre 03:30:25 932; COFFEY Robert 03:30:26 933; ENGDAHL Lars-Åke 03:30:28 934; SCULL Pete 03:30:28 935; WOODS Conor 03:30:34 936; FRASER Colin 03:30:36 937; DENHAM Tim 03:30:37 938; CHAPMAN Martin 03:30:37 939; DIMITROV Manol 03:30:38 940; ETHERSON Eamon 03:30:39 941; MCINTOSH Aaron 03:30:39 942; ERKELENS Jeroen 03:30:40 943; BARKER Leighton 03:30:41 944; CARROLL John 03:30:42 945; HORSMAN Craig 03:30:42 946; PATIENCE Jamie 03:30:43 947; MCGOURT Connor 03:30:44 948; CROWE Sean 03:30:45 949; CUTT Neil 03:30:46 950; HARRIS Gavin 03:30:47 951; LIPSCOMBE Elisabeth 03:30:47 952; SORBY Debbie 03:30:48 953; COCHRAN Robert 03:30:51 954; CHAN Sussanah 03:30:51 955; DIXON Robert 03:30:51 956; GROENEWEGEN Patrick 03:30:52 957; BARHAM Paul 03:30:53 958; RUSSELL John 03:30:54 959; CLIFFORD Catherine 03:30:54 960; KOVATS Steven 03:30:54 961; KING Neil 03:30:55 962; SIMEON Thierry 03:31:02 963; WEIR David 03:31:04 964; O'BRIEN Anthony 03:31:04 965; GREIG Edward 03:31:07 966; LOUDON Michael 03:31:07 967; MUNRO Brian 03:31:08 968; EMMERSON Thomas 03:31:08 969; EDWARDS Dylan 03:31:08 970; GALLAGHER Chris 03:31:10 971; O'HANLON Karen 03:31:12 972; FLEMMINGS Richard 03:31:13 973; WADSWORTH James 03:31:16 974; VEASEY Dom 03:31:16 975; ARIES James 03:31:16 976; DUDCHENKO Paul Anthony 03:31:16 977; FRIEDMAN Tom 03:31:18 978; ARBUCKLE Simon 03:31:18 979; HALL Gareth 03:31:19 980; GRIBBEN David 03:31:23 981; CROOK Chris 03:31:23 982; WYATT Andy 03:31:23 983; MULLAN Nivette 03:31:24 984; MACMILLAN Hamish 03:31:26 985; DUCK Roger 03:31:27 986; MILLER Caroline 03:31:28 987; LANNIGAN Graeme 03:31:28 988; ARNOLD Robret 03:31:29 989; BROWN Gary 03:31:32 990; STELL Adrian 03:31:32 991; GLASS Frank 03:31:34 992; WHITEHEAD Toby 03:31:35 993; JAMES John 03:31:35 994; FOXLOW Paul 03:31:38 995; DINGWALL Adrian 03:31:40 996; YOUNG Rory 03:31:42 997; MACKENZIE Sarah 03:31:42 998; AYMERICH Daniel 03:31:43 999; MOJA Iñigo 03:31:43 1000; STEWART Tim 03:31:45 1001; ELHADJEN Bachir 03:31:46 1002; FELLGETT Simon 03:31:46 1003; CLAVEY Matthieu 03:31:46 1004; DOHERTY Ian 03:31:47 1005; ORR Sue 03:31:50 1006; MUNN Anthony 03:31:50 1007; KIT Kevin 03:31:52 1008; PROBERT Nigel 03:31:52 1009; TOIVONEN Tom 03:31:53 1010; LINKOLA Janne 03:31:58 1011; KILLINGLEY Pete 03:32:01 1012; CAMPBELL Kevin 03:32:04 1013; ROSNELL Seppo 03:32:04 1014; MACLEOD Colin 03:32:07 1015; MACDONALD Kathleen 03:32:09 1016; DOWLING Thomas 03:32:10 1017; FOWLER Kenneth 03:32:13 1018; KNOWLES Matthew 03:32:13 1019; TONES John 03:32:14 1020; KEN NEDY Robert 03:32:14 1021; BURGESS Emma 03:32:15 1022; HICKS Deborah 03:32:17 1023; SMITH Dan 03:32:18 1024; LEYS Andrew 03:32:21 1025; PARKER Graham 03:32:22 1026; WILSON Dave 03:32:22 1027; MILSOM Paul 03:32:22 1028; HOWELLS Neil 03:32:29 1029; SILVERSIDES Andrew 03:32:29 1030; CORMACK Alistair 03:32:33 1031; GRANSDEN Christopher 03:32:37 1032; DERRI Stepjen 03:32:37 1033; BOWIE Lynsey 03:32:38 1034; ROBINSON Peter 03:32:39 1035; SCALLY Stephen 03:32:41 1036; GREEN Darren 03:32:41 1037; OLMEDA SANZ Ruben 03:32:41 1038; BROWN Colin 03:32:42 1039; FITZPATRICK Wendy 03:32:43 1040; ROBINSON Phillip 03:32:43 1041; BUTLER Matthew 03:32:44 1042; GRIFFIN David 03:32:46 1043; MACVARISH Christine 03:32:47 1044; OGDEN Mark 03:32:50 1045; HOPE James 03:32:51 1046; LAWRENCE Stephen 03:32:52 1047; HALL Martin 03:32:52 1048; BROWN Michael 03:32:53 1049; RODGERS Tristan 03:32:55 1050; THURLEY David 03:32:56 1051; PORTER Maria 03:33:03 1052; RITCHIE Ross 03:33:03 1053; SMITH Andrew 03:33:04 1054; STEPHENSON Kirsty 03:33:07 1055; MCELROY Stephen 03:33:07 1056; MACMILLAN Alasdair 03:33:12 1057; BERRY William 03:33:13 1058; NEWSTEAD Rachel 03:33:14 1059; MCLAREN James 03:33:15 1060; MOORE David 03:33:15 1061; MC CARTHY Cathal 03:33:18 1062; SAYERS Simon 03:33:18 1063; BURNS Mark 03:33:19 1064; NEVIN Austin 03:33:19 1065; BERRY Paul 03:33:23 1066; BRIGGS Mark 03:33:24 1067; FORREST Fiona 03:33:27 1068; SEBASTIEN Maurer 03:33:27 1069; DURWARD Craig 03:33:28 1070; PHILIPPE Leroy 03:33:29 1071; BUCKLEY Ronan 03:33:29 1072; HUDSON Jimmy 03:33:30 1073; WILKS Gary 03:33:31 1074; WALLACE Morven 03:33:36 1075; VIARD Philippe 03:33:36 1076; DIAS Charlie 03:33:37 1077; MILLS Andrew 03:33:38 1078; FLANAGAN Stephen 03:33:40 1079; BAKER Samantha 03:33:40 1080; GILL Graham 03:33:42 1081; GERBER Nico 03:33:43 1082; LOCKETT John 03:33:43 1083; SMITH Jerry 03:33:43 1084; ELLIS Gareth 03:33:43 1085; BLENKINSOP Neil 03:33:46 1086; KOSTLIN Donna 03:33:48 1087; ARCHBOLD Karen 03:33:51 1088; KING Russell 03:33:54 1089; SAUNDERS Gregory 03:33:55 1090; PATTERSON Pascal 03:33:56 1091; JONES Jason 03:33:56 1092; BRIEM Olafur 03:33:57 1093; ATKINSON Lisa 03:34:02 1094; DOWNES Robert 03:34:03 1095; ARNOLD David 03:34:03 1096; GREENE Jethro 03:34:03 1097; DOLAN Damien 03:34:03 1098; DRUMMOND Rachel 03:34:04 1099; MURDOCH Barry 03:34:05 1100; MCLEOD Ben 03:34:05 1101; MURRAY James 03:34:05 1102; SMITH David 03:34:05 1103; KNOPS Petra 03:34:06 1104; VAN VLAANDEREN Nina 03:34:09 1105; METCALFE Nick 03:34:09 1106; HENSCHEN Ross 03:34:09 1107; PAGE Andrew 03:34:11 1108; KILBURN Matthew 03:34:13 1109; DRUMMOND Philip 03:34:14 1110; MOYLE Fraser 03:34:14 1111; HEARNS Gary 03:34:14 1112; FLYNN Laura 03:34:14 1113; NAUGHTON Michael 03:34:15 1114; LENNIE Andrew 03:34:19 1115; NEWMAN Beverley 03:34:22 1116; SLANE Finlay 03:34:23 1117; JOOTUN Jason 03:34:26 1118; VOM BOVERT Ernst-Martin 03:34:26 1119; CAMPBELL Frazer 03:34:27 1120; STACEY Maggie 03:34:27 1121; WINDOW Gary 03:34:28 1122; ROBINSON Michael 03:34:30 1123; MCDONALD Dan 03:34:30 1124; ALDRIDGE Jimmy 03:34:31 1125; KOPP Herbert 03:34:35 1126; DUVIVIE Stephen 03:34:36 1127; MCQUEEN Hugh 03:34:36 1128; CWIKLEWSKI Lukasz 03:34:37 1129; BAMBER Jed 03:34:37 1130; HUDSON David 03:34:39 1131; NORMAN Dale 03:34:41 1132; COCCA Mauro 03:34:42 1133; WATTERS Edwin 03:34:43 1134; CAMPBELL Glenn 03:34:45 1135; SCOTTING Dominic 03:34:45 1136; KAUKONEN Jyrki 03:34:47 1137; RUSSELL George 03:34:47 1138; BANACH Mike 03:34:48 1139; BARRETT Samantha 03:34:48 1140; POLS Simon 03:34:49 1141; TONNER Joanne 03:34:49 1142; COOK Tim 03:34:49 1143; STUBBS Sean 03:34:51 1144; GRAY Todd 03:34:52 1145; HARVEY Anthony 03:34:53 1146; SPENCE Charlotte 03:34:53 1147; KINOSHITA Hideki 03:34:53 1148; WHYTE Matthew 03:34:54 1149; MACLEOD Harris 03:34:57 1150; LANOE Pierre-Henri 03:34:58 1151; MONAGHAN Paul 03:35:00 1152; ORR Craig 03:35:00 1153; FRASER Craig 03:35:01 1154; BARNES Sarah 03:35:02 1155; FUJIWARA Tomoyo 03:35:02 1156; FOGARTY John 03:35:03 1157; BOWER-BIR Nathan 03:35:04 1158; BRINKHOFF Ralf 03:35:05 1159; GARDINER Ryan 03:35:05 1160; ROE Nick 03:35:06 1161; DRING Ralph 03:35:06 1162; HAWKINS Joe 03:35:06 1163; SUTTON Rachael 03:35:08 1164; MOBERLY Tom 03:35:12 1165; COPPING Bradley 03:35:13 1166; MATHIE Dorothy 03:35:13 1167; EMMANUEL Pitaval 03:35:14 1168; BROWN Nicholas 03:35:14 1169; MELVILLE Alvin 03:35:14 1170; DOWNS Craig 03:35:16 1171; MORAN Conor 03:35:17 1172; HARPER Colin 03:35:19 1173; POTTER Kevin 03:35:19 1174; RATCLIFFE Andy 03:35:20 1175; SWEENEY Simon 03:35:23 1176; SIMPSON Katy 03:35:25 1177; O'SULLIVAN Susan 03:35:29 1178; SOAMES James 03:35:29 1179; JUDD Mandy 03:35:30 1180; O SULLIVAN Geraldine 03:35:30 1181; BLOXHAM Alistair 03:35:30 1182; JOOTUN Darren 03:35:31 1183; BOULTON Steve 03:35:32 1184; BILLINGTON Andrew 03:35:32 1185; NORRIS Chris 03:35:33 1186; BEARD Chris 03:35:36 1187; DOBBIE Adam 03:35:37 1188; WINSLADE Glenn 03:35:37 1189; BRISCOE Antony 03:35:38 1190; MAYO Brian 03:35:39 1191; PARRY David 03:35:39 1192; HARKNESS Peter 03:35:39 1193; WHALE Lewis 03:35:39 1194; BARR Paul 03:35:43 1195; ARNOLD Stephen 03:35:44 1196; JOHNSON Adam 03:35:46 1197; CLEARY Lisa 03:35:47 1198; WALLEN Brigid 03:35:47 1199; CARBONE Antonio 03:35:48 1200; HOWELLS Carl 03:35:50 1201; KETLEY Andrew 03:35:50 1202; ANDREW Alastair 03:35:51 1203; SWAIN Paul 03:35:53 1204; FEATHERSTONE Neil 03:35:54 1205; ARTHUR Maurice 03:35:55 1206; AHLRICHS Frank 03:35:55 1207; WHITE Stewart 03:35:59 1208; STONE Lynsey 03:35:59 1209; COATES Elizabeth 03:36:01 1210; BROWN Sian.C 03:36:01 1211; EDMONDS Chris 03:36:02 1212; WEBB Oscar 03:36:02 1213; WENZ Ralf 03:36:03 1214; EDGAR Stephen 03:36:04 1215; ALSTON Fiona 03:36:05 1216; EADIE John 03:36:06 1217; MUNRO Edward 03:36:06 1218; BRYANT Ken 03:36:08 1219; WRIGHT Jonathan 03:36:09 1220; RICHES Jessica 03:36:09 1221; HALL Alexander 03:36:11 1222; LIDDELL Steven 03:36:12 1223; CRATCHLEY Daniel 03:36:15 1224; CROW Peter 03:36:17 1225; MCLEOD Stuart 03:36:17 1226; CAMERON Andrew 03:36:18 1227; POOLMAN Ian 03:36:18 1228; GODWIN Joanna 03:36:19 1229; HOLMBACK Peter 03:36:20 1230; STEVENSON John 03:36:20 1231; KIRKHAM Anna 03:36:24 1232; BRITTON Thomas 03:36:25 1233; MCDOUALL Patrick 03:36:25 1234; NINHAM Edward 03:36:26 1235; DAVIDSON Stuart 03:36:27 1236; BAKER Brendan 03:36:30 1237; MILLS Steven 03:36:30 1238; DE-BANKS Kyle 03:36:32 1239; HINDLE Paul 03:36:34 1240; MURRAY Carol 03:36:35 1241; FINDLAY Iain 03:36:35 1242; WILLIAMS Ray 03:36:36 1243; ILETT Stephen 03:36:36 1244; CREECH Graham 03:36:38 1245; HUNTER Thomas 03:36:41 1246; BUCCELLATO Lee 03:36:43 1247; WRAZKA Mariusz 03:36:45 1248; HUNT Vicki 03:36:46 1249; GRIFFITHS Helen 03:36:47 1250; JACKSON Matt 03:36:48 1251; KNEE Charlotte 03:36:49 1252; HILPERT Tobias 03:36:50 1253; ARCHER Skye 03:36:51 1254; DUFOREST François 03:36:54 1255; LEE Stephen 03:36:54 1256; NASH Bartholomew 03:36:56 1257; CORBETT Richard 03:36:58 1258; HALL Dave` 03:37:00 1259; PARKIN Dean 03:37:01 1260; CAMPBELL Mark 03:37:02 1261; MAUD Scott 03:37:03 1262; HALL Neil 03:37:03 1263; DIXON David 03:37:04 1264; STOREY Elita 03:37:04 1265; CONNOR Michael 03:37:05 1266; DAVIDSON Alistair 03:37:06 1267; MCFARLANE Steven 03:37:06 1268; CHARDONNEAU Jean-Bernard 03:37:08 1269; BAMFIELD Victor 03:37:09 1270; KIDGER Alison 03:37:11 1271; WARD Stewart 03:37:14 1272; MOLLOY Sean 03:37:15 1273; ANDERSEN Michael 03:37:15 1274; RICHARDSON David 03:37:15 1275; REED Tom 03:37:18 1276; HERRING Gary 03:37:18 1277; LOVELL Matthew 03:37:23 1278; BLIGHT Andrew 03:37:24 1279; PATERSON Stuart 03:37:24 1280; LOCHERTY Marc 03:37:24 1281; ATTWAL Suki 03:37:25 1282; HINZ Matti 03:37:26 1283; DUDLEY Mark 03:37:27 1284; SHAW Mark 03:37:27 1285; LEGGE David 03:37:28 1286; ROGERS Matthew 03:37:28 1287; TAHERI Peyman 03:37:28 1288; CHAN Sharon 03:37:28 1289; CASSIDY James 03:37:29 1290; CURRIE Brian 03:37:29 1291; ANGUS Fiona 03:37:33 1292; MATTHEWS Ken 03:37:35 1293; COLLINGE James 03:37:35 1294; LYNN Lesley 03:37:36 1295; MADSEN Soren 03:37:37 1296; TAYLOR Mike 03:37:37 1297; VON HIRSCHBERG Andrew 03:37:38 1298; RENEDO Eduardo 03:37:39 1299; MURGA UBIERNA Ana Isabel 03:37:39 1300; SMITH William 03:37:41 1301; ALBRIS Kristoffer 03:37:42 1302; MCGARRIGLE Niall 03:37:44 1303; PERESSON Ben 03:37:45 1304; SYSON Karl 03:37:50 1305; EASTBURY Justine 03:37:50 1306; THOMSON Jim 03:37:50 1307; LAWSON Sarah 03:37:53 1308; MILLER Anne Michelle 03:37:54 1309; ENGLAND Kimberley 03:37:54 1310; LYNCH Bryan 03:37:55 1311; FLANAGAN Monica 03:37:56 1312; GILBEY Simon 03:37:56 1313; FENNY Deborah 03:37:57 1314; OAKLEY Michael 03:37:58 1315; CONNOLLY Kevin 03:37:58 1316; COCHRANE Elsbeth 03:37:59 1317; KING Niall 03:37:59 1318; LEVESCONTE James 03:38:01 1319; DYER Martin 03:38:01 1320; HANSEN Peter 03:38:02 1321; BARDWELL Sharon 03:38:03 1322; RINTOUL Guy 03:38:03 1323; STEPHEN Graeme 03:38:04 1324; BROLLY John Paul 03:38:05 1325; MATHIESON Billy 03:38:07 1326; TURNER Emily 03:38:07 1327; ANDERSON Claire 03:38:07 1328; HANSON Edward 03:38:08 1329; PILE Jon 03:38:11 1330; MCNIFFE Vince 03:38:14 1331; ZENHäUSERN Gerd 03:38:14 1332; FERNANDEZ COMBARRO Luis 03:38:16 1333; JONES Garry 03:38:17 1334; HUTCHISON Charlotte 03:38:18 1335; LOTHIAN Alick 03:38:19 1336; BONETTI Oriano 03:38:19 1337; O'BRIEN Padraig 03:38:20 1338; MCPHATE James 03:38:21 1339; MARCHANT Gareth 03:38:26 1340; FERULA Osvaldo 03:38:27 1341; CLOUGH Bradley 03:38:27 1342; SELVEY Iain 03:38:28 1343; MACKENZIE Grace 03:38:30 1344; ALLAN Douglas 03:38:32 1345; BIRCHER Dave 03:38:32 1346; HILL Matthew 03:38:34 1347; TONES Barry 03:38:34 1348; AUSTIN Scott 03:38:35 1349; PAGE Stephen 03:38:36 1350; WRIGHT David 03:38:37 1351; APPLEBY Jonathan 03:38:38 1352; LUMSDON Paul 03:38:39 1353; KUSTUSZ Radoslaw 03:38:41 1354; MEHEW William 03:38:43 1355; MORELLE CALVO Jose Luis 03:38:43 1356; KIRBY James 03:38:43 1357; MCMILLAN Graham 03:38:44 1358; DAWSON Louise 03:38:44 1359; RICHES Alex 03:38:45 1360; BAILEY Mark 03:38:46 1361; SUGENO Mikio 03:38:46 1362; LALLI Harjinder 03:38:47 1363; HENRY Brendan 03:38:50 1364; BIEDENSTEIN Günter 03:38:50 1365; BRYANT James 03:38:51 1366; ZANZINGER Stephan 03:38:53 1367; LOBO PéREZ Ernesto 03:38:53 1368; WINKLEY Leo 03:38:53 1369; HOWSE Jen 03:38:53 1370; GRITT Jarrod 03:38:54 1371; WAITE Daniel 03:38:55 1372; BARRON Chris 03:38:55 1373; CULLWICK Michael 03:38:56 1374; TREBECKI Jacek 03:38:57 1375; O SULLIVAN Bernard 03:38:59 1376; COTTIER Lionel 03:39:00 1377; BEATTIE Anna 03:39:01 1378; NORRIS Andrew 03:39:03 1379; JERMEY Lisa 03:39:03 1380; COLEMAN Mark 03:39:03 1381; DOBBY Steve 03:39:04 1382; LORD Ian 03:39:04 1383; FLORANCE Tara 03:39:06 1384; JACKSON Trevor 03:39:06 1385; JIMENEZ ROMAN Juan Antonio 03:39:06 1386; KOVICAK Jacke 03:39:07 1387; GIBSON William 03:39:08 1388; BOOTHMAN John 03:39:09 1389; GRAHAM Sean 03:39:09 1390; WRIGHT Adam 03:39:10 1391; GRAVELL Steven 03:39:12 1392; BLUM Trevor 03:39:12 1393; BENNETT Lisa 03:39:13 1394; MULLINS Brian 03:39:13 1395; MCCUE Scott 03:39:20 1396; CLARK Richard 03:39:22 1397; NELSON Andy 03:39:26 1398; WEATHERHEAD Tim 03:39:26 1399; TURNBULL Doug 03:39:27 1400; DIERIG Lori 03:39:28 1401; GRANT Dean 03:39:30 1402; RYAN Barry 03:39:33 1403; PRICE Lisa 03:39:33 1404; HANNAY Kate 03:39:33 1405; WINDER Hayley 03:39:35 1406; EDWARDS Stephen 03:39:36 1407; BLAYNEY Eddie 03:39:37 1408; GRAHAM Declan 03:39:37 1409; WILKES Dan 03:39:37 1410; RAYES Stuart 03:39:39 1411; RIGAS Kostas 03:39:40 1412; REYNOLDS Hayley 03:39:40 1413; NEW Geoff 03:39:40 1414; DUFF Kirsty 03:39:40 1415; KENNEDY Kimberley 03:39:41 1416; JONES Steve 03:39:42 1417; TAYLOR Gary 03:39:42 1418; DAWSON Neil 03:39:46 1419; WALKER Kathleen 03:39:46 1420; GIRAUDOUX Jean Luc 03:39:46 1421; CRAN Ted 03:39:46 1422; MCDONALD Trevpr 03:39:47 1423; ANDREWS Clive 03:39:49 1424; DURKIN Tony 03:39:50 1425; JOHNSTON John 03:39:50 1426; NIGHTINGALE David 03:39:51 1427; DALZIEL Ryan 03:39:52 1428; WREN Stephen 03:39:52 1429; DALZIEL Tracey 03:39:52 1430; PINDER Jeremy 03:39:57 1431; BUTTS Steven 03:39:58 1432; WILLIAMS Huw 03:39:58 1433; GHANI Saima 03:39:58 1434; HEATON Richard 03:40:00 1435; DEMPSTER David 03:40:00
1436; DAVISON Michael 03:40:03 1437; SIMPSON Gavin 03:40:04 1438; GAUNT Carolyn 03:40:04 1439; CASSON Paul 03:40:08 1440; ENOCK James 03:40:08 1441; BAKER Kat 03:40:09 1442; STANZIONE Olivier 03:40:10 1443; SIMPSON David 03:40:10 1444; GRUENBACHER Gerald 03:40:11 1445; HUSK Alex 03:40:11 1446; O'DONNELL Brian 03:40:11 1447; WHITE Stewart 03:40:12 1448; HILL David 03:40:12 1449; MAIN Charlotte 03:40:13 1450; FINLAY David 03:40:13 1451; GRIGIS Nadio 03:40:15 1452; CHAPMAN Adrian 03:40:16 1453; PERKINS Simon 03:40:19 1454; ARNOLD Franck 03:40:20 1455; WHALE Michael 03:40:21 1456; KAY Brian 03:40:22 1457; MCCARTNEY Susan 03:40:22 1458; WINGFIELD Joan 03:40:23 1459; BUZZARD Gary 03:40:25 1460; MASON Shishi 03:40:26 1461; GRAHAM David 03:40:27 1462; ALDERSON Andrew 03:40:27 1463; CROUCH Paul 03:40:27 1464; DUNGAIT Christine 03:40:31 1465; DAVIDSON Alan 03:40:32 1466; GNOCCHI Mario 03:40:32 1467; LORIMER Stuart 03:40:33 1468; BARKER Tony 03:40:33 1469; BAZAZI Dariush 03:40:33 1470; DALEY Angela 03:40:34 1471; FOAD Richard 03:40:39 1472; MACADAM Scott 03:40:39 1473; BRIGDEN Martin 03:40:39 1474; LAMONT John 03:40:41 1475; CRAIG Simon 03:40:43 1476; MARTIN-PEñASCO Luis 03:40:44 1477; ROBERTSON Mark 03:40:44 1478; WILLIAMS John Cedri 03:40:48 1479; COUTTS Philip 03:40:48 1480; MARTIN Marc Antoine 03:40:52 1481; RAMSAY Ross 03:40:53 1482; O'BRIEN John 03:40:56 1483; ODOWD Bridie 03:40:57 1484; BICKELL Mark 03:40:59 1485; KUNTOLA Outi-Kristiina 03:41:00 1486; MOLONY Tadhg 03:41:00 1487; RAJAGURU Sanjeewa 03:41:00 1488; POLLARD Sonia 03:41:04 1489; LANGDON Andy 03:41:04 1490; SINGHVI Dev 03:41:05 1491; MOSS Julian 03:41:06 1492; WATTS Lee 03:41:06 1493; WILSON Robert 03:41:08 1494; COPELAND Andrew 03:41:11 1495; SHAYOVITZ Ronen 03:41:12 1496; VAN STIJN Piet 03:41:13 1497; INGRASSIA Andrea 03:41:13 1498; RAINBOW Tammy 03:41:13 1499; SAVAGE Paul 03:41:15 1500; DUNN Alan 03:41:18 1501; BROWN Simon 03:41:18 1502; O'DONNELL Caitlin 03:41:19 1503; DALE Ann 03:41:19 1504; LINNEY Joe 03:41:20 1505; HALL Andrew 03:41:21 1506; SOOPRAYEN Darren 03:41:22 1507; WALLACE Alasdair 03:41:23 1508; WALLER Andrew 03:41:24 1509; BROWN Alasdair 03:41:24 1510; MANGIARINO Giorgio 03:41:29 1511; MION Mirco 03:41:29 1512; PURDY Lee 03:41:31 1513; MCCONNELL Ivor 03:41:32 1514; RILEY Andy 03:41:33 1515; CONWAY Nyree 03:41:33 1516; PALLISTER Graeme 03:41:36 1517; CLEMENT Thomas 03:41:37 1518; SABERI Sophie 03:41:37 1519; BUTCHER Jane 03:41:39 1520; WALKER Daniel 03:41:39 1521; MCINALLLY Cath 03:41:41 1522; MCGREGOR Allan 03:41:42 1523; MURRAY Frank 03:41:42 1524; HARVEY Barry 03:41:43 1525; WORRALL David 03:41:44 1526; STRICKLAND Campbell 03:41:44 1527; MURRAY Thomas C 03:41:47 1528; MILLER Paul 03:41:49 1529; NOBLE Lisa 03:41:50 1530; DEL CASTILLO Katie 03:41:50 1531; WILL Imogen 03:41:52 1532; WATES Neill 03:41:52 1533; JACKSON Jo 03:41:53 1534; BRITLAND Peter 03:41:53 1535; CONNOR Dave 03:41:54 1536; WILL Galen 03:41:54 1537; DARVISHI Kevin 03:41:56 1538; TAYLOR Stuart 03:41:57 1539; WILLIAMS Sam 03:41:57 1540; BELSOM Adam 03:41:58 1541; BROWN Emma 03:42:04 1542; HARMAN Gary 03:42:05 1543; EVANS Phillip 03:42:05 1544; RUBINA Jon Mikel 03:42:06 1545; CALVERT Euan 03:42:08 1546; CONNOLLY Andrew 03:42:08 1547; LOCKYER Nick 03:42:09 1548; DOONEY R 03:42:09 1549; FASSNIDGE John 03:42:09 1550; WATES Melanie 03:42:09 1551; KIRBY Peter 03:42:11 1552; SIVAPUNNIYAM Padma 03:42:12 1553; BRETT Tom 03:42:12 1554; FOUNDLING-HAWKER Heather 03:42:13 1555; WATT Alex 03:42:14 1556; MILLS Catherine 03:42:14 1557; CERCACI Michael 03:42:15 1558; SIMMONS Phillip 03:42:16 1559; AITCHISON Pauline 03:42:16 1560; MELROSE Andrew 03:42:17 1561; STUBBS Alex 03:42:18 1562; DAHMS Sven 03:42:19 1563; SIMPSON Ronnie 03:42:19 1564; BENTLEY Victoria 03:42:20 1565; BATEMAN Damion 03:42:21 1566; HART Fraser 03:42:21 1567; ATTWOOD Robert 03:42:21 1568; PAICE Lorna 03:42:22 1569; YAP Woei Lin 03:42:25 1570; GORMAN Robert 03:42:28 1571; BLA?I? Peter 03:42:30 1572; ENOMOTO Goji 03:42:32 1573; GODET Jean-Pierre 03:42:33 1574; AYRE Mark 03:42:34 1575; DAVEY Kristian 03:42:35 1576; WISEMAN Huw 03:42:38 1577; LAITHWAITE Mark 03:42:39 1578; GRADY Paul 03:42:40 1579; WILLIAMS Neil 03:42:44 1580; SINTON-HEWITT Paul 03:42:45 1581; CRUICKSHANK Geoff 03:42:46 1582; STEPHENSON Michael 03:42:46 1583; QUINN Paul 03:42:47 1584; COOPER Stephen 03:42:47 1585; DAVIE Roger 03:42:47 1586; PIGOTT Steven 03:42:48 1587; RAY Camilla 03:42:48 1588; JONES Simon 03:42:49 1589; ALLISTER Rosie 03:42:50 1590; CONLEY Ben 03:42:52 1591; BROWN Allison 03:42:52 1592; WEAVER James 03:42:57 1593; BRAY Lindsay 03:42:58 1594; WILLIAMS Danielle 03:42:59 1595; HODGSON Steve 03:43:00 1596; SHAW Peter 03:43:01 1597; MARSHALL Shaun 03:43:01 1598; CAIRNS John 03:43:02 1599; MURPHY Gordon 03:43:03 1600; PACE Antoine 03:43:03 1601; DUCKITT Paul 03:43:03 1602; WILLIAMS Harriet 03:43:03 1603; BROWNE Steve 03:43:05 1604; PEMBROKE Lee 03:43:05 1605; FLANAGAN Tracy 03:43:07 1606; KENNEDY Patrick 03:43:10 1607; FIELD Ivan 03:43:10 1608; ANDERSON Laura 03:43:10 1609; BAINES Stephen 03:43:11 1610; CURRIE Trevor 03:43:12 1611; MOORE Jonathan 03:43:14 1612; MCGINTY Stephen 03:43:15 1613; OWEN Kirsty 03:43:16 1614; ALEXANDER Mark 03:43:16 1615; CAMERON Cisca 03:43:17 1616; THOM Raymond 03:43:18 1617; BAIN Stuart 03:43:18 1618; MELDRUM Neil 03:43:19 1619; TURNER Stephanie 03:43:20 1620; CORR Peter 03:43:21 1621; KERR Joanne 03:43:21 1622; POTTER Louise 03:43:21 1623; MILLER Vicki 03:43:22 1624; PLUMMER Ben 03:43:23 1625; HARRIS John 03:43:24 1626; NAGY Erika 03:43:25 1627; WHEELER Damian 03:43:26 1628; SHARKEY Cameron 03:43:28 1629; ATKIN Simon 03:43:30 1630; GUNN Euan 03:43:31 1631; KERINS Eoghan 03:43:31 1632; CHUTER Charles 03:43:32 1633; 3532 Runner 03:43:34 1634; CROMBIE Ross 03:43:34 1635; MATHERS Joe 03:43:34 1636; MC KELLIGAN Jesus 03:43:36 1637; MUIR Ian 03:43:37 1638; MCNEELY Martin 03:43:37 1639; PARKER Phil 03:43:38 1640; STEWART Robert 03:43:39 1641; ROE Mark 03:43:39 1642; MCKAIL James 03:43:39 1643; LITTLE Graham 03:43:41 1644; ZILLWOOD Daniel 03:43:41 1645; CHIAVAROLI Carlo 03:43:43 1646; HOUSTON Paul 03:43:44 1647; SMALLWOOD Llyr 03:43:48 1648; MCCUSKER Eamonn 03:43:48 1649; FOSH Paul 03:43:50 1650; ALDRIDGE Richard 03:43:51 1651; HAMBLETON Jack 03:43:53 1652; ENGELBRECHT Gemma 03:43:53 1653; HANSEN Jørgen 03:43:54 1654; MACKEY Ross 03:43:55 1655; NICOLL Chris 03:43:58 1656; NORDIO Barbara 03:44:02 1657; KIRCHNER Christoph 03:44:02 1658; MARTINEZ Jean-Cyril 03:44:04 1659; MARTINELLI Andrea 03:44:04 1660; WILCOCK Richard 03:44:05 1661; DALLAS Alan 03:44:07 1662; DAVIS Barry 03:44:09 1663; SEARLE Hannah 03:44:10 1664; BLACK Kate 03:44:12 1665; IMONG Katharine 03:44:12 1666; SMITH Philip 03:44:12 1667; MULLER Laurent 03:44:13 1668; BARBER Adam 03:44:14 1669; WHITE Nicholas 03:44:15 1670; PAZOS Montserrat 03:44:18 1671; PERKINS James 03:44:19 1672; BETTS Jocelyn 03:44:23 1673; DAWSON James 03:44:24 1674; COXSHALL Fiona 03:44:26 1675; MORRIS Andrew 03:44:26 1676; COOPER Stewart 03:44:27 1677; ANGERER Gregor 03:44:27 1678; NELSON James 03:44:28 1679; EGAN Russell 03:44:28 1680; MCCANN Gordon 03:44:29 1681; NORLEY Lyndon 03:44:29 1682; HANSON Christopher 03:44:30 1683; THOMSON Alix 03:44:30 1684; FOX Brian 03:44:30 1685; CARRINGTON Mark 03:44:32 1686; CHEEMA Naveed 03:44:33 1687; LAWRENCE Paul 03:44:33 1688; OVEREND Roslind 03:44:34 1689; GUHL Jerome 03:44:34 1690; PRITCHARD Rob 03:44:38 1691; STOREY Mark 03:44:39 1692; LAVERY Roan 03:44:40 1693; MOLYNEUX Ed 03:44:40 1694; JACKSON Simon 03:44:40 1695; HART David 03:44:40 1696; ATTFIELD Michael 03:44:41 1697; MARSHALL Jamie 03:44:43 1698; SWAN Norrie 03:44:44 1699; MATTSSON Peter 03:44:46 1700; HATTON Anthony 03:44:46 1701; HORROCKS Richard 03:44:47 1702; TITTARELLI Roberto 03:44:49 1703; CHAPMAN Chris 03:44:49 1704; ANDRE Stanislas 03:44:50 1705; MCCORMICK Paul 03:44:57 1706; BOWKER Lianne 03:44:58 1707; STEWART Justin 03:44:59 1708; CUMMINGS Laura 03:45:01 1709; MITCHELL Colin 03:45:02 1710; KOHLHAS Klaus 03:45:02 1711; YOUNG Stephen 03:45:03 1712; STEPHENSON Darren 03:45:07 1713; MOULDER Jacqueline 03:45:07 1714; JONES Steve 03:45:07 1715; GUðMUNDSDOTTIR Holmfriður Asa 03:45:08 1716; TELFER Stuart 03:45:10 1717; HORNSBY Graham 03:45:11 1718; MCKEVITT Aaron 03:45:12 1719; GASPOZ Denis 03:45:12 1720; MATHESON Calum 03:45:13 1721; TUPHOLME Steve 03:45:15 1722; HUTCHISON Scott 03:45:15 1723; MOLES Caroline 03:45:15 1724; THOMPSON Michael 03:45:17 1725; FOWLER Andy 03:45:17 1726; HARVEY Rebecca 03:45:18 1727; BROWNE Helen 03:45:19 1728; HORNE Mark 03:45:23 1729; SALAZAR Felipe 03:45:23 1730; ARMSTRONG Darren 03:45:26 1731; O'DONNELL John 03:45:27 1732; BOWDEN Patrick 03:45:29 1733; ROSS Paul 03:45:31 1734; MCDONALD Mark 03:45:31 1735; CHAD Tim 03:45:32 1736; LEMMING Mark 03:45:32 1737; MOIR Anna 03:45:32 1738; LASBREY James 03:45:32 1739; DAVIDSON James 03:45:33 1740; GIBSON Bernie 03:45:33 1741; FAIRLEY Christopher 03:45:33 1742; LEAMY Kenneth 03:45:36 1743; HILL Mhairi 03:45:37 1744; SZARKA Zsolt 03:45:39 1745; COX Kevin 03:45:42 1746; OUDINOT Cedric 03:45:42 1747; RIVERS Ryan 03:45:43 1748; BRAITHWAITE Suzanna 03:45:44 1749; MARTIN Dean 03:45:46 1750; PILLING Matthew 03:45:47 1751; JONES David 03:45:48 1752; REID David 03:45:48 1753; GAMZU Ronni 03:45:50 1754; WILEMAN Ben 03:45:51 1755; WAKE Darren 03:45:53 1756; MURPHY Lorna 03:45:54 1757; KLIMASHEVSKIY Igor 03:45:54 1758; CLAYTON Colin 03:45:55 1759; MASIERO Gianfranco 03:45:55 1760; LONGUE Camille 03:45:56 1761; KEIGHLEY Tom 03:45:58 1762; GRAY Robert 03:45:58 1763; HARRIOTT Mark 03:45:58 1764; HEANEY Martyn 03:45:59 1765; RAIMANN Christian 03:46:01 1766; KRISTINSSON Ivar 03:46:01 1767; FRAIN Mark 03:46:07 1768; CLARK Malcolm 03:46:07 1769; KENT Colin 03:46:08 1770; ROUNCEFIELD Carol 03:46:08 1771; KULL Margus 03:46:11 1772; WELLER Roy 03:46:11 1773; PITT Chris 03:46:12 1774; MURPHY Brian 03:46:13 1775; THOMPSON Graeme 03:46:14 1776; JOHNSON Liam 03:46:15 1777; WILSON Richard 03:46:15 1778; BASSETT Nelson 03:46:18 1779; ASHTON David 03:46:19 1780; BROWN Thomas 03:46:20 1781; PERRIMAN Katherine 03:46:21 1782; DIXON Jody 03:46:22 1783; GARDNER June 03:46:24 1784; OGUNYE Wale 03:46:24 1785; WOOD Carlton 03:46:25 1786; HALE Darren 03:46:25 1787; REID Iain 03:46:26 1788; FOGG Meryl 03:46:26 1789; BAKER Cheryl 03:46:28 1790; METCALFE Tim 03:46:28 1791; TAYLOR Lucy 03:46:29 1792; SCHNEIDER Heinrich 03:46:31 1793; JONES Keith 03:46:32 1794; LAGONELL Gustavo 03:46:35 1795; MCMEEKIN Scott 03:46:35 1796; ROSS Derek 03:46:36 1797; GEDDIS David 03:46:38 1798; DORRIAN Andrew 03:46:39 1799; THWAITE Helen 03:46:41 1800; KERR Stewart 03:46:42 1801; PARNHAM Maria 03:46:42 1802; CHEYNE Andy 03:46:42 1803; GAUNT Chris 03:46:44 1804; DE MAX Linda 03:46:48 1805; HUTCHINGS Adam 03:46:49 1806; CLARKE NOBLE Desiree 03:46:50 1807; CORTINOVIS Alberto 03:46:51 1808; FALLON Thomas 03:46:51 1809; PERROTT Daniel 03:46:51 1810; KING Mike 03:46:53 1811; FULLARD Robert 03:46:54 1812; HALL Fraser 03:46:56 1813; MURDOCH David 03:46:56 1814; WALKER Martin 03:46:57 1815; BETTAM Richard 03:46:58 1816; O'DONNELLSTEPHENO Stephen 03:46:59 1817; WILLOUGHBY Scott 03:47:00 1818; GAWOR Zbigniew 03:47:00 1819; WADDINGTON Jay 03:47:00 1820; ROONEY Benny 03:47:00 1821; GOMERSALL Lee 03:47:01 1822; ROSS John 03:47:02 1823; YOUNG John 03:47:04 1824; KELLY Alexander 03:47:05 1825; CASH Adam 03:47:08 1826; CAMPBELL Shona 03:47:08 1827; FLIKWEERT Rian 03:47:09 1828; REYNOLDS Dave 03:47:10 1829; WILSON Jennifer 03:47:15 1830; BURGOYNE Kevin 03:47:17 1831; FERGUSON Simon 03:47:18 1832; NIELSEN Suzi 03:47:22 1833; TAYLOR Michael 03:47:23 1834; BAXTER David 03:47:24 1835; JONES Linda 03:47:24 1836; RHODES Ben 03:47:24 1837; WOOD James 03:47:24 1838; BERTONCELLO Maurizio 03:47:24 1839; THOMSON Titus 03:47:27 1840; SKELTON Ian 03:47:27 1841; BAXTER James 03:47:28 1842; TAYLOR Pamela 03:47:29 1843; BROWN Roderick 03:47:30 1844; HAWKINS Katy 03:47:30 1845; MCCLEAN Andy 03:47:30 1846; NAGODZKI Szymon 03:47:31 1847; SMITH Alison 03:47:33 1848; HIGHAM James 03:47:33 1849; HOBBS Roger 03:47:33 1850; HIGGINS Mark 03:47:35 1851; MCLEAN Euan 03:47:35 1852; HOWARD Mark 03:47:36 1853; BRIGHTWELL Maria 03:47:36 1854; BELL Richard 03:47:37 1855; YOUNG Shona 03:47:38 1856; ELLIS Kerrylee 03:47:40 1857; BLOMLEY Greg 03:47:40 1858; GRIFFITHS Andrew 03:47:41 1859; ROBERTSON John 03:47:41 1860; PINNNINGTON Philip 03:47:42 1861; COMBE Bruce 03:47:43 1862; CAMPBELL John 03:47:44 1863; HOWLEY Martin 03:47:44 1864; GODDARD Kristian 03:47:45 1865; WAPPLINGTON Darren 03:47:47 1866; CRONIN Tom 03:47:47 1867; SHANKLAND Hamish 03:47:48 1868; THOMSON Eric 03:47:48 1869; HOLT Julian 03:47:48 1870; HARAN Natalie 03:47:48 1871; MEARNS Jim 03:47:48 1872; PATEL Saleem 03:47:49 1873; MOULE Klaus 03:47:50 1874; LEWIS Colin 03:47:50 1875; WEBER Michel 03:47:51 1876; SEENAN James 03:47:52 1877; CAIRNEY Scott 03:47:52 1878; HENDRY Martin 03:47:52 1879; STEWART Gregor 03:47:52 1880; NELLIST Peter 03:47:54 1881; WARD William 03:47:56 1882; OSTELL Wendy 03:47:57 1883; CLUBBS Euan 03:47:59 1884; LYNCH Stephen 03:48:00 1885; NAYLOR Gary 03:48:01 1886; LLORENTE Bryan 03:48:01 1887; DOWNES Ciara 03:48:02 1888; SMITH Martin 03:48:04 1889; WOOTTON Keith 03:48:05 1890; SMITH Glynn 03:48:05 1891; VAN DER VRIES Gerard 03:48:07 1892; DURHAM Huw 03:48:09 1893; STEVENSON Paul 03:48:10 1894; DIXON Richard 03:48:13 1895; MACMILLAN Bruce 03:48:13 1896; BRADFIELD Adele 03:48:15 1897; AMONARRIZ Iker 03:48:17 1898; KERRIGAN Frank 03:48:17 1899; MORTON Jacqueline 03:48:17 1900; GODWIN Cindy 03:48:17 1901; CAMPBELL Logan 03:48:19 1902; THOMSON Euan 03:48:20 1903; HART Lynda 03:48:20 1904; OSTROWSKI Radek 03:48:20 1905; HORTON Michael 03:48:21 1906; JONES Stephen 03:48:22 1907; COLMAN Mark 03:48:25 1908; FORD Jerry 03:48:25 1909; PENISTON Thomas 03:48:26 1910; LAMBIE Stuart 03:48:29 1911; RITCHIE Graham 03:48:29 1912; KUBISOVA Zuzana 03:48:30 1913; KAZANIECKI Wieslaw 03:48:30 1914; SMITH Gareth 03:48:33 1915; MCCARTHY Sarah 03:48:34 1916; WOODS David 03:48:35 1917; CLEMENT Paul 03:48:36 1918; WARBURTON Douglas 03:48:37 1919; SCOTT Evita 03:48:38 1920; CAMPBELL Paul 03:48:41 1921; CHAMBERLAIN Ruth 03:48:42 1922; WALKER Michael 03:48:47 1923; BOWNES Ian 03:48:50 1924; JARVIS Adrian 03:48:52 1925; ROCK Cheryl 03:48:53 1926; SCHOLEFIELD Jonathan 03:48:53 1927; DUGUID Ian 03:48:54 1928; MARTINSEN Elizbeth 03:48:56 1929; WARRIS Susie 03:48:56 1930; SLOAN David 03:48:57 1931; GARCHA Jas 03:48:58 1932; MANUEL Alan 03:49:00 1933; NIXON David 03:49:01 1934; STOREY Christopher 03:49:01 1935; AYRES Joshua 03:49:02 1936; MOFFAT Andrew 03:49:02 1937; BAINES Barry 03:49:03 1938; NASH Kate 03:49:05 1939; PRICE Matthew 03:49:05 1940; MIES Thorsten 03:49:05 1941; FRY James 03:49:05 1942; HILLHOUSE Grant 03:49:06 1943; FERGUSSON Paul 03:49:09 1944; HUGHES Richard 03:49:09 1945; HOWDEN-LEACH Paul 03:49:10 1946; ERVIN Daley 03:49:10 1947; LURF Marion 03:49:11 1948; LYNHAM Cathy 03:49:12 1949; ROBERTSON Bruce 03:49:12 1950; O\'BRIEN Tony 03:49:13 1951; WOOD Colin 03:49:13 1952; PELC Nicki 03:49:13 1953; ENOCK Christopher 03:49:17 1954; SWEENEY John 03:49:17 1955; MACCALLUM Niall 03:49:17 1956; HOLM Karsten 03:49:18 1957; WEAVERS Adrian 03:49:18 1958; WILLIAMS Peter 03:49:19 1959; MOORE Ben 03:49:20 1960; JEAN Cupiti 03:49:20 1961; GILLESPIE Anthony 03:49:20 1962; GROOM Ian 03:49:22 1963; GORDON Ian 03:49:22 1964; MCBLAIN Stephen 03:49:23 1965; VAN DEN BERG Jacobus 03:49:25 1966; COWAN Alan 03:49:25 1967; SOLLAS Vernon 03:49:25 1968; HENISON Carla 03:49:25 1969; WHITE Jonathan 03:49:27 1970; KREGIELSKA Anita 03:49:27 1971; SUDELL Greg 03:49:28 1972; LODGE Oliver 03:49:28 1973; BAKER Marcus 03:49:29 1974; GOLDING Cliff 03:49:29 1975; KILBURN Valerie 03:49:33 1976; BARBER Sara 03:49:34 1977; DELLER Otterly 03:49:34 1978; MCGEECHAN John 03:49:35 1979; PHYTHIAN Jamie 03:49:35 1980; MOGGACH Stuart 03:49:36 1981; COOK Helen 03:49:37 1982; COLES Andrew 03:49:38 1983; HILLMANN Juliane 03:49:38 1984; CURZON-HOPE Max 03:49:38 1985; HAWKES Simon 03:49:39 1986; NAPIER Charlotte 03:49:39 1987; LAWSON Gavin 03:49:40 1988; MATTHEWS Paul 03:49:41 1989; HUTCHISON Vincent 03:49:41 1990; THORNE Cameron 03:49:42 1991; FORSTER Steve 03:49:42 1992; WHYAND Sarah 03:49:43 1993; SIMON Jonathan 03:49:43 1994; LAMONT Neal 03:49:43 1995; PEARSON Sharron 03:49:44 1996; WHITE Jonathan 03:49:44 1997; LOWDON David 03:49:44 1998; BLUNDELL Graham 03:49:47 1999; CASE Barry 03:49:48 2000; MCDONALD Shaun 03:49:48 2001; COOKSLEY Stephen 03:49:48 2002; DAVIDSON Gerard 03:49:50 2003; MANSON Andrew 03:49:50 2004; LUCCHESIPAULL Paul 03:49:50 2005; BALAGUE Enric 03:49:52 2006; JAMESON William 03:49:53 2007; STURROCK Brian 03:49:55 2008; ATWELL Christopher 03:49:55 2009; PASCOE Stephen 03:49:56 2010; HAMILTON Margaret 03:49:56 2011; DIGMAN Rachel 03:49:59 2012; MCDADE Stephen 03:50:00 2013; ROBERTSON Sylvia 03:50:00
2014; HURTA-CRITES Melissa 03:50:01 2015; WAY Darren 03:50:01 2016; DAVIES Jack 03:50:04 2017; SWAIN Michelle 03:50:04 2018; GALLAGHER Paul 03:50:04 2019; HARRINGTON David 03:50:05 2020; HANLEY Stephen 03:50:08 2021; WINTER Martin 03:50:08 2022; VIRTUE Michael 03:50:09 2023; FITZJOHN Tom 03:50:09 2024; LINCOLN David 03:50:10 2025; TAYLOR Iain 03:50:11 2026; STOKES Anna 03:50:12 2027; UTTECHT Carole 03:50:12 2028; ANDERTON Rachel 03:50:15 2029; NEEDHAM Murray 03:50:15 2030; MACLEOD Allison 03:50:17 2031; HAMBLETT Diane 03:50:17 2032; STRICKLAND Vanessa 03:50:19 2033; BELLETTY Damian 03:50:23 2034; PEARCE Wayne 03:50:24 2035; DUCKWORTH Laura 03:50:25 2036; HAM Jane 03:50:25 2037; WALKER Dan 03:50:26 2038; THOMSON Nicola 03:50:28 2039; BARSBY David 03:50:28 2040; ROY Stuart 03:50:29 2041; FRASER Michael 03:50:30 2042; MELONI Gaetano Franco 03:50:31 2043; JAMES Joanne 03:50:32 2044; TORRESIN Diego 03:50:33 2045; SCAPIN Massimo 03:50:33 2046; GUILLAUD BATAILLE Sylvain 03:50:34 2047; JANER Marine 03:50:34 2048; KENNEDY Euan 03:50:34 2049; HUMPHREY Joseph 03:50:34 2050; WILSON Iain 03:50:36 2051; DICK Alan 03:50:36 2052; MOWBRAY Alison 03:50:37 2053; ROLFE Daisie 03:50:38 2054; KELLERMANN Christian 03:50:38 2055; LANGE Theo 03:50:39 2056; ALLISON Billy 03:50:39 2057; PEARSON Simon 03:50:42 2058; CONNOR William 03:50:42 2059; BASTERFIELD Matt 03:50:43 2060; LAY Alasdair 03:50:44 2061; SUNDERLAND Susan 03:50:44 2062; SHIELDS Rob 03:50:45 2063; O'MALLEY Sarah 03:50:45 2064; WOOD Scott 03:50:45 2065; FERGUSON Gary 03:50:45 2066; MARTIN Rhona 03:50:47 2067; GEORGE Tony 03:50:48 2068; DIXON Lee 03:50:49 2069; GRANGE Ian 03:50:52 2070; ROBERTS Richard 03:50:54 2071; BRYAN Ian 03:50:54 2072; GARDEN Jennifer 03:50:55 2073; STEAD Sarah 03:50:56 2074; BEADLE James 03:50:56 2075; LENNIE Barry 03:50:58 2076; STOSSBERGER Udo 03:50:58 2077; BROWN David 03:50:58 2078; GOODALL Nick 03:50:58 2079; DUFFY Barry 03:51:01 2080; MARAHATTA Surya Nath 03:51:02 2081; SUMMERFIELD Amanda 03:51:03 2082; PARRIS Denise 03:51:04 2083; GARWOOD Kevin 03:51:05 2084; READER Kim 03:51:05 2085; SAIT Christian 03:51:05 2086; FLEMING David 03:51:07 2087; DE ALBUQUERQUE Katie 03:51:08 2088; CLAUDIANOS Pagona 03:51:08 2089; SMITH Simon 03:51:10 2090; MCNEILL Niall 03:51:11 2091; HERNANDEZ GARCIA Ventura 03:51:12 2092; MILLER Carolann 03:51:12 2093; TAYLOR Chas 03:51:13 2094; SADLER Karen 03:51:14 2095; MOORE Andy 03:51:16 2096; O'HAGAN Derek 03:51:16 2097; QUALTER Brendan 03:51:16 2098; BIGGS Roger 03:51:17 2099; HADLOW Chris 03:51:17 2100; REHWINKEL Gertjan 03:51:18 2101; SLAUGHTER Mark 03:51:20 2102; TAYLOR Neil 03:51:23 2103; MC KEE Ruth 03:51:24 2104; NEAL Matthew 03:51:24 2105; BUCKLEY Linda 03:51:26 2106; BACHMANN Andrea 03:51:27 2107; CATLEY Jane 03:51:27 2108; MACARTHUR Andrew 03:51:28 2109; MCHARG-SHARP Samantha 03:51:29 2110; TRAFFORD Claire 03:51:33 2111; BUCKNER Greig 03:51:33 2112; PENDER Lorna 03:51:34 2113; BAINES Mick 03:51:34 2114; PILLOT Julien 03:51:34 2115; LOCKHART Nicola 03:51:34 2116; DENNIS John 03:51:35 2117; DENNIS Gemma 03:51:35 2118; DENT James 03:51:35 2119; FALLEN Gavin Daniel 03:51:36 2120; LAROCHE David 03:51:37 2121; TILLEY Chris 03:51:37 2122; GODDARD David 03:51:38 2123; HARRIS Tony 03:51:39 2124; BROUGHTON Melissa 03:51:40 2125; BOSTON Alison 03:51:42 2126; MURPHY Damien 03:51:42 2127; STONER Joanne 03:51:43 2128; JENKINS Elspeth 03:51:43 2129; BEAUMONT Jon 03:51:43 2130; THOMAS Bechu 03:51:45 2131; VICENTE FERNANDEZ Jose Joaquin 03:51:45 2132; MACKAY Lucy 03:51:46 2133; HOLLAND Tracey 03:51:48 2134; LAWSON Charlotte 03:51:49 2135; EDWARDS Stuart 03:51:50 2136; JONES Gary 03:51:51 2137; WELDON Emma 03:51:51 2138; NUGTER Stephan 03:51:53 2139; HUGHES Joe 03:51:54 2140; SOMOGYI Lilla 03:51:55 2141; FRANZ Jonathon 03:51:57 2142; PEAKE Yvonne 03:51:57 2143; RUTHVEN David 03:51:57 2144; MOORE Kevin 03:51:58 2145; EVANS Andrea 03:52:00 2146; O'LEARY Paul 03:52:02 2147; MOORE Andrew 03:52:03 2148; ZECHA Clemens 03:52:03 2149; BIRCH Moira 03:52:06 2150; VON ARX Clement 03:52:06 2151; GILL Adrian 03:52:06 2152; FERNáNDEZ HERVáS Alfonso 03:52:07 2153; TUCKER Paul 03:52:08 2154; PYE Kimberley 03:52:08 2155; PORTEOUS Amy 03:52:09 2156; WHYTE Christopher 03:52:09 2157; HOPPER Shaun 03:52:12 2158; ABADIANO Norman 03:52:12 2159; DOWNEY Steve 03:52:15 2160; FALLON Jason 03:52:15 2161; REID Gordon 03:52:15 2162; COOPER Ruth 03:52:17 2163; MCVEIGH Heather 03:52:17 2164; ZANETTI Riccardo 03:52:19 2165; GHAFOOR Sajad 03:52:20 2166; JINKS Katy 03:52:22 2167; PYNE John 03:52:23 2168; CHRISTIAN David 03:52:24 2169; PASSMORE Emma 03:52:25 2170; ROGERS Duncan 03:52:27 2171; JONES Nigel 03:52:27 2172; KING Vicky 03:52:28 2173; MILLS Thomas 03:52:29 2174; MEGSON Kevin 03:52:29 2175; BARRETT Neil 03:52:30 2176; WRIGHT Julie 03:52:31 2177; HOLDCROFT Clare 03:52:31 2178; INGS Damian 03:52:32 2179; REEVE Sarah 03:52:33 2180; MACK John 03:52:34 2181; LEVIS Hannah 03:52:34 2182; ROGAN David 03:52:34 2183; HOLLERAN Martin 03:52:35 2184; GYENESEI Attila 03:52:36 2185; STRATFORD Michael 03:52:36 2186; COULL Emma 03:52:37 2187; BAXTER Tom 03:52:37 2188; SMITH Ricky 03:52:37 2189; CRANDELL Chelsey 03:52:38 2190; WILKINSON Liam 03:52:38 2191; DAVIES Carey 03:52:38 2192; ELMER Chris 03:52:38 2193; COPE David 03:52:38 2194; BLACKWELL Mark 03:52:39 2195; BAXTER Sean 03:52:42 2196; TEMPLEMAN Andrew 03:52:42 2197; DOWNEY Will 03:52:43 2198; MCLOUGHLIN Kevin 03:52:43 2199; SLAUGHTER Andrew 03:52:44 2200; HAAG Catharina 03:52:45 2201; FLETCHER Paul 03:52:47 2202; SINCLAIR Derrick 03:52:47 2203; COYLE James 03:52:51 2204; SIMPSON Shaun 03:52:52 2205; PATTERSON Ian 03:52:54 2206; SMART Andy 03:52:55 2207; MUNDY Sam 03:52:55 2208; STOUT Fiona 03:52:55 2209; MCLEOD Amy 03:52:55 2210; DALRYMPLE Claire 03:52:56 2211; ORME Judy 03:52:57 2212; SODERLUND Kris 03:52:59 2213; BUCK Tony 03:52:59 2214; GALE Jonathan 03:53:00 2215; GALL Allan 03:53:01 2216; ABENSUR Jonathan 03:53:01 2217; BARLOW Alun 03:53:02 2218; ROLF Christian 03:53:04 2219; BURNET Lynn 03:53:04 2220; WONG Edwin 03:53:04 2221; COCKBURN Christopher 03:53:04 2222; MACDONALD Colin 03:53:05 2223; LIDDLE Gavin 03:53:07 2224; SMITH Ewan 03:53:08 2225; BROOKS Arthur 03:53:09 2226; SPARKS Jason 03:53:09 2227; WHITTLE David 03:53:09 2228; SPALDING Hazel 03:53:09 2229; CORNWELL Martin 03:53:09 2230; DOW Keith 03:53:10 2231; KALNY Pavel 03:53:13 2232; STANFIELD Christopher 03:53:14 2233; LONGSTAFFE Colette 03:53:15 2234; IMESON Mark 03:53:15 2235; DEVLIN John 03:53:15 2236; PARNHAM Phillip 03:53:17 2237; MASON Matthew 03:53:18 2238; TANSLEY James 03:53:18 2239; O\\'HARA Kristina 03:53:19 2240; DAUREL Pascal 03:53:19 2241; DEVINE James 03:53:21 2242; MARTIN-FISHER Henrietta 03:53:21 2243; WILLIAMS Katy 03:53:22 2244; JONES Ian 03:53:24 2245; GAGE Matthew 03:53:24 2246; ALES Gaetano 03:53:24 2247; COLE Catherine 03:53:25 2248; LE-ROY Martin 03:53:25 2249; SHAW Gary 03:53:25 2250; EDWARDS Helen 03:53:26 2251; DEAKIN Leon 03:53:26 2252; TAYLOR Chris 03:53:27 2253; CROUCHER Annabel 03:53:27 2254; CRAW Callum 03:53:27 2255; RHYMER Eddie 03:53:30 2256; CASTILLO Samantha 03:53:30 2257; ASHMAN Joe 03:53:31 2258; PROVAN John 03:53:31 2259; WILSON Mark 03:53:32 2260; DICK Cameron 03:53:34 2261; CLAYTON Neville 03:53:36 2262; LAUGHEY Bill 03:53:36 2263; PERRY Steve 03:53:38 2264; GENT Ben 03:53:39 2265; DONNET Alex 03:53:39 2266; WESTGARTH Tim 03:53:40 2267; WATKINS Jon 03:53:40 2268; MINAUDO Vito 03:53:40 2269; HAMILTON Andy 03:53:42 2270; FRODSHAM Robert 03:53:42 2271; FRODSHAM Amanda 03:53:42 2272; JOHNSTON Calum 03:53:42 2273; JONES Bruce 03:53:45 2274; MCDONALD Isabel 03:53:45 2275; LOWINGS Nathan 03:53:46 2276; NOBLET Charles 03:53:47 2277; ORCHARD Elizabeth 03:53:50 2278; BROADLEY Paul 03:53:51 2279; KRAMER Graham 03:53:53 2280; DAWS Phil 03:53:53 2281; SMITH Kevin 03:53:53 2282; THOMSON Richard 03:53:53 2283; ALVAREZ Javier 03:53:54 2284; ELLIOTT Chris 03:53:55 2285; ALSTON Angus 03:53:56 2286; WATT Travis 03:53:58 2287; WILSON Andrew 03:53:58 2288; WILLIS Paul 03:53:59 2289; SMITH Gavin 03:54:00 2290; LANDROCK Huw 03:54:01 2291; HRCEK Petr 03:54:02 2292; SHEPPARD Michael 03:54:06 2293; KEMP Michael 03:54:08 2294; GRANT Evelyn 03:54:08 2295; BOTTOMLEY Simon 03:54:08 2296; MUIRHEAD Christian 03:54:09 2297; HESELWOOD Paul 03:54:09 2298; LAWSON Euan 03:54:10 2299; HASTIE Nicola 03:54:10 2300; MILLWARD Andy 03:54:13 2301; EASTERBY Richard 03:54:13 2302; QUINN Kevin 03:54:13 2303; GRIGG Ricky 03:54:15 2304; GONZALEZ Luis 03:54:16 2305; LONGMUIR Kyle 03:54:17 2306; PANTER Nigel 03:54:18 2307; BRAMLEY Neil 03:54:20 2308; BLACK Gordon 03:54:24 2309; MEDLOCK Christopher 03:54:26 2310; TAYLOR Kenneth 03:54:26 2311; TREACY Peter 03:54:27 2312; PEARCE Matt 03:54:30 2313; DAVIS John 03:54:31 2314; BRADLEY-WATSON James 03:54:32 2315; D'ARCY Steven 03:54:33 2316; HESS Alex 03:54:34 2317; WILLSON Paul 03:54:34 2318; WELLER Michael 03:54:34 2319; SWIFT Clare 03:54:34 2320; GALLENMULLER Katharina 03:54:34 2321; TOWNLEY Philip 03:54:34 2322; BARRETT Joseph 03:54:35 2323; GIBSON Deborah 03:54:36 2324; DOUGLAS Tracey 03:54:36 2325; DOUGLAS George 03:54:37 2326; WOOD Jenny 03:54:39 2327; FULTON Colin 03:54:40 2328; SINCLAIR Mark 03:54:42 2329; FRASER Rory 03:54:43 2330; CARCARY Mark 03:54:46 2331; DICK Andrew 03:54:47 2332; BANHAM Gerry 03:54:48 2333; SWAN Gordon 03:54:49 2334; GOSS Colin 03:54:49 2335; HALONEN Paavo 03:54:49 2336; FARRANT Edward 03:54:50 2337; FAIRCLOUGH Thomas 03:54:51 2338; WELLS Jody 03:54:53 2339; SHERMAN Jonathan 03:54:53 2340; BERLINGER Adolf 03:54:54 2341; HINEY Charles 03:54:54 2342; SMART Jon 03:54:59 2343; CSEPREGI Balazs 03:55:01 2344; ELLIOTT Robert 03:55:01 2345; RILEY James 03:55:02 2346; HAIMAN Tamas 03:55:02 2347; SMITH Susan 03:55:02 2348; SOULSBY Michelle 03:55:04 2349; DUNCAN Robert 03:55:05 2350; CRAVEN Jonathan 03:55:05 2351; GRAY Terry 03:55:06 2352; KAY Christopher 03:55:06 2353; BALLENY Giles 03:55:06 2354; BAIRD Johnny 03:55:09 2355; WIGNALL Charles 03:55:09 2356; DENHAM Angus 03:55:09 2357; TAYLOR Susan 03:55:10 2358; DEAKIN Bessie 03:55:12 2359; GRANT Steven 03:55:14 2360; JONES Owen 03:55:15 2361; LAIDLER Paula 03:55:15 2362; THOMSON Ian 03:55:16 2363; HARRISON Rebecca 03:55:18 2364; ROSS Alistair 03:55:18 2365; MIDDLETON Simon 03:55:19 2366; CROCKER Russell 03:55:20 2367; YAP Sasha 03:55:21 2368; BUFTON Teresa 03:55:22 2369; WAIGHT Clint 03:55:22 2370; BENNETT Craig 03:55:25 2371; SMITH Liz 03:55:25 2372; POWER Luke 03:55:25 2373; LEEDS Neil 03:55:26 2374; HESFORD Damon 03:55:26 2375; SHEARER David 03:55:26 2376; YOUNG Ian 03:55:26 2377; BELL James 03:55:27 2378; SNEAD Andrew 03:55:28 2379; WILLIAMSON Alan 03:55:29 2380; BARKER Thomas 03:55:29 2381; VARLEY Pauline 03:55:31 2382; BAUMANN Dan 03:55:31 2383; PRIESTLEY Adrian 03:55:34 2384; AZRI Saiful 03:55:35 2385; BODENHAM Tabitha 03:55:35 2386; ROSBOTTOM Liz 03:55:36 2387; FREEMAN Susie 03:55:36 2388; DODD Michael 03:55:37 2389; HERRIDGE Shaun 03:55:38 2390; BREWER Timothy 03:55:39 2391; OLD Jason 03:55:39 2392; HUTTON Scott 03:55:40 2393; MCCLELLAND Thomas 03:55:42 2394; LEES Rich 03:55:43 2395; TERNYNCK-PIERRE Servane 03:55:45 2396; SCALLAN Dawn 03:55:46 2397; ROBERTS Jennie 03:55:47 2398; PICK David 03:55:48 2399; HENDERSON Neil 03:55:49 2400; PARKER-WILSON Lloyd 03:55:49 2401; WATSON Graham 03:55:49 2402; BEAUPIERRE Jacques 03:55:50 2403; KILPIN Amy 03:55:52 2404; WILSON Paul 03:55:54 2405; MITCHELL Alastair 03:55:54 2406; CRAGG Richie 03:55:55 2407; VINTON Mark 03:55:55 2408; HOLOHAN Tom 03:55:55 2409; CHURCH David 03:55:56 2410; ARMSTRONG John 03:55:57 2411; CLARK Natascha 03:55:58 2412; STEWART Daniel 03:56:01 2413; BEBBINGTON John 03:56:01 2414; HART Vicky 03:56:03 2415; WARD Elliott 03:56:03 2416; MACKAY Donald 03:56:03 2417; ROBERTSON Jennifer 03:56:03 2418; PARKER Andrew 03:56:03 2419; HIGGINS Paul 03:56:05 2420; GREEN Tim 03:56:06 2421; GRADY Kelly 03:56:07 2422; RENNIE Daniel 03:56:07 2423; SHIRLEY Stephen 03:56:09 2424; DAVIES Yvonne 03:56:09 2425; MURPHY John 03:56:10 2426; THORPE Andrew 03:56:10 2427; MCFARLANE Sean 03:56:11 2428; YOUNG Alex 03:56:11 2429; DEATON Paul 03:56:12 2430; KENNEDY Mark 03:56:14 2431; SINCLAIR Neil 03:56:14 2432; LAWSON Richard 03:56:14 2433; ROBSON Alan 03:56:14 2434; MCDONALD Ryan 03:56:15 2435; PORTER-DAVISON Mark 03:56:15 2436; HACKETT Samuel 03:56:16 2437; PHILP Tracy 03:56:17 2438; ARMSTRONG Neal 03:56:17 2439; TOLAN Patrick 03:56:18 2440; FRY Sarah 03:56:19 2441; LOVELL Nikki 03:56:19 2442; RAEBURN Jill 03:56:19 2443; HISCOCK Elizabeth 03:56:20 2444; FROGGATT Daniel 03:56:21 2445; WALSH Sarah-Jane 03:56:21 2446; GILLESPIE Andrew 03:56:21 2447; BLACK Ian 03:56:22 2448; WELLS Johnny 03:56:22 2449; HELBIG Peter 03:56:23 2450; TAYLOR Claire 03:56:23 2451; DAVIDSON James 03:56:23 2452; LAVERTY Theresa 03:56:23 2453; HUBERT Nicola 03:56:23 2454; GROVER Robert 03:56:24 2455; TROTTER Byam 03:56:24 2456; BLASIUS Helga 03:56:25 2457; THOMPSON Michelle 03:56:27 2458; NORGATE Matthew 03:56:27 2459; NEWMAN Andrew 03:56:27 2460; STANKEVICIUS John 03:56:27 2461; CRANHAM Ben 03:56:27 2462; HODGSON Danny 03:56:28 2463; TUCKER Chris 03:56:28 2464; MATTHEWS Nicola 03:56:29 2465; FAIRWEATHER Nicholas 03:56:29 2466; HUDSON Andrew 03:56:29 2467; TUNSTALL Martyn 03:56:29 2468; HIRST Jonathan 03:56:29 2469; SCHELCHER Isabelle 03:56:30 2470; SENIOR Ben 03:56:31 2471; BROMLEY Ian 03:56:31 2472; MCCALL Chris 03:56:32 2473; GILBERT Fiona 03:56:34 2474; BONNEAU Gilles 03:56:34 2475; WILLIAMS Mel 03:56:35 2476; O'HARE John 03:56:35 2477; COLLEY Alastair 03:56:35 2478; ANSELL Richard 03:56:35 2479; RITCHIE Alan 03:56:36 2480; JONES Richard 03:56:36 2481; MOORE Suja 03:56:36 2482; GRAHAM Eddy 03:56:36 2483; SZWED Lukasz 03:56:36 2484; BINHAM Tim 03:56:36 2485; PRINGLE Ian 03:56:37 2486; ARMSTRONG Will 03:56:37 2487; ALVARENGA Alessandro 03:56:38 2488; COSTIGAN Teresa 03:56:38 2489; YOUNG Ross 03:56:38 2490; BENWELL Paul 03:56:39 2491; RITCHIE Ronnie 03:56:39 2492; ROSE Julie 03:56:39 2493; FISHER Heather 03:56:40 2494; KNOX Scott 03:56:41 2495; GIBBONS John 03:56:43 2496; DUNCAN Andrew 03:56:43 2497; BARKER Louise 03:56:44 2498; HEATH David 03:56:45 2499; ADDINGTON Michael 03:56:45 2500; BLUM Birgit 03:56:46 2501; BANNER Charles 03:56:48 2502; WEAR Christopher 03:56:48 2503; ADAM David 03:56:49 2504; CLEMENTS Charlie 03:56:49 2505; KELLY Gordon 03:56:51 2506; MCHUGH Francis 03:56:53 2507; TOFT Neil 03:56:53 2508; REYNOLDS Gerard 03:56:53 2509; BROWN Kevin 03:56:55 2510; HUSSAIN Shamoon 03:56:55 2511; SANDILANDS Grant 03:56:56 2512; MCCAW Chris 03:56:56 2513; CAMERON Ian 03:56:56 2514; PENTLAND Richard 03:56:57 2515; BRESSINGTON Jade 03:56:57 2516; AUSTIN Sam 03:56:58 2517; CAMERON Stuart 03:56:58 2518; DUNDAS Dorothy 03:56:58 2519; WALTER Alex 03:56:59 2520; MACKINNEY Rachel 03:56:59 2521; SMITHSON Richard 03:57:01 2522; SMITH Robert 03:57:01 2523; KENNEDY Clare 03:57:02 2524; INGLIS Keith 03:57:03 2525; WYATT Nicole 03:57:03 2526; DICKSON Joanne 03:57:03 2527; BUTCHER Jamie 03:57:06 2528; MURRAY Iain 03:57:07 2529; CLARKE Thomas 03:57:07 2530; GIBSON Steven 03:57:07 2531; NOLAN James 03:57:11 2532; REILLY Stuart 03:57:12 2533; WILKIE Ian 03:57:12 2534; BRYAN Justin 03:57:13 2535; SOMERVILLE Ian 03:57:13 2536; BROWN Paul 03:57:15 2537; O DONNELL Bernie 03:57:15 2538; BELL Adam 03:57:17 2539; GILLESPIE Scott 03:57:17 2540; MCINNES Lorna 03:57:19 2541; SAUNDERS Mark 03:57:20 2542; MACDONALD Catherine 03:57:20 2543; MADRY Piotr 03:57:21 2544; HENDRICK Rachel 03:57:22 2545; GOW Neil 03:57:22 2546; KEIR Derek 03:57:23 2547; CHARD Angharad 03:57:23 2548; SCHLODER Monika 03:57:24 2549; VETTRAINO Mark 03:57:24 2550; BOX Stewart 03:57:25 2551; THORUP Klaus 03:57:27 2552; PITCAIRN Ewan 03:57:27 2553; DRUAIS Jean Paul 03:57:27 2554; BROWN John 03:57:28 2555; MITCHELL William 03:57:29 2556; FOX Paul 03:57:29 2557; BROWN Amanda 03:57:30 2558; MCKECHNIE Elaine 03:57:30 2559; BRYAN Ian 03:57:31 2560; COYLE John 03:57:31 2561; EMERY Oliver 03:57:32 2562; POSTLES Graham 03:57:32 2563; HEADY Mark 03:57:33 2564; MCKECHNIE Ricky 03:57:33 2565; FULLBROOK Richard 03:57:33 2566; HODGSON Charlie 03:57:33 2567; HALLIDAY Jo 03:57:34 2568; TAYLOR Jeannie 03:57:34 2569; O'HANLON Debbie 03:57:35 2570; SYMS Gareth 03:57:35 2571; WHITMAN Simon 03:57:36 2572; MCMILLAN Ian 03:57:36 2573; FREEMAN Peter 03:57:36 2574; JONES Geraint 03:57:37 2575; KLAUS Noebauer 03:57:39 2576; TULK Liina 03:57:39 2577; PENNO Ralph 03:57:39 2578; GALLOWAY Mick 03:57:39 2579; HARVEY Linda 03:57:40 2580; WARBURTON Andrew 03:57:40 2581; FLYNN Roddy 03:57:42 2582; GAUNT Alex 03:57:42 2583; SCATCHARD Tim 03:57:44 2584; AMOS Gillian 03:57:44 2585; WOODWARD Marcus 03:57:45 2586; WARREN Gary 03:57:45 2587; WARD Gerald 03:57:46 2588; MOOHAN Brigid 03:57:46 2589; THRAVES Gareth 03:57:47 2590; COUTTS Alastair 03:57:47 2591; MCDOWALL Iain 03:57:47 2592; MCDOANLD Alan 03:57:48 2593; SPEIRS Kate 03:57:48 2594; MCCRACKEN Stuart 03:57:50 2595; SCOTT Stewart 03:57:51 2596; BURROWS Rob 03:57:51 2597; CROSSAN Helena 03:57:52 2598; HAAS Robert 03:57:52 2599; MCMULLAN Barry 03:57:53 2600; WEBB India 03:57:54 2601; AYRTON Rob 03:57:55 2602; WRIGHT Richard 03:57:55 2603; SLIVAR Branko 03:57:55 2604; SLIVAR Miha 03:57:55 2605; KEENAN Newton 03:57:55 2606; MELROSE Dougie 03:57:58 2607; DODSLEY Martin 03:57:59 2608; BALL Richard 03:58:01 2609; SIM Lindsey 03:58:02 2610; HOPERT Michael 03:58:02 2611; PEAT Stephen 03:58:02 2612; O'SULLIVAN Michael 03:58:03 2613; FARTHING Jonathan 03:58:03 2614; PEDERSEN Jan 03:58:03 2615; JARVIS Joanna 03:58:04 2616; HOEY Alison 03:58:04 2617; NOLAN Anthony 03:58:05 2618; GRAY Richard 03:58:06 2619; GOURLAY Gill 03:58:06 2620; CRAIG Gary 03:58:06 2621; PATON Daren 03:58:07 2622; ROBINSON Antony 03:58:07 2623; ECCLES Heather 03:58:07 2624; RUSHWORTH Jody 03:58:08 2625; TAYLOR Ryan 03:58:10 2626; MCFADYEN Kev 03:58:11 2627; MACDONALD Roddy 03:58:11 2628; HOOTON Paul 03:58:12 2629; THOMPSON Jo 03:58:13 2630; MACKENZIE Kenneth 03:58:13 2631; SIMPSON Richard 03:58:16 2632; KING Sarah 03:58:18 2633; TAYLOR Paul 03:58:21 2634; CAROLINE Ricq 03:58:21 2635; FLETCHER Debbie 03:58:22 2636; FAIRBAIRN Scott 03:58:23 2637; SOHI Saran 03:58:23 2638; SZYMANSKI Rafal 03:58:23 2639; WHITAKER Robert 03:58:24 2640; HILL David 03:58:25 2641; SHEPHERD Andrew 03:58:26 2642; INGLIS Gillian 03:58:27 2643; MCHARG Sharon 03:58:28 2644; CASSELL Paul 03:58:29 2645; MARSH Richard 03:58:30 2646; BROWN Karen 03:58:31 2647; ANDERSON Chris 03:58:31 2648; BRADY Andrew 03:58:31 2649; BRIXEY Phil 03:58:31 2650; FORSYTH Charles 03:58:33 2651; WILLIAMS Pete 03:58:33 2652; PRICE Allan 03:58:33 2653; COWAN Alison 03:58:33 2654; NAYLOR Michael 03:58:33 2655; EPTON Kayleigh 03:58:34 2656; BLADES Stewart 03:58:34 2657; SMITH Gavin 03:58:35 2658; CHAYTOR Stephen 03:58:35 2659; BUTT Timothy 03:58:35 2660; BRIDGMAN Oliver 03:58:36 2661; HILTON Rupert 03:58:36 2662; TAYLOR Laurence 03:58:36 2663; ROTHWELL James 03:58:36 2664; GAUL Conor 03:58:38 2665; MISTRY Dharmesh 03:58:38 2666; MCGEACHIE Andrew 03:58:38 2667; TAYLOR John 03:58:41 2668; O'HARA Paul 03:58:42 2669; FURSDON Paul 03:58:43 2670; CEPOK Theodor 03:58:43 2671; PALMER Christopher 03:58:45 2672; IVINSON David 03:58:45 2673; HOUSHAM Kevin 03:58:45 2674; BANISTER Steph 03:58:47 2675; SKELLY Keenan 03:58:50 2676; MACFIE David 03:58:50 2677; WILSON Kate 03:58:50 2678; DONALDSON Michael 03:58:51 2679; SMELT-WEBB Caroline 03:58:51 2680; JARCZYNSKI Pawel 03:58:52 2681; ELDRIDGE Stephen 03:58:52 2682; DOYLE Alan 03:58:52 2683; THOMAS Amy 03:58:52 2684; HEDDERICK Bex 03:58:53 2685; SPRING Helen 03:58:54 2686; WITHERS James 03:58:55 2687; COOPER Robert 03:58:56 2688; HARRISON Jamie 03:58:57 2689; STEVENSON Phillip 03:58:57 2690; STOREY Katherine 03:58:58 2691; EDELMANN Jens 03:58:58 2692; DOUGLAS John 03:59:00 2693; MARSHALL Johnathon 03:59:01 2694; TOMLINSON Sam 03:59:02 2695; PLEMPER Mark 03:59:02 2696; LUNDBERG Graeme 03:59:05 2697; ADAMS Iain 03:59:06 2698; CLARK John 03:59:06 2699; BYRNE Colman 03:59:06 2700; YOUNG John 03:59:08 2701; STRIBLING David 03:59:08 2702; SOUTHWORTH Kathryn 03:59:08 2703; LIEBKE Kirsten 03:59:09 2704; RITCHIE Craig 03:59:10 2705; GRACIE Emmett 03:59:11 2706; TAYLOR David 03:59:11 2707; MUNGALL Craig 03:59:12 2708; COOP Andrew 03:59:12 2709; PFLANZ Sebastian 03:59:12 2710; MCCORMACK Kevin 03:59:12 2711; FASSINA Antonello 03:59:13 2712; WALKER Craig 03:59:15 2713; WHITTON Guy 03:59:15 2714; BOWEN Michael 03:59:16 2715; RICHARDSON Nicky 03:59:17 2716; MURPHY Aimee 03:59:18 2717; POWNER Stephen 03:59:19 2718; GRAY Jon 03:59:19 2719; MCCOLL Jennie 03:59:20 2720; CRUMP Geoff 03:59:22 2721; BOARDMAN Andy 03:59:22 2722; SHARP John 03:59:24 2723; SIKK Merilin 03:59:24 2724; VOASE Nicola 03:59:25 2725; SEALE Andrew 03:59:25 2726; KLEIN Stephan 03:59:26 2727; FLIß Hermann 03:59:29 2728; WORSLEY Sarah 03:59:29 2729; KELLY Gerard 03:59:31 2730; FOUNTAIN Laura 03:59:31 2731; CARTER Carra 03:59:32 2732; CONWAY Adam 03:59:33 2733; BENSON Christopher 03:59:33 2734; COCHRANE John 03:59:33 2735; CLELLAND Scott 03:59:34 2736; CORDERY Samantha 03:59:35 2737; THOMPSON Nick 03:59:36 2738; HILL Connor 03:59:37 2739; GRINHAM John 03:59:37 2740; MITCHELL Michael 03:59:38 2741; PHILIPPS Euan 03:59:38 2742; DRAINE Stephen 03:59:40 2743; FIELD Andrew 03:59:43 2744; WRIGHT Sharon 03:59:43 2745; PENKALA Jagoda 03:59:44 2746; HUTCHINGS Jonathan 03:59:44 2747; WIDERMAN Marie 03:59:45 2748; KAISER Jana 03:59:46 2749; STEADMAN Jon 03:59:46 2750; MCGONIGLE Neil 03:59:47 2751; SMITH Finlay 03:59:48 2752; HAMILTON James 03:59:50 2753; RETIEF Corlene 03:59:50 2754; HARLE Emma 03:59:51 2755; STOCK Mark 03:59:51 2756; CLARKSON Louise 03:59:52 2757; COWAN Andrew 03:59:52 2758; ROY Duncan 03:59:52 2759; WOOD Graham 03:59:52 2760; ERIKSSON Emma Josefine 03:59:54 2761; MAGUIRE Karl 03:59:56 2762; LOGIE Ross 03:59:59 2763; FOWLER Drew 03:59:59 2764; ROBINS Doreen 03:59:59 2765; HORTON Anthony 03:59:59 2766; BISLEY William 04:00:00
2767; MANDERS Chris 04:00:01 2768; RAMON Christophe 04:00:02 2769; PATERSON Robert 04:00:02 2770; BRUNTON Derek 04:00:02 2771; BARKER Frankie 04:00:05 2772; HOLLAND Paul 04:00:06 2773; FITZSIMMONS Barry 04:00:08 2774; PAINE Katie 04:00:11 2775; CHAPMAN Joseph 04:00:13 2776; BRAIDWOOD Billy 04:00:14 2777; BERGQUIST Savannah 04:00:14 2778; WINSLOW Nick 04:00:15 2779; PUGH John 04:00:16 2780; LAUWERS Julia 04:00:17 2781; JOHNSTON Norman 04:00:18 2782; GAYLOR Robert 04:00:20 2783; CANTARUTTI Luca 04:00:21 2784; PITCHFORD David 04:00:21 2785; PITCHFORD Shauna 04:00:21 2786; DURKIN Sarah 04:00:24 2787; PACKWOOD Heather 04:00:25 2788; HURST Ray 04:00:25 2789; WHITELAW Mark 04:00:26 2790; JENKINS Simon 04:00:29 2791; KIRKPATRICK Iain 04:00:31 2792; FODEN Chris 04:00:31 2793; VAUGHTON Mark 04:00:33 2794; NICHOLLS Ryan 04:00:33 2795; BROOKS Michael 04:00:33 2796; LYON Anna Migliorini 04:00:36 2797; BRADLEY Thomas 04:00:36 2798; MORRIS Matthew 04:00:37 2799; STEWART David 04:00:38 2800; STONES Richard 04:00:39 2801; ROBINSON Glenn 04:00:41 2802; BREWSTER Victoria 04:00:41 2803; BLOOMER Helen 04:00:42 2804; HAMPSON Christopher 04:00:43 2805; INGLIS Michael 04:00:43 2806; GARDNER Lee 04:00:43 2807; JODOIN Michel 04:00:44 2808; BALDWIN Mike 04:00:45 2809; ORR Barry 04:00:45 2810; THURLAND Julie 04:00:47 2811; MARSH Robbie 04:00:47 2812; BROOKS Peter 04:00:52 2813; TAYLOR George 04:00:54 2814; PHILIPSZ Barbara 04:00:54 2815; BRANNEY Peter 04:00:55 2816; KAY Peter 04:00:58 2817; PALMER Ivan 04:00:58 2818; NIMMO Richard 04:00:59 2819; HAMPTON Lindsay 04:00:59 2820; MUNROE Andy 04:01:02 2821; SMITH Steven 04:01:04 2822; ANGUS Mark 04:01:05 2823; SMITH Richard 04:01:05 2824; HARRIS Moira 04:01:05 2825; MARCHANT Andrew 04:01:05 2826; MASON Lee 04:01:05 2827; KUUSNIEMI Kari 04:01:06 2828; GAULD Neil 04:01:07 2829; JENSEN Jan 04:01:10 2830; FORREST Scott 04:01:13 2831; COATES Iain 04:01:16 2832; EMERSON Samantha 04:01:16 2833; SWEENEY Mick 04:01:19 2834; WANAT Waclaw 04:01:19 2835; DRURY Pamela 04:01:20 2836; GIBSON George 04:01:21 2837; DUCK Amy 04:01:21 2838; WATSON James 04:01:21 2839; POTTER Leeson 04:01:22 2840; FRISBY Craig 04:01:23 2841; MACK James 04:01:23 2842; EAGLE David 04:01:24 2843; CLARK Lewis 04:01:24 2844; WILLIAMS Sandra 04:01:25 2845; WHITTINGTON James 04:01:25 2846; SCOTT David 04:01:25 2847; BENNIS Bill 04:01:26 2848; GEVERS Hildie 04:01:27 2849; HERBERT Angela 04:01:27 2850; O'NEIL Robert 04:01:28 2851; FAIRBAIRN Sian 04:01:28 2852; ROWE Greg 04:01:30 2853; GORDON Mark 04:01:31 2854; GRAHAM Scott 04:01:31 2855; CANNON Stephanie 04:01:32 2856; MORRIS Margaret 04:01:34 2857; KAASTRUP-OLSEN Frans 04:01:35 2858; WAITE Joyce 04:01:36 2859; FARQUHAR Iain 04:01:36 2860; INNES Neil 04:01:36 2861; JOHNSTONE Craig 04:01:37 2862; BROWN Colin 04:01:38 2863; YOUNG Andrew 04:01:39 2864; WALKER James 04:01:39 2865; STEPHEN Harry 04:01:40 2866; PEARSON John 04:01:40 2867; DAVIDSON Alan 04:01:41 2868; WILSON Colin 04:01:43 2869; BALL Sarah 04:01:45 2870; HERMISTON Steven 04:01:45 2871; BARNARD Mark 04:01:47 2872; GANDY Ross 04:01:49 2873; ATKINSON Inna 04:01:52 2874; HEDGES Martin 04:01:55 2875; GENIN Thomas 04:01:56 2876; PENN Nigel 04:01:56 2877; PEREZ PAREDES Javier 04:01:56 2878; WOOD Natalie 04:01:57 2879; JONES Joanne 04:01:58 2880; THOMSON Thomas 04:01:58 2881; MCLEAY James 04:01:58 2882; DAY Catherine 04:01:59 2883; COCCIA Gastone 04:02:01 2884; KEMP Neill 04:02:02 2885; WATSON Kristofer 04:02:05 2886; GREIG David 04:02:07 2887; FOX Charles 04:02:11 2888; NAGY Csilla 04:02:11 2889; SIMONS Scott 04:02:12 2890; EYLES Martin 04:02:12 2891; MILLER Lynsay 04:02:13 2892; BOSOMWORTH Hannah 04:02:14 2893; KENDRICK Stuart 04:02:14 2894; TAYLOR Keith 04:02:15 2895; GRAY Willie 04:02:15 2896; OVEREND Sam 04:02:18 2897; NORMAN Philip 04:02:19 2898; BALLARD John 04:02:19 2899; ATKINSON Paul 04:02:22 2900; GEESIN Carl 04:02:23 2901; JONES Matt 04:02:26 2902; VAUGHAN Anna 04:02:27 2903; DICKSON Robert 04:02:27 2904; MACKIE Alan 04:02:28 2905; FITZSIMMONS Anthony 04:02:28 2906; GORAJALA Rachel 04:02:28 2907; GILLIES Sarah 04:02:29 2908; COPPOLA Leon 04:02:30 2909; KIBBLE Paul 04:02:33 2910; DUNLOP Neil 04:02:34 2911; SENIOR Holly 04:02:34 2912; MURRAY Iona 04:02:36 2913; SMITH Grigor 04:02:36 2914; MCTERNAN Andrew 04:02:36 2915; MACKIE Ian 04:02:36 2916; KITCHEN Dale 04:02:37 2917; BEZZINA Emmanuel 04:02:37 2918; INCLES Grant 04:02:38 2919; WILSON Dara 04:02:38 2920; RøNNING Åge 04:02:38 2921; MCLELLAN Mark 04:02:38 2922; HARLOW Tom 04:02:39 2923; BUCKDEN Simon 04:02:39 2924; DODSON Edward 04:02:40 2925; PLUMMER Sam 04:02:42 2926; JACKSON June 04:02:43 2927; MOAT Chris 04:02:46 2928; FRIEL Paul 04:02:47 2929; GILL Jennifer 04:02:50 2930; POWELL Richard John 04:02:50 2931; WILEMAN Paul 04:02:51 2932; GREEN Beverley 04:02:51 2933; PEACOCK Earl 04:02:53 2934; COLLINS Sarah 04:02:54 2935; WENZ Holger 04:02:57 2936; MOWAT Barry 04:02:58 2937; YOUNG Helen 04:02:59 2938; GIBSON Keith 04:02:59 2939; MUIR Scot 04:03:02 2940; KAY Christopher 04:03:03 2941; SMITH Andre 04:03:03 2942; PEAK Marion 04:03:05 2943; FOLEY Patrick 04:03:05 2944; TIFFEN Chris 04:03:06 2945; SUTTON Justine 04:03:07 2946; BARRINGTON Amanda 04:03:07 2947; VERRAN Jack 04:03:09 2948; PILARSKA Joanna 04:03:10 2949; REES Joe 04:03:10 2950; LAWS Matthew 04:03:11 2951; MUIR Gordon 04:03:13 2952; ARANJO Craig 04:03:15 2953; DUNCAN Keith 04:03:16 2954; KEAVENEY Marcus 04:03:17 2955; CHOWDHURY Shahir 04:03:17 2956; DICKINSON John 04:03:18 2957; STARK James 04:03:19 2958; ORR David 04:03:21 2959; CUNNINGHAM Julie 04:03:22 2960; GALLOWAY Ian 04:03:22 2961; ROLINSON David 04:03:24 2962; WESTIE Rosemary 04:03:24 2963; DREYFUS Helene 04:03:25 2964; GRIEVE Gary 04:03:25 2965; YOUNG Alan 04:03:25 2966; CURLE Robert 04:03:26 2967; WHEELER David 04:03:28 2968; BUSWELL Andy 04:03:29 2969; CASSIDY Tam 04:03:29 2970; MCINALLY John 04:03:29 2971; SNEDDON Stephanie 04:03:31 2972; FORZANI Andrew 04:03:33 2973; GREEN Barry 04:03:33 2974; GOODSON Andrew 04:03:34 2975; RYDING Colin 04:03:35 2976; FORBES Ian 04:03:36 2977; BEDDARD Roger 04:03:36 2978; TURNER Phil 04:03:36 2979; MCLEAN James 04:03:37 2980; MUSAKAMBEVA Eugene 04:03:37 2981; CHAMBERS Dean 04:03:38 2982; FULTON Denise 04:03:39 2983; ANDREWS Philip 04:03:39 2984; DICK Michael 04:03:39 2985; BANNERMAN Elizabeth 04:03:39 2986; POOLEY Owen 04:03:41 2987; EGAN Frank 04:03:41 2988; MCSHARRY Fergal 04:03:42 2989; FLEMING John 04:03:43 2990; ARCHIBALD Paul 04:03:43 2991; JOHNSTON Scot 04:03:45 2992; TOBIAS Steve 04:03:48 2993; 5838 Runner 04:03:48 2994; WATT Alistair 04:03:49 2995; LLOYD Peter 04:03:49 2996; DIXON Mel 04:03:49 2997; GURUNG Vikas 04:03:50 2998; GALBRAITH Tim 04:03:52 2999; SEMPERE Gines 04:03:52 3000; FIASSON Thibaut 04:03:52 3001; TURNER Carol 04:03:54 3002; ZEH Peter 04:03:54 3003; BRASTAD Ole Kristian 04:03:55 3004; ADAM Struan 04:03:57 3005; HALLER Sigrun 04:03:58 3006; STENIUS Thomas 04:04:00 3007; ORR Jamie 04:04:02 3008; HORNBY Ian 04:04:05 3009; ECCLES Nigel 04:04:06 3010; GUALTIERI Marco 04:04:09 3011; ROBB Scott 04:04:10 3012; RITCHIE Nick 04:04:12 3013; GUY Alex 04:04:13 3014; TOETZKE Falko 04:04:13 3015; BADDELEY Nic 04:04:14 3016; HOWE Brian 04:04:15 3017; STEEL Joe 04:04:15 3018; PHILPOTT Anne 04:04:16 3019; MERRETT Patricia 04:04:17 3020; SIMON Japhet 04:04:17 3021; MAJOR Alison 04:04:17 3022; REILLY Andrew 04:04:18 3023; HAUGK Steffen 04:04:21 3024; LUCAS Philippa 04:04:22 3025; PITT Andrew 04:04:24 3026; FRENCH Alistair 04:04:25 3027; GRAHAM Shaun 04:04:26 3028; BOSCH ALAY Josep 04:04:32 3029; TURNER David 04:04:35 3030; BOURNE Tricia 04:04:36 3031; GRANT Alan 04:04:36 3032; CRAWFORD Jamie 04:04:38 3033; BAKER Lucie 04:04:39 3034; MATTHEWS Christine 04:04:39 3035; BOND Simon 04:04:40 3036; HOLDEN Shawn 04:04:40 3037; STEEN Remco 04:04:40 3038; NASH Paul 04:04:42 3039; NEWBIGGING Roddy 04:04:45 3040; MCKAY David 04:04:45 3041; COPE Wendy 04:04:46 3042; CANNON Cath 04:04:47 3043; SMITH Susan 04:04:47 3044; MARTIN James 04:04:47 3045; WOOD Alison 04:04:48 3046; FISHER Carol 04:04:48 3047; FISHER Claire 04:04:48 3048; OGLE Karen 04:04:49 3049; COADY Kirsteen 04:04:50 3050; JONES Jackie 04:04:52 3051; RAYNOR Lloyd 04:04:55 3052; BEAUMONT Richard 04:04:57 3053; BLAIR Nanette 04:04:57 3054; CROSBY Anthony 04:04:57 3055; HILL Orlando 04:04:58 3056; JEAN Carron 04:04:58 3057; HOWARD Edward 04:05:04 3058; LOOSELEY Tim 04:05:05 3059; TURBET Frank 04:05:06 3060; POPE Michelle 04:05:13 3061; FITCH Ian 04:05:14 3062; PRIMEAU Robert 04:05:14 3063; MANN Sarah 04:05:15 3064; TIDBURY Wade 04:05:15 3065; LENIHAN Keith 04:05:16 3066; JOCIUS Povilas 04:05:17 3067; KUJANPää Jorma 04:05:18 3068; BROOKER Mark 04:05:18 3069; WOODHEAD David 04:05:18 3070; KIRCHMAIER Charles 04:05:19 3071; NANGLE Chris 04:05:21 3072; MACKENZIE Becky 04:05:22 3073; ARTS Sarah 04:05:22 3074; ALEXANDER Katie 04:05:23 3075; RUTHERFORD Kevin 04:05:25 3076; UNDERWOOD. Adam 04:05:27 3077; LUSIS Renars 04:05:28 3078; WRINTMORE John 04:05:29 3079; GATH Matthew 04:05:29 3080; MAGNANI Carlo 04:05:29 3081; AGRAWAL Kaitan 04:05:30 3082; LANGFORD Alan 04:05:34 3083; CLARKE Colin 04:05:35 3084; TALBOT Ian 04:05:39 3085; GRAY Barry 04:05:40 3086; POOLE Steven 04:05:40 3087; WEBSTER Louise 04:05:41 3088; CLEWORTH Wayne 04:05:42 3089; CLEWORTH Jason 04:05:42 3090; JEFFREY David 04:05:42 3091; MORRISON Brian 04:05:44 3092; MCKENZIE Mark 04:05:44 3093; MORRISON John 04:05:46 3094; BOYLE Eddie 04:05:46 3095; WALKER Morag 04:05:48 3096; FORBES Kris 04:05:48 3097; SHEDDEN Laurie 04:05:49 3098; IRVING Fiona 04:05:49 3099; BIEHL Christoph 04:05:51 3100; PETTERSON Derek 04:05:53 3101; BROWN Paul 04:05:54 3102; FERRINGTON Stephanie 04:05:55 3103; HELLIWELL Benedict 04:05:56 3104; EADIE Drew 04:05:57 3105; MOSCHINI Giorgio 04:05:57 3106; GARRETT Liam 04:05:58 3107; GARNAI Erez 04:05:59 3108; GILL Hefin 04:06:01 3109; GRIFFIN Tristan 04:06:01 3110; JEAN-CLAUDE Metz 04:06:03 3111; FABRICIUS Andrew 04:06:04 3112; ATKINSON Nick 04:06:04 3113; PATRICK Michael 04:06:05 3114; PORTER Rachel 04:06:05 3115; PATRICK David 04:06:07 3116; PRINTY James 04:06:09 3117; HUTCHINSON Caroline 04:06:10 3118; MANSFIELD Joanna 04:06:10 3119; MELLING Nigel 04:06:10 3120; ELMIEH Mehrdad 04:06:16 3121; HITCHCOCK Mark 04:06:19 3122; CHANDLER Jonathan 04:06:19 3123; PRESTON Kevin 04:06:21 3124; SAUNDERS Andrew 04:06:21 3125; BRYSON Gillian 04:06:21 3126; CLARKE Andrew 04:06:22 3127; WHELAN Liam 04:06:24 3128; ALLAN Myles 04:06:25 3129; WILSON Ross 04:06:26 3130; ARBUCKLE Tim 04:06:27 3131; FJELD Bjørnar 04:06:29 3132; HUNTER Victoria 04:06:29 3133; CARTLIDGE Darren 04:06:29 3134; WILLIAMS Julie 04:06:34 3135; STEELE David 04:06:37 3136; O\'LEARY Owen 04:06:43 3137; MCDICKEN David 04:06:44 3138; MACKAY Stephen 04:06:45 3139; STEARMAN Paul 04:06:45 3140; CAIRNS Graeme 04:06:46 3141; GRAY Wallace 04:06:47 3142; NORRIS Ray 04:06:49 3143; CAREY Gavin 04:06:50 3144; CIESLAWSKI Piotr 04:06:50 3145; JOHNSON Alan 04:06:51 3146; REEVE Sean 04:06:51 3147; MCGILL Michael 04:06:51 3148; PAGE Andrew 04:06:51 3149; MUDFORD Emmeline 04:06:52 3150; BLACK Ian 04:06:52 3151; SNELLING Ben 04:06:53 3152; YOUNG Rona 04:06:55 3153; GRANT Scott 04:06:55 3154; ROSSI Mario 04:06:57 3155; TAIT Emily 04:06:57 3156; LANGHAM Phil 04:06:59 3157; BUTLER Michelle 04:06:59 3158; CLARK Justin 04:06:59 3159; MAYOH Martin 04:07:00 3160; REBAHI Myriam 04:07:00 3161; ROMANO Riccardo 04:07:01 3162; STENHOUSE Neil 04:07:04 3163; SHEPHERD Stuart 04:07:04 3164; WALKER Jonathan 04:07:06 3165; MCGEE John 04:07:07 3166; ASPINALL Katie 04:07:07 3167; COX Steven 04:07:08 3168; SAIJA Boy 04:07:09 3169; GIBBS Mark 04:07:10 3170; TASKER Linda 04:07:10 3171; HOOPER Alison 04:07:11 3172; FREELAND Stephen 04:07:11 3173; WALLACE Allan 04:07:13 3174; MCCORMACK Graham 04:07:13 3175; MATTHEWS Leanne 04:07:13 3176; YENDLEY Susan 04:07:14 3177; AITCHISON Alan 04:07:16 3178; JOHNSTON Chris 04:07:16 3179; LOW Carol-Ann 04:07:17 3180; TAYLOR Damian 04:07:20 3181; JOHNSON Des 04:07:20 3182; SIRMAN James 04:07:20 3183; HENDERSON Scott 04:07:20 3184; BERUT Xavier 04:07:21 3185; WESTHEAD Robert 04:07:21 3186; RICHARDS Lise 04:07:22 3187; HARPER Kevin 04:07:22 3188; EVANS Rhodri 04:07:23 3189; CONNOLLY Michael 04:07:24 3190; REID Peter 04:07:25 3191; LOGAN James 04:07:26 3192; CAMBERS Derek 04:07:27 3193; TOLLNER Kit 04:07:27 3194; WATT Andrew 04:07:27 3195; CRANEY Tom 04:07:27 3196; GARRETT Amy 04:07:27 3197; KIRK Andrew 04:07:28 3198; SHANNON Matthew 04:07:28 3199; WILLIAMS Tom 04:07:29 3200; SMITH Jamie 04:07:29 3201; ANSCOMBE Sophie 04:07:29 3202; URQUHART Darren 04:07:30 3203; KNOWLES Keiran 04:07:31 3204; JOHNSTON Blair Forbes 04:07:31 3205; COPE Paul 04:07:32 3206; HAGG Kirsty 04:07:34 3207; DEAN Gillian 04:07:34 3208; MURRAY Alison 04:07:35 3209; GOWANS David 04:07:35 3210; BENNETT Lee 04:07:37 3211; STEPHEN Mary 04:07:38 3212; WEBB Susan 04:07:42 3213; ANGUS John 04:07:43 3214; CURRIE Jordan 04:07:43 3215; LONSDALE Davina 04:07:44 3216; WITHERINGTON Kieran 04:07:46 3217; EVANS Rachel 04:07:47 3218; MADRY Tomasz 04:07:48 3219; MACKENZIE Mark 04:07:49 3220; LEVY Elizabeth 04:07:51 3221; FOX Anthony 04:07:52 3222; MCKNIGHT Andrew 04:07:53 3223; FARRINGTON Michael 04:07:57 3224; THICKETT Daniel 04:07:57 3225; FITZHUGH Laura 04:08:00 3226; SMITH Michelle 04:08:04 3227; ANDERSON Keith 04:08:05 3228; WILSON Anita 04:08:05 3229; ARNOLD Mark 04:08:08 3230; FINNEY Louise 04:08:08 3231; MCCORMICK Andrew 04:08:11 3232; PARTON Brian 04:08:12 3233; FALCONER Helen 04:08:12 3234; DIXON Tanya 04:08:12 3235; WYATT Ruth 04:08:13 3236; WATTS Graham 04:08:14 3237; COLLINS Bennett 04:08:15 3238; JOHNSTON Dave 04:08:15 3239; MCRITCHIE David 04:08:16 3240; ROBERTSON Dale 04:08:17 3241; WALTERS Ruth 04:08:17 3242; BRADY Alan 04:08:17 3243; KYRKE-SMITH Alexandra 04:08:19 3244; BOOK Julie 04:08:19 3245; MILLER Michel 04:08:21 3246; CRAVEN Stephen 04:08:23 3247; ROSS Mary 04:08:23 3248; O'DONNELL Martin 04:08:23 3249; BUCKLEY John 04:08:23 3250; TRAYLING Denise 04:08:24 3251; FULHAM John 04:08:25 3252; GRANT Joanne 04:08:26 3253; SANDERSON Greig 04:08:29 3254; BURROWS Moira 04:08:29 3255; DURIE Camilla 04:08:30 3256; PERONNE Laurent 04:08:30 3257; SHUTTLEWORTH Philip 04:08:30 3258; STREET Mark 04:08:31 3259; FURUVIK Anna 04:08:33 3260; JONES Rob 04:08:34 3261; HOULSTON Bridget 04:08:34 3262; TEAGER Robert 04:08:34 3263; BAYLISS Danny 04:08:35 3264; PHILPOTT Lisa 04:08:35 3265; MAFFEY Steve 04:08:36 3266; RUSH Marc 04:08:36 3267; CHEVIS John 04:08:37 3268; MUNDIE Ian 04:08:37 3269; STUART Bruce 04:08:37 3270; BLUE Clare 04:08:38 3271; MCCOLLUM Ryan 04:08:40 3272; HUGHES Ceri 04:08:40 3273; MORRIS Jim 04:08:41 3274; TOMS Kathryn 04:08:45 3275; HAKOVIRTA Harri 04:08:47 3276; HOME Lynda Ann 04:08:48 3277; MCKAY Gary 04:08:49 3278; SIRRELL Matthew 04:08:49 3279; 5858 Runner 04:08:50 3280; BELL George 04:08:50 3281; MCPHERSON Allan 04:08:52 3282; GOLDING Christian 04:08:52 3283; ALLENBY Stephen 04:08:54 3284; DUFFIN Michael 04:08:54 3285; BYNG-MADDICK Zillah 04:08:55 3286; BAKER Jimmy 04:08:55 3287; CONWAY Colin 04:08:56 3288; AUSTIN Ingrid 04:08:59 3289; ELDER Craig 04:09:00 3290; EBURNE Rich 04:09:01 3291; ALEXANDER Karina 04:09:01 3292; BERRIDGE Fliss 04:09:01 3293; HOWIE Audrey 04:09:04 3294; CANNON Clive 04:09:04 3295; WILSON Anthony 04:09:04 3296; BREARE Joanne 04:09:04 3297; BAIRD Lisa 04:09:05 3298; VEALE John 04:09:06 3299; STOCKMEIER Hartmut 04:09:08 3300; HAIGH Steven 04:09:08 3301; MAMBA Veli 04:09:08 3302; MACKINTOSH Lawrence 04:09:09 3303; REXER William 04:09:11 3304; REXER Dallas 04:09:11 3305; HAMMOND Robert 04:09:11 3306; MOFFO Michael 04:09:12 3307; DOOGAN Kevin 04:09:13 3308; HORN Gregor 04:09:13 3309; KIPPEL Per-Olof 04:09:13 3310; MIDDLEWICK Ashley 04:09:13 3311; THOMPSON Dominic 04:09:15 3312; WIGHT Gilly 04:09:16 3313; SHIELDS Tanya 04:09:16 3314; MILLAR Holly 04:09:16 3315; HORN Gavin 04:09:16 3316; MILLAR Hazel 04:09:16 3317; MILLAR Clive 04:09:16 3318; TURNER Mark 04:09:16 3319; OLD Phoebe 04:09:16 3320; BABBAGE Claire 04:09:17 3321; DALE Keith 04:09:18 3322; BURGESS Iain 04:09:18 3323; BURTON Tracy 04:09:19 3324; RAMSAY James 04:09:20 3325; KAYE Paul 04:09:21 3326; AERTS Enno 04:09:22 3327; PEARCE Neil 04:09:22 3328; LANEY Jeremy 04:09:23 3329; COOPER Paul 04:09:24 3330; SIMPSON Adrian 04:09:25 3331; DOWEY Paul 04:09:26 3332; SCOTT Colin 04:09:27 3333; MCBRIDE Erin 04:09:28 3334; TAYLOR Tiffany 04:09:28 3335; EDWARDS David 04:09:29 3336; WARD Craig 04:09:30 3337; KING Alex 04:09:33 3338; MORGAN Kathryn 04:09:33 3339; BAILEY Jonathan 04:09:33 3340; STROUD Matthew 04:09:34 3341; CONVERT Pierre 04:09:34 3342; MUIR Joan 04:09:35 3343; BURTON Ian 04:09:36 3344; KEENAN Garry 04:09:36 3345; PEñA Nicolas 04:09:37 3346; MILES Timothy 04:09:37 3347; HASSALL Dean 04:09:38 3348; BURGIN Robert 04:09:38 3349; MCCUE Martin 04:09:41 3350; REID Donna 04:09:41 3351; LOW Andrew 04:09:41 3352; LAIRD Ross 04:09:42 3353; KILLEN Steven 04:09:43 3354; MOUNSOR Duncan 04:09:43 3355; LOGIE Michael 04:09:43 3356; ALEXANDER Richard 04:09:45 3357; MCLOUGHLIN Helen 04:09:45 3358; WALKINSHAW Gordon 04:09:47 3359; MCCLELLAN Ben 04:09:48 3360; SMITH Tom 04:09:49 3361; KELLY Louisa 04:09:49 3362; BUSHELL Cassie 04:09:49 3363; LINDSAY Matthew 04:09:49 3364; BURMBY Gareth 04:09:50 3365; STEVENS Lindsey 04:09:51 3366; LAWS Sara 04:09:52 3367; JOLLIFFE Emma 04:09:53 3368; CHIVERS Peter 04:09:53 3369; SHATWELL Kirsty 04:09:56 3370; YOUNG David 04:10:00
3371; HOOPER John 04:10:01 3372; ROBINSON Nigel 04:10:03 3373; BROOKS Janet 04:10:05 3374; OLDROYD Sarah 04:10:07 3375; PULLEY Karen 04:10:09 3376; BLACKBURN Elizabeth 04:10:09 3377; SMITH Mark 04:10:10 3378; WEBSTER Shaun 04:10:10 3379; HORSMAN Mat 04:10:11 3380; GILBY Daniel 04:10:12 3381; LOWERY Tony 04:10:13 3382; ANDERSON Ruth 04:10:14 3383; CAPON Tim 04:10:15 3384; CONWAY Richard 04:10:16 3385; THOMAS Pete 04:10:16 3386; BILLY Jael 04:10:18 3387; COLEMAN Caroline 04:10:20 3388; WOODSIDE Michael 04:10:22 3389; SMITH Bruce 04:10:23 3390; BICKNELL Ellis 04:10:24 3391; WILLS Emma 04:10:27 3392; COOTE Patrick 04:10:27 3393; PRIOR Harriet 04:10:28 3394; REILLY Tom 04:10:28 3395; NAYSMITH Lynne 04:10:31 3396; NAYSMITH Mike 04:10:31 3397; SHIPPEY John 04:10:31 3398; STEVENS Daniel 04:10:32 3399; BURTON Gemma 04:10:35 3400; GREEN Carl 04:10:35 3401; KEMSLEY-BENSON Paola 04:10:36 3402; MCGRUTHER Jonathan 04:10:36 3403; WORSFOLD Janice 04:10:38 3404; COLLINS Michael 04:10:40 3405; CROCKER Paul 04:10:41 3406; HARBOTTLE Michael 04:10:42 3407; BANNISTER Richard 04:10:43 3408; HAMMETT Neil 04:10:43 3409; OLLIS Steve 04:10:44 3410; HENNELL Lee 04:10:44 3411; DUNCAN Colin 04:10:44 3412; CLADINGBOWL Helen 04:10:46 3413; MOODY David 04:10:47 3414; HIGGINS Alban 04:10:47 3415; WEESS Anne 04:10:47 3416; LUSCOMBE Jenny 04:10:52 3417; AMEND Sandra 04:10:53 3418; HUMPHREYS Paul 04:10:54 3419; BURNS Louise 04:10:54 3420; TANNER Jonathan 04:10:54 3421; KENT Jennifer 04:10:55 3422; PADFIELD Philip 04:10:55 3423; JOHNSON Matthew 04:10:56 3424; MANSELL Bruce 04:10:57 3425; COADY Sean 04:10:57 3426; BAULCOMBE Harriet 04:10:57 3427; JOHNSON Susan 04:10:58 3428; REAL Adam 04:10:58 3429; LIBNER Vered 04:10:59 3430; SWEETING Richard 04:11:00 3431; LAWRENCE Richard 04:11:03 3432; KAMS Kairi 04:11:04 3433; SMITH Darren 04:11:04 3434; HORNE Mark 04:11:04 3435; SNOOK David 04:11:05 3436; GREEN Joanne 04:11:05 3437; CURRIE Stuart 04:11:05 3438; BREUNIG Annette 04:11:08 3439; TAIT Chris 04:11:09 3440; KAY Martin 04:11:09 3441; FORSTER Jan 04:11:09 3442; KAEGI Beat 04:11:10 3443; YOUNG Tim 04:11:10 3444; PROWSE Charles 04:11:10 3445; BROWN Joe 04:11:10 3446; DUNSTAN Guy 04:11:12 3447; DE LIVIO David 04:11:12 3448; CLARKE Lucy 04:11:13 3449; LEA Kathryn 04:11:13 3450; LUPTON Dawn 04:11:13 3451; MITCHELL Ross 04:11:14 3452; SCHOFIELD James 04:11:15 3453; TOBELLA Andreu 04:11:19 3454; HULLEY Gregory 04:11:20 3455; JONES Gowyn 04:11:20 3456; QUINN John 04:11:21 3457; BOGHOSSIAN Ara 04:11:23 3458; MACGREGOR Hannah 04:11:28 3459; DAVISON Barry 04:11:29 3460; EASTON David 04:11:31 3461; BARTLETT Victoria 04:11:32 3462; MACDONALD Mairi 04:11:32 3463; EAMES Martha 04:11:36 3464; TILLEY David 04:11:37 3465; CAULFIELD Christine 04:11:39 3466; YAPP Ian 04:11:41 3467; RUSSELL Alex 04:11:42 3468; VAAKANAINEN Tommi 04:11:43 3469; KNOTT Peter 04:11:44 3470; SVENSEN Carins 04:11:44 3471; WOLOWCZUK Richard 04:11:44 3472; GALLOWAY Adam 04:11:44 3473; HARRIS Anne 04:11:45 3474; GRAHAM Julian 04:11:45 3475; FERGUSON Allan 04:11:46 3476; MANGION Stuart 04:11:46 3477; HUNT Chris 04:11:47 3478; PATEL Amish 04:11:47 3479; NIIKURA Yuko 04:11:48 3480; WALLACE Ben 04:11:50 3481; HENRY Claire 04:11:51 3482; WALLACE Wesley 04:11:53 3483; SOUTHWICK Andrew 04:11:57 3484; BUTLER Neil 04:11:57 3485; HEMMINGS Rachel 04:11:58 3486; MEDLICOTT Becky 04:11:59 3487; MINOTTI Angelo Rosario 04:11:59 3488; SABATELLA Adalberto 04:11:59 3489; SIMPSON Hannah 04:12:01 3490; ANDERSON Fiona 04:12:02 3491; MAC DAID James 04:12:05 3492; MUNOGEE Naveen 04:12:05 3493; FOXON Kate 04:12:06 3494; MCLELLAND Jim 04:12:07 3495; NDIRIKA Amelia 04:12:07 3496; WALKER Ian 04:12:08 3497; GELDER Mark 04:12:08 3498; WARD Melanie 04:12:09 3499; BOULTON Hazel 04:12:09 3500; FOSTER Rebecca 04:12:10 3501; CARBONE Claudio 04:12:13 3502; BROOK Kate 04:12:13 3503; BENNETT Mccartney 04:12:14 3504; HIRST Steve 04:12:15 3505; SPENCE Abi 04:12:16 3506; O'SULLIVAN Kieran 04:12:16 3507; CONNOR Thomas 04:12:17 3508; GILMOUR Rory 04:12:18 3509; ALLAN John 04:12:18 3510; WALSH Peter 04:12:18 3511; SAYDAM Gaye 04:12:21 3512; DOUGLAS Gordon 04:12:23 3513; LEVERS Karen 04:12:23 3514; GORDILLO Otman 04:12:24 3515; MCGRATH Stephen 04:12:25 3516; SHIELDS Matthew 04:12:25 3517; AIRD Steven 04:12:26 3518; BROWN Susan 04:12:27 3519; BENNETT Marcus 04:12:29 3520; BOUGOURD Steve 04:12:29 3521; KIDD Steven 04:12:31 3522; MACHIN Geoff 04:12:31 3523; ADKIN Lyndsey 04:12:33 3524; CLARKSON Darren 04:12:33 3525; RIGBY Phil 04:12:35 3526; TREANOR John 04:12:36 3527; BRAY Mia 04:12:36 3528; LUPTON Kenneth 04:12:37 3529; HARROLD Steve 04:12:39 3530; LAUGHTON Rob 04:12:39 3531; JOHNSON Vanessa 04:12:39 3532; MATSON Ian 04:12:39 3533; GRAHAM Georgina 04:12:41 3534; TEMPEST Clare 04:12:42 3535; SHATWELL Catriona 04:12:42 3536; HOLLIDAY Jenna 04:12:43 3537; KIM Ae-Suk 04:12:45 3538; BLAKE Andrew 04:12:47 3539; MCDONALD Gordon 04:12:49 3540; SCRIMSHAW Amy 04:12:51 3541; PORTER Cameron 04:12:51 3542; MORGAN Toby 04:12:54 3543; SMITH Alex 04:12:54 3544; BRAMLEY Mark 04:12:57 3545; MULLEN Andrew 04:13:00 3546; MOSS Helen 04:13:01 3547; DENNING Joel 04:13:01 3548; KINCH-JAMES David 04:13:02 3549; MURRAY John 04:13:04 3550; HAGUE Robert 04:13:09 3551; PARDOEL Hester 04:13:09 3552; BAIN Grant 04:13:11 3553; HUMES Chris 04:13:12 3554; WATERSTON Steven 04:13:14 3555; GOSSAGE Michael 04:13:15 3556; POLLEY Tessa 04:13:15 3557; MA Dickson 04:13:18 3558; MASSIE Stewart 04:13:18 3559; ABERDEEN Alison 04:13:18 3560; TOBIN Paul 04:13:20 3561; LOVE Stuart 04:13:20 3562; MARTIN Mark 04:13:20 3563; ILLINGWORTH Sarah 04:13:20 3564; WATSON Angus 04:13:22 3565; MCGINN Eddie 04:13:24 3566; APPLETON Claire 04:13:25 3567; EVANS Ross 04:13:26 3568; DYSON Andrew 04:13:28 3569; GARDNER Colin 04:13:29 3570; GORRY Daniel 04:13:29 3571; GARDNER Graham 04:13:29 3572; NICOL Diane 04:13:31 3573; CORDINER Jennifer 04:13:31 3574; ROBINSON Alison 04:13:33 3575; RENDALL Mark 04:13:37 3576; THOMAS Carole 04:13:37 3577; CLARK Scott 04:13:38 3578; WRIGHT Alistair 04:13:38 3579; WARIKANDWA Nathan 04:13:39 3580; VAN HEESWIJK Isabeklle 04:13:39 3581; REVELL Andy 04:13:40 3582; HUGHES Gerry 04:13:40 3583; GLASGOW Douglas 04:13:41 3584; SINFIELD Andrew 04:13:42 3585; WATKINS-PITCHFORD Timothy 04:13:43 3586; BURWOOD Oliver 04:13:43 3587; LOGAN Lorna 04:13:47 3588; SMITH Laura 04:13:48 3589; BRISTOW Andrew 04:13:48 3590; COGLEY Sally 04:13:49 3591; SMITH Geoff 04:13:49 3592; REILLY Kevin 04:13:49 3593; HAY Brian 04:13:51 3594; MCGOWAN Carys 04:13:52 3595; ELLIOTT Dan 04:13:53 3596; STURROCK Ben 04:13:54 3597; MCDONALD John 04:13:54 3598; VLEESHOUWERS Baptist 04:13:56 3599; IBRAHIM Sharief 04:13:57 3600; HAMILTON Louise 04:13:58 3601; ROUGH Cameron 04:14:00 3602; HARRISON Patrick 04:14:01 3603; BOTT Graham 04:14:01 3604; TAYLOR Val 04:14:02 3605; MASON Ronald 04:14:03 3606; WILSON Laura 04:14:03 3607; HANSON Ben 04:14:03 3608; DE LA FUENTE Gerardo 04:14:05 3609; BREEZE Andrew 04:14:08 3610; DORNOM Peter 04:14:08 3611; TOSSAVAINEN Atro 04:14:10 3612; EVANS Matthew 04:14:10 3613; HAMILTON Gillian 04:14:12 3614; DUMITRU Alex 04:14:12 3615; TAYLOR Ross 04:14:12 3616; LAURIE Graeme 04:14:13 3617; BROADBENT Ian 04:14:15 3618; ADAMSON Simon 04:14:15 3619; SMYTH James 04:14:16 3620; DOYLE Esme 04:14:16 3621; JOHNSTONE Sophie 04:14:16 3622; WILLIAMS Clare 04:14:17 3623; STEWART Douglas 04:14:17 3624; GREEN Pauline 04:14:18 3625; LAMB Gemma 04:14:18 3626; VALLER-FELTHAM Jodie 04:14:20 3627; KILGOUR Kirsteen 04:14:20 3628; BARRY Tony 04:14:21 3629; JOHAL Deljit 04:14:22 3630; INGLIS Gary 04:14:22 3631; DALTON Sam 04:14:23 3632; HOUCHEN Mark 04:14:23 3633; O'KANE Raymond 04:14:25 3634; CAMPBELL Alastair 04:14:27 3635; MCKENZIE Claire 04:14:29 3636; GALLEN Jim 04:14:31 3637; SEBASTIANO Pica 04:14:32 3638; HIPPLER Peter 04:14:33 3639; TILDESLEY Colin 04:14:33 3640; KULIKOWSKI Alicia 04:14:33 3641; LEACH Kamy 04:14:34 3642; HAIGH Emma 04:14:34 3643; NEWHAM Michael 04:14:34 3644; HAMILTON Clare 04:14:35 3645; DUFFY Mhairi 04:14:36 3646; DIXON Alexander 04:14:37 3647; SWIFT Claire 04:14:38 3648; GREEN Julie 04:14:40 3649; MARJORIBANKS Brian 04:14:44 3650; PATERSON Andrew 04:14:44 3651; AIREY Donna 04:14:44 3652; WHITEROD Amy 04:14:45 3653; KELLY Kris 04:14:46 3654; PINNEY Nigel 04:14:48 3655; NIMBLEY Mandy 04:14:48 3656; LAIRD Lorraine 04:14:49 3657; O'CALLAGHAN Ailish 04:14:53 3658; GORDON Paul 04:14:56 3659; MITCHELL Stuart 04:14:57 3660; RODGER Andrew 04:14:57 3661; LINK Samantha 04:14:57 3662; ROBERTS Warwick 04:14:58 3663; MCKAY Kenny 04:14:58 3664; LEIPER Andrew 04:14:59 3665; GREEN Kathy 04:15:00 3666; MCGINLEY Kevin 04:15:00 3667; NORRIS Jerome 04:15:02 3668; KARBOWIAK Ewelina 04:15:03 3669; ROMANIS Lisa 04:15:04 3670; GILROY Anne 04:15:05 3671; DEVENEY Louise 04:15:08 3672; JACKSON Steven 04:15:09 3673; MCDONALD Jacqui 04:15:10 3674; LAMOND David 04:15:10 3675; HARPER Sharon 04:15:12 3676; BROWN Steve 04:15:13 3677; READ Marcel 04:15:13 3678; LEONARD David 04:15:14 3679; INTERMITE Vincenzo 04:15:15 3680; PLESZKO James 04:15:15 3681; SKEATH Rachel 04:15:17 3682; BOMFORD Fraser 04:15:18 3683; GRIERSON James 04:15:20 3684; NOWICKI Michael 04:15:20 3685; FORSYTHE Lorna 04:15:20 3686; FORTIN Jeannot 04:15:21 3687; BULLAS Robert 04:15:21 3688; DAVIES David 04:15:22 3689; PERKINS Graham 04:15:22 3690; PORTER Simon 04:15:23 3691; BEALE Anna 04:15:23 3692; PARKINSON Lisa 04:15:24 3693; BREMNER Thomas 04:15:24 3694; WISEMAN Clare 04:15:25 3695; GRIFFITH Andrew 04:15:26 3696; BONNER Connall 04:15:27 3697; PETRIE Graeme 04:15:27 3698; STEVENSON Michael 04:15:29 3699; MORRISON Angus 04:15:30 3700; DAVIES Rhian 04:15:30 3701; SAVAGE Juliet 04:15:31 3702; THOMPSON Simon 04:15:32 3703; SAAR Christoph 04:15:32 3704; FINDLAY Scott 04:15:33 3705; RAI Jaswant 04:15:33 3706; NAILEN Matthew 04:15:34 3707; NAILEN Mark 04:15:34 3708; WADDELL Chris 04:15:35 3709; FYFE Alan 04:15:36 3710; MCGRACHAN Sean 04:15:40 3711; KHYMNYUK Volodymyr 04:15:40 3712; ROSE Andrew 04:15:42 3713; MATTHEWS Damian 04:15:43 3714; DELLAGANA Nadia 04:15:43 3715; GEARY Faith 04:15:45 3716; YOUNG Robert 04:15:46 3717; VIPOND Andrew 04:15:47 3718; TREGEAR Lucy 04:15:47 3719; MILLER Chris 04:15:47 3720; CUMMINS Michael 04:15:48 3721; BRAITHWAITE Robert 04:15:50 3722; MONTGOMERY Scott 04:15:51 3723; BEEHAN Teresa 04:15:51 3724; WALKER Scott 04:15:52 3725; HALE Linden 04:15:54 3726; BOEVENBRINK Dianne 04:15:54 3727; KOK Irene 04:15:55 3728; DAINTY Alice 04:15:56 3729; WAKEFIELD Robin 04:15:57 3730; PRIESTLEY Louise 04:15:57 3731; NAYLOR Sue 04:15:57 3732; RICHARDSON Kate 04:16:00 3733; KERR Susan 04:16:01 3734; MICALLEF David 04:16:01 3735; SHEEN William 04:16:02 3736; 5822 Runner 04:16:02 3737; MILLER Gordon 04:16:06 3738; BROOKS James 04:16:11 3739; SEBO Joe 04:16:11 3740; PARTINGTON David 04:16:11 3741; CLARKE Anita 04:16:12 3742; LESBIREL Ste 04:16:13 3743; KASSAPIAN Stephanie 04:16:16 3744; SCOTT Simon 04:16:18 3745; HOR Kahyee 04:16:18 3746; REID Hazel 04:16:18 3747; CLARK Matthew 04:16:18 3748; O'REILLY Frances 04:16:19 3749; ARCHER-CLOWES Jessica 04:16:19 3750; COOK James 04:16:19 3751; GOODALL Richard 04:16:20 3752; MACKIE Craig 04:16:21 3753; GEDDES Marc 04:16:21 3754; LAUKOVA Blazena 04:16:21 3755; ALSAMHAN Dina 04:16:22 3756; HENDERSON Stuart 04:16:25 3757; RATCLIFFE Murray 04:16:27 3758; CLARKE Lynda 04:16:30 3759; CUMMINGS Peter 04:16:32 3760; ANDERSON Cara 04:16:34 3761; SILLIENCE Gary 04:16:35 3762; STOTT Ian 04:16:36 3763; MCLAUCHLAN Gary 04:16:36 3764; ANDERSON Antoni 04:16:38 3765; HANIFIN Rebecca 04:16:38 3766; THOMAS Elizabeth 04:16:40 3767; MILLER Mary 04:16:40 3768; ZORRO Yafiza 04:16:41 3769; HALLAS Sam 04:16:43 3770; PHILLIPS Andrew 04:16:44 3771; WALSH Mark 04:16:44 3772; MEGHJI Raheman 04:16:45 3773; CARTWRIGHT Ben 04:16:47 3774; SMITH Tony 04:16:47 3775; MACKAY Liz 04:16:47 3776; KEHOE Robin 04:16:49 3777; DUNIACH Philippe 04:16:51 3778; BALLANTYNE Douglas 04:16:55 3779; ROBSON Andrew 04:16:56 3780; HOWLIN Anna 04:16:57 3781; CALVERT Philip 04:16:58 3782; MCDADE Stephen 04:17:00 3783; PHILLIPS Evan 04:17:02 3784; RICHARDSON Neil 04:17:04 3785; LANE S 04:17:05 3786; BRUNTON Colin 04:17:08 3787; ORME Philip 04:17:09 3788; FAULLKNER Ellis 04:17:12 3789; ADAMSON Derek 04:17:13 3790; RESING Ingo 04:17:13 3791; VAZQUEZ Sergio Daniel 04:17:13 3792; SUTHERLAND Jez 04:17:15 3793; MORRIS Neil 04:17:16 3794; PAWLAK Grzegorz 04:17:16 3795; BURNS Paul 04:17:16 3796; PAGE Jordan 04:17:17 3797; MCCALLUM Kenneth 04:17:18 3798; WHITE Eddie 04:17:18 3799; MCDONAGH Margaret Mary 04:17:19 3800; SMITH Julie 04:17:20 3801; PINSKER Jonathan 04:17:22 3802; NEWCOMBE Timothy 04:17:23 3803; CLARNEY Jacqueline 04:17:24 3804; SMITH James 04:17:24 3805; SMITSKAMP Maarten 04:17:25 3806; GAFFNEY James 04:17:25 3807; CAHILL Cormac 04:17:25 3808; MC KELLIGAN Bernardo 04:17:26 3809; CAPPER Robert 04:17:26 3810; MACLEAN Iain 04:17:27 3811; GOODWIN Emily 04:17:28 3812; CLEMENTS Matthew 04:17:28 3813; MURRAY Andrew 04:17:29 3814; LEWIS Madeleine 04:17:29 3815; LESTER John 04:17:29 3816; MICHAELIS Charlie 04:17:31 3817; BRYNJARSSON Jon 04:17:32 3818; GRAHAM53 Alistair 04:17:33 3819; CROSBIE David 04:17:34 3820; LYNCH Stephen 04:17:34 3821; BURKE Anthony 04:17:34 3822; MCELROY Andrew 04:17:35 3823; WOLSTENHOLME Susan 04:17:36 3824; SIRINELLI Dominique 04:17:36 3825; OSHEA Anthony 04:17:36 3826; POTTER Alan 04:17:36 3827; CARLISLE Stacey 04:17:36 3828; RICHIE Jillian 04:17:38 3829; NICHOLSON Kate 04:17:39 3830; VALENTINE Rachael 04:17:42 3831; CAROLAN Gillian 04:17:45 3832; 6919 Runner 04:17:45 3833; MORGAN Chris 04:17:47 3834; ROBERTSON Anne 04:17:48 3835; HOLGATE Michael 04:17:48 3836; KERSHAW James 04:17:50 3837; CHRISTIAN Harvey 04:17:51 3838; TINTO Angela 04:17:53 3839; MALISZEWSKI Mikolaj 04:17:54 3840; DANIEL Jeremy 04:17:55 3841; WALKER Christian 04:17:55 3842; MCKECHNIE Ronnie 04:17:56 3843; SOUTER James 04:17:56 3844; WILKIE Edwin 04:17:56 3845; FOTHERINGHAM Beth 04:17:57 3846; BROADHURST Jon 04:17:58 3847; HOPP Caroline 04:17:59 3848; FLEMING Francesca 04:17:59 3849; HERHOLDT Nicole 04:17:59 3850; JONES Alison 04:18:01 3851; SHUCKFORD Mark 04:18:03 3852; PENRICE Gillian 04:18:04 3853; BUET Christopher 04:18:06 3854; BELL Megan 04:18:07 3855; AZLAN Sofia 04:18:09 3856; ORME Rachel 04:18:10 3857; LORD Patrick 04:18:10 3858; AQUILINA Joe 04:18:11 3859; BURROWS Fiona 04:18:12 3860; HENDERSON John 04:18:13 3861; MCLEOD Jon 04:18:14 3862; HUTCHINSON Paul 04:18:14 3863; CORNFIELD Vincent 04:18:16 3864; SCALLAN Mark 04:18:18 3865; SMITH Stuart 04:18:19 3866; GARZONI Joanne 04:18:19 3867; BLACK Sarah 04:18:20 3868; DOWNEY Kristin 04:18:20 3869; COX Ian 04:18:21 3870; STILL Enid 04:18:21 3871; CONLEY Iain 04:18:22 3872; TWADDLE Stuart 04:18:23 3873; FLEMING Christine 04:18:23 3874; PFEUTY Francoise 04:18:23 3875; TAYLOR Laura 04:18:25 3876; GOSNEY Michael 04:18:26 3877; CARTER Rebecca 04:18:28 3878; CROLL Darren Lee 04:18:28 3879; WARD Elaine 04:18:29 3880; FULTON David 04:18:32 3881; DRY Ashley 04:18:32 3882; BARKSBY Jeff 04:18:33 3883; RUTTER Melanie 04:18:33 3884; SOLARI Roberto 04:18:35 3885; CRANE Matt 04:18:35 3886; MCALLISTER Claire 04:18:36 3887; LLOYD Vicki 04:18:38 3888; RUSSELL Tim 04:18:39 3889; MAXWITAT Frank 04:18:39 3890; HOLMES Richard 04:18:42 3891; HUGHES Anne 04:18:42 3892; GOODMAN Sally 04:18:43 3893; WILLIAMSON Tommy 04:18:44 3894; MCVIE Gary 04:18:46 3895; O'NEILL James 04:18:47 3896; CHALMERS Kevin 04:18:47 3897; PATERSON Mairi 04:18:48 3898; RALPH Sharon 04:18:49 3899; GUEQUIERRE John 04:18:51 3900; LUCAS Rob 04:18:51 3901; WILSON Alistair 04:18:51 3902; CROUCH Kevin 04:18:52 3903; COTTAM Greg 04:18:53 3904; HERON Jonathan 04:18:53 3905; COLLINGE Marcus 04:18:53 3906; KNOX James 04:18:53 3907; EDWARDS Paul 04:18:53 3908; MOIR David 04:18:55 3909; LLOYD Alexandra 04:18:55 3910; BRAGASON Elizabeth 04:18:56 3911; CRAWFORD Charles 04:18:57 3912; LEWIS Michelle 04:18:57 3913; REICHELT Katharina 04:18:57 3914; KELSEY Alistair 04:18:59 3915; FLOOK Steven 04:19:00 3916; POWIS Ian 04:19:00 3917; FENWICK Helen 04:19:02 3918; CALLAGHAN Darren 04:19:02 3919; TRYBOWSKA Ann 04:19:02 3920; MAGOWAN Kerri 04:19:03 3921; LOWE Joseph 04:19:03 3922; KNIGHT Michael 04:19:04 3923; GUEST Simon 04:19:05 3924; ARRUNDALE Stephen 04:19:06 3925; MCCABE Kevin 04:19:06 3926; CARTMELL Terri 04:19:06 3927; STEENSMA Joke 04:19:06 3928; BUCHANAN Stuart 04:19:06 3929; ROGAN Peter 04:19:07 3930; LEE Stuart 04:19:07 3931; PRETSELL Peter 04:19:07 3932; CLARK Shona 04:19:08 3933; ROBSON Belinda 04:19:09 3934; FINN Peter 04:19:13 3935; BEARD Stephen 04:19:13 3936; PRESCOTT George 04:19:13 3937; MURRAY Mark 04:19:14 3938; ISALINE Roulet 04:19:15 3939; BORGERSEN Kai Glenn 04:19:16 3940; MCALEER Theresa 04:19:16 3941; HEMSLEY Heather 04:19:19 3942; DAWSON Barbara 04:19:20 3943; GERRY Craig 04:19:21 3944; COCHRANE Stuart 04:19:21 3945; HILTON Iain 04:19:24 3946; CLARKE Nicola 04:19:24 3947; MCLACHLAN David 04:19:25 3948; FRIDAY Stephanie 04:19:25 3949; ARGENT Rachel 04:19:25 3950; LEONARD William 04:19:26 3951; MILLAR Duncan 04:19:26 3952; MARKEY Steven 04:19:27 3953; STRONG Karen 04:19:29 3954; GLENDENNING John 04:19:29 3955; MACDONALD Cathy 04:19:29 3956; LE BELLEGUY Sue 04:19:30 3957; SAINT Jane 04:19:30 3958; ALEXANDRA Elspeth 04:19:31 3959; DEE James 04:19:32 3960; MOSCHARD Toby 04:19:37 3961; NUTE Neil 04:19:38 3962; DYE David 04:19:38 3963; PEEL Sarah 04:19:39 3964; WINTON Lindsay 04:19:39 3965; STUTT Andrea 04:19:40 3966; QUICK Ryan 04:19:40 3967; NEWMAN Kier 04:19:43 3968; JONES Gareth 04:19:43 3969; UNTERREINER Brandie 04:19:43 3970; PENNINGTON Elspeth 04:19:44 3971; ATTALA Anita 04:19:45 3972; BARRY Sorcha 04:19:47 3973; RUDOLF Björn 04:19:48 3974; CABBLE Elizabeth 04:19:48 3975; LENOCI Riccardo 04:19:51 3976; CRAY Phil 04:19:51 3977; BUNN Nicholas 04:19:51 3978; HALE Scott 04:19:52 3979; FROOD Alastair 04:19:53 3980; WRIGHT Jess 04:19:54 3981; SCOTT Paul 04:19:55 3982; HUXTABLE Nathan 04:19:55 3983; WOOD Harry 04:19:55 3984; BARBU Iulia Simona 04:19:56 3985; SMITH Matthew 04:19:56 3986; KEMP Amanda 04:19:57 3987; TAYLOR Helen 04:19:58 3988; CALVERLEY Claire 04:19:58 3989; SMITH Neil 04:19:59 3990; MACK Douglas 04:19:59 3991; FEGAN Kenneth 04:20:00 3992; LAING Bradley 04:20:00 3993; STEVENSON Claire 04:20:00 3994; LAING Ross 04:20:00 3995; JOHNSTONE Stephen 04:20:00
3996; GRANT Kirstin 04:20:01 3997; IRVING Laura 04:20:02 3998; BRADSHAW Paul 04:20:04 3999; BRACE Paul 04:20:06 4000; BIGGINS Mary Sharon 04:20:07 4001; CARDNELL John 04:20:09 4002; TAIT Suzanne 04:20:10 4003; MCATEER Stephen 04:20:13 4004; BACALLADO Manuel 04:20:14 4005; MESSER Jonty 04:20:15 4006; MCDERMOTT William 04:20:15 4007; MASON Kelly 04:20:15 4008; HARE Kenneth 04:20:15 4009; HEDGES Luke 04:20:17 4010; DEMPSEY Gavin 04:20:17 4011; ANTROBUS Jack 04:20:17 4012; BROWN Kate 04:20:17 4013; WILLIAMSON Jason 04:20:17 4014; DE SOUZA Richard 04:20:18 4015; ALEXANDER Ross 04:20:19 4016; POOLE Johnathan 04:20:20 4017; OXLEY James 04:20:20 4018; KING Katy 04:20:20 4019; FOSTER Paul 04:20:22 4020; WHARTON Iain 04:20:22 4021; SMITH Moira 04:20:22 4022; SMITH Sharon 04:20:22 4023; SIM Craig 04:20:23 4024; NORMAN Diane 04:20:23 4025; STUDHOLME Mark 04:20:23 4026; HUMPHRYS Norman 04:20:24 4027; ARCHIBALD Steven 04:20:24 4028; MCCORMACK Luke 04:20:26 4029; MALEY Joanna 04:20:28 4030; MCDOWALL Bill 04:20:28 4031; MALEY Laura 04:20:28 4032; HAROLD Alexander 04:20:32 4033; BROWN Fiona 04:20:32 4034; GILES Christine 04:20:32 4035; QUIRK Christopher 04:20:32 4036; GROGAN Paul 04:20:32 4037; LONSDALE Adele 04:20:33 4038; HASKOURI Alia 04:20:33 4039; KEW Debbie 04:20:34 4040; MCCALLUM Jackie 04:20:35 4041; DEMPSTER Rachael 04:20:35 4042; HILL Darren 04:20:37 4043; AYLOTT Caroline 04:20:38 4044; PRIEBS Bernd 04:20:39 4045; RUGGIERO Carmine 04:20:39 4046; LEMIESZEWSKI Kamil 04:20:39 4047; KELLY Jordan 04:20:40 4048; NEWTON Jed 04:20:42 4049; MCDONNELL Marie 04:20:43 4050; CULLINGWORTH Hilary 04:20:44 4051; NI LOIDEAIN Nora 04:20:46 4052; WALKER Mark 04:20:46 4053; WILLEMS Annette 04:20:47 4054; BROOKS Paul 04:20:48 4055; HURLEY Owen 04:20:48 4056; CRANSWICK Darren 04:20:48 4057; HANNAWAY Alex 04:20:48 4058; OLSZEWSKA Agnieszka 04:20:48 4059; BIRD Stuart 04:20:49 4060; DOWSING Peter 04:20:49 4061; HIRST Timothy 04:20:50 4062; MURPHY Laura 04:20:51 4063; MEECHAN Vincent 04:20:51 4064; SEMPLE Sandra 04:20:52 4065; SWALLOW Ann Marie 04:20:54 4066; JOHNSTONE Susan 04:20:54 4067; VEITCH Kevin 04:20:55 4068; DUNN Andy 04:20:55 4069; VAUGHAN Calum 04:20:55 4070; GLASGOW Stuart 04:20:55 4071; PARRY Carol 04:20:55 4072; SMITH Tamsin 04:20:56 4073; HOLLAND Jim 04:20:57 4074; TAYLOR Christopher 04:21:00 4075; NASON Greg 04:21:01 4076; KNOWLES Philip 04:21:02 4077; ROBINSON Elize 04:21:06 4078; GRAY David 04:21:07 4079; STEED Mark 04:21:09 4080; RUSSELL Grant 04:21:10 4081; LUKE Andy 04:21:14 4082; GLOSSOP Jenny 04:21:15 4083; MURTHY Salil 04:21:15 4084; TURNBULL Julie 04:21:18 4085; KEITH Paul 04:21:19 4086; STEWART Adam 04:21:20 4087; SCHENK John 04:21:23 4088; ROSS Catherine 04:21:23 4089; HORTON Michael 04:21:25 4090; ROGERS Richard 04:21:26 4091; BALL Lucas 04:21:26 4092; DOHERTY Gerard 04:21:28 4093; ABERNETHY David 04:21:30 4094; DODDS Ben 04:21:31 4095; USHER Steven 04:21:32 4096; HAWKSWORTH Maggie 04:21:32 4097; PICKERSGILL Sheena 04:21:33 4098; FRANSSON Erik 04:21:34 4099; FORBES Ian 04:21:34 4100; REYNOLDS Stephen 04:21:35 4101; MYLLYLA Ilkka 04:21:36 4102; BUSH Martin Richard 04:21:37 4103; PEANA Paolo 04:21:38 4104; CLARK Jeremy 04:21:39 4105; ALAM Irfan 04:21:43 4106; HABENS Kathryn 04:21:44 4107; HUGHES Mark 04:21:44 4108; SEMBHI Sati 04:21:46 4109; SHEPHERD Cameron 04:21:49 4110; CONNOR Chris 04:21:49 4111; JAKOBS Joonatan 04:21:49 4112; FRIIS THOMSEN Hanne Mette 04:21:50 4113; RABAN Ran 04:21:51 4114; SIMMONS Dan 04:21:52 4115; DICKENSON Sharon 04:21:53 4116; BULLICK Sharon 04:21:55 4117; BOUSFIELD Pamela 04:21:56 4118; HARRIS Gerard 04:21:56 4119; CHARLTON Kenneth 04:21:56 4120; LYONS Richard 04:21:58 4121; BILL Elaine 04:21:58 4122; BILL Stuart 04:21:58 4123; LLOYD Simon 04:21:58 4124; WARD Rachael 04:22:00 4125; MACGREGOR Lucy 04:22:00 4126; STAINER Tracy 04:22:03 4127; THOMAS N.G. 04:22:03 4128; MANN John 04:22:05 4129; CRAGGS Peter 04:22:05 4130; THOMSON Craig 04:22:07 4131; GRAY Paul 04:22:07 4132; MAXWELL Gemma 04:22:08 4133; GIBBONS Sandy 04:22:08 4134; CAULFIELD Lynn 04:22:10 4135; AGNEW Will 04:22:11 4136; BOYD Stuart 04:22:14 4137; ROGERSON Sarah 04:22:14 4138; COUPER Aitken 04:22:16 4139; WATSON Malcolm 04:22:20 4140; DORWARD Douglas 04:22:20 4141; DOWNIE Andrew 04:22:21 4142; JONES Alexander 04:22:22 4143; ANDREWS Mark 04:22:23 4144; GIBB Garry 04:22:23 4145; MACSWEENEY David 04:22:24 4146; BROMLEY Lee 04:22:26 4147; COBB Christopher 04:22:26 4148; BLACKFORD Billy 04:22:26 4149; BLACKFORD Anthony 04:22:27 4150; FARROW Serena 04:22:28 4151; CURRIE Stuart 04:22:28 4152; JONES Michelle 04:22:30 4153; BANKS John 04:22:31 4154; MCGOWAN Paul 04:22:32 4155; WALDECK Simon 04:22:32 4156; NIEMINEN Matti 04:22:33 4157; MURISON Laura 04:22:33 4158; DEACON Maxine 04:22:34 4159; DEACON Christopher 04:22:34 4160; MCLAVIN Michael 04:22:34 4161; WOODLAND Mark 04:22:41 4162; STEVENS Simon 04:22:44 4163; ROBINSON Nick 04:22:44 4164; MOJZIS Dasa 04:22:45 4165; WOOD Harriet 04:22:45 4166; BURGOYNE Nick 04:22:46 4167; MCKENZIE Lynne 04:22:47 4168; HUTTON Alison 04:22:47 4169; STOKES Robert 04:22:47 4170; WILKS Andy 04:22:48 4171; NUNN Vikki 04:22:49 4172; REES Tristram 04:22:49 4173; WHITE Mark 04:22:49 4174; O'CALLAGHAN Gareth 04:22:51 4175; HOWLEY Steve 04:22:52 4176; BUDEL Bernard 04:22:52 4177; MORTIMER Simon 04:22:53 4178; HAYTON Carl 04:22:54 4179; AMBROSE Elizabeth 04:22:55 4180; BLACKIE Kate 04:22:55 4181; WESTWOOD Chris 04:22:55 4182; FUNDELL Katharine 04:22:56 4183; CLARK Caroline 04:22:56 4184; SIMPSON-DUFF Brian 04:22:56 4185; DUTHIE Susan 04:22:56 4186; HALL Kathryn 04:22:58 4187; SATCHELL Joanna 04:22:59 4188; SMITH Catriona 04:22:59 4189; ROBERTSON Jenny 04:22:59 4190; BOYCE Joe 04:23:01 4191; JOWSEY Mark 04:23:01 4192; STRANGEWAY Sarah 04:23:02 4193; PERMAN Justin 04:23:03 4194; CONFETTA Massimo 04:23:05 4195; MACLEERIE Martin 04:23:05 4196; MAGONI Gilberto 04:23:06 4197; STEWART Ian 04:23:07 4198; KIMBLE Christopher 04:23:07 4199; BENNETT BRITTON Tom 04:23:11 4200; THOMAS Tanya 04:23:12 4201; BECKER Stefan 04:23:13 4202; KINGHORN Daniel 04:23:14 4203; LAKE Jacqueline 04:23:14 4204; ROBERTS Lisa 04:23:15 4205; BOARDMAN Wayne 04:23:15 4206; BROWN Jeff 04:23:16 4207; WILLETT Steven 04:23:16 4208; SIMMONDS Clive 04:23:17 4209; NICHOLLS Paul 04:23:18 4210; KOTSEVA Lina 04:23:19 4211; ABBEY Victor 04:23:20 4212; CRAVEN Kelly 04:23:21 4213; EVANS Morgan 04:23:22 4214; PAISLEY Richard 04:23:23 4215; CLARK Raymond 04:23:24 4216; MERISIO Stefano 04:23:25 4217; WALKER Andrew 04:23:25 4218; HAMILTON Gordon 04:23:25 4219; STEENBERGEN Lyda 04:23:25 4220; PLANT Jonathon 04:23:26 4221; ELLIOTT Russell 04:23:27 4222; KLECHA Barbara 04:23:27 4223; NEWTON Jennifer 04:23:27 4224; YOUNG Karen 04:23:29 4225; JAHRESKOG Anthon 04:23:29 4226; MCARTHUR Scott 04:23:29 4227; JONES Sue 04:23:29 4228; KIDD Christian 04:23:29 4229; JONES Gareth 04:23:30 4230; WHITTAKER Danielle 04:23:30 4231; BLOCKSIDGE James 04:23:32 4232; HALLIDAY Dianne 04:23:32 4233; KUMAR Alex 04:23:33 4234; WILMOT Wayne 04:23:33 4235; LAFFERTY Andrew 04:23:34 4236; PURDIE Colin 04:23:34 4237; ADAMS Stuart 04:23:35 4238; FRYER Lucy 04:23:35 4239; HUMBLE James 04:23:37 4240; MARIA RICHARDS Donna 04:23:38 4241; NEIL Craig 04:23:39 4242; FLINT David 04:23:40 4243; HAMILTON John 04:23:42 4244; HUGHES Nathan 04:23:42 4245; WEST Steven 04:23:43 4246; COOPER Shaun 04:23:44 4247; SMITH David 04:23:48 4248; TENNANT Graeme 04:23:49 4249; CAUFIELD Christopher 04:23:50 4250; SHOFIUZZAMAN Mohammed 04:23:50 4251; DOODY William 04:23:50 4252; SOMERVILLE Catherine 04:23:50 4253; CAMPBELL Chris 04:23:50 4254; CRAWFORD Oona 04:23:52 4255; CAIRNS Kenny 04:23:53 4256; IRVING William 04:23:54 4257; WILLIAMS Yvonne 04:23:54 4258; RAZA Mohsin 04:23:57 4259; MOFFAT Steven 04:23:58 4260; NELSON Alun 04:24:02 4261; MCLENNAN Darren 04:24:02 4262; GILMOUR Graham 04:24:03 4263; WATT Carol 04:24:05 4264; KANDBORG Evy 04:24:05 4265; DUN Zoe 04:24:05 4266; BARNES Stephen 04:24:06 4267; SALT Michael 04:24:06 4268; SOINI Jouko 04:24:06 4269; WEIR Mark 04:24:07 4270; RILEY Debra 04:24:08 4271; SCOTT Stephen 04:24:08 4272; ROSS Leeann 04:24:11 4273; JOCIUS Viktoras 04:24:12 4274; WADDINGTON John 04:24:12 4275; BEANEY Simon 04:24:14 4276; TOCHER Judy 04:24:14 4277; MCWILLIAMS Brian 04:24:15 4278; SHEPHERD Simon 04:24:15 4279; BUTTERFIELD Lee 04:24:15 4280; OLIVER Ben 04:24:15 4281; SHEARER Marcus 04:24:15 4282; JOYCE Michael 04:24:17 4283; WALKER Angela 04:24:18 4284; DONALDSON Andrew 04:24:18 4285; ALCOCK James 04:24:18 4286; BURGIN Sarah 04:24:18 4287; DOWNEY Kim 04:24:21 4288; PINNINGTON Ben 04:24:24 4289; MACDONALD James 04:24:25 4290; COWAN Roy 04:24:25 4291; BAUGHAN Emily 04:24:26 4292; KAVANAGH-DIXON Gareth 04:24:27 4293; FORRESTER Simon 04:24:28 4294; TANNIOU Florence 04:24:31 4295; WALKER Amy 04:24:32 4296; MILLER-GROSSETT Claire 04:24:32 4297; TYLEY Cristina 04:24:32 4298; MURRAY Alison 04:24:32 4299; AYRE Kate 04:24:35 4300; NELSON Kirsty 04:24:35 4301; LISTER George 04:24:37 4302; WALKER Peter James 04:24:38 4303; VERSMISSEN Jan 04:24:38 4304; NUNN Simon 04:24:38 4305; SEDIN Andrey 04:24:38 4306; TAYLOR David 04:24:38 4307; WILSON Dan 04:24:38 4308; MILEHAM Stephen 04:24:38 4309; SMITH Andrew 04:24:39 4310; BECKWITH Simon 04:24:40 4311; CROMACK Geoff 04:24:41 4312; DUROW Sandra 04:24:42 4313; EVANS Gareth 04:24:42 4314; MONTGOMERY Gary 04:24:44 4315; ROBSON Katie 04:24:44 4316; NORTH Stephen 04:24:45 4317; DEETH Stephen 04:24:45 4318; SMART Diana 04:24:45 4319; MYERS Martin 04:24:45 4320; FRANCOIS Sanchez 04:24:46 4321; MCKINLEY Norman 04:24:47 4322; FISHPOOL Anna 04:24:48 4323; DIGMAN Phillip 04:24:49 4324; KAUR Gurpreet 04:24:49 4325; HEFFRON Noanie 04:24:50 4326; BOOTH Jayne 04:24:50 4327; THOMSON Andy 04:24:51 4328; STRINGER Claire 04:24:51 4329; CHARLES Laurena 04:24:52 4330; WILSON Andrew 04:24:52 4331; RICHARDS Heath 04:24:56 4332; STEPHENSON Nikki 04:24:57 4333; MC ANDREW Tony 04:24:58 4334; HEDLEY Paul 04:24:58 4335; GRANT Ian 04:24:59 4336; CIELESZ Bartosz 04:25:01 4337; MULGREW Martin 04:25:01 4338; FORDY Gemma 04:25:03 4339; WILKINSON Robert 04:25:03 4340; VEITCH Duncan 04:25:04 4341; DUNCAN Heather 04:25:04 4342; LAMI Valerio 04:25:05 4343; HAGGART Mark 04:25:06 4344; GONSALVES Victor 04:25:07 4345; BARNABY Pauline 04:25:07 4346; BEATTIE Patrick 04:25:08 4347; MUNDAY Stuart 04:25:10 4348; BANFORD Alex 04:25:11 4349; SOUTH Craig 04:25:13 4350; ABRAMS Melanie 04:25:13 4351; DOYLE Helen 04:25:13 4352; JOHNSTON David 04:25:14 4353; KIEFER Emily 04:25:15 4354; CLEMENTS Angela 04:25:15 4355; PENMAN Ryan 04:25:19 4356; DAVIDSON Paul 04:25:20 4357; PAIN Jonathan 04:25:21 4358; HAMILTON Sian 04:25:21 4359; MUNDAY Avril 04:25:21 4360; WALLACE Alan 04:25:21 4361; BURGESS Philip 04:25:21 4362; STACK Rob 04:25:22 4363; RUSSELL Gillian 04:25:23 4364; RAJENDRAN Rahulan 04:25:26 4365; BAKER Edward 04:25:26 4366; LAWLOR Steven 04:25:26 4367; PITT Elspeth 04:25:26 4368; LUMSDEN Linda 04:25:27 4369; SANKAR Nathan 04:25:28 4370; SUCHOMSKA Natalia 04:25:28 4371; SZYFMAN Daniel 04:25:30 4372; KNOWLES Chris 04:25:30 4373; BIRCH Kevin 04:25:31 4374; DERIGHETTI Allison 04:25:33 4375; HOLLYWOOD Dennis 04:25:35 4376; FRASER James 04:25:35 4377; ALEXANDER Paul 04:25:35 4378; PROUDLER Martin 04:25:38 4379; WILSON Sandra 04:25:38 4380; WARDROPE Chris 04:25:41 4381; NESS Steven 04:25:41 4382; HOPE Dave 04:25:42 4383; COOK Robert 04:25:42 4384; TRICKER Brett 04:25:43 4385; SHANAHAN Donal 04:25:43 4386; VAN KOESVELD Blake 04:25:43 4387; TOUGH Caroline 04:25:44 4388; LAW Calum 04:25:45 4389; STOKES Phillip 04:25:45 4390; GREATOREX-DAY Suzanne 04:25:47 4391; VAN REENEN Kevin 04:25:47 4392; LOWE Wendy 04:25:48 4393; ATHERTON Steve 04:25:49 4394; ATHERTON Catherine 04:25:49 4395; PATTISON Jamie 04:25:49 4396; SCOTT Chris 04:25:50 4397; BARKER Kevin 04:25:51 4398; GRAY Megan 04:25:52 4399; MOORHEAD Derek 04:25:52 4400; LINDLEY Helen 04:25:54 4401; HUGILL Brian 04:25:54 4402; UUSSAARI Manne 04:25:54 4403; MCNEILL Rebecca 04:25:55 4404; COWDEN John 04:25:55 4405; MACKERRACHER Stewart 04:25:56 4406; CARNIE Ross 04:25:58 4407; MURDOCH Mhairi 04:25:58 4408; HONEYCHURCH Clare 04:25:58 4409; MCLEOD Scott 04:25:59 4410; WHALEN Sarah 04:26:00 4411; HENNIGAN Malcolm 04:26:00 4412; GREEN Matthew 04:26:01 4413; MACLEOD Fraser 04:26:03 4414; JENKINSON Dominique 04:26:04 4415; LEWIS Simon 04:26:05 4416; LIDDINGTON Michael 04:26:07 4417; OWENS Padraig 04:26:07 4418; TAYLOR Jacob 04:26:07 4419; CARRUTHERS James 04:26:08 4420; ROBERTS Sean 04:26:08 4421; PATRICK Stanley 04:26:09 4422; DOCKING Lucy 04:26:09 4423; HUDSON John 04:26:09 4424; GWILLIM Lee 04:26:09 4425; DEANGELIS Rick 04:26:11 4426; MORTON Paul 04:26:11 4427; MORGAN Timothy 04:26:11 4428; OSMAN Osman 04:26:14 4429; GARDNER Francesca 04:26:15 4430; MACKAY Caroline 04:26:15 4431; RISBY Sam 04:26:16 4432; HARRIS Denice 04:26:17 4433; TOWL Michael 04:26:18 4434; KEELEY Rob 04:26:18 4435; THOMPSON Laura 04:26:19 4436; DOLAN Barry 04:26:20 4437; WELLS Linsey 04:26:20 4438; CROFTS Matt 04:26:21 4439; BRACEWELL-MILNES Tim 04:26:21 4440; DRAKE Ben 04:26:22 4441; WILLIAMS Michael 04:26:22 4442; YOUNG George 04:26:23 4443; FAIRCLOUGH Nick 04:26:25 4444; BARRIE Frazer 04:26:25 4445; MIKKELSEN Jan Olaf 04:26:25 4446; CAMPBELL David 04:26:25 4447; BELL Trish 04:26:26 4448; FARQUHAR Kerry 04:26:26 4449; SLUGEN Juraj 04:26:27 4450; REVIE Martin 04:26:28 4451; MCELWEE Graham 04:26:29 4452; WALKER Emma 04:26:29 4453; MARINO Marini 04:26:31 4454; MATHEWS Damien 04:26:33 4455; MACLEAN Claire 04:26:33 4456; LEMON James 04:26:33 4457; MCMILLAN Stuart 04:26:33 4458; GUINA Mary 04:26:33 4459; STOCKEN Peter 04:26:36 4460; GEMMELL Ruth 04:26:36 4461; BAILEY Martin 04:26:39 4462; WILKINSON Cain 04:26:41 4463; PROLL Jennifer 04:26:41 4464; WOODWARD Phil 04:26:41 4465; ABRAHAM Christopher 04:26:42 4466; SCHNEIDER Michael 04:26:42 4467; GROVE Shaun 04:26:43 4468; HIGGINS Lorna 04:26:43 4469; NAYLOR Wendy 04:26:43 4470; FOSS David 04:26:43 4471; KHATTER Satnam 04:26:44 4472; GOSAL Sharon 04:26:45 4473; NEWCOMBE Louise 04:26:47 4474; PORTER Graham 04:26:49 4475; NOTTON Hayley 04:26:50 4476; POLLOCK John 04:26:50 4477; BARR Davy 04:26:52 4478; STENHOUSE Karen 04:26:53 4479; RUSSELL Judith 04:26:53 4480; CRAWFORD Jacqueline 04:26:54 4481; FARMER Neil 04:26:54 4482; EUNSON Gillian 04:26:57 4483; WOODS Amber 04:26:58 4484; HALL Edward 04:26:58 4485; FOONG Thomas 04:26:59 4486; FOONG Alex 04:26:59 4487; GOTHARD Lee 04:27:01 4488; GREENOAK Keith 04:27:03 4489; LINFORD Alistair 04:27:04 4490; RODGER Edward 04:27:04 4491; THOMSON Nikki 04:27:04 4492; TAYLOR Tim 04:27:05 4493; EVANS David 04:27:06 4494; SPACCINO Lolita 04:27:07 4495; WILSON Patrick 04:27:10 4496; ATKINSON Craig 04:27:10 4497; CROSSMAN Sarah 04:27:13 4498; PAXMAN Rose 04:27:14 4499; DAWSON Sarah 04:27:14 4500; LAWSON Rosanna 04:27:14 4501; DAVIDSON Andy 04:27:15 4502; TURNBULL Donna 04:27:17 4503; WEBB Lyn 04:27:17 4504; REID Graeme 04:27:18 4505; MCPHUN Nicola 04:27:19 4506; OHARA Scott 04:27:25 4507; SYMONDS Marc 04:27:26 4508; HARTLEY Michael 04:27:29 4509; BLAND Ruth 04:27:30 4510; ALLAN David 04:27:32 4511; PATON Davis 04:27:33 4512; CASSELLE Joanne 04:27:33 4513; COOPER Liz 04:27:34 4514; POTTICARY Dave 04:27:34 4515; DALE Julie 04:27:34 4516; GIBSON David 04:27:38 4517; MERRITT Fabia 04:27:39 4518; BYRNE Emma 04:27:39 4519; FORBES Victoria 04:27:39 4520; WAKELAM Jason 04:27:40 4521; HOBMAN Oliver 04:27:41 4522; DODDS David 04:27:43 4523; DOIG Alan 04:27:43 4524; KLUG Bryan 04:27:43 4525; NEWBOULD Matt 04:27:44 4526; RUICKBIE Iain 04:27:45 4527; RASMUSSEN Ole Sloth 04:27:46 4528; MCPHUN Robert 04:27:47 4529; WOODWARD Simon 04:27:48 4530; NICHOLLS Mark 04:27:49 4531; COOKE Ian 04:27:49 4532; O'BRYAN Sarah 04:27:50 4533; FORD Martin 04:27:51 4534; MCKENNA Robert 04:27:51 4535; GORDON-CRAIG Sophie 04:27:51 4536; HUNT Fintan 04:27:52 4537; DOUGLAS Michael 04:27:52 4538; DOWLING Lee 04:27:52 4539; HAZLE Alex 04:27:52 4540; CROWLEY Michael 04:27:52 4541; MILLIGAN Emma 04:27:53 4542; BENNETT Graeme 04:27:53 4543; ROBSON Allan 04:27:54 4544; SMITH Claire 04:27:54 4545; WILEMAN Kathryn 04:27:55 4546; BOYD Alan 04:27:56 4547; TAYLOR Matthew 04:27:56 4548; WILMOT Richie 04:27:57 4549; DAWKINS Maggie 04:27:57 4550; RAE Kevin 04:27:57 4551; HAINSWORTH David 04:27:59 4552; RAI Ritin 04:28:00 4553; HUNT John 04:28:01 4554; ELLIOTT Dorothy 04:28:01 4555; BENFIELD Matt 04:28:01 4556; LYNAN David 04:28:02 4557; LEVER Sarah 04:28:03 4558; SELWOOD Paul 04:28:03 4559; JEAN PIERRE Ferrand 04:28:04 4560; CALVEY Brendan 04:28:04 4561; HEUGH Gideon 04:28:05 4562; HAIR Fiona 04:28:05 4563; MCBEATH Rob 04:28:06 4564; WEBB Melissa 04:28:07 4565; KIAVAND Kiarash 04:28:10 4566; PARKINSON Oliver 04:28:10 4567; SWEBY Catherine 04:28:14 4568; BUSST Rob 04:28:14 4569; MACDONALD Mhairi 04:28:15 4570; MCCABE Christopher 04:28:15 4571; ADCOCK Lindsay 04:28:18 4572; PARKIN Jennifer 04:28:19 4573; SWIFT David 04:28:20 4574; POULTER Kathryn 04:28:20 4575; WRIGHT Kriston 04:28:22 4576; JACKSON Vanessa 04:28:24 4577; SANDERSON Mark 04:28:28 4578; 8243 Runner 04:28:30 4579; LEE Richard 04:28:32 4580; THOMAS Oliver 04:28:33 4581; XAVIER Dreyfus 04:28:33 4582; HACKETT David 04:28:35 4583; CAMPBELL Karen 04:28:35 4584; MATHERS David 04:28:36 4585; GREEN Joanne 04:28:38 4586; ROGERSON James 04:28:38 4587; BUTLER Rob 04:28:39 4588; GILLESPIE Ewen 04:28:41 4589; HONEYBUN-ARNOLD Oliver 04:28:42 4590; SCHITTKO Thomas 04:28:43 4591; TUNSTALL Duncan 04:28:43 4592; PELLICCIA Andrea 04:28:43 4593; CAHILL Paul 04:28:43 4594; LAUKO Martin 04:28:43 4595; RIDDELL Judith 04:28:44 4596; KRAJCZEWSKA Halina 04:28:44 4597; CANNON Ross 04:28:44 4598; PAUDYAL Vibhu 04:28:45 4599; FISH Tim 04:28:47 4600; CARVALHO Ashley 04:28:49 4601; ALEXIOU Alexander 04:28:50 4602; AIREY Caroline 04:28:51 4603; CLARK Sean 04:28:53 4604; SHARPE Anne 04:28:56 4605; VAUX Helen 04:28:56 4606; NEWTON Daniel 04:28:57 4607; RAMSDEN Anne 04:28:58 4608; DAWES Louise 04:28:58 4609; SANDFORD Richard 04:28:58 4610; SIMPSON Joseph 04:28:59 4611; CARTER Paul 04:29:01 4612; LANGWORTHY Brigitte 04:29:01 4613; DONALDSON Kelvin 04:29:02 4614; REYNOLDS Pauline 04:29:03 4615; MCNULTY Alun 04:29:04 4616; GABRIELE Fiereder 04:29:05 4617; FINNEGAN Jonathan 04:29:05 4618; FLEMING Louise 04:29:05 4619; SMITH Katherine 04:29:06 4620; MAINELLO Elizabeth 04:29:08 4621; SIMPSON Andrew 04:29:08 4622; BALLER Mark 04:29:08 4623; FLASHMAN Mark 04:29:11 4624; REILLY Martin 04:29:12 4625; ELDRIDGE Richard 04:29:13 4626; BOTTOMLEY Peter 04:29:13 4627; WYATT James 04:29:14 4628; PREMACHANDRA Jonathan 04:29:16 4629; COOPER Gary 04:29:16 4630; BLINCOW Jodie 04:29:17 4631; SCOTT Naomi 04:29:18 4632; NEWBERRY Emma 04:29:19 4633; KELLEY Neil 04:29:19 4634; MACKENZIE Caroline 04:29:20 4635; CROCKETT Rachael 04:29:22 4636; ROBERTS Lisa 04:29:23 4637; WHITE Andy 04:29:27 4638; MCCALL Grant 04:29:27 4639; WAYNE David 04:29:28 4640; BENNETT BRITTON Chris 04:29:28 4641; ALEXANDER Graeme 04:29:29 4642; MARSON Charlotte 04:29:30 4643; CHILVERS Sarah 04:29:33 4644; EDWARDS Andrew 04:29:34 4645; STACK George 04:29:36 4646; HARRINGTON Damien 04:29:37 4647; PORTEOUS Bob 04:29:38 4648; WADE Daniel 04:29:39 4649; HAVILL Robin 04:29:40 4650; KASSAPIAN Marianne 04:29:40 4651; RAPSEY Estelle 04:29:40 4652; MURRAY Ian 04:29:40 4653; DERRICK David 04:29:40 4654; RYAN Ruth 04:29:40 4655; CAMPBELL-DAVIES Michelle 04:29:42 4656; BAKSHI Runa 04:29:42 4657; KEADY Patrick 04:29:42 4658; DEFTY Lisa 04:29:44 4659; LAMB Julian 04:29:45 4660; O'DONNELL Gerard 04:29:46 4661; DUHIG David 04:29:46 4662; LING Max 04:29:48 4663; ACKROYDL Lynne 04:29:49 4664; LINKLATER Heather 04:29:50 4665; DUNCAN Joanne 04:29:51 4666; WOOD Derek 04:29:52 4667; SMITH Oliver 04:29:52 4668; JOYCE Cathy 04:29:54 4669; LUSTY George 04:29:55 4670; BURNS Lynsey 04:29:56 4671; MCCOMISKIE Garry 04:30:00 4672; MCINULTY Claire 04:30:00 4673; LINDSAY Jonathan 04:30:00
4674; MILOT Nathalie 04:30:01 4675; MCCULLOCH Marc 04:30:01 4676; SHIRLAW Kyla 04:30:01 4677; ROYCE Michael 04:30:03 4678; OXLEY Antony 04:30:03 4679; MARTIN Ewan 04:30:03 4680; COOK Joanne 04:30:04 4681; AZAD-SMELTZER Azadeh 04:30:04 4682; BRICKNELL Mark 04:30:05 4683; ROGERS Kevin 04:30:06 4684; CARR Simon 04:30:07 4685; BELL Ian 04:30:08 4686; WATKINS James 04:30:09 4687; BUTLER Fiona 04:30:09 4688; CHAUHAN Mayur 04:30:10 4689; PICKEN Andrew 04:30:12 4690; 5856 Runner 04:30:14 4691; LOCKIE Paul 04:30:17 4692; CHEUNG Kwok 04:30:17 4693; LYON David 04:30:19 4694; CAHENY Paul 04:30:20 4695; BAXTER Jeannette 04:30:21 4696; WILLIAMS Philippa 04:30:21 4697; LEE Lorie 04:30:21 4698; KETTNER Peter 04:30:22 4699; NELSON Maureen 04:30:23 4700; GRANT Dair 04:30:24 4701; ADAMS Stuart 04:30:24 4702; PETITT Nicki 04:30:25 4703; SANGHA Amandeep 04:30:25 4704; DUNCAN Graeme 04:30:25 4705; REYNOLDS Terri 04:30:25 4706; GRAY Walter 04:30:26 4707; TURNER Simon 04:30:26 4708; SPEARING Nick 04:30:27 4709; ALEXANDER Heather 04:30:27 4710; MCLEAN Cara 04:30:29 4711; SLOANE Josh 04:30:30 4712; IRONSIDE Alastair 04:30:30 4713; HARRIS Anna 04:30:32 4714; BURNETT Mike 04:30:34 4715; GORRY John 04:30:35 4716; WALLS Karen 04:30:35 4717; ARAMBURU Eva 04:30:35 4718; FRASER David 04:30:37 4719; AGNEZON Lars 04:30:38 4720; BEATON Deborah 04:30:38 4721; STAFFORD Eleanor 04:30:39 4722; LLOYD-HIRST Jonathan 04:30:39 4723; HOWE Martin 04:30:40 4724; SCALLON Peter 04:30:43 4725; PUGH Daniel 04:30:43 4726; WINTER Richard 04:30:44 4727; PRICE Kenneth 04:30:46 4728; SIMPSON Craig 04:30:49 4729; SHARKEY Gita 04:30:50 4730; MCDONALD Jackie 04:30:50 4731; MCEWAN Steven 04:30:51 4732; HAMAN Gareth 04:30:53 4733; FLOOD Marcella 04:30:53 4734; RUNACRES Maureen 04:30:55 4735; HINCHLIFFE Jonathan 04:30:55 4736; CROCKETT Bethany 04:30:55 4737; ANDERSON Martin 04:30:55 4738; SWIFT Lee 04:30:56 4739; VINE David 04:30:58 4740; FORSHAW Iain 04:31:00 4741; MCCLURE Cecilia 04:31:01 4742; DAVIES Emma 04:31:05 4743; EARNSHAW Lee 04:31:05 4744; GRAHAM David 04:31:05 4745; BOYCE Rob 04:31:05 4746; D'HAENE Marianne 04:31:07 4747; WEST Colin 04:31:08 4748; CHEW Isabelle 04:31:09 4749; HOWES Jonathan 04:31:11 4750; MIDDLETON Laura 04:31:12 4751; DUNWOODY Carol 04:31:14 4752; MCCAFFREY Lynne 04:31:14 4753; NEALE Robert 04:31:15 4754; DRAZKOWSKI Tomasz 04:31:16 4755; ROBERTS Kyle 04:31:16 4756; TAGUE Duncan 04:31:20 4757; CLAYDON Leanne 04:31:21 4758; MITCHELL Hildi 04:31:21 4759; SMITH Tom 04:31:22 4760; BENTLEY Mike 04:31:22 4761; HALL Paula 04:31:23 4762; PUPLETT Sarah 04:31:24 4763; WILSON Michael 04:31:24 4764; DWYER Michael 04:31:25 4765; CAMPBEL Andrew 04:31:29 4766; MCKEOWN Emmet 04:31:32 4767; WHITEHEAD Paul 04:31:33 4768; HINDLE Janice 04:31:33 4769; WOODS Chris 04:31:36 4770; JACOB Zoe 04:31:37 4771; HUANG Tina 04:31:37 4772; THOMPSON Kevin 04:31:40 4773; WINNING Phil 04:31:41 4774; ARTHUR Edward 04:31:44 4775; SANDFORD Stephen 04:31:45 4776; BINGHAM Tracey 04:31:45 4777; JODDRELL Peter 04:31:47 4778; KIMBANGI Ingrid 04:31:47 4779; TANSLEY Simon 04:31:47 4780; PROCTER Deborah 04:31:48 4781; COMER Nick 04:31:48 4782; MICHIE Lisa 04:31:49 4783; WILLS Guy 04:31:49 4784; LASOVSKA Martina 04:31:49 4785; MCNULTY Raymond 04:31:50 4786; BECKETT Ian 04:31:50 4787; SMITH Bruce 04:31:51 4788; MORRISON Alexandra 04:31:52 4789; MORRISON Stewart 04:31:52 4790; FORD Richard 04:31:53 4791; DOMINY Shawn 04:31:55 4792; HORSBURGH Edward 04:31:56 4793; ADAM Stephen 04:31:57 4794; HILL Colin 04:31:58 4795; MACDONALD Andy 04:31:59 4796; ATTEWELL Peter 04:31:59 4797; HEATON Mazella 04:31:59 4798; SPEIRS Alan 04:32:00 4799; STERGIOPOULOS Panagiotis 04:32:01 4800; ALDERMAN Emily 04:32:04 4801; SENTER Daniel 04:32:04 4802; DINEEN Peter 04:32:04 4803; CUSACK Matthew 04:32:06 4804; CLINTON Aaron 04:32:06 4805; REVEL Jenny 04:32:07 4806; HEWITT Richard 04:32:08 4807; FREEMAN Paul 04:32:08 4808; MCGOVERN Coreen 04:32:11 4809; VICKERS Samantha 04:32:11 4810; IMM Stephen 04:32:14 4811; COOK Jennifer 04:32:15 4812; DRANSFIELD Joe 04:32:17 4813; WRIGHT Alan 04:32:18 4814; MYLES Mark 04:32:19 4815; MAILEY Vincent 04:32:20 4816; NOALL Mark 04:32:20 4817; REID Jacqueline 04:32:21 4818; GEIDER Stefan 04:32:22 4819; WATSON Cassandra 04:32:25 4820; LEIPER Christine 04:32:26 4821; PASCOE Daniel 04:32:26 4822; SMITH Rachel 04:32:29 4823; BESTBIER Megan 04:32:30 4824; HADDOW Brian 04:32:30 4825; LASECKA Lidia 04:32:30 4826; BESTBIER Mark 04:32:31 4827; BLACK Barnaby 04:32:31 4828; SLADDIN James 04:32:33 4829; DALEY James 04:32:33 4830; LEY Jack 04:32:37 4831; BEWICK Les 04:32:38 4832; MOFFAT Ross 04:32:38 4833; MOFFAT Kim 04:32:38 4834; BEVERIDGE Katie 04:32:39 4835; VIDEFORS Björn 04:32:40 4836; JOHNSTONE Robert 04:32:42 4837; LEE Kate 04:32:43 4838; BAKER Hilary 04:32:43 4839; WALMSLEY Nicole 04:32:44 4840; HEFFERNAN Claire 04:32:45 4841; CLULEY Julie 04:32:45 4842; FLOCKHART Kelly 04:32:45 4843; DAWSON Sophie 04:32:45 4844; RICHARDS Alison 04:32:45 4845; GIBSON Lisa Marie 04:32:46 4846; RAUBER Dietmar 04:32:48 4847; CALLAWAY Joel 04:32:48 4848; HART Catherine 04:32:49 4849; BLYTH Morag 04:32:53 4850; KEENAN Stuart 04:32:53 4851; BELL Kirsty 04:32:54 4852; SEGAR Martyn 04:32:54 4853; ROBERTS Lianne 04:32:55 4854; KING Colin 04:32:55 4855; WILKINSON Nina 04:32:55 4856; RICE-MCDONALD Nicholas 04:32:56 4857; JOYCE Chris 04:32:56 4858; HUTTON Geoff 04:32:57 4859; BODYCOTE Beth 04:32:59 4860; MAHACHI Lovemore 04:32:59 4861; FORD Emma 04:33:02 4862; WHYMARK Caroline 04:33:02 4863; MARSHALL Gilly 04:33:04 4864; DAVIDSON Blake 04:33:04 4865; DAVIDSON Andrea 04:33:04 4866; TREANOR Ciaran 04:33:05 4867; KELHAR Barbara 04:33:05 4868; HUDSON Darren 04:33:07 4869; COMPTON Steven 04:33:09 4870; PICARD Patrick 04:33:09 4871; MCKAY Russ 04:33:09 4872; JOHNSTONE Andrew John 04:33:09 4873; DURá JUAN M. Teresa 04:33:10 4874; JUAN SANCHIS Miguel 04:33:10 4875; HARPER Philip 04:33:10 4876; GRAY Neil 04:33:11 4877; KERSHAW Jane 04:33:11 4878; GEYER J-F 04:33:13 4879; SENIOR Ann 04:33:15 4880; SUN Pamela 04:33:15 4881; DUNN Steve 04:33:15 4882; TURI Alessandra 04:33:15 4883; OGRAJSEK Teja 04:33:16 4884; KELLY John 04:33:18 4885; GILLIES Andrew 04:33:20 4886; DOUGLAS Scott 04:33:21 4887; MCKINNELL Stuart 04:33:23 4888; BEGBIE John 04:33:23 4889; MIDDLEWICK Paul 04:33:24 4890; GRIGOR Sarah 04:33:24 4891; HOEPNER Andreas 04:33:26 4892; REES Nigel 04:33:28 4893; MCALLISTER Luke 04:33:29 4894; PEARSON Scott 04:33:30 4895; MERRY Philip 04:33:30 4896; BARNETT Lucy 04:33:31 4897; FORSYTH Janice 04:33:31 4898; MOYES Olive 04:33:32 4899; CLARK Adam 04:33:34 4900; FLEMING Sean 04:33:35 4901; RAFFAELLI Maria 04:33:35 4902; MCGUIRE Patrick 04:33:35 4903; MCDONALD Thomas 04:33:37 4904; BAULCOMBE David 04:33:37 4905; SANELLI Carlo 04:33:38 4906; MCGING Sean 04:33:39 4907; LYNCH Patrick 04:33:41 4908; BROWN Leanne 04:33:44 4909; MCGUCKIN Michael 04:33:44 4910; PRVULOVICH Richard 04:33:45 4911; BARNES James 04:33:49 4912; GUNNARSSON Philip 04:33:50 4913; GLASEL Laura 04:33:51 4914; LIDDLE Karen 04:33:51 4915; MCHALE Eileen 04:33:52 4916; RENTON Harry 04:33:54 4917; WILLIS Christopher 04:33:55 4918; TIGHE Ian 04:33:56 4919; HACKETT Anouska 04:33:58 4920; DEARING Rob 04:33:58 4921; ROWAN James 04:34:00 4922; LYON Craig 04:34:00 4923; NOVALES FLAMARIQUE Mateo 04:34:01 4924; BURTON Katharine 04:34:02 4925; KENNEDY Mary 04:34:03 4926; HELLIER Robin 04:34:06 4927; NICHOLS Julie 04:34:06 4928; KARL Fiereder 04:34:08 4929; WALKER Elaine 04:34:10 4930; CASSIDY Eimear 04:34:11 4931; SYMINGTON Andrew 04:34:12 4932; LADU Antonio 04:34:15 4933; BULLIVANT Sara 04:34:16 4934; PAIRMAN Laura 04:34:16 4935; HOUSTON Fiona 04:34:16 4936; GRIFFITHS Mark 04:34:18 4937; WISE Nicola 04:34:18 4938; MARLEAU Eve 04:34:19 4939; SMITH Gavin 04:34:20 4940; ROSS John 04:34:20 4941; RUDAT Natalie 04:34:20 4942; VESEY Wendy 04:34:21 4943; SMART Philip 04:34:21 4944; KIRKUP Paula 04:34:22 4945; LAIDLER Keith 04:34:22 4946; NICOLL Fraser 04:34:25 4947; MCIVER Tina 04:34:27 4948; PILLING Samantha 04:34:28 4949; NORRIS Simon 04:34:28 4950; SMITH Andrew 04:34:29 4951; GARWOOD Debbie 04:34:30 4952; MARTIN Tanya 04:34:35 4953; BARBER Louise 04:34:35 4954; CHARTERS Joanna 04:34:35 4955; KAUFMANN Markus 04:34:36 4956; KELLY David 04:34:39 4957; FARRELL Helen 04:34:40 4958; SMITH Susan 04:34:41 4959; PALMER David 04:34:42 4960; TALBOTT Emma 04:34:42 4961; JACK Richard 04:34:45 4962; KNIGHT Kirsten 04:34:46 4963; FREEMAN Mark 04:34:47 4964; STEATHAM James 04:34:48 4965; WARR Deborah 04:34:48 4966; SMITH Tracy 04:34:49 4967; ELLIS Laura 04:34:49 4968; WARD Katherine 04:34:50 4969; MORGAN Cherie 04:34:50 4970; BRAMLEY Stuart 04:34:51 4971; STEWART Greg 04:34:52 4972; COLLINS Jamie 04:34:52 4973; PATERSON Andrew 04:34:52 4974; BURNS Christopher 04:34:54 4975; MUNNOCH Ross 04:34:55 4976; HALLADAY David 04:34:55 4977; WOODWARD David 04:34:56 4978; PENDERY Claire 04:34:57 4979; BERKERY Lauren 04:34:58 4980; PHELAN Grainne 04:34:58 4981; MEADOWS Dean 04:34:59 4982; NICOL Bruce 04:34:59 4983; GILLAN Tabitha 04:35:00 4984; GILBERT Lynn 04:35:01 4985; SHARKEY Brian 04:35:01 4986; CARPENTER Nick 04:35:01 4987; ALEXANDER Tommy 04:35:01 4988; KENNEDY Rosalind 04:35:02 4989; LYTH Christian 04:35:03 4990; MITCHELL Nicholas 04:35:04 4991; WINTER Peter 04:35:05 4992; MARKALL Paul 04:35:05 4993; BROWNBRIDGE Garry 04:35:05 4994; OLUWOLE Ifedolapo 04:35:05 4995; SMITH Stuart 04:35:06 4996; HOBSON Richard 04:35:06 4997; SAUNDERS Andrew 04:35:07 4998; MAJOR Andy 04:35:07 4999; GORIS Josee 04:35:08 5000; DAVIS Marc 04:35:09 5001; DOBBIE Peter 04:35:10 5002; WELSH John 04:35:12 5003; CAVALIERE Louise 04:35:13 5004; CLEARY Angus 04:35:13 5005; MCCRINDLE Alan 04:35:14 5006; BRUCE Pamela 04:35:14 5007; STAINER Charlotte 04:35:14 5008; LOVEGROVE Penelope 04:35:14 5009; MILLER Patricia 04:35:16 5010; HUNTINGTON Chris 04:35:16 5011; PACKWOOD Keith 04:35:16 5012; SHAMIM Salman 04:35:17 5013; BLAIR Isla 04:35:18 5014; KAYE Patricia 04:35:19 5015; BOYER Helen 04:35:20 5016; INGRAM Graeme 04:35:23 5017; CARTER Richard 04:35:27 5018; CAHER Shane 04:35:28 5019; SMITH David 04:35:28 5020; JOHNSON Lina 04:35:29 5021; COULTHARD Joanne 04:35:29 5022; BURNS Paul 04:35:31 5023; HARKER Lisa 04:35:33 5024; BROWN Chistopher 04:35:33 5025; POLDPUU Egeli 04:35:33 5026; TURNER Benjamin 04:35:34 5027; CAIRNS Phil 04:35:34 5028; ROBERTS William 04:35:34 5029; NAUGHTON Katrina 04:35:39 5030; PARDOE Steve 04:35:39 5031; DUFF Alan 04:35:40 5032; BELL Stuart 04:35:40 5033; HOPKINS Cameron 04:35:41 5034; COOMBS Philip 04:35:42 5035; SIMS Duncan 04:35:42 5036; SCOTT Graham 04:35:44 5037; BOHM Alexander 04:35:46 5038; PATERSON Sandy 04:35:49 5039; STEWART Kenneth G N 04:35:50 5040; STEWART David 04:35:51 5041; MURPHY Deborah 04:35:53 5042; ABDULLAH Tariq 04:35:54 5043; LUSCOMBE Clare 04:35:56 5044; ELLISON Mark 04:35:59 5045; EVANS Frances 04:35:59 5046; HERITAGE Richard 04:35:59 5047; GALLAGHER Jim 04:36:01 5048; RUSSELL Nicola 04:36:01 5049; BRUNEAU Christophe 04:36:01 5050; NOON Douglas 04:36:04 5051; JACKSON Claire 04:36:06 5052; TOWN Andrew 04:36:06 5053; WARDELL Alan 04:36:07 5054; ORR Janette 04:36:08 5055; O BRIEN Peter 04:36:09 5056; WILLIAMS Rhiannon 04:36:09 5057; BISHOP Angela 04:36:10 5058; JOHNSON Zena 04:36:10 5059; REES Darren 04:36:11 5060; SMYTH Kelly 04:36:13 5061; WILSON Karen 04:36:13 5062; MALTESE Francesca 04:36:14 5063; MURRAY Geraldine 04:36:14 5064; FAIRHURST Howard 04:36:15 5065; RIVERS Greg 04:36:15 5066; STEWART Peter 04:36:17 5067; HELSING Anna 04:36:18 5068; FRIDAY Antony 04:36:18 5069; GIVEN Darren 04:36:19 5070; HEATLIE Will 04:36:19 5071; WALKER Adrian 04:36:19 5072; FRANCIS Rachel 04:36:20 5073; HO Yue-Hang Hans 04:36:20 5074; STEWART Alexander 04:36:21 5075; WILLIAMS Rebecca 04:36:21 5076; GREENING Karen 04:36:22 5077; SLATER Steve 04:36:23 5078; MENZIES John 04:36:26 5079; MENZIES Una 04:36:26 5080; DURLAK Tomasz 04:36:29 5081; ELKINGTON Ruth Isabella Spence 04:36:30 5082; CORRIE Jeanette 04:36:30 5083; ROSE Chris 04:36:31 5084; SALIGUMBA Erwin 04:36:31 5085; CUéLLAR MARTíN Rafael 04:36:33 5086; WHITEHOUSE Amanda 04:36:34 5087; CAMPBELL Ross 04:36:34 5088; LOY Felix 04:36:40 5089; MCGOVERN Dave 04:36:41 5090; PATON Darryl 04:36:41 5091; STEPHENSON Andrew 04:36:42 5092; FORBES Laura 04:36:42 5093; ROBBIE Andrew 04:36:43 5094; WHITE Steve 04:36:43 5095; PADFIELD Kevin 04:36:44 5096; CHRICH Andy 04:36:45 5097; IRVINE Lauren 04:36:46 5098; JOHANNESSON Sofia 04:36:49 5099; CROSTON Yanik 04:36:51 5100; BAILEY Alan 04:36:51 5101; ANDERSON Barry 04:36:53 5102; SKELT Jim 04:36:53 5103; YOUNG Scott 04:36:54 5104; DODGSON India 04:36:54 5105; BIRD Nicola 04:36:56 5106; WALKER Lisa 04:36:56 5107; GREENHALF Dan 04:36:56 5108; TOWLER Paul 04:36:58 5109; KENDALL Zoe 04:37:00 5110; HARRISON Sallie 04:37:00 5111; BRADSHAW Tim 04:37:00 5112; FOWLER Richard 04:37:00 5113; SHEARSBY Mark 04:37:02 5114; ROBERTSON James 04:37:04 5115; SUTHERLAND Anthony 04:37:04 5116; MORTON Richard 04:37:05 5117; HOYNE Roselle 04:37:06 5118; DOBISON Amanda 04:37:07 5119; TAYLOR Colin 04:37:14 5120; PAGE Nicholas 04:37:14 5121; GRAHAM Joseph 04:37:15 5122; MURNANE Liam 04:37:16 5123; MANDERBACKA Tapio 04:37:17 5124; CUMMINS David 04:37:18 5125; CAMPION Stephen 04:37:19 5126; MURDOCH Emma 04:37:19 5127; GRIMES Harriet 04:37:20 5128; SZYMANSKI Janusz 04:37:20 5129; TODD Michael 04:37:21 5130; WALLIS Darren 04:37:22 5131; CLARK Steven 04:37:23 5132; HYNDMAN Gillian 04:37:24 5133; MALONEY Stephen 04:37:24 5134; BARTON Judith 04:37:24 5135; GILYEAD Amanda 04:37:25 5136; STONE Matthew 04:37:25 5137; MCCONACHIE Jamie 04:37:26 5138; MILLS Dean 04:37:27 5139; INNES Rosanna 04:37:31 5140; CHALISEY Anup 04:37:31 5141; HIGGINS Darren 04:37:32 5142; BRYCE Verity 04:37:34 5143; VEITCH Doig 04:37:34 5144; HOWELLS Donna 04:37:35 5145; HUGHES John 04:37:35 5146; COOPER Alexander 04:37:35 5147; ELMSLIE Jonathan 04:37:36 5148; COOPER Nik 04:37:36 5149; SHERRY Bruce 04:37:37 5150; GRAHAM Terence A 04:37:38 5151; CROSBIE Lindsey 04:37:39 5152; ROEBUCK Jeremy 04:37:40 5153; JARVIE Jim 04:37:41 5154; BROOK GILLIES Sian 04:37:41 5155; JENKO Tomas 04:37:43 5156; SCALLY Derek 04:37:43 5157; MAXWELL Sinead 04:37:44 5158; ASH Kirsty 04:37:46 5159; MARR Fraser 04:37:46 5160; CHAPMAN Susan 04:37:49 5161; SAMPATHKUMAR Kandasamy 04:37:51 5162; HARA Gary 04:37:51 5163; CHIVERS Mair 04:37:54 5164; MURRAY Brooke 04:37:54 5165; ROBERTSON Abby 04:37:55 5166; HENRY Andrew 04:37:55 5167; JOHNSTON Robert 04:37:55 5168; RILEY Andrew 04:37:56 5169; TIMBRELL Helen 04:37:56 5170; WERNER Roland 04:37:56 5171; SLIGHT Ewan 04:37:58 5172; CRANSTON James 04:37:58 5173; MCCOMISH Anna 04:37:59 5174; DEGERLID Stein 04:38:01 5175; SCANLON Eunan 04:38:01 5176; WAUGH David 04:38:01 5177; JAMES Andrew 04:38:02 5178; HOCKEY Annette 04:38:04 5179; LEMIESZEWSKI Michal 04:38:05 5180; COLLINS Sean 04:38:06 5181; FORSTER Rachel 04:38:08 5182; GOOD Jo 04:38:08 5183; MCSPORRAN Margaret 04:38:11 5184; FITZGERALD John 04:38:12 5185; WHITELEY Michael 04:38:12 5186; MACINNES Kenna 04:38:14 5187; MCGILLIVRAY Paul 04:38:15 5188; NISBET Andrew 04:38:17 5189; GORDON James 04:38:26 5190; ROCHAT Xavier 04:38:27 5191; SNOWDON Adam 04:38:27 5192; MURPHY Daniel 04:38:28 5193; GORDON Craig 04:38:28 5194; FOX Stephanie 04:38:29 5195; SPOONER Maurice 04:38:29 5196; PAUL Sütterlin 04:38:29 5197; WILLIAMS Bec 04:38:29 5198; GALLACHER Mark 04:38:32 5199; JELLY Ewan 04:38:32 5200; FOOKWE Michelle 04:38:33 5201; WALSH Frank 04:38:34 5202; FRASER-HOPEWELL Vicki 04:38:37 5203; WOTTON Laura 04:38:40 5204; ROTHSTEIN Melissa 04:38:40 5205; MUIR Craig 04:38:41 5206; WHITLEY Alison 04:38:41 5207; HUNT Darren 04:38:41 5208; DIXON Brenda 04:38:41 5209; BATES Pete 04:38:41 5210; PARDY Mark 04:38:42 5211; GODFREY Mark 04:38:43 5212; HEWITT Nigel 04:38:43 5213; HAMMOND Gaius 04:38:44 5214; WAKENSHAW Trevor 04:38:45 5215; MASTERSON Lynn 04:38:46 5216; POLAND Derek 04:38:46 5217; TAFFT Martin 04:38:46 5218; ROBSON David 04:38:48 5219; AMA Sonia 04:38:49 5220; KEENAN Colm 04:38:50 5221; FEE Brian 04:38:50 5222; IRELAND Jennifer 04:38:50 5223; JARMAN Katherine 04:38:50 5224; SPENCER Matt 04:38:51 5225; STANDRING Richard 04:38:51 5226; NEWSHAM David 04:38:52 5227; KIDGER Kenneth 04:38:54 5228; ELDER Gary 04:38:59 5229; STUBBS Peter 04:39:00 5230; MOAT Craig 04:39:00 5231; KEIL Klaus 04:39:04 5232; CROSBIE Michael 04:39:05 5233; TAYLOR Kirsty 04:39:07 5234; CARTER Dave 04:39:09 5235; SHEPHERD Peter 04:39:11 5236; REES Claire 04:39:12 5237; CAVANAGH Iain 04:39:12 5238; TIERNEY Sean 04:39:15 5239; HINDLE David 04:39:16 5240; HALEWOOD Bridget 04:39:16 5241; DAVIE Carlyn 04:39:16 5242; HANTON Paul 04:39:17 5243; DUKE Alastair 04:39:17 5244; SHEPHERD Nicholas 04:39:17 5245; STOTT Nicola 04:39:17 5246; WILLIAMS Barry 04:39:19 5247; EDWARDS Craig 04:39:19 5248; BERNHARDT Claudia 04:39:20 5249; WILLOCK Andrew 04:39:20 5250; BLACKBURN Sue 04:39:20 5251; BRANDT Peter 04:39:23 5252; NAUGHTON Andrew 04:39:24 5253; GILHOOLT Ryan 04:39:24 5254; BOOTY David 04:39:27 5255; GLEN Louise 04:39:28 5256; RILEY Darren 04:39:29 5257; LANGLEY Nicholas 04:39:30 5258; KINGHORN Maggie 04:39:30 5259; HAMILTON Emma 04:39:31 5260; CURLE Melissa 04:39:32 5261; BARR Andrew 04:39:33 5262; SHIMMEN Madeleine 04:39:33 5263; CEILEY Matthew 04:39:34 5264; MANBY Lee 04:39:34 5265; WAKELING Louise 04:39:34 5266; DREWETT Jeremy 04:39:34 5267; JARMAN-WILLIAMS Paul 04:39:34 5268; POLLOCK David 04:39:35 5269; LUMSDAINE Claire 04:39:37 5270; SOUTAR Bruce 04:39:38 5271; YU Changchun 04:39:39 5272; AMEY Kathryn 04:39:39 5273; MORLEY Dianne 04:39:40 5274; DAVEY Jean 04:39:40 5275; JONES Susan 04:39:41 5276; CUNNINGHAM Fraser 04:39:42 5277; EVANS Jane 04:39:42 5278; BOARDMAN Kieran 04:39:43 5279; HEDGES Simon 04:39:43 5280; TAYLOR Alison 04:39:44 5281; MARSHALL Simon 04:39:45 5282; POULTON Paul 04:39:46 5283; ROBSON Sarah 04:39:46 5284; TUNSTALL Stephen 04:39:46 5285; SCOTT Alan 04:39:46 5286; PRICE Jason 04:39:49 5287; DEWHURST Glyn 04:39:50 5288; SIMPSON Sharon 04:39:51 5289; DOURLEY Alison 04:39:52 5290; RAE Lesley 04:39:52 5291; SOUTTER David 04:39:52 5292; APPLETON Chris 04:39:53 5293; DE MOLINA Ángel 04:39:54 5294; HUTCHISON Rober 04:39:54 5295; HOWES Paul 04:39:54 5296; BUSH Katy 04:39:54 5297; WHITFIELD Ralph 04:39:54 5298; GEORGE Antony 04:39:55 5299; BRYANS Garth 04:39:55 5300; SMITH Richard 04:39:57 5301; ILLIDGE Martyn 04:39:57 5302; FLAHAULT-TAIRRAZ Astrid 04:39:57 5303; GEIST Lee 04:39:58 5304; DUNBAR William 04:39:58 5305; ERIKSEN Thomas 04:39:59 5306; CRUMMEY Shaun 04:40:00
5307; ALEXANDER Rachael 04:40:02 5308; TAYLOR Stewart 04:40:02 5309; SUTHERLAND Colin 04:40:05 5310; GRUNDY Sally 04:40:07 5311; HOBSON Martin 04:40:08 5312; DYER Caroline 04:40:14 5313; FORRESTER Chris 04:40:14 5314; RITCHIE Stuart 04:40:14 5315; DAVIE Simon 04:40:15 5316; COLQUHOUN Robert 04:40:15 5317; GALLAGHER Ben 04:40:16 5318; MACKAY Craig 04:40:17 5319; POLLARD Karyn 04:40:17 5320; FOSTER Laura 04:40:18 5321; DAVIES Kerry 04:40:20 5322; PILLEY Ken 04:40:21 5323; PINNICK Andrea 04:40:22 5324; KHARBANDA Gopal 04:40:23 5325; DUFFY Stephen 04:40:24 5326; WALKER Sarah 04:40:26 5327; RENNIE Kathryn 04:40:26 5328; MULLINS Eric 04:40:27 5329; ROBERTSON Bill 04:40:30 5330; FENWICK Jez 04:40:32 5331; MCCRONE Angus 04:40:32 5332; RUSSELL Trevor 04:40:33 5333; GARLAND Stephen 04:40:34 5334; HOLBERY Natalie 04:40:34 5335; BOWMAN Melanie 04:40:35 5336; DOVEY Andrew 04:40:37 5337; SUPPLE Ben 04:40:42 5338; MILLAR Erica 04:40:44 5339; GOSAL Daljit 04:40:46 5340; LAYCOCK Richard 04:40:49 5341; KENNEDY Innes 04:40:51 5342; WOODHAM Daniel 04:40:52 5343; MAGONI Marina Marta 04:40:54 5344; BUCHAN Alan 04:40:54 5345; GRAHAM Alastair 04:40:55 5346; AVENELL Matthew 04:40:56 5347; DRUMMOND Judith 04:41:00 5348; ROBSON Toni 04:41:00 5349; SINCLAIR Paul 04:41:00 5350; KAY Sarah 04:41:01 5351; EAGLES Darren 04:41:01 5352; EDGE Thomas 04:41:01 5353; SMITH Robert 04:41:01 5354; FRANCIS Ben 04:41:04 5355; GREENWOOD Rob 04:41:04 5356; TAWSE Mahri 04:41:04 5357; RENNIE Christine 04:41:05 5358; SLEE Nathan 04:41:05 5359; MACDONALD Fiona 04:41:06 5360; PASSMORE Tom 04:41:09 5361; MARSH Susan 04:41:10 5362; MARSH Christopher 04:41:10 5363; HOLMES Michael 04:41:10 5364; RICHARDSON Susan 04:41:11 5365; COLLINS Victoria 04:41:12 5366; COLLINS Christopher 04:41:12 5367; SINGH Harbhag 04:41:13 5368; YOUNG Claire 04:41:14 5369; OATES Carl 04:41:17 5370; TROTT Paul 04:41:20 5371; HALLIDAY Katie 04:41:21 5372; SMITH Madelyne 04:41:24 5373; THUELL Rachel 04:41:24 5374; MCLAIN Kelly 04:41:25 5375; TREACY Kieran 04:41:25 5376; JOHSNON Penelope 04:41:26 5377; BARR Laua 04:41:26 5378; SMITH Angela 04:41:29 5379; OSMAN Helen 04:41:29 5380; LIVOLSI Damien 04:41:30 5381; BINNS Chris 04:41:31 5382; 13373 Runner 04:41:31 5383; ORR Richard 04:41:31 5384; YEUDALL Graeme 04:41:31 5385; DONEGAN Anthony 04:41:34 5386; PETTIT James 04:41:34 5387; IMONG Stella 04:41:34 5388; FARRER James 04:41:39 5389; CHAMBERS Juliet 04:41:39 5390; DONALDSON Alastair 04:41:40 5391; SCARBOROUGH Martin 04:41:42 5392; MACLURE Alison 04:41:45 5393; MOXON Simon 04:41:47 5394; MOGGI Paolo 04:41:49 5395; FACKRELL Euan 04:41:49 5396; RACKHAM Danielle 04:41:50 5397; SMID Bojan 04:41:53 5398; CHAN Yi Chyn 04:41:56 5399; OVERETT Christopher 04:41:58 5400; FINNIE Kenneth 04:41:59 5401; GREATOREX Joseph 04:42:01 5402; ROWLANDS Nicholas 04:42:02 5403; PORTA Alberto 04:42:02 5404; MAJURY Alan 04:42:04 5405; PHILLIPS Dawn 04:42:06 5406; JENNISON Beverley 04:42:06 5407; PALADINI Jordan 04:42:07 5408; DOUGALL Martin 04:42:09 5409; ENGLAND Lucy 04:42:09 5410; CROSSLEY Andrew 04:42:10 5411; ELLIS Sally 04:42:11 5412; RICHARDSON Christopher 04:42:11 5413; KELLEY Jeeica 04:42:11 5414; MYLES Selina 04:42:12 5415; EPTON Ronald 04:42:12 5416; MCDARBY Graham 04:42:14 5417; HARRISON Richard 04:42:14 5418; BUSHELL David 04:42:15 5419; DUNCAN MILLAR Julie 04:42:16 5420; LAWLEY Jon 04:42:18 5421; BOYLAND Alison 04:42:18 5422; PEAKE Brenda 04:42:20 5423; RICHARDSON David 04:42:21 5424; JACKSON Martin 04:42:23 5425; JACKSON Michelle 04:42:23 5426; TELEJKO Michal 04:42:23 5427; PHILLIPS Gemma 04:42:23 5428; BARTLETT Alison 04:42:24 5429; FRANCIS Reece 04:42:25 5430; BENVENUTI Patrick 04:42:26 5431; ELSEY Dorothy 04:42:26 5432; THEEDAM PARRY Rachel 04:42:26 5433; NAUGHTON Inga 04:42:28 5434; BRUCE Alan 04:42:28 5435; STRONG Louise 04:42:28 5436; BRADFORD Sue 04:42:29 5437; SHAW Fraser 04:42:29 5438; DUNSFORD John 04:42:30 5439; WOOLLVEN Helen 04:42:30 5440; TROTMAN Ann-Marie 04:42:33 5441; MOABY Mark 04:42:33 5442; SMITH Dominic 04:42:34 5443; CAIRNS Angela 04:42:36 5444; FOLEY Lucy 04:42:36 5445; URSELL Kayleigh 04:42:37 5446; BRYAN Ruesharn 04:42:38 5447; LEWIS Ewen 04:42:39 5448; MCMAHON Kathy 04:42:40 5449; MILES Daniel 04:42:40 5450; PINNINGTON Catriona 04:42:40 5451; GIFFORD Danny 04:42:41 5452; TAYLOR Laura 04:42:43 5453; DAVIES Claire 04:42:45 5454; BASSINDALE Maxine 04:42:47 5455; RUSSELL Niall 04:42:48 5456; TOOKEY Clare 04:42:48 5457; JEWELL John 04:42:49 5458; CLARK Sylvia 04:42:49 5459; HADDOW Sandy 04:42:52 5460; WILSON Neil 04:42:58 5461; MCCULLOCH Amy 04:42:59 5462; MACLEOD Kenneth 04:43:00 5463; JARVIS Victoria 04:43:00 5464; DALES Christopher 04:43:01 5465; DIX Helen 04:43:01 5466; CHARTERS Robert 04:43:02 5467; GENTLE Bob 04:43:05 5468; SAUNDERS Callum 04:43:07 5469; MARSHALL James 04:43:09 5470; COARD Nick 04:43:10 5471; SMITH Sean 04:43:10 5472; MORRISON Jim 04:43:10 5473; PATON Brian 04:43:11 5474; MILLER Andrew 04:43:11 5475; CRAIG Fiona 04:43:12 5476; STEPHENS Chris 04:43:14 5477; TAYLOR Michael 04:43:16 5478; HUANG Ching-Te 04:43:18 5479; PALMER Colin 04:43:19 5480; FIELDING Richard 04:43:21 5481; MARSLAND Lisa 04:43:22 5482; GALLOWAY John 04:43:23 5483; DUFFY Katharine 04:43:23 5484; CAMDEN Andrew 04:43:24 5485; NORVELL Karen 04:43:25 5486; DUNBAR Richard 04:43:27 5487; WILSON Fergus 04:43:28 5488; SODHI Jack 04:43:28 5489; REIDY Margaret 04:43:30 5490; SWALES Zoe 04:43:31 5491; KING David 04:43:36 5492; JOHN Zoe 04:43:37 5493; RAWLINSON Stephen 04:43:37 5494; TUPLING Louise 04:43:38 5495; ILEY Caroline 04:43:38 5496; SIMPSON Elaine 04:43:38 5497; FISH Daniel 04:43:39 5498; WALKER Sarah 04:43:42 5499; ROBERTS Craig 04:43:44 5500; DORLING Kiran 04:43:44 5501; RALPH Graham 04:43:45 5502; HANCOCK Aron 04:43:46 5503; GILLETTE Lisa 04:43:46 5504; MUIR Carole 04:43:46 5505; CHARLTON Ailsa 04:43:46 5506; RAMSAY Alison 04:43:47 5507; GRIFFITHS Alistair 04:43:48 5508; HANRAHAN Amy 04:43:48 5509; VALENTIN Wilfred 04:43:48 5510; FARR Stacy 04:43:48 5511; JOHNSON Clare 04:43:52 5512; PACKER Megan 04:43:53 5513; MOOREY Nathan 04:43:54 5514; HUGHES Geraint 04:43:55 5515; FITZGERALD Victoria 04:43:57 5516; PRIESTLEY Debbie 04:44:00 5517; FRASER Steven 04:44:02 5518; PERIC Milica 04:44:02 5519; HARPER Mary 04:44:04 5520; SHAW Hilary 04:44:08 5521; JAMES Claire 04:44:09 5522; VARLEY Lisa 04:44:10 5523; NIELSEN Glenn 04:44:10 5524; HENEGHAN Kieran 04:44:11 5525; DAGGER Andy 04:44:11 5526; DENNIS Alasdair 04:44:11 5527; STEPHENSON Andrew 04:44:13 5528; CONRAD Damian 04:44:15 5529; HAINES David 04:44:15 5530; MITCHELL Sarah 04:44:15 5531; MCGEE Catherine 04:44:16 5532; SOUTHEY Alex 04:44:16 5533; ERNG Winston 04:44:17 5534; NELSON Kerry 04:44:17 5535; WEBBER Rebecca 04:44:18 5536; REAY Joshua 04:44:18 5537; LINCOLN Nick 04:44:19 5538; ROBERTS Peter 04:44:20 5539; HARRIS Stephen 04:44:20 5540; MAIR Graeme 04:44:21 5541; DAVIES Sue 04:44:21 5542; TURLEY Richard 04:44:22 5543; HAMILTON David 04:44:22 5544; LEER Michael 04:44:23 5545; GILBERT Graham 04:44:24 5546; BLAND Emma May 04:44:25 5547; DIXON Margaret 04:44:25 5548; CAHILL Sinead 04:44:25 5549; STEVENSON Wendy 04:44:26 5550; WILSON Scott 04:44:27 5551; JUNGER Willaim 04:44:27 5552; TALBOT David 04:44:28 5553; KITT David 04:44:30 5554; COLE Catherine 04:44:33 5555; CATT Caroline 04:44:34 5556; JONES Nick 04:44:34 5557; ROSTHORN David 04:44:34 5558; MUNDAY Shelagh 04:44:35 5559; GRANT Liam 04:44:36 5560; TOLL Laura 04:44:37 5561; KNIGHT Melissa 04:44:43 5562; STEWART Charles 04:44:44 5563; BRUCE Avril 04:44:45 5564; DIX Elizabeth 04:44:46 5565; SHEEL Andrew 04:44:49 5566; DOLAN James 04:44:51 5567; KNOWLES Mark 04:44:55 5568; BRADBURY Steve 04:44:56 5569; BROWN Richard 04:44:56 5570; KING John 04:44:56 5571; BRIGATTI Stefano 04:44:56 5572; MURPHY John Paul 04:44:57 5573; CHAMBERS Celia 04:44:57 5574; WILSON Campbell 04:44:59 5575; SMITH Gary 04:45:02 5576; WILLIAMS Paul 04:45:05 5577; MORRISON Arlene 04:45:06 5578; DAVIES Robbie 04:45:08 5579; SMILLIE Stuart 04:45:09 5580; MCMILLAN Paul 04:45:09 5581; GARTSHORE Elizabeth 04:45:09 5582; HERRON Craig 04:45:11 5583; CLEETON Bryan 04:45:14 5584; CLEETON Caroline 04:45:14 5585; ANDREWS Simon 04:45:14 5586; LITTLEHALES Lisa 04:45:14 5587; BROADBENT Caroline 04:45:15 5588; BROWN Nicholas 04:45:15 5589; MUIR Laura 04:45:17 5590; COWIE Sandra 04:45:18 5591; WHITLAM Miles 04:45:18 5592; MCKELVIE Angie 04:45:19 5593; LORD Derek 04:45:19 5594; FAGAN Michael 04:45:19 5595; HUNTER Paul 04:45:19 5596; DEWAR Gordon 04:45:20 5597; MCDERMOTT Paul 04:45:22 5598; GREEN Michael 04:45:22 5599; MACKENZIE-FLEMING Morven 04:45:23 5600; REWERTS Klaus 04:45:25 5601; SMALL Garryth 04:45:25 5602; WILLIAMS Steven 04:45:26 5603; BIRD Michelle 04:45:26 5604; SAYBURN Robert 04:45:27 5605; HETHERINGTON John 04:45:28 5606; SMITH Grahame 04:45:30 5607; MCINNES Mandy 04:45:30 5608; SCANTAMBURLO Maurizio 04:45:30 5609; DAGADU Tsidi 04:45:33 5610; BARTOLI Matteo 04:45:33 5611; MCCALLUM Kieran 04:45:36 5612; BARRABLE Kevin 04:45:36 5613; CANT Andrew 04:45:36 5614; MCMULLAN Lyn 04:45:37 5615; RADAKOVITS Jacky 04:45:38 5616; FERRIER Daryl 04:45:39 5617; WHEELER Andrew 04:45:41 5618; ELLIS Dawn 04:45:43 5619; LAKEMAN FRASER Poppy 04:45:44 5620; DAVISON Sally 04:45:46 5621; FARNSWORTH Anna 04:45:47 5622; TITTARELLI Gianluca 04:45:49 5623; ROSS Bobby 04:45:49 5624; WRIGHT Bradley 04:45:50 5625; ELLARD Michael 04:45:50 5626; DUNCAN Hester 04:45:50 5627; MERRETT Graham 04:45:52 5628; LEVONEN Anna-Liisa 04:45:52 5629; CAMPBELL Eddie 04:45:53 5630; HENDRIE Paul 04:45:53 5631; MCFADYEN Craig 04:45:53 5632; BLUCK Andrew 04:45:54 5633; ROLPH Nicola 04:45:54 5634; HENDERSON Greig 04:45:55 5635; CHAMBERS Becky 04:45:56 5636; LONGMUIR Susan 04:45:56 5637; GORMAN Judy 04:45:58 5638; IRVING Kirstie 04:45:58 5639; BANNISTER Amy 04:45:59 5640; MURPHY Kristina 04:46:00 5641; ROBERTS Sabrina 04:46:01 5642; HOARE Mark 04:46:02 5643; CRAUFURD Alex 04:46:06 5644; ZIMOWSKI Anette 04:46:06 5645; GRANT Simon 04:46:08 5646; MASSERANO Ivo 04:46:08 5647; LESLIE Jacqueline 04:46:09 5648; DALZIEL David 04:46:11 5649; JONES Adam 04:46:12 5650; SINCLAIR Hazel 04:46:12 5651; FRASER Stephen 04:46:12 5652; CAMPBELL Fiona 04:46:13 5653; BRENNA Grethe 04:46:13 5654; JENKINS Lisa 04:46:13 5655; MEDLOCK Kirsty 04:46:18 5656; STOCK Corinna 04:46:19 5657; ECCLES Marcus 04:46:20 5658; RENTON Dougie 04:46:20 5659; HAWORTH Adam 04:46:21 5660; BRADSHAW Mark 04:46:22 5661; FILLINGHAM Elliott 04:46:24 5662; MCINNES Stuart 04:46:25 5663; ALLAN Glenn 04:46:25 5664; BANWELL Maria 04:46:25 5665; QUAYLE Richard 04:46:28 5666; GRIBBON Glen 04:46:29 5667; ALBA Hilary 04:46:29 5668; JAMES Christina 04:46:31 5669; CORBETT Steven 04:46:31 5670; TRAVERS Dominic 04:46:36 5671; CUTLER Kirsi 04:46:38 5672; GREEN Paula 04:46:38 5673; WILSON Suzie 04:46:40 5674; LEMON Gez 04:46:42 5675; SULLIVAN Keith 04:46:42 5676; RULE Graham 04:46:43 5677; PRITCHARD Mick 04:46:43 5678; MCLINTON Gary 04:46:43 5679; LOCKHART Robert 04:46:44 5680; PURSLEY Kenneth 04:46:45 5681; JARMAN Kate 04:46:47 5682; BRIGHT Anna 04:46:48 5683; WELLS Robert 04:46:49 5684; GONZALEZ Pilar 04:46:49 5685; THURSFIELD Mark 04:46:50 5686; SHIEL Barbara 04:46:50 5687; VAN DER GEEST Ineke 04:46:51 5688; ABUFAYED Mahmoud 04:46:52 5689; RYAN Eva 04:46:53 5690; RIDGE Catherine 04:46:53 5691; EVANS Marie 04:46:55 5692; PRAGER Yvonne 04:46:56 5693; MCCARTHY Kerry 04:46:57 5694; CURTIS Angela 04:46:58 5695; HARRISON David 04:46:59 5696; SLATER Sally 04:47:03 5697; GREEN Kimberley 04:47:04 5698; DYSART Laura 04:47:05 5699; MOSS Steve 04:47:06 5700; CRONIN Michael 04:47:07 5701; HOGGARTH Alison 04:47:08 5702; SIMMS Ian 04:47:10 5703; MATHIESON Shelley 04:47:12 5704; TURNER Clare 04:47:13 5705; BRIODY Liam 04:47:13 5706; TUTTON Matthew 04:47:14 5707; AVENELL Catherine 04:47:16 5708; VALENTE Katrina 04:47:19 5709; BROADLEY Thomas 04:47:20 5710; CAMPBELL Alex 04:47:21 5711; LOUGHRAN Chloe 04:47:22 5712; SHARP Julia 04:47:25 5713; SUTHERLAND Fiona 04:47:25 5714; WILSON Alison 04:47:26 5715; ZABEK Lynne 04:47:26 5716; TRACY Michelle 04:47:26 5717; FOLEY Martin 04:47:26 5718; BRADLEY Jason 04:47:27 5719; ROSS David 04:47:28 5720; MAHONEY Julie 04:47:30 5721; ANDREWS Marcus 04:47:31 5722; SHEINMAN Amir 04:47:32 5723; DAVIDSON James 04:47:32 5724; MACINTYRE Douglas 04:47:33 5725; BINGHAM Emma 04:47:33 5726; BARTLEMAN Scott 04:47:34 5727; MITCHELL Jordan 04:47:37 5728; LYNER Matthew 04:47:37 5729; FLYNN Liam 04:47:38 5730; MOODY Philip 04:47:38 5731; ST JOHN-CLARKE Katie 04:47:38 5732; MARTIN Tara 04:47:38 5733; WOLTERS Henning 04:47:40 5734; GLYNN Paul 04:47:42 5735; GRAHAM Allan 04:47:42 5736; BARCLAY Jennifer 04:47:43 5737; TURNBULL Fiona 04:47:43 5738; THOMSON Robert 04:47:46 5739; STOTT Susan 04:47:46 5740; WOODBURN Lindsay 04:47:47 5741; BARROW Jonny 04:47:48 5742; DICKSON Paul 04:47:49 5743; BIRD Andrew 04:47:50 5744; HASHMI Aatar 04:47:51 5745; HANDCOCK Scott 04:47:53 5746; MUNDIE Philip 04:47:54 5747; CRILLY Raymond 04:47:55 5748; RYAN Gary 04:47:55 5749; JUDD Roger 04:47:57 5750; WILCOCK Helen 04:47:58 5751; LUTON Rebecca 04:47:58 5752; WILLIAMS Tom 04:47:59 5753; ECCLES Jayne 04:48:00 5754; SUTTON Paul 04:48:01 5755; HOOD Paul 04:48:01 5756; CRIGHTON Calum 04:48:01 5757; CRIDLAND Gemma 04:48:03 5758; CHALISEY Anil 04:48:05 5759; PAWSEY Joanne 04:48:07 5760; MCLEAN Scott 04:48:08 5761; BEAUMATIN Loic 04:48:09 5762; HICKS Katie 04:48:10 5763; MORRISON Kevin 04:48:12 5764; HARWOOD Ross 04:48:12 5765; ROWAN Peter 04:48:12 5766; TWEDDLE Edward 04:48:12 5767; RICHARDSON Neil 04:48:13 5768; WADDELL Gavin 04:48:13 5769; SIMPSON Gordon 04:48:14 5770; SIMPSON Myrna 04:48:14 5771; LAWSON James 04:48:16 5772; FONTAINE Barney 04:48:16 5773; BISHOP Lee 04:48:16 5774; FONTAINE Clemmy 04:48:16 5775; FERNANDEZ Sebastian 04:48:17 5776; ASHE Ben 04:48:19 5777; VAN DE FERRIS Caitlin 04:48:20 5778; KRUEGER-WIELGA Ulrike 04:48:20 5779; PRATT Jonathan 04:48:21 5780; OBI Kayode 04:48:22 5781; SMITH Graeme 04:48:23 5782; ALLAN John 04:48:23 5783; KENWAY Andrew 04:48:23 5784; LUCCHESI Paul 04:48:23 5785; RAWLINSON Aidan 04:48:25 5786; AUSTEN Anthony 04:48:26 5787; ALESSI Egidio 04:48:26 5788; THOMSON Judith 04:48:27 5789; BUTTERWORTH Jayne 04:48:31 5790; MCDOWALL Edith 04:48:32 5791; JONES Andrew 04:48:32 5792; RENNIE Pamela 04:48:33 5793; MAYNARD Alec 04:48:34 5794; MCKINNON Gill 04:48:34 5795; SOMERVILLE Kay 04:48:35 5796; REID Mary 04:48:36 5797; LYNCH Craig 04:48:36 5798; SMITH Debbie 04:48:36 5799; DAVIES Kristen 04:48:37 5800; LAMONT Michael 04:48:37 5801; MACNEIL Donald 04:48:39 5802; HILL Ian 04:48:40 5803; ANDREWS Mark 04:48:42 5804; WESSON Dawn 04:48:42 5805; HUGHES James 04:48:43 5806; BRENNAN Ian 04:48:43 5807; SIMPSON Anthony 04:48:44 5808; HENDERSON Dan 04:48:49 5809; SAWARD Penny 04:48:49 5810; BOWES Gordon 04:48:49 5811; POLSINELLI Elio 04:48:51 5812; GIBSON Andrew 04:48:51 5813; MIYAMOTO Sandra 04:48:51 5814; MCCORMACK Tom 04:48:57 5815; BAKER Matt 04:48:58 5816; WILSON John 04:48:59 5817; PERIATHAMBY Nirupan 04:49:01 5818; SIMPSON Genevieve 04:49:02 5819; D'ARCY BROWN Katherine 04:49:02 5820; KUMAGAI Riko 04:49:03 5821; RUSSELL Sarah 04:49:03 5822; HARRIS Lois 04:49:04 5823; ANDREWS Gail 04:49:05 5824; COOTES Louise 04:49:07 5825; JOHNSTON James 04:49:08 5826; WOODS Martin 04:49:08 5827; SCOTT Clive 04:49:10 5828; MICHAEL David 04:49:12 5829; GRINHAM Darren 04:49:14 5830; SLANEY Steven 04:49:15 5831; PATON Rikki 04:49:17 5832; MACASLAN Catherine 04:49:18 5833; WYDRA Robert 04:49:18 5834; DEVLIN Mark 04:49:20 5835; THOMAS Mark 04:49:23 5836; THOMPSON Catherine 04:49:26 5837; THOMSON James 04:49:27 5838; ETEEN Jerrina 04:49:28 5839; MACRAE Mark 04:49:28 5840; SIMPSON Ross 04:49:29 5841; KNIGHT David 04:49:30 5842; KAY Mischa 04:49:32 5843; FOULDS Anthony 04:49:32 5844; BONELLIE Susan 04:49:34 5845; READ Wendy 04:49:36 5846; MELI Anita 04:49:36 5847; CUTLER Stewart 04:49:38 5848; POWLES Jacqueline 04:49:38 5849; MCSWEENEY Aisling 04:49:39 5850; SMITH Salena 04:49:39 5851; ACKERMAN Sarah 04:49:41 5852; ROSS Matthew 04:49:43 5853; CARSE Douglas 04:49:43 5854; VIDLER Susan 04:49:43 5855; SANDERSON Chris` 04:49:46 5856; MACDONALD David 04:49:47 5857; JOHNSON Rob 04:49:48 5858; FISH Andrew 04:49:49 5859; BRYSON Sarah 04:49:49 5860; MARSHALL Alison 04:49:50 5861; FINNEY Spencer 04:49:51 5862; STARKEY Andrew 04:49:51 5863; BARRON George 04:49:53 5864; STICKINGS Kevin 04:49:53 5865; HINCHCLIFFE Angela 04:49:57 5866; MURRAY Johannah 04:49:58 5867; LEASK Sarah 04:50:00 5868; ROSE Alan 04:50:00
5869; CLIFFORD Jayne 04:50:01 5870; MILNES Fay 04:50:03 5871; RIPLEY James 04:50:04 5872; BISHOP David 04:50:05 5873; RILEY Elizabeth 04:50:05 5874; KALDOWSKA Ewelina 04:50:08 5875; BOOTH Jeremy 04:50:09 5876; HAYNES Dominic 04:50:09 5877; CHAN Carrie 04:50:09 5878; WILDISH Darren 04:50:10 5879; FLETCHER Sally 04:50:11 5880; LAMACRAFT Rebecaa 04:50:12 5881; ELLIS Andrew 04:50:12 5882; CLARKE David 04:50:14 5883; MEETEN Annie 04:50:14 5884; GARFITT Tracey 04:50:16 5885; DAVIES Alison 04:50:17 5886; MCINTYRE Morag 04:50:22 5887; NEEDHAM Michael 04:50:25 5888; WILKIN Brenda 04:50:25 5889; WARREN Colin 04:50:26 5890; HOPKINS Simon 04:50:26 5891; HAREWOOD Elizabeth 04:50:28 5892; HAMMOND John 04:50:29 5893; KHOURI Christopher 04:50:31 5894; LAGERQVIST Anncharlotte 04:50:31 5895; WALLACE Alan 04:50:31 5896; HUGHES Clive 04:50:33 5897; FINDLAY David 04:50:36 5898; CUTHBERT Christopher 04:50:37 5899; CAIRNS John 04:50:37 5900; HARLEY Janie 04:50:37 5901; WALLACE Tom 04:50:39 5902; CONSTABLE Ross 04:50:40 5903; ROSEN Rachel 04:50:40 5904; EVANS Idris Paul 04:50:41 5905; WHITE Maria 04:50:42 5906; ROGER Vergnet 04:50:45 5907; AITCHISON Steve 04:50:45 5908; SAUNDERS Andy 04:50:48 5909; KEE Jim 04:50:48 5910; WINDOLPH Andrea 04:50:48 5911; TRALONGO Gerard 04:50:49 5912; CLEWS Colin 04:50:49 5913; SCARVACI Justine 04:50:50 5914; WHITTAKER Elizabeth 04:50:54 5915; JUPP Mhairi 04:51:02 5916; ZYLA John-Paul 04:51:03 5917; PARK Alastair 04:51:03 5918; MELBOURNE Clare 04:51:04 5919; DANSON Joe 04:51:04 5920; JOHNSON Catherine 04:51:06 5921; MOIR Bob 04:51:12 5922; WARBURTON David 04:51:12 5923; MODIRAMANI Arian 04:51:12 5924; CHEONG Ruth 04:51:12 5925; ROSE Mike 04:51:12 5926; HARRISON Nicholas 04:51:14 5927; HASSON David 04:51:14 5928; DUNCAN Jonathan 04:51:15 5929; COATES Craig 04:51:16 5930; GWILLIAM Paul 04:51:16 5931; BARTOLI Cesare 04:51:18 5932; BURGESS-WALKER Philip 04:51:21 5933; JENKINSON David 04:51:22 5934; HURST Gemma 04:51:22 5935; VEALE Patrick 04:51:23 5936; ABOU-NADIR Gino 04:51:24 5937; MILNER Matt 04:51:25 5938; KAISER Joseph 04:51:25 5939; PANCOUST Karen 04:51:25 5940; HOEY Liam 04:51:26 5941; PICCI Sabrina 04:51:26 5942; BUTLER Gavin 04:51:27 5943; DOIG Lindsay 04:51:28 5944; CHILDS Chris 04:51:29 5945; BARE Martin 04:51:29 5946; VARNEY Alistair 04:51:30 5947; MARTIN Jim 04:51:30 5948; GESSEY Joanne 04:51:32 5949; WALTON Mel 04:51:32 5950; CHALMERS David 04:51:32 5951; CORDWELL Gill 04:51:32 5952; GALLACHER Gerard 04:51:33 5953; BREWELL Jason 04:51:33 5954; BRADY Gerard 04:51:33 5955; FRANKL Endre 04:51:34 5956; OUTTEN Simon 04:51:35 5957; RUSSELL Kyle 04:51:35 5958; STRACHAN John 04:51:38 5959; WHEELER Christopher 04:51:39 5960; WHEATLEY Ruth 04:51:39 5961; ARMIT Tim 04:51:40 5962; LAW Alex 04:51:40 5963; ADAMS Richard 04:51:41 5964; HOLYHEAD Raymond 04:51:42 5965; HOLMES John 04:51:43 5966; MUIR Iain 04:51:47 5967; GRIEVE David 04:51:48 5968; JONES Andrew 04:51:48 5969; HUNT Lindsey 04:51:49 5970; SYMMS Andrew 04:51:49 5971; CARRAGHER Ciaran 04:51:50 5972; ROBINSON Craig 04:51:51 5973; PHILLIPPO Beverley 04:51:51 5974; LAFFEY Steve 04:51:58 5975; LIDBURY Suze 04:51:59 5976; MASON Laura 04:52:00 5977; MOSS John 04:52:01 5978; CAMERON Paul 04:52:02 5979; MCSHANE Marc 04:52:02 5980; VENTRESS Rebecca 04:52:03 5981; RUTTER Eilidh 04:52:03 5982; GREENWOOD Harriet 04:52:04 5983; TAYLOR Darren 04:52:04 5984; NSUBUGA Jean 04:52:06 5985; ANGUS Jeremy 04:52:08 5986; SKEOCH Alan 04:52:11 5987; MYBURGH Simone 04:52:13 5988; JONES Lucy 04:52:16 5989; CLARKE Jessica 04:52:18 5990; NICHOLSON Courtney 04:52:19 5991; BAXTER Pamela 04:52:20 5992; MCCAIG Vivienne 04:52:21 5993; MACBRIDE Adam 04:52:23 5994; LAWRENCE Claire 04:52:23 5995; COTTLE Agnes 04:52:26 5996; STRAITON John 04:52:27 5997; WELLS Peter 04:52:29 5998; MILTON Lisa 04:52:31 5999; WRIGHT Jonathan 04:52:32 6000; MAXWELL Harry 04:52:32 6001; MAXWELL Lynsey 04:52:32 6002; CRICHTON Will 04:52:35 6003; WILLIAMS Rob 04:52:36 6004; CLASPER James 04:52:38 6005; MULLAN Karen 04:52:39 6006; LAWSON Emma 04:52:40 6007; FORDE Renee 04:52:41 6008; CURTIS Martin 04:52:48 6009; 12332 Runner 04:52:53 6010; HANBIDGE Michael 04:52:54 6011; HENDRY Jonny 04:52:55 6012; GARFITT Kris 04:52:55 6013; MIDDLETON Peter 04:52:57 6014; STEVENSON James 04:52:58 6015; HANNA John 04:53:02 6016; BURDEN Laura 04:53:02 6017; PEARSON Leo 04:53:03 6018; MUIR Melissa 04:53:05 6019; MCANDREW Michael 04:53:07 6020; REBBECK Zoe 04:53:07 6021; PATERSON James 04:53:10 6022; SUTTON Thanh 04:53:11 6023; SIMANTS Stephen 04:53:18 6024; BROCCATO Giuliano 04:53:22 6025; BRUCE Kathryn 04:53:22 6026; YOUNG John 04:53:24 6027; SMITH Susan 04:53:24 6028; NICHOLSON Rob 04:53:25 6029; RODGERS Phillip 04:53:26 6030; PENISTON Julieann 04:53:27 6031; LEWIS Sharon 04:53:27 6032; MCPHERSON Rebecca 04:53:28 6033; SHAW Kate 04:53:28 6034; WATSON Rachel 04:53:33 6035; WIESNER Sophie 04:53:33 6036; BARR Hayley 04:53:33 6037; RILEY Ann 04:53:35 6038; SMITH Janis 04:53:35 6039; INIONS Paul 04:53:36 6040; AKRAMI Hamid 04:53:40 6041; BATESON Alison 04:53:42 6042; FEENEY Charlene 04:53:44 6043; WHITE Jillian 04:53:48 6044; LITTLE Ian 04:53:48 6045; LEONARD Joe 04:53:49 6046; MARKHAM James 04:53:50 6047; VERVELDE Jana 04:53:51 6048; VOS Ashley 04:53:51 6049; CARACENI Nicoletta 04:53:52 6050; PHILLIPS Katherine 04:53:52 6051; KIRKBY Samuel 04:53:52 6052; LEWIS Paul 04:53:54 6053; BROWN Craig 04:54:01 6054; BROWN Mark 04:54:01 6055; LOWE Shona 04:54:04 6056; COTTON David 04:54:04 6057; WOODHEAD John 04:54:06 6058; ELLIS Richard 04:54:08 6059; TEMPLETON James 04:54:08 6060; GRIFFITH Bethan 04:54:10 6061; EATON TURNER Emily 04:54:13 6062; THOMPSON William 04:54:13 6063; KANE Laura 04:54:14 6064; MEEHAN Anthony 04:54:15 6065; SWANN Deborah 04:54:17 6066; LLOYD Annaka 04:54:17 6067; ALEXIOU Caroline 04:54:18 6068; HARRIS John 04:54:21 6069; CLEARY Margaret 04:54:22 6070; EATON TURNER Simon 04:54:25 6071; GRAY John 04:54:27 6072; PETIT Bruno 04:54:28 6073; MEYER Elizabeth 04:54:28 6074; VILELA DA SILVA Filipe 04:54:29 6075; MCGEOUGH Paul 04:54:30 6076; COPPING Daniel 04:54:31 6077; STEWART James 04:54:31 6078; MACMILLAN Mandy 04:54:32 6079; MILLICHAMP James 04:54:35 6080; MARTIN Cheryl 04:54:35 6081; ALEXANDER Annette 04:54:37 6082; GILMOUR Marc 04:54:37 6083; PROCHATZKI Christiane 04:54:38 6084; STOCKMEIER Beate 04:54:38 6085; LINDSAY Susan 04:54:39 6086; BERRY Kevin 04:54:39 6087; COOK Natasha 04:54:41 6088; HENRY Ewan 04:54:42 6089; ALLAN Stuart 04:54:43 6090; DEANS Martin 04:54:43 6091; DEGG Karen 04:54:44 6092; HARDING Derek 04:54:45 6093; D'ALESSANDRO Rosa 04:54:45 6094; TUGWELL Lucy 04:54:46 6095; TRACEY Thomas 04:54:46 6096; WARIS Khurram 04:54:47 6097; WILLIAMSON David 04:54:48 6098; PICHLER Johann 04:54:49 6099; WAHLMüLLER Gerhard 04:54:49 6100; FARNES Jack 04:54:51 6101; STAPLEY Greg 04:54:57 6102; DOCK Robert 04:54:59 6103; MILLER Susan 04:55:04 6104; FITZGERALD Evelynn 04:55:04 6105; NIXON Sarah 04:55:06 6106; TUTT Alison 04:55:06 6107; DUGGAN Charlie 04:55:07 6108; WESKAMP Bettina 04:55:08 6109; WYLIE Anthony 04:55:09 6110; WALKER Christine 04:55:09 6111; COSGROVE Greig 04:55:14 6112; BIRD Jonathan 04:55:14 6113; KAY Sandra 04:55:15 6114; TREVENNA Steve 04:55:15 6115; MULLIN Sorcha 04:55:16 6116; GAFFNEY Morag 04:55:16 6117; CUMMINS Philip 04:55:16 6118; KELLY Suzanne 04:55:17 6119; ELSE Jon 04:55:19 6120; KOCHALSKI Cezary 04:55:19 6121; DENNIS Lesley 04:55:19 6122; BINNIE Andrew 04:55:20 6123; STONE Jo 04:55:21 6124; INNES Wilma 04:55:23 6125; MARCH Tom 04:55:23 6126; PATTISON Gavin 04:55:24 6127; JOHNSTONE Gavin 04:55:27 6128; WALLACE Scott 04:55:27 6129; ASHCROFT Karen 04:55:30 6130; SHIRTLIFF Alexis 04:55:31 6131; JONES Saffi 04:55:32 6132; HAINING Stephen 04:55:32 6133; SADLER John 04:55:34 6134; DONALDSON Jye 04:55:34 6135; PHELAN Rob 04:55:37 6136; SCRASE Stuart 04:55:38 6137; BILLINGTON Melanie 04:55:39 6138; THOMSON Suzanne 04:55:40 6139; MASON John 04:55:40 6140; SIMPSON Mhairi 04:55:41 6141; DONNELLY Frances 04:55:45 6142; RUTHERFORD Vicki 04:55:48 6143; BOWEN Simon 04:55:54 6144; HOOPER Shane 04:55:56 6145; MCELHINNEY Ross 04:55:57 6146; FOONG Weng Hong 04:55:57 6147; ROBERTS Melanie 04:55:57 6148; SMITH Roisin 04:55:58 6149; BAMFORD Catriona 04:55:59 6150; WEBBER Lee 04:55:59 6151; CASTLE Alan 04:56:00 6152; HOARE Craig 04:56:02 6153; NUGENT Fiona 04:56:02 6154; MCLAREN James 04:56:04 6155; GENTLES Susan 04:56:05 6156; JONES Leah 04:56:06 6157; WRIGHT Jennifer 04:56:07 6158; HALL Karen 04:56:07 6159; MASON Sam 04:56:08 6160; SHAW David 04:56:08 6161; HOLDSWORTH Gareth 04:56:08 6162; MARSHALL Alison 04:56:08 6163; KYLE Wilma 04:56:10 6164; HANKIN Yvonne 04:56:13 6165; MCFEAT Lynsey 04:56:14 6166; MERCER Andrew 04:56:15 6167; PHILP Sarah 04:56:15 6168; RADFORD Caroline 04:56:16 6169; WYLDE Rachel 04:56:19 6170; JONES Elaine 04:56:20 6171; HOY Laura 04:56:21 6172; EASTWOOD Karen 04:56:23 6173; SOUTHERN Susan 04:56:23 6174; COLES Richard 04:56:24 6175; SCOTT Christie 04:56:24 6176; RONDEAU Richard 04:56:25 6177; MCKEOWN Mabel 04:56:28 6178; BRAND Robert 04:56:31 6179; CAMPBELL Andrew 04:56:31 6180; WILLIAMSON Julie 04:56:32 6181; SMITH Jackie 04:56:33 6182; WICKS Alice 04:56:36 6183; LAWAL Taofeek 04:56:41 6184; HOWIE Graham 04:56:41 6185; WHITE Christine 04:56:42 6186; WILCOCK Paul 04:56:42 6187; ALLARDICE Michelle 04:56:42 6188; TAYLOR Cath 04:56:43 6189; SMITH James 04:56:43 6190; WHITE Sandra 04:56:44 6191; EVANS Emma 04:56:49 6192; MCLUCKIE Garry 04:56:50 6193; MUNDY Robert 04:56:50 6194; PYNE Olivia 04:56:51 6195; SUTHERLAND Edwin 04:56:52 6196; WILCOCK Jane 04:56:53 6197; COYNE Paul 04:56:55 6198; TIMPSON Lynn 04:56:57 6199; JONES Sandy 04:57:02 6200; DELAP James 04:57:05 6201; KöRING Georg 04:57:07 6202; SAMSON Helen 04:57:08 6203; PEDERSEN Michael 04:57:08 6204; WRIGHT Christopher 04:57:09 6205; BROWN Amanda 04:57:10 6206; WARD Frank 04:57:12 6207; BROOKE Allison 04:57:14 6208; HARRIS Amanda 04:57:14 6209; MCRAE William 04:57:15 6210; BAIN Andrew 04:57:15 6211; MACKAY Claire 04:57:16 6212; GWILYM Non 04:57:17 6213; GALLAGHER James 04:57:18 6214; HOWITT Kate 04:57:18 6215; CARLYLE Pauline 04:57:19 6216; PITARCH-MARQUINO Jordi 04:57:25 6217; STEPHENSON Ian 04:57:25 6218; CRAIG Richard 04:57:25 6219; WILLIAMS Sian 04:57:26 6220; PRIEST Gillian Ruth 04:57:27 6221; GREENE Terence 04:57:28 6222; DAVIS Clare 04:57:28 6223; STEVENSON Ashley 04:57:28 6224; MCEACHRAN Siobhan 04:57:30 6225; FORBES Andrew 04:57:32 6226; WOOD Chris 04:57:34 6227; BASSAM Steve 04:57:34 6228; NATOLINO Julia 04:57:35 6229; CLARKE Jez 04:57:37 6230; RODGERS Sean 04:57:39 6231; WAITE Karen 04:57:43 6232; SCOTT Nick 04:57:44 6233; MONKS Taryn 04:57:45 6234; HUME Michelle 04:57:47 6235; SHANAHAN Georgie 04:57:48 6236; ARMOUR Carole 04:57:53 6237; CLEWS Douglas 04:58:00 6238; BADMAN Helen 04:58:00 6239; MCCONVILLE Steven 04:58:00 6240; STARMER Samuel 04:58:03 6241; READ Richard 04:58:04 6242; LE SAUVAGE Gemma 04:58:07 6243; NEWTON Judith 04:58:07 6244; FOTHERGILL Amanda 04:58:09 6245; TRIM Julia 04:58:09 6246; READ Elizabeth 04:58:10 6247; FYALL Drummond 04:58:13 6248; SAVAGE Sean 04:58:15 6249; LEEMAN John 04:58:16 6250; WESTON Fraser 04:58:17 6251; MITCHELL Brindley 04:58:17 6252; CARMICHAEL Donald 04:58:20 6253; RUTHERFORD Zoe 04:58:20 6254; MCARTHUR Pamela 04:58:21 6255; EDWARDS Sarah 04:58:24 6256; NAIL Stephen 04:58:24 6257; RING Harald 04:58:24 6258; SALES Ben 04:58:26 6259; BOYD John 04:58:26 6260; COSGROVE Kenny 04:58:27 6261; MCGINN Deirdre 04:58:27 6262; MCKAY Kirsty 04:58:29 6263; SHEKLETON Lorraine 04:58:30 6264; GRIMES Sarah 04:58:31 6265; REYNOLDS Dermot 04:58:35 6266; BARBER Kelly 04:58:35 6267; JACKSON Michelle 04:58:35 6268; CARTER Georgina 04:58:36 6269; DICKINSON Danielle 04:58:36 6270; BRADY Conor 04:58:37 6271; MACFALL Neil 04:58:38 6272; DUTE Ulrich 04:58:38 6273; TRACEY Rebecca 04:58:41 6274; GROMITT Peter 04:58:42 6275; MCEWAN Dean 04:58:43 6276; FRASER Mikey 04:58:44 6277; PLUNKETT Claire 04:58:44 6278; SHAW Gemma 04:58:44 6279; PATON Richard 04:58:45 6280; CORBETT Nicola 04:58:47 6281; LARSEN Marc Hoej 04:58:47 6282; MARNANE Breeda 04:58:47 6283; BISHOP Gemma 04:58:48 6284; SMITH Steven 04:58:54 6285; BUTCHER David 04:58:54 6286; BUTCHER Ben 04:58:54 6287; WALKER Andy 04:58:55 6288; WARREN Moira 04:58:58 6289; JONES Karon 04:58:59 6290; DONNACHIE James 04:58:59 6291; QUINN TOYE Denise 04:59:07 6292; PAUKE Martin 04:59:07 6293; RIDETT Daniel 04:59:09 6294; DAWES Katherine 04:59:09 6295; HAITHCOCK David 04:59:14 6296; DAVIDSON Stacey 04:59:14 6297; LIM Wai Mun 04:59:17 6298; GIBBS Sam 04:59:18 6299; DE ROSA Julie 04:59:18 6300; CARPENTER Richard 04:59:21 6301; MORGAN Stephen 04:59:22 6302; LONGWORTH Lee 04:59:22 6303; WORK Lucy 04:59:22 6304; WHITE Tracey 04:59:22 6305; BROWN Susan 04:59:24 6306; HOWIE Duncan 04:59:25 6307; SELBY Claire 04:59:26 6308; THOMPSON Bryan 04:59:27 6309; TOH Ee Yang 04:59:30 6310; POOLEY Gareth 04:59:31 6311; ELSLEY GIBBS Jenny 04:59:31 6312; GRAHAM Robert 04:59:33 6313; ROBERTSON Cameron 04:59:36 6314; HESKETH Lucy 04:59:37 6315; MACKINNON Donald 04:59:38 6316; NEUMANN Mark 04:59:39 6317; MALONE Michael 04:59:39 6318; CUTHBERT Laura 04:59:42 6319; BRUPBACHER Debbie 04:59:43 6320; O'DONNELL Sian 04:59:44 6321; TANK Lyn 04:59:45 6322; SYSUM Stephen 04:59:47 6323; KIRKBRIDE Jessica 04:59:48 6324; HEENAN Vikki 04:59:49 6325; FORSYTH Ross 04:59:50 6326; KANE Anthony 04:59:50 6327; WALDRON Samuel 04:59:52 6328; DONOGHUE Alexander 04:59:53 6329; MCFARLANE Audrey 04:59:54 6330; BROWN Andrew 04:59:55 6331; PIPE Georgina 04:59:59
6332; MEE Karen 05:00:02 6333; LINCOLN Emma Catherine 05:00:04 6334; ROBSON Dawn 05:00:05 6335; SINCLAIR Margaret 05:00:06 6336; BEATON Lesley 05:00:08 6337; LONGHURST Rayne 05:00:08 6338; STOPPARD Lisa 05:00:12 6339; HOWARD Lynn 05:00:15 6340; GOLDER Cath 05:00:16 6341; COMISKEY James 05:00:17 6342; MCNEILL Cindy 05:00:18 6343; SMITH Victoria 05:00:19 6344; DOBIE Ronald 05:00:19 6345; PEKAROVIC Radovan 05:00:20 6346; WILLIAMSON Margaret-Ann 05:00:20 6347; HOLDEN Melissa 05:00:25 6348; WISE Dean 05:00:26 6349; EWING Karen 05:00:27 6350; MACKIN Sean 05:00:28 6351; WILSON Catherine 05:00:29 6352; HOLLINGSWORTH Les 05:00:30 6353; MARR Gordon 05:00:31 6354; ANDERSON Shona 05:00:33 6355; STEEDMAN Paul 05:00:33 6356; ROBERTSON Graeme 05:00:35 6357; CONWAY Kate 05:00:36 6358; RASMUS Mari 05:00:37 6359; THRAVES Ross 05:00:37 6360; INNES-HUDSON Rachael 05:00:38 6361; DUNCAN Kenneth 05:00:39 6362; TERRAPON Patrick 05:00:43 6363; HILTON Tom 05:00:44 6364; SHARKEY Audrey 05:00:47 6365; DEMPSTER Stephen 05:00:51 6366; WILLETT Camilla 05:00:51 6367; KENNEDY Jennifer 05:00:52 6368; ANGUS William 05:00:52 6369; SWANDELLS Gary 05:00:53 6370; BOYD Martin 05:00:55 6371; CARMICHAEL Linda 05:00:57 6372; PRESS Andrew 05:00:59 6373; PRESS Lisa 05:01:00 6374; EVERETT Chris 05:01:02 6375; HOLT Emma 05:01:04 6376; THORLEY Anna 05:01:06 6377; MASON Ian 05:01:07 6378; NICHOLSON Ashley 05:01:07 6379; BRINDLEY Fiona 05:01:07 6380; LEDGER Rebecca 05:01:08 6381; MCGOWAN Kelly 05:01:08 6382; THOMSON Steven 05:01:09 6383; O'LEARY Finbarr 05:01:10 6384; WILLIAMS Eleanor 05:01:10 6385; NASH Brid 05:01:10 6386; SOPP Graham 05:01:11 6387; MORGAN Zac 05:01:21 6388; BUCHANAN Joanna 05:01:23 6389; COLVILLE-WALKER Rachael 05:01:23 6390; KERR Amanda 05:01:27 6391; BROWN Ruth 05:01:28 6392; BUSS Stacey 05:01:30 6393; ROBB Thomas 05:01:32 6394; HARKIN Denis 05:01:37 6395; SAHOTA Brinder 05:01:41 6396; HOWELL Rhys 05:01:42 6397; HAWKINS Liz 05:01:43 6398; AINSLEY Tom 05:01:44 6399; ELLERBROCK Lisa 05:01:45 6400; QUINN Malcolm 05:01:47 6401; CAMPBELL Roslyn 05:01:47 6402; DIAMOND James 05:01:51 6403; FULLERTON Marie 05:01:53 6404; BAXTER Steven 05:01:55 6405; STEWART Douglas 05:01:56 6406; HIDSON Jeremy 05:01:59 6407; HARDISTY Jayne 05:01:59 6408; SMITH Anna 05:02:01 6409; COONEY Paul 05:02:01 6410; DIXON James 05:02:02 6411; PETTIGREW Michael 05:02:02 6412; JONES Angela 05:02:05 6413; DORRIAN Michelle 05:02:05 6414; SMITH Rhona 05:02:06 6415; FORGENIE Janet 05:02:09 6416; YUNG Tak Man 05:02:11 6417; FENTON Jill 05:02:11 6418; DAVEY Steve 05:02:12 6419; LEASK Hanna 05:02:14 6420; LONGWORTH Craig 05:02:16 6421; DAINES Katherine 05:02:16 6422; RENARD Dominique 05:02:17 6423; GRIEVESON Jane 05:02:18 6424; BASKERVILLE Simon 05:02:21 6425; TOBIASIEWICZ Weronika 05:02:22 6426; MILLAR Steven 05:02:26 6427; BROTHERTON Scott 05:02:28 6428; HARKER Kay 05:02:29 6429; HOGGARTH Paul 05:02:31 6430; RUSSELL David 05:02:31 6431; DOWNING April 05:02:31 6432; MCILREAVY Lesley 05:02:32 6433; MACKENZIE Ewan 05:02:32 6434; TELFORD Gary 05:02:34 6435; RAHIM Kaleem 05:02:34 6436; MANSOURI Suzanne 05:02:35 6437; MORAN Douglas 05:02:43 6438; HARVERSON Nicky 05:02:44 6439; BAKER Amanda 05:02:46 6440; NORTHWAY Lisa 05:02:46 6441; APPLETON Nigel 05:02:46 6442; WARD Carol 05:02:47 6443; BURTON Ross 05:02:49 6444; BURGESS-TUPLING Andrew 05:02:51 6445; ROBBIE Pauline 05:02:51 6446; BRYCELAND Lynda 05:02:52 6447; HOULISTON Grant 05:02:54 6448; HANTON Sharon 05:02:56 6449; TURNBULL Frances 05:02:57 6450; SAUNDERS Nicholas 05:03:03 6451; LAGERQVIST Johan 05:03:05 6452; BENSON Steven 05:03:06 6453; ROGERS Carol 05:03:10 6454; ROGERS Susan 05:03:10 6455; PRESTON Andrew 05:03:11 6456; KELT Stewart 05:03:12 6457; PASCOE Angela 05:03:17 6458; WILLIS Lee 05:03:19 6459; POOLEY Grace 05:03:20 6460; MACFARLANE Stuart 05:03:20 6461; MCLAREN Martin 05:03:24 6462; GILLER Guenter 05:03:28 6463; CSENKI Konrad 05:03:28 6464; STAPLETON Christopher 05:03:28 6465; BAIRD Diana 05:03:28 6466; LEASK Jonathan 05:03:29 6467; WILKIE Neil 05:03:31 6468; KRZYZANOWSKI Aaron 05:03:34 6469; KING Kirsty 05:03:37 6470; WALKER Chris 05:03:37 6471; HUNT Kathryn 05:03:39 6472; ELSON Selina Joan 05:03:41 6473; BRADSHAW Joanne 05:03:41 6474; MILLER Kevin 05:03:42 6475; FORBES Linsey 05:03:43 6476; MARSH Mandy 05:03:45 6477; LE GUILLY Jean-Marc 05:03:46 6478; HOLLOWAY Beverley 05:03:46 6479; CUSIMANO Paola 05:03:48 6480; LE GUILLY Claudine 05:03:48 6481; SMITH Stephen 05:03:49 6482; TAYLOR Philip 05:03:52 6483; GOLDIE Chris 05:03:52 6484; MCCLORY Neil 05:03:56 6485; NICOL Mark 05:03:56 6486; HALL Richard 05:03:58 6487; MITCHELL Mark 05:04:00 6488; HOLLOWAY Mark 05:04:00 6489; TURNER Michelle 05:04:03 6490; REYNOLDS Paul 05:04:04 6491; ROBERTSON David 05:04:06 6492; MAZZARO Igor 05:04:12 6493; FITZSIMON Mathew 05:04:17 6494; MYCOCK Hazel 05:04:20 6495; WORK Darren 05:04:20 6496; COUSINS Eliza 05:04:21 6497; HARTLEY David 05:04:21 6498; HUNT Arlene 05:04:22 6499; DIXON David 05:04:22 6500; AMOR Naomi 05:04:22 6501; SINCLAIR David 05:04:23 6502; THOMLINSON Anna 05:04:24 6503; RENNIE Dori 05:04:25 6504; CHAMBERS Annette 05:04:26 6505; GOFFE Susanna 05:04:26 6506; MCILRAVEY John 05:04:27 6507; GASPOZ Nicole 05:04:35 6508; MILNE Kevin 05:04:37 6509; CLARKE Sophie 05:04:38 6510; VAN DER REEST Sandra (Andrea Esthe 05:04:40 6511; DAL PRA Luca 05:04:41 6512; RICCI Giovanni 05:04:47 6513; PILLAY Lorraine 05:04:47 6514; KEARSE Pat 05:04:49 6515; GLEN Paul 05:04:54 6516; WALKER Gary 05:04:57 6517; SIMPSON Kat 05:04:57 6518; JONES Helen 05:05:01 6519; FOSTER Andrew 05:05:02 6520; KAMYA Helen 05:05:03 6521; LAWRENCE John 05:05:05 6522; MCNEILLY Thomas 05:05:06 6523; CALLAGHAN Damian 05:05:06 6524; HUTTON Amy 05:05:07 6525; JACKSON Kirsten 05:05:07 6526; BRISTOW Adrienne 05:05:08 6527; BROWN Chris 05:05:08 6528; TAYLOR Ian 05:05:09 6529; BRADFORD Darren 05:05:09 6530; TILSON Neil 05:05:10 6531; SALMON Andrew 05:05:17 6532; LINDSAY Alan 05:05:18 6533; MILLER Ted 05:05:19 6534; KELLEY Tracy 05:05:19 6535; O\\'HANLON Denise 05:05:21 6536; BUNTING Simon 05:05:24 6537; RADFORD Trish 05:05:25 6538; CASTLEMAN Louise 05:05:34 6539; SCOTT Dillon 05:05:36 6540; MCWILLIAMS Anne 05:05:37 6541; CLARKE Rachel 05:05:38 6542; ASPHOLM Mats 05:05:38 6543; CRAIGEN Amy 05:05:38 6544; PARTINGTON Roma 05:05:42 6545; HARDY Sharon 05:05:42 6546; DONNELLY Sharon 05:05:42 6547; PARTINGTON Nigel 05:05:43 6548; GARRIOCH Stewart 05:05:43 6549; BLAIN Phill 05:05:47 6550; MCCURRACH Natalie 05:05:47 6551; WALLACE Stuart 05:05:48 6552; SPURR Jenny 05:05:50 6553; WILSON Stephen 05:05:56 6554; FLEMING Nigel 05:05:57 6555; GRETTON Will 05:05:59 6556; RUSSELL Kevin 05:06:01 6557; MACLAREN Alec 05:06:02 6558; CROMIE Gillian 05:06:03 6559; FINNEY Alan 05:06:04 6560; RIDDINGS Mary 05:06:04 6561; SHAH Sarang 05:06:05 6562; PERSKI Tom 05:06:06 6563; SEROUSSI Simon 05:06:06 6564; KOLTHOF Marc 05:06:06 6565; MORGAN Hywel 05:06:08 6566; HATHAWAY Davie 05:06:08 6567; RICHARDSON Dean 05:06:09 6568; ALLERHAND Rhalou 05:06:09 6569; COLLINS Grace 05:06:10 6570; MOZDIAK Ella 05:06:14 6571; EDGAR Stephanie 05:06:15 6572; GUHEMATHIASG Mathias 05:06:15 6573; NTULI Ngeme 05:06:18 6574; MAPLETHORPE John 05:06:19 6575; WIMPENNY Jessica 05:06:20 6576; HEMINGWAY Marilyn 05:06:22 6577; MITCHELL Pauline 05:06:23 6578; DANG Que 05:06:24 6579; STIRLING Stewart 05:06:25 6580; JEAN-JACQUES Jennifer 05:06:29 6581; JEAN-JACQUES Patrick 05:06:29 6582; LEE Elizabeth 05:06:30 6583; LEE Iain 05:06:31 6584; CRAWFORD Michael 05:06:31 6585; BEST Anthony 05:06:33 6586; ROWE Simon 05:06:34 6587; ROWE Lynn 05:06:34 6588; VICK Lee 05:06:39 6589; WRIGHT Katherine 05:06:41 6590; VIDALLI Rene 05:06:41 6591; SAYNER Malcolm 05:06:41 6592; BROWNE Liam 05:06:45 6593; OOSTHUIZEN Lidia 05:06:45 6594; RICKWOOD David 05:06:48 6595; WILSON Gordon 05:06:52 6596; NANIKHAN Nicholasn 05:06:53 6597; CHARLTON Simon 05:06:56 6598; WORTHINGTON Barrie 05:06:57 6599; WILCOCK Ian 05:06:57 6600; LLOYD Sarah 05:07:00 6601; ASPINWALL Rowan 05:07:00 6602; DE ROSA David 05:07:00 6603; LIU Wan Da 05:07:01 6604; MURPHY Rachel 05:07:03 6605; PORT Kenny 05:07:05 6606; HAWKINS Linda 05:07:05 6607; CUMMINGS Gary 05:07:07 6608; WARD Susan 05:07:07 6609; DETWEILER Michael 05:07:08 6610; TANG David 05:07:09 6611; TAMS John 05:07:10 6612; HAY Steven 05:07:11 6613; LUPSON Jo 05:07:12 6614; WOODCOCK Clare 05:07:15 6615; CLARK Sheila 05:07:15 6616; LEITCH William 05:07:18 6617; MEENAGHAN Gemma 05:07:18 6618; VOORWINDEN John 05:07:21 6619; BADLEY Anna 05:07:22 6620; DAWS Ian 05:07:24 6621; JACKSON Nicolas 05:07:27 6622; JACKSON Jackie 05:07:27 6623; MILLS Richard 05:07:28 6624; BROWN John 05:07:29 6625; HALL Jon 05:07:30 6626; MACLENNAN Craig 05:07:31 6627; FLEMING Colin 05:07:31 6628; SULZER Daniela 05:07:33 6629; ALEXANDER Stewart 05:07:36 6630; GREENFIELD Linda 05:07:36 6631; ROGERS Rebecca 05:07:38 6632; CUNNINGHAM Michael 05:07:43 6633; EDWARDS Sam 05:07:43 6634; BALDWIN Ruth 05:07:47 6635; LINDSAY Diane 05:07:48 6636; BROADLEY Stephen 05:07:50 6637; GOODRIGHT Nathan 05:07:50 6638; HUGHES Samantha 05:07:51 6639; DAVIDSON Hugh 05:07:58 6640; RICHARDSON Meredith 05:07:58 6641; WEBSTER Janet 05:07:59 6642; MANSOURI Kamel 05:07:59 6643; WHITTICK Emma 05:08:01 6644; KANE Andy 05:08:01 6645; MASON Chris 05:08:03 6646; COLLINGS Peter 05:08:04 6647; ALLEN Martin 05:08:04 6648; PURCELL-COPLAND Tracy 05:08:05 6649; PAUL Austin 05:08:06 6650; DIETL Berndt 05:08:07 6651; WHARMBY Elaine 05:08:10 6652; HINCHLIFFE Emma 05:08:11 6653; CAVALIERE Carlo 05:08:15 6654; PERKINS Kayley 05:08:15 6655; MCMILLAN James 05:08:28 6656; GALLOWAY William 05:08:28 6657; SUTHERLAND Sarah 05:08:29 6658; LOI Andrea 05:08:29 6659; RADCLIFFE Stuart 05:08:29 6660; ROBERTSON Murray 05:08:30 6661; POTTER Stephen 05:08:31 6662; MILLER Darren 05:08:34 6663; MELLOR Daryl 05:08:35 6664; ANDERSON Simon 05:08:37 6665; O'NEILL Sasha 05:08:38 6666; RUTHERFORD Gary 05:08:38 6667; CAMPBELL Peter 05:08:39 6668; TEAGUE Donna 05:08:39 6669; DURHAM Emily 05:08:41 6670; PATEL Kiren 05:08:41 6671; LITTLEJOHN Lorraine 05:08:47 6672; META James 05:08:47 6673; TRUEBLOOD John 05:08:48 6674; BELL Fiona 05:08:50 6675; MCFADDEN Charlie 05:08:51 6676; CROSS Jane 05:08:51 6677; BRIGHTMORE Emma 05:08:57 6678; GRUNWELL Glen 05:08:58 6679; CLARKE Sophie 05:08:58 6680; NUTTER Paul 05:08:58 6681; MCCORMICK Andrew 05:08:58 6682; FIELD Thomas 05:08:59 6683; HARRISON Amy 05:09:01 6684; PAY Andrew 05:09:01 6685; MACNEIL Cheryl 05:09:04 6686; HARVEY Richard 05:09:11 6687; SHAW Jon 05:09:12 6688; COLLARD Dave 05:09:15 6689; PHILLIPS Darren 05:09:20 6690; BRANDRICK Dennis 05:09:25 6691; MASSON Jackie 05:09:26 6692; ADAMS Helen 05:09:27 6693; COLLINGE Carol 05:09:27 6694; WALL Lucy 05:09:29 6695; SMITH Andrew 05:09:30 6696; HARRISON Anita 05:09:32 6697; GRIFFIN Fiona 05:09:37 6698; THOMAS Pauline 05:09:38 6699; COWAN Jill 05:09:41 6700; GANT Jane 05:09:41 6701; PARNELL Zoe 05:09:41 6702; HAYNES Lisa 05:09:44 6703; LESTER Deborah 05:09:50 6704; FOTHERGILL Linda 05:09:50 6705; MOUAT Ian 05:09:53 6706; BROOK Susan 05:09:53 6707; SKINNER Mark 05:09:53 6708; CANAVAN Kenneth 05:09:57 6709; CALDWELL Mark 05:09:57 6710; HAMILTON Neil 05:09:57 6711; JACK Joseph 05:09:58 6712; DOBSON Adele 05:09:59
6713; MACGREGOR Gordon 05:10:04 6714; HALL Joe 05:10:09 6715; SHIBATA Ayumi 05:10:10 6716; RENNIE Helen 05:10:14 6717; GUSH Steve 05:10:15 6718; SIMPSON Lois 05:10:15 6719; HUNTER Jane 05:10:16 6720; SUTHERLAND Daniel 05:10:18 6721; MALLIN Joe 05:10:23 6722; WOOD Simon 05:10:24 6723; SURRIDGE Eleanor 05:10:26 6724; HUTCHINSON Ross 05:10:26 6725; WALKER Jane 05:10:27 6726; SILLARS Jacqueline 05:10:28 6727; CROMBIE Suzanne 05:10:29 6728; MACKISON Catriona 05:10:29 6729; TUTT Paul 05:10:30 6730; PATERSON James 05:10:31 6731; HAMMOND Richard 05:10:33 6732; DOUGLAS Wendy 05:10:34 6733; CANTLEY Sheena 05:10:34 6734; KENNEDY Deborah 05:10:34 6735; RISELLI Umberto 05:10:35 6736; MURRAY Craig 05:10:37 6737; FIDDIKE Henry 05:10:38 6738; DEMPSTER Sarah 05:10:38 6739; GONCALVES PEREZ Arelys 05:10:41 6740; RUSSELL Brian 05:10:41 6741; ROACH John 05:10:41 6742; LITTLE Helen 05:10:43 6743; DARBY Stuart 05:10:48 6744; WALDRON Jane 05:10:49 6745; GAUDIO Gianfranco 05:10:50 6746; MOULE Petra 05:10:51 6747; HUNTER Ross 05:10:51 6748; CAPPIELLO Luigi 05:10:51 6749; STEPHEN Ian 05:10:52 6750; WATSON Gary 05:10:56 6751; SIMPSON Kenneth 05:10:57 6752; SUTTON Andrew 05:10:59 6753; KNIGHT Michael 05:11:01 6754; MCGOWAN Michael 05:11:02 6755; HOLMAN Brad 05:11:02 6756; LITTLEWOOD Marie 05:11:03 6757; MARTIN Kim 05:11:05 6758; ROSE Sam 05:11:05 6759; KELLY Ruth 05:11:08 6760; BIRCH Joseph 05:11:10 6761; FLETT Jennifer 05:11:12 6762; THUM Chee 05:11:14 6763; SHARP Alan 05:11:14 6764; FERRIDAY Ernest 05:11:16 6765; MCKINNON Neil 05:11:18 6766; AITKEN Michelle 05:11:18 6767; CUNNINGHAM Darren 05:11:19 6768; SIRTOLI Maurizio 05:11:23 6769; LEWIS Louise 05:11:25 6770; PEDLEY Ann 05:11:26 6771; SAWERS Gordon 05:11:31 6772; ABRAHAMS Penny 05:11:34 6773; MURRAY Laura 05:11:34 6774; THOMPSON Sue 05:11:34 6775; MCEVOY Kieran 05:11:34 6776; COWARD Ann 05:11:36 6777; AUTORINO Jennifer 05:11:41 6778; ROBERTS Craig 05:11:41 6779; CORCORAN Emma 05:11:43 6780; MURRAY Janet 05:11:45 6781; CARMICHAEL Isabella 05:11:47 6782; HOOPER Jennifer 05:11:47 6783; PINNINGTON Hollie 05:11:49 6784; ULLRICH Viola 05:11:51 6785; WEST Chris 05:11:51 6786; MCIVER David 05:11:56 6787; CRANE Dave 05:11:56 6788; MCGREGOR Susan 05:11:56 6789; GALLERY Annmarie 05:11:56 6790; KWALOMBOTA Kwalombota 05:11:59 6791; RAMPLING Zoe 05:12:02 6792; BENSON Emily 05:12:02 6793; CORRIGAN Willie 05:12:02 6794; PRIOR Steve 05:12:03 6795; PORTER Gayle 05:12:05 6796; MILLIGAN Teresa 05:12:06 6797; MILLIGAN Ian 05:12:06 6798; JOHNSON Liz 05:12:07 6799; DAY Paul 05:12:12 6800; BRINSDEN Gill 05:12:12 6801; SIMM David 05:12:13 6802; HAYES Marie 05:12:15 6803; CARR Maureen 05:12:27 6804; MCHENDRY Catherine 05:12:29 6805; SHARP Les 05:12:31 6806; SMITH Neil 05:12:38 6807; BROWN Elizabeth 05:12:39 6808; HYND Joanna 05:12:40 6809; MACDONALD Aj 05:12:40 6810; TOWNSEND Stephen 05:12:44 6811; HUMBY Marie 05:12:50 6812; SMITH Janet 05:12:51 6813; WILSON Rachel 05:12:51 6814; BLUEMAN Aimi 05:12:54 6815; CARTMELL Marc` 05:12:55 6816; BEAN Susan 05:12:57 6817; CLARKE Patrick 05:13:00 6818; ALLAN Kerryann 05:13:00 6819; SAGOO Gurpreet 05:13:03 6820; SINGH Manjit 05:13:03 6821; TALWAR Ghanaya 05:13:04 6822; MULVANEY Denise 05:13:04 6823; BEDNARIK David 05:13:04 6824; DALGLEISH Heather 05:13:10 6825; ELLIS Michael 05:13:12 6826; NORTHRUP Janice 05:13:14 6827; CARROLL Kate 05:13:17 6828; SUTTON Slavka 05:13:17 6829; MCDADE Norman 05:13:18 6830; DEAN Robert 05:13:20 6831; PAVEY David 05:13:23 6832; GABLE Candy 05:13:31 6833; VIRANI Sarah 05:13:32 6834; VIRANI Sameer 05:13:33 6835; CROSS Chloe 05:13:35 6836; OWEN Carol 05:13:36 6837; CROSBIE David 05:13:36 6838; CREES Gordon 05:13:37 6839; FROST Sophie 05:13:40 6840; CAMPBELL Blair 05:13:40 6841; THOMSON Peter 05:13:42 6842; JACKSON Stuart 05:13:43 6843; DOJAHN-WOOD Carmen 05:13:44 6844; OAKLEY Jane 05:13:44 6845; WILLIAMS Fiona 05:13:45 6846; MORGAN Gurcharan 05:13:47 6847; SOMERVILLE Alan 05:13:50 6848; HANSON Dawn 05:13:51 6849; CUSICK David 05:13:54 6850; MOULTON Alan 05:14:01 6851; BEBBINGTON Henry 05:14:03 6852; HUGHES Thomas Robert 05:14:04 6853; DALY Georgia 05:14:04 6854; KIRKBY Simon 05:14:05 6855; FIVEY Daniel 05:14:05 6856; STICKLEY Caroline 05:14:05 6857; DUNCAN Hannah 05:14:11 6858; FREEMAN Craig 05:14:13 6859; TOWE James 05:14:15 6860; HERBERT Alison 05:14:18 6861; CARR Bryony 05:14:20 6862; MLODZINIAK Marcin 05:14:25 6863; ELLIN Paul 05:14:31 6864; MCCARTHY Fiona 05:14:32 6865; KESSON Darren 05:14:32 6866; GOOD John 05:14:36 6867; PROBERT Bryn 05:14:38 6868; PRYOR Thomas 05:14:39 6869; ROY Malcolm 05:14:44 6870; RAMSAY Samantha 05:14:45 6871; GROSSE Karl-Heinz Andreas 05:14:46 6872; LAPERE Linda 05:14:47 6873; MCCONNACHIE George 05:14:55 6874; CONDRON Janice 05:14:56 6875; STOTT Laura 05:14:58 6876; SHARD Sarah 05:14:59 6877; PULLIAM Nate 05:15:03 6878; SMITH Sandra 05:15:05 6879; SINGH SANGHA Charanjit 05:15:06 6880; WHEELER Caroline 05:15:08 6881; SCOTT Michael 05:15:09 6882; CONNOR Megan 05:15:09 6883; LOWES Susan 05:15:10 6884; DAVIDOSN Belgin 05:15:11 6885; KELLY Claire 05:15:13 6886; HERON Michelle 05:15:13 6887; MURRAY Kevin 05:15:21 6888; RONALDSON Steven 05:15:24 6889; OLIVER Christopher 05:15:25 6890; MORRIS Tim 05:15:25 6891; ATTRIDGE Ross 05:15:26 6892; LIU Yu 05:15:26 6893; ATTRIDGE Ricky 05:15:26 6894; ROUTLEDGE Steve 05:15:27 6895; GALBRAITH Natalie 05:15:28 6896; SAWARD ARAV Derah 05:15:28 6897; RAULS Oliver 05:15:29 6898; BROWN Laura 05:15:29 6899; MORRISON Jennie 05:15:32 6900; FINCH Lucy 05:15:36 6901; FOSKER Clayton 05:15:39 6902; HUTTON Kirsten 05:15:39 6903; SIMPSON Graeme 05:15:39 6904; SMELT John 05:15:39 6905; BROWN Lindsay 05:15:40 6906; ROBERTSON Jo-Anne 05:15:40 6907; GALLON Catarina 05:15:42 6908; SMITH Margaret 05:15:44 6909; SWALLOW Alice 05:15:45 6910; BRADLEY Sarah 05:15:46 6911; JACKSON Barbara 05:15:47 6912; HAWKINS Ian 05:15:47 6913; BROWN Mark 05:15:51 6914; REVILL Julia 05:15:55 6915; GEDDES Karen 05:15:56 6916; PRINGLE Jenny 05:15:57 6917; NOAD Ashleigh 05:15:58 6918; PERKINS Nicola 05:16:04 6919; MURPHY Pam 05:16:05 6920; FAROOQ Kaz 05:16:06 6921; FOOTE William 05:16:10 6922; LYONS Monica 05:16:11 6923; CONNOLLY Joe 05:16:14 6924; O'FLAHERTY Russell 05:16:21 6925; BARKER Stan 05:16:24 6926; EDGAR Hew 05:16:29 6927; STRACHAN Sarah 05:16:29 6928; MCKENZIE Katherine 05:16:29 6929; DAVIES Carys 05:16:29 6930; CRACKNELL James 05:16:29 6931; HARWOOD Lisa 05:16:29 6932; MALOVIC Aida 05:16:31 6933; MILLS Emma 05:16:31 6934; HANDFORD Craig 05:16:31 6935; HINCHLIFFE Tracey 05:16:33 6936; CLARKE-STURMAN Rosamund 05:16:34 6937; DAVIES James 05:16:39 6938; JOINER Michael 05:16:40 6939; CASEY Michael 05:16:42 6940; RANKIN Barry 05:16:42 6941; WONG Eddie 05:16:42 6942; FAGGE Jonathon 05:16:47 6943; SMITH David 05:16:47 6944; MARSHALL Antony 05:16:52 6945; SMITH Johnathan 05:16:53 6946; WILLIS Alan 05:16:57 6947; SAWYER Elliot 05:16:58 6948; SCALLON Seamus 05:16:59 6949; HAYNES Peter 05:17:01 6950; CUNNANE Noel 05:17:02 6951; BARTER Chris 05:17:04 6952; LYONS Ben 05:17:04 6953; MURRAY Laurel 05:17:05 6954; WHITE Mark 05:17:05 6955; ANDERSON Alison 05:17:05 6956; GORDON Iain 05:17:06 6957; GUY John 05:17:06 6958; DONOHOE Derek 05:17:12 6959; CHEN Shikang 05:17:13 6960; CARLYLE John 05:17:16 6961; MCQUEEN Tony 05:17:17 6962; HANSEN Daniel 05:17:23 6963; FUNKE Jost 05:17:28 6964; CHAPMAN Rachel 05:17:29 6965; GODON Audrey 05:17:29 6966; OWEN Sam 05:17:30 6967; ROUTLEDGE Matt 05:17:35 6968; DUTE Rudolf 05:17:38 6969; MUSCUTT Neil 05:17:38 6970; MURDOCH Nichola 05:17:39 6971; JEFFERIES Neil 05:17:47 6972; DALGLEISH Scott 05:17:47 6973; JEWELL Jemma 05:17:48 6974; BENGSTON Shannon 05:17:49 6975; WILSON Stephen 05:17:51 6976; NIEMAND Bernadette 05:17:51 6977; PEARCE Sandra 05:17:52 6978; STEEN Rick 05:17:55 6979; HERD Juliet 05:17:57 6980; LESLIE Kate 05:17:58 6981; JOHNSON Alex 05:18:00 6982; DIXON Cathy 05:18:03 6983; MALCOLM Angela 05:18:04 6984; JACKSON Nick 05:18:04 6985; CROWTHER Sandra 05:18:07 6986; MILLER Rebecca 05:18:15 6987; ELLIS Kim 05:18:15 6988; HIPKINS Elizabeth 05:18:20 6989; DURKIN Tom 05:18:22 6990; BOAST Elizabeth 05:18:22 6991; RICHINGS Cynthia 05:18:24 6992; REGMI Rajendra 05:18:27 6993; BATES Jennifer 05:18:36 6994; ROLDAN Cristina 05:18:43 6995; DAVIDSON Jillian 05:18:44 6996; GEORGE Jemma 05:18:46 6997; SEVERI Daniele 05:18:47 6998; CARTER Nikki 05:18:47 6999; TEAGUE Conor 05:18:48 7000; CHALMERS Ian 05:18:51 7001; CHALMERS Thomas 05:18:52 7002; SMALL Lorna 05:19:00 7003; SMITH Dave 05:19:00 7004; PHILLIPS Paul 05:19:01 7005; ANDERSON Robert 05:19:02 7006; ANDERSON Catherine 05:19:02 7007; TODD John 05:19:02 7008; COGAN Sheamus 05:19:04 7009; JEROMSON Stewart 05:19:05 7010; COEN Michael 05:19:07 7011; HINDS Angelia 05:19:09 7012; BLAKEY Heather 05:19:10 7013; MALONEY Lisa 05:19:13 7014; BRADSHAW Simon 05:19:18 7015; ROMANOS Ralph 05:19:25 7016; SMITH Claire 05:19:25 7017; MARTIN Joanne 05:19:26 7018; HEATON Paul 05:19:26 7019; MACEWAN Jade 05:19:27 7020; TUFFY Paul 05:19:27 7021; COPPE Stephane 05:19:30 7022; SCOTT Nicola 05:19:33 7023; DOCKING Martin John 05:19:33 7024; MARKOVINA Roxanne 05:19:35 7025; MAIR Cathie 05:19:37 7026; ASHDOWN Katie 05:19:43 7027; FARLEY Jennifer 05:19:44 7028; SELBY Gary 05:19:45 7029; GRANT Craig 05:19:52 7030; BAILEY Jackie 05:19:54 7031; SCANLON Nicholas 05:19:55 7032; PHOENIX David 05:19:55 7033; ASHDOWN Polly 05:19:56 7034; KING Alison 05:19:57
7035; DEANS Donald 05:20:05 7036; SMART Jordan 05:20:06 7037; DEAN Shaun 05:20:06 7038; WILLIS Victoria 05:20:07 7039; TREANOR Barry 05:20:11 7040; ABDELKHALEQ Naz 05:20:16 7041; MCQUEEN Graham 05:20:20 7042; BARCROFT Michael 05:20:21 7043; KEKEWICH Alex 05:20:24 7044; WILLIAMSON Matthew 05:20:32 7045; PARRY Tony 05:20:33 7046; LEE Pawel 05:20:33 7047; SMITH Andrew 05:20:35 7048; PATERSON Fiona 05:20:40 7049; MCKENNA Cindie 05:20:49 7050; TUCKER Debra 05:20:51 7051; TUCKER Dean 05:20:51 7052; ROSE Laura 05:20:52 7053; WHITEHOUSE John James 05:20:55 7054; GOURLAY Colin 05:20:55 7055; LAWRENCE Adaku 05:21:01 7056; MCDOUGALL Tina-Lee 05:21:02 7057; SMITH Allison 05:21:05 7058; CHOW Chee Kheng 05:21:06 7059; MAN Kitty 05:21:06 7060; KIRLEW Jennifer 05:21:13 7061; CREAN Bob 05:21:15 7062; KISSAM Ariane 05:21:17 7063; CUNNINGHAM Ross 05:21:18 7064; COLLARD Ronald 05:21:19 7065; TAYLOR Rhona 05:21:20 7066; NUGENT John 05:21:22 7067; MCGOUGH Lauren 05:21:22 7068; MALLEN Mark 05:21:34 7069; KOHN Deborah 05:21:40 7070; MCCRORY Katie 05:21:47 7071; TAYLOR Alan 05:21:48 7072; DALES Colin 05:21:49 7073; NEWMAN Lesley-Ann 05:21:52 7074; BRIGGS Karen 05:21:53 7075; ESSOM Andrew 05:21:55 7076; BALU Anandh 05:22:00 7077; FAIRBAIRN Andrew 05:22:05 7078; FIELD Victoria 05:22:06 7079; WYATT Phil 05:22:06 7080; ELSHAW Angela 05:22:06 7081; KING David 05:22:06 7082; TIDMAN Oliver 05:22:07 7083; LO Tai-Hua 05:22:07 7084; ANGUS Catriona 05:22:12 7085; DILLON Caroline 05:22:15 7086; MACKAILL Linda 05:22:15 7087; DONOHUE Maurice 05:22:20 7088; DAVIES Shaun 05:22:25 7089; NURRO Jussi 05:22:26 7090; MORGAN Jane 05:22:28 7091; ELLIS Sharon 05:22:28 7092; GLAHOLM Martin 05:22:29 7093; DOLAN Stephen 05:22:29 7094; VERRINDER Neil 05:22:30 7095; DICKESON Laura 05:22:31 7096; ANDERSON Sharron 05:22:32 7097; COUGHLAN Mark 05:22:39 7098; BALDWIN Christa 05:22:43 7099; BILTON Geoff 05:22:47 7100; MARTIN Ruth 05:22:48 7101; HOWARD Nicola 05:22:48 7102; TONER Paul 05:22:50 7103; BRITT Tony 05:22:54 7104; BARKER Ernest 05:22:57 7105; GULDBERG Karen 05:23:01 7106; NEALE Huw 05:23:01 7107; MCMILLAN Godfrey 05:23:01 7108; DRYSDALE Euan 05:23:09 7109; MUIR Ronald 05:23:10 7110; BURDEN Andrew 05:23:11 7111; FAICHNIE Robert 05:23:13 7112; CHAN So Mei 05:23:16 7113; LINDSAY Ramona 05:23:16 7114; BAXTER Mitchell 05:23:19 7115; BAXTER Nina 05:23:19 7116; MILLAR Yvonne 05:23:20 7117; KNOWLES Dawn 05:23:21 7118; DORNAN Wilson 05:23:22 7119; BAILIE Heather 05:23:25 7120; BROWNING Rebecca 05:23:25 7121; BRODERICK Shaun 05:23:26 7122; RAZZETTI Angelo 05:23:27 7123; EASTON Alasdair 05:23:27 7124; BLACK Carolyn 05:23:29 7125; BALLANTINE Fraser 05:23:32 7126; PROBERT Tracey 05:23:32 7127; PORRITT Ian 05:23:32 7128; MILLER Nikola 05:23:35 7129; ATKINSON Holly 05:23:36 7130; WALKINGSHAW Scott 05:23:37 7131; STRONG Joanne 05:23:37 7132; MACKAY Ross 05:23:38 7133; MCDIARMID Andrew 05:23:41 7134; HOLMES Melissa 05:23:43 7135; HOLMES Samantha 05:23:43 7136; LIVESTON Mhairi 05:23:47 7137; MCWILLIAMS Neil 05:23:47 7138; JACKSON Amy 05:23:49 7139; HOLLAND Tim 05:23:53 7140; FRENCH Tom 05:23:56 7141; GOODWILL Andrew 05:23:57 7142; HENDON Andy 05:23:57 7143; CLARKSON Thomas 05:23:58 7144; CROCKER Bob 05:24:04 7145; SPENCER Tracy 05:24:05 7146; DURKIN John 05:24:06 7147; POPE Conrad 05:24:06 7148; JEPHCOTT David 05:24:10 7149; ROSE Aynsley 05:24:10 7150; PILLING Rafe 05:24:11 7151; LYNCH Leanne 05:24:16 7152; MANAGHAN Julie 05:24:17 7153; GERRARD Andrew 05:24:17 7154; SCOTT Elaine 05:24:18 7155; MCGARRIGLE Eileen 05:24:19 7156; SINGH-KOONER Harjinder 05:24:21 7157; SHARP Laura 05:24:24 7158; SMITH Joanna 05:24:26 7159; MILNE John 05:24:26 7160; MOORE Daniel 05:24:28 7161; HAITHCOCK Michael 05:24:31 7162; COWIE Pauline 05:24:33 7163; TOTTEN John 05:24:34 7164; TEJADA-HACHE Paula 05:24:35 7165; GOWDY Neil 05:24:36 7166; TIPPING Colin 05:24:36 7167; GRAINGE Hannah 05:24:38 7168; TAYLOR Jonathan 05:24:41 7169; STEVENSON Barbara 05:24:42 7170; BYRD Peter 05:24:48 7171; SAYTHER Michael 05:24:49 7172; VERNER Chris 05:24:50 7173; BYWATER Zoe 05:24:54 7174; BYWATER Nigel 05:24:54 7175; KING Meg 05:24:59 7176; BORTHWICK Darrin 05:25:00 7177; FITZPATRICK Tommy 05:25:09 7178; DAVIS Andrew 05:25:13 7179; LEIGHTON Richard 05:25:15 7180; HENDERSON Laura 05:25:18 7181; OWEN Arwel 05:25:19 7182; TAIT Elaine 05:25:19 7183; ROGERS Ben 05:25:23 7184; STUART Emma 05:25:27 7185; ELLIOT Katharine 05:25:37 7186; LEETHAM Sharon 05:25:40 7187; CRUICKSHANK Stacey 05:25:40 7188; RAE Ian 05:25:42 7189; WOOD Gareth 05:25:44 7190; WILLIAMS Mike 05:25:46 7191; JONES Carl 05:25:48 7192; MCKENNA Martin 05:25:51 7193; CUTTRISS Michael 05:25:52 7194; HODGSON Natalie 05:25:53 7195; POW Vivianne 05:25:53 7196; DEVLIN Sandy 05:26:00 7197; BARNES Isabella 05:26:03 7198; SAVAGE Linda 05:26:03 7199; GELL Dawn 05:26:05 7200; WILSON Alison 05:26:05 7201; THOMASON Phillip 05:26:05 7202; POWELL Jonathan 05:26:08 7203; FOX Amy 05:26:08 7204; KENNEDY Richard 05:26:09 7205; COLE Paul 05:26:10 7206; DUNSTER Joanna 05:26:10 7207; MARTIN Adam 05:26:11 7208; O'SULLIVAN Martin 05:26:11 7209; SPINA Alessandro 05:26:12 7210; LEES Linda 05:26:15 7211; WENHAM Lee 05:26:22 7212; CONVERT Danielle 05:26:26 7213; GENIN Virginie 05:26:26 7214; URE Gregor 05:26:26 7215; GENIN Veronique 05:26:27 7216; SANDISON Elaine 05:26:28 7217; KIDGER Mark 05:26:28 7218; NOBLE Rebecca 05:26:29 7219; PADAM Rajpal 05:26:34 7220; HODGSON Craig 05:26:36 7221; SHARKEY Robert 05:26:38 7222; PROBERT Graeme 05:26:48 7223; MCKINLAY Andrew 05:26:48 7224; MOSTOWYJ Paul 05:26:52 7225; DICK Catherine 05:26:53 7226; CROCKETT Samantha 05:26:53 7227; TENNANT Sheila 05:26:55 7228; WALLACE Georgina 05:26:55 7229; STEVENSON Andrew 05:26:57 7230; MACAUSLAND Andrew 05:26:57 7231; MCFARLANE Oona 05:26:59 7232; NICHOLSON Greg 05:27:00 7233; ATKIN Tom 05:27:02 7234; BECK Kevin 05:27:02 7235; FREWIN Jacqueline 05:27:11 7236; RAWLINSON Louise 05:27:13 7237; CROUCHER Baljit 05:27:15 7238; ANDREWS Carolus 05:27:16 7239; LIGHTBODY Gordon 05:27:16 7240; KIRK Fiona 05:27:17 7241; BRUFORD Jon 05:27:23 7242; MARGETTS Alisha 05:27:32 7243; MCCONNELL Kirstin 05:27:37 7244; HICKEY Christopher 05:27:42 7245; GRAFTON-TELFER Debbie 05:27:42 7246; PINDER Keith 05:27:43 7247; THOMAS Debbie 05:27:43 7248; DAVIES Annwen 05:27:44 7249; RIDDELL Stephen 05:27:46 7250; HEWITT Nicola 05:27:47 7251; HEWITT Dorothy 05:27:47 7252; BONSOR Annette 05:27:50 7253; STONE Valerie 05:27:50 7254; RICHARDSON Sandra 05:27:50 7255; SHORT Julie 05:27:54 7256; COOPER Kristine Anne 05:28:08 7257; MCAREAVEY Rhiannon 05:28:09 7258; DEARDEN Robin 05:28:10 7259; WYSE Alexander 05:28:11 7260; GARDNER Des 05:28:22 7261; MOFFETT Tom 05:28:23 7262; MARTIN Kev 05:28:23 7263; O\'DONNELL Patrick 05:28:27 7264; TAYLOR Lindsey 05:28:27 7265; CORNOCK Amy 05:28:30 7266; WRIGHT John 05:28:32 7267; COLLINS Jill 05:28:32 7268; WEETMAN Hannah 05:28:34 7269; ROE Tony 05:28:35 7270; POVEY Marian 05:28:52 7271; POVEY Terry 05:28:52 7272; GORMALLY Eimear 05:28:55 7273; ANDERSON Jp 05:28:55 7274; CAIRNS Lesley 05:28:59 7275; MALCOLM Jane 05:29:04 7276; THREADGOLD Victoria 05:29:05 7277; NEWTON Natalie 05:29:13 7278; HAINES David 05:29:13 7279; MACDONALD Colin 05:29:14 7280; STEWART Donna 05:29:15 7281; WALLACE Vicki 05:29:16 7282; KOBIOLKE Tamara 05:29:17 7283; HUTCHINSON Jo 05:29:20 7284; SAUNDERS Kath 05:29:20 7285; HOPE Kirsty 05:29:22 7286; DUNDAS Suzanna 05:29:26 7287; ALLEN Tony 05:29:31 7288; GOODWIN Carol 05:29:31 7289; HUYTON John 05:29:31 7290; PATEL Harnish 05:29:32 7291; HEALEAS Andrew 05:29:34 7292; CUNNINGHAM Doleen 05:29:38 7293; WHYTE Iain 05:29:39 7294; HEALEAS Gavin 05:29:39 7295; SPIEZIA Federica 05:29:40 7296; MCHUGH George 05:29:41 7297; SCOTT Keith 05:29:50 7298; ROBERTS Alan 05:29:51 7299; KELLIGHAN Lel 05:29:52 7300; RUSHWORTH Carol 05:29:55 7301; LOGAN David 05:29:56 7302; GAFFNEY Kelly 05:29:56
7303; FLOCKHART Kevin 05:30:03 7304; MILLAR Neil 05:30:08 7305; SIMPSON Craig 05:30:08 7306; SHAW Robert 05:30:09 7307; ROSS Derek 05:30:12 7308; TYLER Stephen 05:30:14 7309; SHIELDS Tim 05:30:15 7310; THURMAN John 05:30:18 7311; WYLLIE Charlotte 05:30:21 7312; FRENYEA Bryon 05:30:22 7313; PENH Channari 05:30:23 7314; SZUMINSKI Clare 05:30:25 7315; BERTRAND Totel 05:30:25 7316; TOTEL Pascale 05:30:25 7317; HANSON Juliet 05:30:31 7318; HEWITSON Richard 05:30:31 7319; BAILLIE May 05:30:34 7320; RAMSAY Shona 05:30:34 7321; KRUG Nikolett 05:30:37 7322; STARK Richard 05:30:46 7323; WOOKEY Kim 05:30:49 7324; CAMPBELL Morag 05:30:50 7325; FRANCIS Donna 05:30:52 7326; BLENCOWE Catherine 05:30:53 7327; WILLIAMS Rhys 05:30:55 7328; BARTLETT Christopher 05:30:56 7329; THOMAS Margaret 05:30:56 7330; SIMPSON Jacky 05:30:56 7331; HILL Matthew 05:30:59 7332; MILLER Peter 05:30:59 7333; BROWN Ross 05:31:01 7334; SPINKS Lucy 05:31:01 7335; MURRAY Samantha 05:31:02 7336; MARTIN Vic 05:31:02 7337; RICE Deborah 05:31:05 7338; MOLYNEUX Danielle 05:31:05 7339; MARAIS Ettienne 05:31:11 7340; MCANERNEY Jonathan 05:31:12 7341; SOSA Karen 05:31:15 7342; FORSTER Fiona 05:31:21 7343; JAYDEN Kate 05:31:21 7344; COUSINS Ian 05:31:33 7345; LASSALINE Lisa 05:31:39 7346; THOMAS Charlotte 05:31:43 7347; PERCIVAL James 05:31:45 7348; SCHRöDER Werner 05:31:47 7349; HUTCHISON Stuart 05:31:48 7350; DELARGEY Ryan 05:31:48 7351; MORRISON Christopher 05:31:48 7352; HAGUE Suzanne 05:31:51 7353; EVANS John 05:31:51 7354; ALBERT Michelle 05:31:52 7355; COOK Mandy 05:31:52 7356; DAVYS Sue 05:31:52 7357; HOUSTON Sharon 05:31:53 7358; PATE Penny 05:31:56 7359; OCONNOR Catherine 05:31:58 7360; GALLAGHER Lorraine 05:31:59 7361; PAUL Graham 05:31:59 7362; PURCHES Rhian 05:32:02 7363; GENNARD Nick 05:32:02 7364; BLOOR Neil 05:32:04 7365; BLOOR Alison 05:32:04 7366; FARQUHAR Gavin 05:32:05 7367; SINGH Paul 05:32:05 7368; NOBLE Thomas 05:32:05 7369; CROOKS Stephen 05:32:09 7370; WILSON Louise 05:32:12 7371; CANNON Eileen 05:32:13 7372; EUSTACE Trevor 05:32:13 7373; STANFORD Paul 05:32:15 7374; CREEL Alex 05:32:16 7375; LEA Charlotte 05:32:30 7376; BAXTER Zoe 05:32:31 7377; CANTLEY Louise 05:32:34 7378; MOIR Jim 05:32:47 7379; WALKER Mark 05:32:47 7380; JOHNSTONE Andrew 05:32:52 7381; SINGH Harmander 05:33:01 7382; POWELL Anna 05:33:02 7383; KUJALA Anna 05:33:07 7384; SKELDING Tracey 05:33:10 7385; PLUMTREE Leanne 05:33:10 7386; PLUMTREE Justin 05:33:10 7387; HOUGHTON Jeremy 05:33:13 7388; HAYWARD Claire 05:33:15 7389; PALMER Sheila 05:33:15 7390; BONNAR Pat J 05:33:18 7391; RICHARDS Simon 05:33:21 7392; HOOKER Laura 05:33:28 7393; DIXON Philip 05:33:29 7394; LAMB James 05:33:29 7395; RYAN Catherine 05:33:31 7396; DAWSON Paula 05:33:35 7397; PRIGMORE Jacqueline 05:33:41 7398; HANRAHAN Luke 05:33:44 7399; SHORT Vanessa 05:33:45 7400; SACKEY Nick 05:33:45 7401; MOONEY Lorraine 05:33:46 7402; MCGAW Brian 05:33:50 7403; MURRAY Nichola 05:34:00 7404; MITCHELL Sam 05:34:02 7405; MILES Robert 05:34:07 7406; TEUTON Linda 05:34:08 7407; MARSHALL John 05:34:10 7408; STANCOMBE Anna 05:34:10 7409; MORRIS Donna 05:34:10 7410; BEATTIE Greg 05:34:12 7411; SLEE Mike 05:34:12 7412; FERRIES Kayleigh 05:34:16 7413; GOLDEN Katie 05:34:17 7414; LOVERIDGE Mervyn 05:34:19 7415; HODGSON Sheila 05:34:23 7416; DYAL Tejram 05:34:26 7417; PHILLIPS Robert 05:34:27 7418; GOODE Justine 05:34:27 7419; BARTLETT Damien 05:34:27 7420; HOOPER Marcillie 05:34:27 7421; FORDHAM Elizabeth 05:34:27 7422; SAIDI Arwa 05:34:34 7423; BASTOW John 05:34:36 7424; GOWIE Alan 05:34:49 7425; DEARING Katrina 05:34:51 7426; COX Nick 05:34:51 7427; NOLAN Martin 05:35:05 7428; GOLLAPUDI Venkata V 05:35:13 7429; COUGHLAN Alanna 05:35:15 7430; GIBSON Gemma 05:35:16 7431; JONES David 05:35:17 7432; COLCLOUGH Shaun 05:35:21 7433; MARSHALL Chris 05:35:23 7434; FAGAN John 05:35:25 7435; JEFFERY David 05:35:26 7436; RIDDLE Carolyn 05:35:27 7437; MEHANNA Andrina 05:35:29 7438; LANDELLS Graeme 05:35:29 7439; BACK Michael 05:35:35 7440; RIDDOCK Stuart 05:35:41 7441; REED Paul 05:35:52 7442; BATTY Janet 05:35:54 7443; EDMONDS Harriet 05:35:57 7444; KNIGHT Caroline 05:36:02 7445; WATSON Carolanne 05:36:10 7446; WATSON Karen 05:36:12 7447; LARSON Sara 05:36:13 7448; LETT Charissa 05:36:14 7449; AMORY David 05:36:14 7450; GARDINER Jackie 05:36:19 7451; WRIGHT Stephen 05:36:20 7452; DARTNELL Chris 05:36:22 7453; MACKAY Tom 05:36:24 7454; CLARK Jill 05:36:25 7455; RODWELL Julia 05:36:25 7456; BROWN Sandy 05:36:28 7457; HAIG Lynne 05:36:32 7458; CROOK Susan 05:36:34 7459; BINNS Pamela 05:36:35 7460; WARD Pat 05:36:35 7461; HEATH Mark 05:36:45 7462; LANGLEY Scott 05:36:48 7463; GANNON Richard 05:36:48 7464; MAXFIELD Siobhan 05:36:49 7465; CARTIN Louise 05:36:52 7466; BULLOCK Robin 05:36:55 7467; KOENIGSTORFER Barbara 05:36:58 7468; CAMPBELL Lindsay 05:37:05 7469; BROUGHTON-TAYLOR Mark 05:37:07 7470; MARTIN Hayley Jane 05:37:09 7471; SMITH Rachel 05:37:13 7472; MUERS Kevin 05:37:16 7473; DRUMMOND Lynne 05:37:25 7474; MATTHEWS Josh 05:37:29 7475; KENNEWELL David 05:37:34 7476; KIDD Stefanie 05:37:34 7477; ROGAN Leanne 05:37:34 7478; HOLDEN Steve 05:37:36 7479; BARRETT George 05:37:38 7480; KANE Tom 05:37:46 7481; MITCHELL Paul 05:37:52 7482; MARSHALL Gwenda 05:37:58 7483; GRIFFITHS Dewi 05:37:58 7484; KERR Hayley 05:38:10 7485; CLARK David 05:38:11 7486; FOSTER Eric 05:38:11 7487; MURPHY Christine 05:38:11 7488; CARACENI Daniela 05:38:13 7489; HOPE Rosemary 05:38:17 7490; BREYDIN Michael 05:38:22 7491; PRESTON Kirsty 05:38:25 7492; WHITE Joanna 05:38:34 7493; HUNTER Sarah 05:38:35 7494; REYNOLDS Guy 05:38:41 7495; TOWN Matthew 05:38:49 7496; SMITH KENNEDY Paul 05:38:49 7497; DAVIDSON Ian 05:38:51 7498; ILLSLEY Alex 05:38:53 7499; PASQUILL Thomas 05:38:56 7500; JOHNSON Tracy 05:38:57 7501; SANSOM Karen 05:39:02 7502; RODGER Liam 05:39:06 7503; MCINTOSH Duncan 05:39:12 7504; GONZALES-MARIN Cecilia 05:39:17 7505; BRUCE Nicola 05:39:17 7506; PEARSON Kerri 05:39:18 7507; STIFANI Lua 05:39:18 7508; ALLARS Jon 05:39:18 7509; BANYACSKI Marta 05:39:18 7510; KAMARAS Robert 05:39:18 7511; YOUNGE Amanda 05:39:22 7512; CLOSE Peter 05:39:42 7513; HARWOOD Duncan 05:39:48 7514; MCLELLAN Moira 05:39:48 7515; RACZ Jozsef 05:39:51 7516; VESCOVI Tania 05:39:54
7517; TSANG Mandy 05:40:01 7518; SINGH Parminder 05:40:02 7519; MAULE Amy 05:40:06 7520; SCUTT Martin 05:40:07 7521; HUNTER James 05:40:08 7522; SWIFT Mark 05:40:09 7523; TOWNS Michael 05:40:09 7524; LAWTON Martin 05:40:09 7525; DAVIS Lindsey 05:40:13 7526; MCLEOD David 05:40:20 7527; BARNES Ruth 05:40:20 7528; FITZPATRICK Jo 05:40:25 7529; HOMER Laura 05:40:28 7530; IDDON Michelle 05:40:32 7531; HEIGHTON Bridie 05:40:33 7532; HONOUR Elliott 05:40:46 7533; KRONFLI Karim 05:41:08 7534; PICKARD Neil 05:41:11 7535; CAMPBELL Tanya 05:41:11 7536; BURNS Hugh 05:41:13 7537; BUITELAAR Stephanie 05:41:20 7538; TOMINEY Stephen 05:41:22 7539; RANKIN Iain 05:41:23 7540; FARNDON Luke 05:41:34 7541; MEDFORD Clive 05:41:41 7542; JOHN Matthew 05:41:43 7543; WILLIAMSON Keith 05:41:45 7544; HURRELL-DAY Sophie 05:41:47 7545; SZMOLKA Balazs 05:41:56 7546; SHAVE Roy 05:42:01 7547; MORGAN Claire 05:42:03 7548; MILLER Christopher 05:42:04 7549; EGGS Daniel 05:42:08 7550; DEPLACIDO Ruth 05:42:09 7551; FISHER William 05:42:10 7552; MCLAREN Alexander 05:42:10 7553; MACKENZIE Katy 05:42:13 7554; LEE Susan 05:42:14 7555; MICUCCI Mario 05:42:16 7556; RODRIGUES-BERNET Marc 05:42:22 7557; JONES Nicola 05:42:29 7558; BOWIE Greg 05:42:29 7559; POWELL Leila 05:42:30 7560; COLLINS Matthew 05:42:30 7561; BAILLIE Claire 05:42:32 7562; HARRISON Nigel 05:42:49 7563; NEWPORT Alexander 05:42:50 7564; BURTON Bob 05:42:55 7565; WICKS Shaun 05:42:56 7566; WEBBER Kerry 05:43:01 7567; WEIDLICH Paul 05:43:17 7568; NOONAN Mandy 05:43:18 7569; HOWARTH Pauline 05:43:27 7570; RHODES Matt 05:43:38 7571; CAMPBELL Brian 05:43:43 7572; FINLAY Carol 05:43:49 7573; GRANT Derek 05:43:56 7574; GLADWIN Douglas 05:44:01 7575; WILLIS Dale 05:44:01 7576; MURRAY Anna 05:44:07 7577; HENRY Hannah 05:44:21 7578; TAYLOR Stephen 05:44:24 7579; MARCHAND Michael 05:44:25 7580; WOLFENDALE Claire 05:44:30 7581; JENKIS Gerhard 05:44:30 7582; PENTECOST Gillian 05:44:34 7583; CHALMERS James 05:44:35 7584; CHALMERS James 05:44:35 7585; DAVIES Emma 05:44:40 7586; WASHER Rebecca 05:44:42 7587; BAINS Kulbir 05:44:44 7588; BELLETTY Christina 05:44:47 7589; SIM Kirsty 05:44:48 7590; HARRIS Philip John 05:44:50 7591; O'DONNELL Jacqueline 05:44:57 7592; OSBORN Hayley 05:45:01 7593; GARROW Avril 05:45:05 7594; SANDISON Neil 05:45:05 7595; SENTER Kate 05:45:13 7596; TARRY Glenn 05:45:16 7597; MORRIS Peter 05:45:18 7598; HOLGATE Pam 05:45:19 7599; MAXIMEN Tina 05:45:22 7600; DAVIES Leanne 05:45:25 7601; MACNEIL Iain 05:45:25 7602; SCHAAB Brent 05:45:28 7603; MCCANN Caroline 05:45:33 7604; SOUTHWELL Geoffrey 05:45:34 7605; BUZACOTT Daniel 05:46:00 7606; TAYLOR Sarah 05:46:06 7607; GOODALL Bill 05:46:09 7608; LEAVER Spencer 05:46:10 7609; HOLGATE Keith 05:46:11 7610; ATKIN Christopher 05:46:31 7611; BORNOWSKI Violet 05:46:35 7612; CURNYN Dorothy 05:46:39 7613; WRIGHT Scott 05:46:44 7614; MCBEAN George 05:46:50 7615; MORRISON Philip 05:46:57 7616; CHRISTIE Sarah 05:46:59 7617; JOHNSTON Mark 05:47:09 7618; KRAWCZYK C 05:47:10 7619; DYSON Martin 05:47:11 7620; SOHAIL Sadia 05:47:18 7621; WITHALL Charlene 05:47:19 7622; PIPER Kevin 05:47:25 7623; WARNES Alison 05:47:31 7624; HARROP Katie 05:47:36 7625; POPPLE Richard 05:47:39 7626; DAVIES Niki 05:47:39 7627; MCNEILL George 05:47:58 7628; HOWSON Linzi 05:48:06 7629; SIMPSON Lee 05:48:09 7630; ALLEN Barbara 05:48:19 7631; AVISON Anila 05:48:21 7632; GODWIN James 05:48:22 7633; DINGWALL Andrew 05:48:26 7634; NISBET Ross 05:48:27 7635; CROWTHER Natalie 05:48:32 7636; PULFORD Tom 05:48:45 7637; COUTTS Laura 05:48:48 7638; FORREST Carol 05:48:50 7639; HUNT Stephen 05:49:02 7640; BRINDED Lianna 05:49:14 7641; FOX Becca 05:49:28 7642; ROBERTS Graeme 05:49:36 7643; MCFARLANE Jane 05:49:37 7644; STAPLETON David 05:49:39 7645; MUNRO Calum 05:49:40 7646; BROWN Barbara 05:49:45 7647; USAI Gian Carlo 05:49:55 7648; ARGONDIZZA Peter 05:49:59 7649; POWELL Amanda 05:50:00 7650; KORLEVIC Robert 05:50:00
7651; GRANT Duncan 05:50:01 7652; GRANT Aidan 05:50:01 7653; WITCHER Graham 05:50:07 7654; FLEMING Sam 05:50:12 7655; BAKER Laura-Jayne 05:50:14 7656; BROWN Julia 05:50:18 7657; PATEL Kalpesh 05:50:22 7658; RAMSAY Caroline 05:50:23 7659; MEIKLE Alison 05:50:24 7660; HARROLD Vanessa 05:50:26 7661; SHAH Bhavin 05:50:37 7662; CALITZ-PATEL Sunny 05:50:37 7663; KENNEDY Scott 05:50:39 7664; COOK Ian 05:50:46 7665; JENKINS Kate 05:50:46 7666; GILMARTIN James 05:50:59 7667; BURNS David 05:51:19 7668; ZHANG Shasha 05:51:21 7669; HARWOOD Alan 05:51:22 7670; MCCORMICK Bernadette 05:51:33 7671; DYER John 05:51:33 7672; BAILLIE Stewart 05:51:41 7673; WILKINSON Hilary 05:51:48 7674; JONES Connie 05:52:01 7675; FORREST Fiona 05:52:17 7676; IRVINE Helen 05:52:20 7677; FLOOD Simon 05:52:21 7678; MACKAY Beverly 05:52:21 7679; NEILSON Lisa 05:52:24 7680; SMITH Michelle 05:52:25 7681; RAMSEY Christian 05:52:29 7682; EDWARDS-PULMAN Susan 05:52:34 7683; KIA Sanam 05:52:52 7684; TURK Andrea 05:53:02 7685; GARDNER Heather 05:53:03 7686; TINDALL Katie 05:53:08 7687; RITCHIE Clare 05:53:18 7688; HUNT Stephen 05:53:19 7689; HANLON Kevin 05:53:21 7690; WILSON Frances 05:53:30 7691; MASON Sheila 05:53:30 7692; RAYNOR Steven 05:53:33 7693; MAPPLEBECK Steven 05:53:33 7694; STEPHENS Marie 05:53:36 7695; BARKER Zoe-Claire 05:53:40 7696; ROBINSON Sarah 05:53:41 7697; SLATER Keith 05:53:42 7698; COX Julie 05:53:43 7699; JAMES Claire 05:53:43 7700; KERR Bing 05:53:44 7701; PICKERING Mark 05:53:50 7702; CHIN Calvin 05:53:51 7703; LITTLE Katie 05:54:08 7704; BREDENKAMP Lorett 05:54:08 7705; MORPETH Carrie 05:54:10 7706; HOLGATE Abi 05:54:10 7707; ROYLE Ben 05:54:12 7708; DOCHERTY Karen 05:54:12 7709; GILMOUR Lisa 05:54:23 7710; ARMSTRONG Shiona 05:54:25 7711; GRAY Dean 05:54:38 7712; REID Arlene 05:54:43 7713; WHARTON Warren 05:54:44 7714; ROBERTSON Cathryn 05:54:44 7715; BURTON Liz 05:55:00 7716; DUNN Graham 05:55:01 7717; HARRIS Stephen 05:55:05 7718; HOOD Jillian 05:55:17 7719; GREENSLADE David 05:55:25 7720; ROAN Leigh 05:55:28 7721; HALL Stephanie 05:55:29 7722; STEVENSON Graham 05:55:29 7723; MCALPINE Calum 05:55:30 7724; CAROLAN Hugh 05:55:31 7725; SINCLAIR Jeffrey 05:55:33 7726; JONES Sian 05:55:35 7727; CRICH Andrew 05:55:39 7728; TOCHEL Toni 05:55:45 7729; DOYLE Maggie 05:55:45 7730; PURSER Katherine 05:55:51 7731; HALLAS Darren 05:55:51 7732; KERR Karl 05:55:54 7733; PARDOE Elaine 05:55:54 7734; LINE Amy 05:55:55 7735; ZULIANI Tanya 05:56:11 7736; CURTIS Roy 05:56:13 7737; MCCARTHY Michael 05:56:18 7738; PASQUILL Evonne 05:56:18 7739; PASQUILL Jennifer 05:56:22 7740; TAIT Andrew 05:56:23 7741; FALLON Robert 05:56:31 7742; PIDGEON Robert 05:56:37 7743; FAIR Laila 05:56:40 7744; FAIR Chris 05:56:40 7745; DAVIDSON Rachael Christina 05:56:42 7746; GRIFFIN Gail 05:56:45 7747; WATT Jay 05:56:50 7748; SHIELS Iain 05:56:50 7749; BORRETT Jo 05:56:51 7750; SCOTT Tamsin 05:56:55 7751; SCOTT Keith 05:56:55 7752; MCKEITH Stuart 05:56:55 7753; GIBBS Gregory 05:57:01 7754; MCDONALD Eleanor 05:57:03 7755; SMITH Becky 05:57:05 7756; SMITH John 05:57:05 7757; LEIGH David 05:57:11 7758; MOORE Richard 05:57:15 7759; KRüGER Horst 05:57:15 7760; BROADLEY David 05:57:26 7761; LEWIS John 05:57:39 7762; BONNER Ian 05:57:42 7763; HUTCHISON Sarah 05:57:52 7764; STEVENSON Alicia 05:58:00 7765; JOHNSTON Claire 05:58:02 7766; ANDERSON Meriel 05:58:09 7767; KIRKBY Helen 05:58:12 7768; NORRIS Stacey 05:58:25 7769; JAMIESON Stewart 05:58:30 7770; HASTIE Yvonne 05:58:37 7771; HAYWOOD Linz 05:58:39 7772; SCOTT Tracy 05:58:43 7773; WILLIAMS Ryan 05:58:49 7774; BREARLEY Kelly 05:58:50 7775; STRYCZKO Ruth 05:59:06 7776; SHIELDS Julie 05:59:18 7777; MILLAR Kimberly 05:59:18 7778; REID Chris 05:59:19 7779; LINCOLN Anastasia 05:59:24 7780; WALKER Nichola 05:59:32 7781; CHHETRI Nabin Kumar 05:59:43 7782; POULTON Neil 05:59:43 7783; MAXWELL Colin 05:59:51 7784; FIRTH Nicola 05:59:54
7785; HARRISON Katrina 06:00:04 7786; MOORE Rebecca 06:00:08 7787; ROBINSON Gina 06:00:08 7788; CRAWFORD Julie 06:00:09 7789; LOFTUS Helen 06:00:09 7790; CODRINGTON Megan 06:00:12 7791; MAROUCHOS Philippos 06:00:29 7792; CLARK Louise 06:00:32 7793; HALLIDAY Denise 06:00:36 7794; HALLIDAY Nicola 06:00:36 7795; KANE Andrew 06:00:43 7796; LITTLE David 06:00:58 7797; SHORTER Christian 06:00:59 7798; MAYNE Neil 06:01:09 7799; HUDSON Kirsty 06:01:16 7800; CHIN Richard 06:01:17 7801; POLLARD Gordon 06:01:26 7802; PEPPARD Jane 06:01:29 7803; WALTERS Lauren 06:02:01 7804; CASSIDY Louise 06:02:06 7805; PRICE Megan 06:02:06 7806; REES Rebecca 06:02:17 7807; JEWSON Katie 06:02:22 7808; MCARTHUR Alan 06:02:27 7809; HOLMES Laura 06:02:27 7810; SANDFORD David 06:02:50 7811; BELL Colin 06:03:01 7812; KRUMINS Markus 06:03:14 7813; MORRIS Alison 06:03:19 7814; MARKS Alexander 06:03:22 7815; SMART Thomas 06:03:32 7816; GAROLI Giulia 06:03:37 7817; DAFOS Konstantinos 06:03:40 7818; LYONS Heather 06:03:59 7819; MACKELLAR Karen 06:04:07 7820; HASTIE Sandra 06:04:31 7821; BUCHAN Caroline 06:04:31 7822; SHIELDS Georgia 06:04:34 7823; SMITH Sandra 06:05:04 7824; MONTGOMERIE James 06:05:04 7825; EGBEWO Aquil 06:05:14 7826; BENOUALI Camila 06:05:14 7827; BROADWELL Stan 06:05:47 7828; BROADWELL Vicky 06:05:47 7829; BAILEY Nikki 06:05:52 7830; GRAY Stephanie 06:06:03 7831; HUNTER Debbie 06:06:10 7832; MILLER Andrew 06:06:17 7833; MCCONELL Grant 06:06:26 7834; BLACKALLER Theresa 06:06:28 7835; O'CONNELL Gary 06:06:29 7836; POTTER Kate 06:06:29 7837; TAYLOR Stephanie 06:06:33 7838; FLANAGAN Helen 06:06:40 7839; BORLAND Stephanie 06:06:55 7840; CUMMINGS Lesley 06:06:58 7841; CARMICHAEL Stephen 06:07:01 7842; GOLDEN Lauren 06:07:07 7843; SMITH Christopher 06:07:37 7844; SMITH Donna 06:07:38 7845; CANNON Ariane 06:07:42 7846; WOOD Susan 06:07:44 7847; RHODES Guy 06:07:50 7848; TRIPP Megan 06:08:00 7849; CAMPBELL Duncan 06:08:19 7850; HAWES Mary 06:08:26 7851; CLARK Ray 06:08:43 7852; ROWE Joanne 06:08:45 7853; ASANTE J.Kwasi 06:08:45 7854; BENNETT Kathleen 06:08:55 7855; CONNELL William 06:08:57 7856; JOHNSTONE Keith 06:09:01 7857; GALLERY-STRONG Claire 06:09:03 7858; BROWN Jill 06:09:12 7859; BUNJES Jennifer 06:09:21 7860; HODGSON Vicki 06:09:26 7861; JOBLING Karen 06:09:28 7862; PAYTON Ian 06:09:28 7863; HARPER Kenneth 06:09:35 7864; HARPER Pam 06:09:35 7865; DILLON Craig 06:09:39 7866; KERR Roberta 06:09:40 7867; ROYDS Rebecca 06:09:42 7868; CORDINER Michael 06:09:43 7869; BERRY Elizabeth 06:09:52
7870; SZKWAROK Stefan 06:10:06 7871; FITZGERALD Joanne 06:10:09 7872; OGILVIE Thomas 06:10:20 7873; HINSON Tamara 06:10:31 7874; NIPAH Robert 06:10:32 7875; JUTLA Hunika 06:10:35 7876; CHAVDA Harish 06:10:38 7877; RITCHIE Gemma 06:10:44 7878; LAWRENCE Tara 06:10:46 7879; REDMAN Sallie 06:10:50 7880; CARRI Louise 06:11:04 7881; ANNAND Charisse 06:11:12 7882; POPPLETON Claire 06:11:22 7883; WILSON Laurence 06:11:25 7884; LESTER Gavin 06:11:28 7885; GRAHAM Janine 06:11:32 7886; CLEMENT Ian 06:11:48 7887; DE VILLIERS Natalie 06:11:53 7888; BEDNARCZYK Pawel 06:12:02 7889; RIGG Michael 06:12:12 7890; ROWE Daniel 06:12:41 7891; KELLY Sarah 06:13:08 7892; DEVLIN James 06:13:08 7893; DINGLE Helen 06:13:21 7894; DELOUBES Lynne 06:13:25 7895; THOMSON Lorna 06:13:35 7896; TYSON Carla 06:13:36 7897; SHIELDS Jennifer 06:14:07 7898; MEHDWAN Bobby 06:14:21 7899; VERTH Kirsten 06:14:25 7900; HANNAH Stephen 06:14:25 7901; KNIGHT Julie 06:14:45 7902; SKEOCH Carol 06:14:47 7903; GUBBINS Matt 06:14:50 7904; BLAKE Margaret 06:14:57 7905; NADEEM Fahad Bin 06:14:59 7906; BELCHER-JONES Ryan 06:15:01 7907; GODFREY-COLES Michele 06:15:02 7908; MITCHELL Rae 06:15:05 7909; ALDERSON Kathryn 06:15:48 7910; GOW Nicola 06:15:54 7911; GLEDHILL Dana 06:15:54 7912; ELLIS Tricia 06:15:55 7913; CHANG Nathaniel 06:16:01 7914; ELLIOTT Sarah 06:16:01 7915; HAIR Dave 06:16:09 7916; WHITE Martin 06:16:10 7917; HIDE Andrea 06:16:11 7918; SMITH James 06:16:23 7919; STEER Helen 06:16:42 7920; LAYTON Adam 06:16:48 7921; STEER Joanna 06:16:49 7922; LOUGHLIN Brenda 06:16:50 7923; BULLOCK Jacqueline 06:17:07 7924; MCDONALD Davina 06:17:07 7925; LONGWORTH Gavin 06:17:11 7926; PARK Frazer 06:17:12 7927; MORRIN Catherine 06:17:45 7928; SCHILLER Antje 06:18:04 7929; ROUTLEDGE Craig 06:18:22 7930; WHYTE Elizabeth 06:18:27 7931; BASSEN Anja 06:18:32 7932; PLATT Andrea 06:18:32 7933; MULLEN Martin 06:18:50 7934; MACNAUGHTON Andrea 06:18:57 7935; DODD Tim 06:19:25 7936; WATT Lindsay 06:19:27 7937; REISSNER Louise 06:19:29 7938; WILSON Rob 06:19:35 7939; DAWSON Karon 06:19:37 7940; PINNEY Mark 06:19:42
7941; HARRIS Mark 06:20:01 7942; MACLEOD Gillian 06:20:03 7943; CHURCHILL Jack 06:20:15 7944; THOMAS Jackie 06:20:35 7945; HARRIS Wendy 06:20:39 7946; BRIGHT Amanda 06:20:53 7947; DOS SANTOS Paola 06:20:58 7948; SCADDING John 06:21:12 7949; REID Alison 06:21:44 7950; CANNING Tracey 06:21:49 7951; SYMES Tracy 06:21:57 7952; DE PAUW Jasmine 06:22:16 7953; ANDERSON Gillian 06:22:33 7954; ROBB Matthew 06:22:42 7955; KHARBAT Mohd 06:23:01 7956; MULDOON Katie 06:23:22 7957; CRAIG Ruth 06:23:31 7958; SMITH Craig 06:23:43 7959; GODBER Joanne 06:23:54 7960; DYSON Jude 06:24:04 7961; MEEHAN Helen 06:24:10 7962; TERRY Sarah 06:24:12 7963; SMITH Tom 06:24:39 7964; RODGER Joseph 06:24:42 7965; ISAACS Denise 06:24:50 7966; ROBINSON Mary 06:25:06 7967; SCAMMELL Jane 06:25:14 7968; PINDER Claire 06:25:27 7969; FOSTER Diane 06:25:34 7970; HAVENHAND Richard 06:25:39 7971; HAVENHAND Elaine 06:25:39 7972; STEWART Emma 06:25:52 7973; DIXON Denise 06:26:20 7974; BARNETT Laura 06:26:31 7975; TURNER Ashley 06:26:40 7976; WARD Susan 06:26:44 7977; PHAISEY Simon 06:26:46 7978; ROWNTREE Carl 06:26:46 7979; BROOKS Graham 06:26:52 7980; JACK Alastair 06:26:57 7981; COLCLOUGH Ashley 06:27:03 7982; DONALDSON Ian 06:27:32 7983; ANTHONY Karen 06:28:23 7984; WAKEMAN Rob 06:28:42 7985; LEWINS Alan 06:29:23 7986; MCQUILLAN Charles 06:29:28
7987; PASQUILL Anna 06:30:15 7988; GOODE David 06:30:22 7989; SUTTON Mike 06:30:35 7990; CARTWRIGHT Carol 06:31:21 7991; HARRISON Thomas 06:31:31 7992; SCOTT Fiona 06:31:46 7993; VAN LIENDEN Sonja 06:31:53 7994; MCKENZIE James 06:32:05 7995; O'CONNOR C 06:32:19 7996; BUTLER Julian 06:32:36 7997; DOWNING Amber 06:32:52 7998; HORSEY Beatrice 06:33:03 7999; MCKENZIE Steven 06:33:38 8000; CARTWRIGHT Kevin 06:33:58 8001; LODGE Gillian 06:33:59 8002; MANN Harinder 06:34:06 8003; GUNSTONE Faye 06:34:39 8004; O'HARE Edward 06:34:40 8005; ROBINSON Alex 06:35:09 8006; LOTAY Nirmal 06:35:31 8007; JANDU Solakhan Singh 06:35:32 8008; JOHNSON Richard 06:36:16 8009; BEARDSHAW Jean 06:36:27 8010; FERGUSSON Neil 06:36:59 8011; SUMMERS Laura 06:37:12 8012; YARDLEY Jamie 06:37:13 8013; ATTRIDGE Neil 06:37:53 8014; PASCOLINI Nicoletta 06:39:39 8015; LEE Keith 06:39:42
8016; SWALES Ian 06:41:35 8017; DAVIES Stuart 06:42:01 8018; ATTERBURY Dean 06:43:33 8019; MACAUSLAND Anita Wendy 06:46:03 8020; WILLIAMSON Alexander 06:46:06 8021; STARK Allen 06:46:37 8022; BURNESS Keith 06:47:55 8023; PURNELL Amy 06:47:57 8024; RAVALIA Shim 06:48:10 8025; BOWEN Soraya 06:48:15 8026; NYSTAZAKI Maria 06:48:21 8027; PHILLIPS Emma 06:48:43 8028; CARRUTHERS Rachel 06:48:43 8029; LOPEZ Gerard 06:49:37 8030; EARLINGTON Rachel 06:49:38 8031; WALKER Jennifer 06:49:52
8032; ARCHIBALD Kathryn 06:50:39 8033; WHITE Liam 06:51:41 8034; EADIE John 06:52:24 8035; GILES Stuart 06:53:16 8036; SQUIBB Rick 06:53:20 8037; BOWDEN Teresa 06:53:20 8038; CROSSMAN Hayley 06:54:15 8039; GRANT William 06:54:17 8040; HOSKIN Julie 06:54:30 8041; GREEN Charlotte 06:55:09 8042; BURNS Hannah 06:55:09 8043; YOUNG Lesley-Anne 06:55:11 8044; CERESER Biancastella 06:57:56
8045; MESSENGER Lawrence 07:01:52 8046; SMITH Karl 07:02:03 8047; BISSETT Chris 07:02:24 8048; ONG Tee Chew 07:02:58 8049; CLARK Robert 07:03:12 8050; MCGILLIVRAY John 07:06:05 8051; GEDDES Julie 07:06:12 8052; LUCAS Sheridan 07:06:47 8053; ATKINS Ian 07:06:49 8054; TODD Robert 07:07:05 8055; BRENNAN Ruth 07:09:03 8056; MCLEAY Hamish 07:09:47
8057; GIORDANO Laura 07:10:03 8058; GIBB Amanda 07:10:43 8059; FOXWELL Anne 07:11:14 8060; CROFTS Ann 07:18:56 8061; LEASK Stephen 07:19:29
8062; CLELAND Hazel 07:22:09 8063; HOWARD Lesley 07:22:15 8064; ALTON Peter 07:23:33 8065; SLOANE Janet 07:26:33 8066; MACK Sheree 07:27:12 8067; HARVEY Lynda 07:28:06 8068; TAILOR Dennis 07:29:38
8069; LOGAN Nicola 07:31:18 8070; LOGAN Glenn 07:31:19 8071; PURDIE Ian 07:33:58 8072; KING Madge 07:34:23 8073; DAVIES Sarah 07:35:32 8074; SUMMERS John 07:36:40
8075; PIEKOS Laura 07:48:32
8076; CALLAGHAN Anne 08:00:58
8077; MIRZA Saira 08:01:04
Related articles
People who read this story also read